10 Best 300Hz Monitors to Choose the Right One [Buying Guide]
Are you a gamer looking for the latest updates in gaming monitor technology? The refresh rate of a standard LCD monitor is 60Hz, while 300Hz monitors offer much higher speeds. This article provides information on changes expected to be seen by 2023, current types and models of 300Hz monitors available in the market, and how they can optimize their gaming experience with this type of technology.
Are you curious to learn more about trends in 2023 with advanced technologies for upgraded performance? Read on and find out!
Content Highlights
300hz monitors provide an incredibly smooth and responsive gaming experience, reducing motion blur for a better visual experience.
Features such as NVIDIA G SYNC compatibility, Adaptive Sync technology, and 1ms response time ensure users stay ahead in competitive play with reduced latency rates.
Popular models of 300Hz monitors include the ASUS ROG Strix XG27AQMR, ASUS TUF Gaming VG279QM, and the Acer Nitro XZ270 Xbmiipx among others.
Other features of 300Hz Monitors to look out for include support for Display HDR 600 certification, ULMB Technology (Ultra Low Motion Blur) as well as VESA compatible mount options.
What is a 300hz Monitor?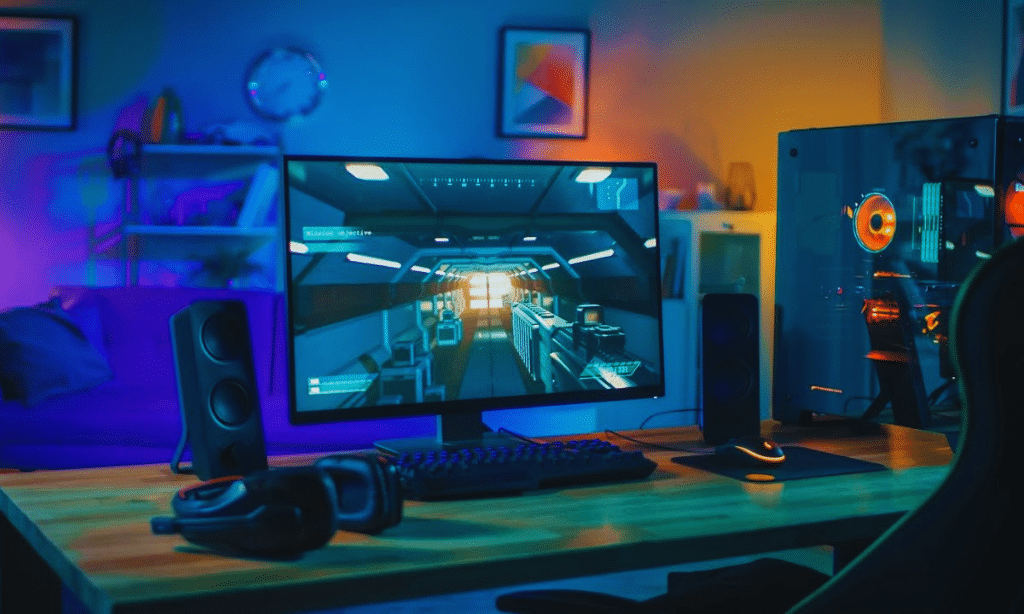 A 300hz monitor is a gaming monitor with an enhanced refresh rate that allows for smoother and more responsive gameplay.
Definition and Purpose
A 300Hz monitor is a gaming monitor with an extremely high refresh rate of up to 300 times per second. This improvement over the standard 60 Hertz (typically referred to as Hz) displays leads to improved visuals and responsiveness in images displayed on the screen when playing games or watching video content.
The higher refresh rate allows for smoother and more fluid visuals due to each individual frame being updated faster. A 300Hz monitor can draw a new image every 3.33 milliseconds, which compares favorably with other common options such as 144 Hz at 6 milliseconds or 240 Hz taking 4 milliseconds for each frame update thereby providing significantly better clarity especially when combined with preparations like FreeSync or G-Sync technologies.
To ensure optimal performance, it's important gamers consider factors such as panel type, response time, resolution, and adaptive sync technology when selecting their perfect display hardware for gaming enjoyment.
Advantages of Using a 300hz Monitor
For gamers, a 300hz monitor can offer an incredibly smooth and responsive gaming experience as well as reduce motion blur with its enhanced visual experience.
Smooth and Responsive Gameplay
A 300Hz monitor offers a refresh rate 25% faster than the popular 240Hz LCDs used by competitive gamers. This means that it delivers a new frame every 3.33ms, resulting in smoother and more responsive gameplay compared to monitors with lower refresh rates of 144hz or even 60hz.
With reduced motion blur, fluid visuals, improved color accuracy, and HDR support, along with virtually eliminating input lag and screen tearing all at once for an immersive gaming experience—it's easy to see why competitive players prefer using 300hz gaming monitors over traditional IPS panels like those found on 144Hz models.
For example, some modern portable monitors such as NexiGo NG17FGQ 17-Inch offer a full HD 1080p resolution combined with a high-precision 5MS response time at an impressive 300 Hz refresh rate, perfect for fast-paced action while saving space for mobility needs.
Reduced Motion Blur
Using a 300hz monitor is often associated with smooth and responsive gaming experiences. The higher refresh rate allows your monitor to show up-to-date information faster, resulting in less blurring that would otherwise be visible in lower refresh rates.
During quick movements in games, the increase of frames can make it easier for the user to react more quickly to any changes on screen compared to lower refresh rates such as 144HZ.
Additionally, many of these monitors also employ Nvidia's Ultra Low Motion Blur (ULMB) technology which can enable even smoother visuals than what is possible from the increased frame rate alone.
ULMB works by strobing the backlight on select models at high frequency, meaning images are not updated fully or completely but rather they appear briefly before fading out and being replaced with an image reflecting any changes moment after moment.
Enhanced Visual Experience
A 300hz gaming monitor offers an immersive experience for gamers. The increased refresh rate of the display, at 300 times per second compared to the more traditional 144hz, ensures smooth and responsive gameplay while reducing motion blur.
With a faster rate to draw new frames onscreen, this higher refresh rate can drastically improve reaction time during fast-paced games while also providing increased immersion with smoother animations and transitions.
Popular titles such as CS: GO or Valorant benefit from improved performance when using a 300Hz monitor where split-second decisions can be critical — these monitors offer players the optimal opportunity to track enemies down without any stuttering or lag playing spoiling their view of the battlefield.
Highlighting textures and improving color accuracy helps make out even small details that would otherwise not be visible on slower displays — making it easier for players to identify targets quickly in challenging FPS missions & multiplayer arena battles.
10 Best 300hz Monitors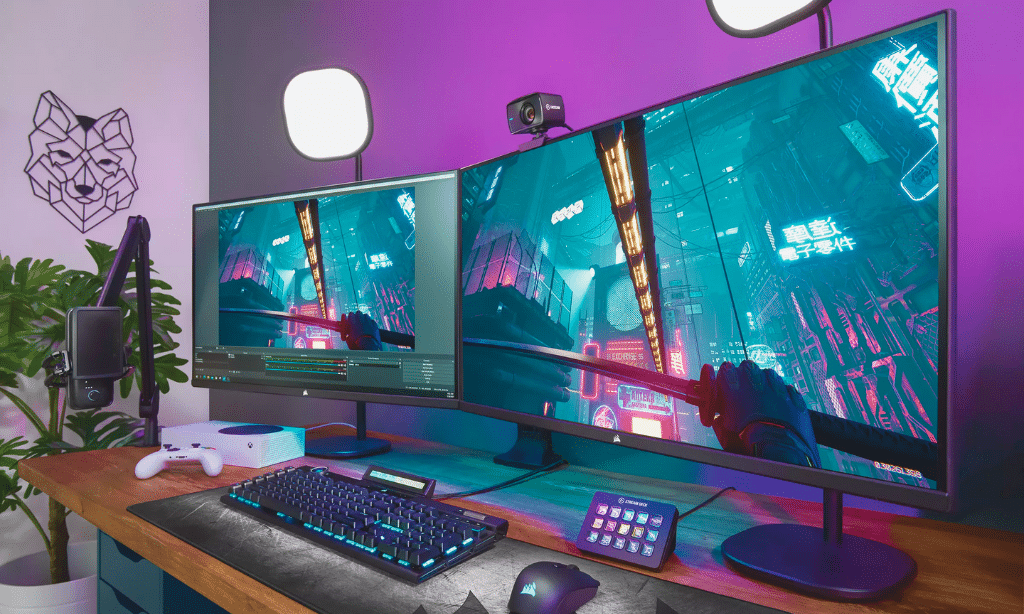 In this segment, you'll get to know about 10 best 300Hz monitors. So read on. 
| Monitor Model | Display Size | Resolution | Refresh Rate |
| --- | --- | --- | --- |
| ASUS ROG Strix XG27AQMR | 27 inches | 2560 x 1440 pixel | 300Hz |
| ASUS TUF Gaming VG279QM | 27 inches | 1920 x 1080 pixel | 280Hz |
| Acer Nitro XZ270 Xbmiipx | 27 inches | 1920 x 1080 pixel | 240Hz |
| 27-Inch QHD Gaming Monitor | 27 inches | 2560 x 1440 pixel | 240Hz |
| AOC Agon PRO AG254FG | 24.5 inches | 1920 x 1080 pixel | 360Hz |
| ASUS ROG Strix XG259CM | 24.5 inches | 1920 x 1080 pixel | 240Hz |
| Samsung Odyssey G7 Series | Various sizes | 2560×1440/others | 240Hz |
| ASUS TUF Gaming VG27AQML1A | 27 inches | 2560 x 1440 pixel | Up to 170Hz |
| ASUS TUF Gaming VG279QM1A | 27 inches | 1920 x 1080 pixel | Up to 280Hz |
| Sceptre 30-Inch Curved | 30 inches | 1080p (21:9) | 200Hz |
ASUS ROG Strix XG27AQMR
ASUS ROG Strix XG27AQMR is one of the best 300hz monitors out there made from top-notch components and able to deliver smooth, responsive gaming alongside an immersive visual experience. It features a 27-inch display with a high 2560 x 1440 pixel resolution that supports DisplayHDR 600 certification.
A blazing fast 300Hz refresh rate ensures everything appears onscreen exactly when it should, while Fast IPS technology provides gamers with response times as low as 1 ms for the ultimate gaming performance.
On top of all this, ASUS has equipped this monitor with Adaptive-Sync support so gamers won't have to worry about screen tears or stuttering ruining their gameplay experience ever again.
ASUS TUF Gaming VG279QM
The ASUS TUF Gaming VG279QM is a 27-inch Full HD gaming monitor that comes with a fast IPS panel and an impressive 280Hz refresh rate. This allows for smooth and responsive gameplay, perfect for competitive gamers or anyone who wants an optimal experience.
The 1ms response time (GTG) ensures no motion blurring while the 178°/178° viewing angles give you stunning clarity from any angle. It supports DisplayHDR 400 certification as well, giving you vibrant colors and high dynamic range to really make your games come alive.
To top it off, the TUF Gaming VG279QM also supports NVIDIA G-SYNC technology along with ELMB-sync to further reduce stuttering in movies or shows. Plus, since this belongs to the highly reliable ASUS TUF series of monitors, this product provides both great performance and durability for years down the line!
Acer Nitro XZ270 Xbmiipx
The Acer Nitro XZ270 Xbmiipx is a 27-inch gaming monitor that offers cutting-edge visual and responsiveness performance to gamers. This 240hz monitor features a 1500R curved display for an immersive viewing experience, with a full HD resolution of 1920 x 1080 pixels.
It also utilizes Vertical Alignment (VA) technology, which further enhances color accuracy and viewing angles so you can see your enemies in vibrant detail. Additionally, it sports Adaptive Sync technology providing gamers with low latency rendering quality without screen tearing or stuttering issues even at higher refresh rates during intense gaming sessions.
Plus fast 1ms response time(VRB) allows videos and graphics to remain blur-free while you're shooting down your foes on the battlescape. All these factors add up to make it one of the best monitors currently available for playing games at an extremely high frames-per-second rate.
27-Inch QHD Gaming Monitor
The 27-inch QHD gaming monitor is ideal for gamers looking to get the most out of their gaming experience. With a resolution of 2560 X 1440 pixels, this size allows you to immerse yourself into your game with added clarity fully.
The 240Hz refresh rate ensures that the visuals will stay smooth and responsive. Additionally, its Fast IPS display offers a 1ms response time ensuring minimal ghosting and motion blur which really enhances gameplay.
There's also support for Adaptive Sync Technology allowing synchronization between headphones and other audio devices which literally pumps up volume when playing games or watching movies.
AOC Agon PRO AG254FG
The AOC Agon PRO AG254FG is an award-winning gaming monitor with a 360Hz refresh rate, 24.5-inch AUO AHVA IPS-type panel, 8-bit color support, and High Dynamic Range 400 (HDR) compatibility.
For immersive design, the monitor won the Red Dot Award in 2019. It also supports NVIDIA G Sync technology for a smoother experience while playing games and customizable RGB LightFX technology, allowing users to create personal lighting effects that sync with their gameplay audio or music from compatible devices.
Enjoy fast response times and superior performance as you take your gaming experience to the next level with AOC's top-of-the-line 300hz monitor built specifically for gamers!
ASUS ROG Strix XG259CM
The ASUS ROG Strix XG259CM is a high-end gaming monitor with an ultrafast 240Hz refresh rate. It features a 24.5-inch Full HD display, equipped with Asus's Fast IPS technology for improved response times and more precise visuals, creating a smooth and lag-free gaming experience.
The XG259CM also incorporates NVIDIA G-SYNC Compatible Technology to reduce tearing and stuttering from images onscreen during intense gameplay sessions. The amazing viewing angles of 178 degrees both horizontally and vertically provide superb clarity even from extreme positions – support in HDR mode further emphasizes the highly detailed visuals enabled by this device's remarkable capabilities.
Moreover, its slim bezel design adds maximum sophistication to any setup while taking up very little room on your desk or wall mount configuration making it perfect for anyone looking to upgrade their visual performance in 2023 without sacrificing style.
Samsung Odyssey G7 Series
The Samsung Odyssey G7 series is a premium UHD gaming monitor lineup with innovative features. Fans of high-end gaming will appreciate the 240Hz refresh rate, wide IPS panel, and G-Sync compatibility, ensuring smooth and tear-free gameplay experiences.
This series also features the world's first 1000R curvature radius of 1,000 millimeters on a flat gaming monitor for improved visuals from all angles. For even more detail and greater clarity players can turn to the Neo G7 in 27-inches or 32-inches sizes that offer great visibility.
Utilizing mini LED lighting this display delivers an incredible range of brightness depths and superior HDR 4000 performance while maintaining low latency input options resulting in lifelike colors perfect for gamers' practices or competitions.
ASUS TUF Gaming VG27AQML1A
The ASUS TUF Gaming VG27AQML1A monitor is specifically designed to give gamers a competitive edge with features like its 27-inch Quad HD (2560 x 1440) display, a refresh rate of up to 170Hz, and 1ms response time.
It's also built for long gaming sessions with PAKnano technology, which reduces eye strain and fatigue. The increased HDR capabilities provide even further enhanced image quality, allowing gamers to fully immerse themselves in their favorite video games.
Also, this monitor has been made amazingly durable as it meets the military standards of toughness – making it ideal for both professional and aspiring gamers alike. Furthermore, its ergonomic design includes swivel, tilt, and height adjustment so you can have the perfect angle no matter what kind of gaming you are doing.
ASUS TUF Gaming VG279QM1A
is a top-notch 27-inch gaming monitor that is designed to enhance your gaming experience. It packs a beastly punch with an overclockable refresh rate of up to 280 Hz, allowing gamers to enjoy fast, fluid visuals without motion blur or ghosting.
This IPS panel also offers a full HD resolution of 1920×1080 pixels while having an ultra-fast response time of 1 ms (GTG). To further optimize your gameplay, ASUS TUF Gaming VG279QM1A employs their exclusive Extreme Low Motion Blur Sync (ELMB Sync) technology which combines Adaptive Vsync, Extreme Low Motion Blur, and FreeSync Premium Pro features for eliminating image tearing and stuttering.
Coming in various colorful design options with HDR support capability, the ASUS TUF Gaming VG279QM1A is certainly one powerful monitoring device perfect for serious gaming sessions.
Sceptre 30-Inch Curved Gaming Monitor
The Sceptre C305B-200UN is a 30-inch curved gaming monitor designed to deliver an immersive and realistic experience for gamers. It has a resolution of 2560 x 1080 Full HD with an aspect ratio of 21:9, ensuring that games look sharp and vibrant on the screen.
The 1ms response time helps reduce lag while the viewing angle of 170° (H) / 170° (V) makes it easy to view the monitor from any direction without distorting the images. Its curved design also provides extended workspace, eye comfort, and increased intensity for gaming sessions.
The 200Hz refresh rate ensures smooth visuals even during frantic gameplay. With 3 million pixels in each frame, this Ultrawide Curved series monitor truly takes your gaming sessions up another level!
Latest Updates for 300hz Monitors in 2023
Manufacturers have incorporated advanced technologies such as nanotechnology and acoustic nanotube technology into monitors to provide gamers with the best gaming experience. Read on to learn more about these incredible new features!
Advanced Technologies Such as Nanotechnology and Acoustic Nanotube Technology
are revolutionizing how people experience gaming with 300hz monitors. Nanotechnology and acoustic nanotube technology are being used to create highly durable displays with improved visuals, higher refresh rates, and brighter colors.
Through advanced fabrication processes, these technologies help improve the overall performance of a monitor, increasing its responsiveness and providing more immersive gameplay experiences for users.
Acoustic-assisted assembly of electronically pure nanotubes could also provide new methods for fabricating high-performance carbon materials that offer superior contrast and color accuracy compared to traditional LCD displays.
Higher Refresh Rates
Higher refresh rates are a key feature among modern gaming monitors. With an increased refresh rate, the number of times displays update with new information per second is higher. Images on a monitor with a higher refresh rate such as 120Hz or 300Hz appear smoother and provide avid gamers improved responsiveness when their frames are rendered more quickly.
This gives them better control in gameplay since they can react faster to-screen movements. Additionally, high-end display technologies like FreeSync and G-Sync help further stabilize these graphics so that gameplay is buttery smooth even in fast-moving action scenes while reducing motion blur seen on lower frame rate displays.
Furthermore, brands like ASUS have released models such as the ROG Strix XG27AQMR Nvidia G-sync Compatible Gaming Monitor which provides up to 2560 x 1440 resolution at a whopping 300 Hz resulting in one of the best gaming experiences available today!
Improved Color Accuracy and HDR Support
The advanced technologies featured in the latest 300hz monitors of 2023 significantly improve color accuracy and HDR support. Images become sharper and crisper by utilizing a wider range of colors, increased brightness levels, and more vivid hues– producing an immersive gaming experience.
With this technology, users will be able to enjoy games with greater detail which was not possible before like never before. Therefore, with improved color accuracy and HDR support, gamers benefit from enhanced visuals displayed on their monitor screens, providing more lifelike scenes that create an enriched playing field for the gamer and make viewing movies or television show content incredibly vibrant.
Factors to Consider When Choosing a 300hz Monitor
It is important to consider the display resolution, panel type, response time, and adaptive sync technology when selecting a 300hz monitor for gaming.
Display Resolution
Display resolution refers to the sheer amount of pixels displayed on a monitor. Generally, higher resolutions result in images that are more detailed and crisp. The most common resolution used nowadays is 1920 x 1080, also known as Full HD (or FHD).
A standard 300Hz gaming monitor mostly features Full HD resolution, and it allows gamers to enjoy the performance of their high refresh rate monitors without compromising image clarity or visual experience.
For instance, with an FHD resolution display, gamers can still take advantage of very fast response times with better visibility during intense gaming sessions. Furthermore, running games on high graphical settings such as 4K Ultra High Definition (UHD) or 8K UHD at a refresh rate close to 300 Hz may require powerful GPUs, which can be quite costly for casual players.
Panel Type
When buying a 300hz monitor, the most important factor you'll need to consider is the type of panel used in its construction. Generally speaking, there are three main types of panels that can be found in consumer monitors: IPS (In-Plane Switching), TN (Twisted Nematic), and VA (Vertical Alignment).
Each has its own strengths and weaknesses which you must take into account if you want to get the most out of your gaming session. IPS panels offer superior color accuracy as well as expansive viewing angles, allowing for enjoyable media consumption even from disparate angles.
On the flip side, however, they have relatively slow refresh rates – usually limited to around 75Hz or 144Hz at best – making them ill-suited for gamers who demand smooth action throughout their playing experience.
For this reason, many hardcore gamers opt for TN or VA displays instead since they typically have higher refresh rates due to low gray-to-gray pixel response times; up to 240Hz on some models with advanced technologies like nanotechnology & acoustic nanotube technology supported by ASUS ROG Strix XG359CM increasing it further up till 360hz – ideal conditions for high motion gaming without any pixel losses seen as trails often caused by lower hz monitors.
Response Time
When it comes to getting the best gaming performance from your 300Hz monitor, response time is just as important as refresh rate. Response time measures how quickly a pixel can transition from black to white and back again; shorter response times result in less motion blur and brighter colors.
Generally speaking, a refresh rate of 5 milliseconds (5ms) or lower is considered good for competitive gaming – though some higher-end monitors have response times of 1ms for ultra-smooth visuals.
A 300Hz monitor can enhance the gaming experience by greatly reducing motion blur compared to 144Hz LCDs, allowing for smoother navigation in fast-paced games with low input lag too!
Adaptive Sync Technology
Adaptive sync technology, such as G-Sync developed by NVIDIA, and FreeSync an open standard supported by AMD, is used in gaming monitors to prevent screen tearing. This flickering effect happens when the GPU renders a frame faster than what the monitor can display, resulting in visuals that are split up or 'torn.'
Adaptive Sync synchronizes the display's refresh rate with that of the content being rendered by your GPU which lowers input lag and increases gameplay smoothness. As 300Hz monitors offer extremely high refresh rates compared to other displays on the market, they don't typically use adaptive sync due to its extreme effectiveness already established.
Utilizing this cutting-edge technology ensures smoother performance from your gaming rig while improving input lag for a remarkable visual experience.
Popular Brands in the 300hz Monitor Market
From ASUS to Acer and more, plenty of brands have their own range of 300hz monitors for gamers to choose from.
Acer
Acer has been at the forefront of the gaming monitor market for many years now, and this year is no exception. The company unveiled four new IPS gaming monitors in 2021—the Nitro XV2 series—and these are all prime examples of Acer's commitment to providing excellent gameplay experiences for gamers everywhere.
With their impressive 300hz refresh rate upgrade and 1ms Visual Response Boost technology, the monitors in this series offer smooth and lag-free gaming environments that will enhance your playing experience.
Some models also have a curved design, reducing eye fatigue as you play your favorite titles; plus they have built-in speakers with DTS Sound technology so you can get truly immersive audio as well.
ASUS
As one of the most popular brands in the 300hz monitor market, ASUS is renowned for its commitment to high performance and value. Creating an array of gaming monitors with different refresh rates, which include 144Hz, 240Hz, and OLED options, their range offers something for everything.
At the top end is the ROG Strix XG27AQMR – a 27-inch WQHD monitor designed specifically for gaming professionals that boosts an ultrafast 300hz refresh rate. For gamers seeking something more cost-effective yet still offering great results, there's always their TUF Gaming VG279QM –providing excellent image quality and smooth gameplay while remaining within budget.
Additionally, if you're looking to improve your laptop gaming experience then look no further than their 2021 ROG Strix SCAR 15 G533 which contains speedy display panels up to 300 Hz/3ms – elevating worldly conflicts onto next-level battlegrounds like never before without needing to invest heavily into another device upgrade.
Samsung
Samsung has been a well-known name in the gaming monitor market for many years, particularly with its popular line of Odyssey gaming monitors. In 2023, Samsung is a major player in the 300Hz monitor market, offering some high-end models to meet gamers' needs.
From 27-inch and 24-inch options with 144Hz refresh rates to the 43-inch Odyssey Neo G7 and the best 4k gaming monitor available in 2023 – the Odyssey Neo G8 S32BG85 – which offers an impressive 240Hz refresh rate to ensure smooth visuals and responsive gameplay experiences.
Not only does Samsung offer LED, and QLED displays, but also curved screens on some of their top gaming monitors as well. So whether users are looking for value or sheer performance power, they can rest assured that Samsung will have something suitable available across different sizes and formats this year.
AOC
AOC is one of the popular brands in the 300hz monitor market, and it offers a wide array of products for gamers. AOC's AGON brand announced its QHD AGON PRO with Reflex, which features an ultra-thin bezel frame display that boasts MicroLED technology.
Moreover, their gaming monitor –the AG274QGM–features a resolution of up to 2560×1440 QHD at 300hz refresh rates. This means gamers can enjoy smooth and responsive gameplay, reduced motion blur, and enhanced visual experience due to increased refresh rate.
In terms of upcoming monitors in 2024, AOC has teased several new models including the all-new IPS panel from Acer Nitro XZ270 Xbmiipx series as well as Samsung Odyssey G7 series paired with Quantum Dot (QLED) technology which promises a stunning HDR 1000 image quality.
Sceptre
Sceptre is a popular brand in the 300hz monitor market known for its excellent gaming monitors. The Sceptre 30-inch Curved Gaming Monitor is quickly becoming one of the most sought-after monitors of 2023 due to its features and affordability.
This 27″ curved full HD display has a breathtaking resolution of 2560 x 1080 Full HD and stunning colors enabled by Ultra Low Motion Blur technology, 144Hz refresh rate, 1ms response time, and integrated Blue Light Filter Technology which reduces eye fatigue to offer fantastic viewing experience.
It also comes with 3 adjustable monitor stand choices so you can customize it according to your needs. Furthermore, these versatile gaming monitors are available in various color options including pure white making them ideal for both gamers and professionals alike.
How to Optimize Your 300hz Monitor for Gaming
Armed with the right settings, you can easily optimize your 300hz monitor for gaming to get the most out of it. Read on to find out how!
Adjusting Settings
Optimizing your 300hz monitor for gaming will ensure the best possible experience. When it comes to settings, you should start by adjusting the brightness and contrast of the screen.
If you have a high-end monitor, take advantage of color calibration tools that allow you to adjust RGB levels and gamma and white balance levels. Additionally, you may want to tinker with response time settings to minimize input lag.
Depending on your monitor model, some advanced features such as an adjustable HDR setting or better backlighting functions might be available that could give gamers more control over their visual experience when utilizing their 300hz gaming monitors.
Utilizing G-Sync and FreeSync Technology
G-Sync and FreeSync technologies are essential for a smooth gaming experience on any 300hz monitor. These two features eliminate screen tearing, improving the visual display of playing games at high refresh rates.
Combining these technologies with adaptive sync allows for automatically changing the refresh rate based on the graphics card's performance to ensure that there is no lag or stuttering during gameplay.
G-Sync displays have undergone rigorous testing to meet copious standards and optimize your gaming experience. Most popular video games such as Call of Duty Warzone benefit greatly from G-sync and Freesync thanks to providing fluid movement throughout, consistently eliminating unwanted distractions like screen tearing, and making it easier to accurately hit shots quickly when you need it the most!
Overclocking Options
Overclocking a 300Hz monitor can result in a faster refresh rate depending on the quality of the hardware. This process involves manually setting parameters to run the computer or display at higher than stock speeds.
Adequate cooling is essential for any overclocked system, so this will need to be considered first and foremost when deciding to overclock your monitor. Additionally, for some models such as ASUS's VG259QM, this may include simply enabling certain features such as Turbo mode or activating custom overclocking settings via their DisplayWidget software which can boost rates up to 300Hz with no further tinkering required.
The benefits of overclocking will vary from game to game but could potentially improve overall responsiveness and visual clarity resulting in an objectively improved gaming experience.
Frequently Asked Questions (FAQs)
Next, we will explore frequently asked questions related to 300Hz monito.
1. What is a 300Hz monitor?
A 300Hz monitor is a gaming monitor with a refresh rate of up to 300 Hertz, which allows gamers to experience smoother and more responsive visuals and faster frame rates than standard monitors.
2. Are there higher Hz monitors than the 300Hz?
Yes, currently 1300Hz, 1440p, 1.4K, 1.3K, and 4K are the highest available refresh rates in display technologies for gaming purposes with increasing demand each year for improved viewing accuracy at higher frequencies per second (fps).
3. Can a portable monitor support higher Hz rates be possible?
Yes! A portable gaming monitor can reach up to 144hz – 240hz by those who require on-the-go high FPS gameplay experiences without compromising performance or overall image quality from traditional stationary displays.
4. What should I consider when shopping for a new high Hz Monitor?
When buying one of these new gaming monitors, factors such as contrast ratio, resolution types (1440p vs 4k), etc must be considered before making your purchase so you know it matches the best specs suitable for your desired setup.
Takeaway
A 300Hz monitor can give players an edge in gaming, providing exactly what is needed for smooth and immersive experiences. With the latest advancements in technology, such as nanotechnology and acoustic nanotube technology, higher refresh rates are now achievable with improved color accuracy and HDR support.
As a result of these improvements, gamers require less strain on their eyes due to reduced motion blur. When picking out a 300Hz monitor, there are some key features to keep in mind, including response time, display resolution, and adaptive sync technologies like G-Sync or FreeSync.
Major brands offering 300hz monitors include Acer, ASUS, and Samsung Sceptre among many others. Gamers who want that extra performance boost should thoroughly research when purchasing a 300Hz monitor taking into account all relevant factors that may affect one's decision; remembering always to maintain compatibility with other components such as GPU is essential when searching for maximum levels of optimum performance from your new gaming machine!