WiserNotify Review – Is It The Right Tool for Your Business in 2023?
Listen to Podcast:
Are you looking for WiserNotify Review and a way to increase your website's engagement? Are you searching for an easy-to-use notification service? If so, then WiserNotify may be the perfect solution for you. In this blog post, we'll be taking an in-depth look at WiserNotify Review and how it can help your business reach its goals.
WiserNotify boosts the effectiveness of the FOMO marketing strategy on a website by using live social proofs. These include notifications and widgets that are dynamic and interactive and turn browsers into buyers. This not only builds a lot of trust and gets more leads, but smart popups and widgets also help users make each website experience their own.
In this article, we are going to talk about WiserNotify Review and its benefits, important features, and everything you need to know.
Overview of WiserNotify
WiserNotify is an automated social proof tool that helps over 6000 websites transform their brand experience by leveraging powerful social proof notifications. It offers a wide range of functionalities to help you increase customer engagement and establish trust on your website, such as live visitor notifications, pop-up notifications, and customizable social media proof notifications. 
With WiserNotify, you can create urgency and curiosity among customers by showcasing real-time traffic and other customer behaviors as well as generate more leads with its powerful social proof features. It also allows you to filter reviews based on the user's company size, role, or industry so you can find what best works for your website. Here we manage simple WiserNotify Review.
Read More: Viddle Interact Review
What does WiserNotify Do?
WiserNotify is a powerful social proof notification tool that helps businesses increase their conversions. It offers a wide range of features and customizable options to help you create effective notifications. You can display customer reviews, total visit count, and more in stylish notifications that are designed to seamlessly blend with your website's look and feel. 
Additionally, the software provides easy-to-use widgets to help you quickly create and customize your notifications. With WiserNotify, you can have your notifications up and running in minutes with its pixel code installed. Get real-time review and recommendation notifications straight from the web.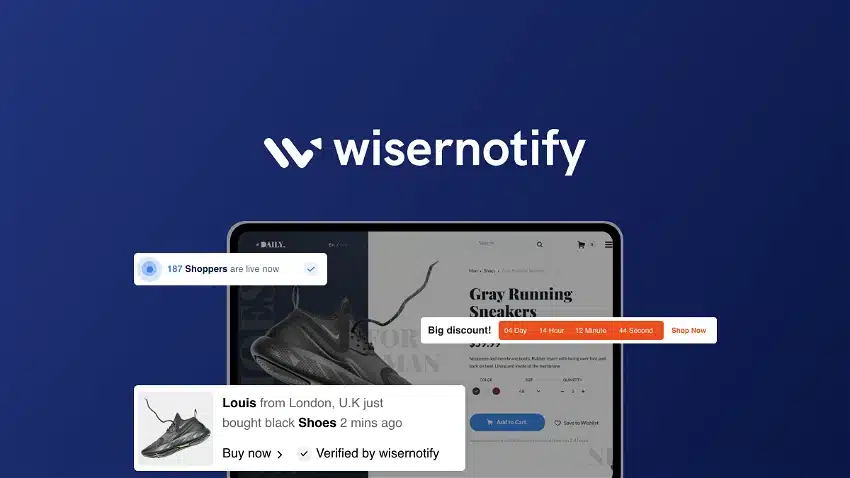 Benefits of WiserNotify
With the new opacity feature in WiserNotify Review, the benefits of using WiserNotify are numerous. With it, you can quickly and easily set up customizable social proof notifications that can be tailored to your specific needs. Not only does this help to drive more sales, but it also increases customer engagement by providing the right kind of feedback that customers appreciate. 
Additionally, WiserNotify is easy to use and has great customer support. It integrates with the most popular email platforms and website builders, making it a great choice for small businesses and entrepreneurs. Finally, WiserNotify is affordable and offers a variety of pricing packages to fit any budget.
Read Also: Tidycal Review
Real-time Notifications
WiserNotify offers real-time notifications that keep your customers updated with the latest information. Notifications can be tailored to customer preferences, ensuring they receive only the information they need. With real-time notifications, customers can stay informed of new products or services, discounts or promotions, and any changes to existing offerings. This helps to build trust between customers and the business, as customers know they are being kept up to date with the most current information. WiserNotify also integrates with multiple third-party platforms, making it easy to send notifications across multiple channels.
Easily Customizable Notification Templates
In this part of the WiserNotify Review, WiserNotify makes it easy to create custom notifications that perfectly reflect your brand. With over 60 notification templates to choose from, you can customize the type of notification you want on your site. You can control the image, shape, background, animation, size, and more. Plus, you can set your brand color and combination to ensure that your notifications look cohesive with the rest of your website. This makes WiserNotify an ideal choice for social proof notifications.
Integration with Multiple Third-party Platforms
WiserNotify makes it easy for businesses to integrate with multiple third-party platforms. This integration enables businesses to quickly and easily create automated campaigns for different customer segments. Not only that, but it also enables businesses to track and analyze the performance of their campaigns. 
With WiserNotify, businesses can access data from multiple third-party platforms in one place so they can make better decisions and improve their marketing strategies. Thanks to its integration capabilities, businesses can send out notifications across different channels and make sure they reach the right people.
Also Read: Suitedash Review
Key Features of WiserNotify
Recent Events: It can be hard to get people to trust you and like you. You have to show potential customers that they can trust you and that you are credible. One of the best ways to do this is to show recent sales, sign-ups, and subscriptions. This helps build trust and shows that your business is reliable.
YouTube Stats: Add statistics to your videos to make them more interesting. This will make more people want to subscribe to your channel, which will make you more engaged overall.
WiserNotify Review: Make sure your customers are giving you good reviews on Google, Facebook, and other review sites. This will show potential customers that your business is trustworthy.
Showing the number of times your product has been seen recently is one way to show that more people want it. This will let people know that people are interested in what you have to offer and that they should check it out too.
Live Visitors: It's important for any business to build trust with its customers. One way to do this is to put a counter on your landing page or offer page that shows how many people are actually there. This will show potential customers how well-known your brand is and make them more likely to trust it.
Display sales counters and limited-time offers to make customers feel like they need to buy now and encourage them to do so.
How Does WiserNotify Work?
Now, let's see how WiserNotify works in the next part of my WiserNotify Review. It works by collecting real-time insights about what visitors are doing on your website, such as reading reviews, purchasing products, and more. With this data, WiserNotify can then display social proof notifications – such as reviews from Facebook, Google, and other multiple review platforms – to help build trust and improve conversions. 
Additionally, WiserNotify offers a free plan with customizable notifications so you can tailor the content to match your branding. By utilizing the features of WiserNotify, you can easily set up and use the tool to increase conversions and build trust with your target audience.
How to Set up and Use WiserNotify?
Setting up and using WiserNotify is easy. With just a few clicks, you can install the pixel code using Google Tag Manager (GTM). Once you have installed the pixel code, you can start creating different forms of social proof notifications such as displaying recent customer reviews and visitor count. You can also customize the notifications to suit your requirements. 
WiserNotify allows you to automate your sales and conversions by turning every visitor action into social proof notifications. Furthermore, you can connect WiserNotify with ActiveCampaign for additional features such as customer segmentation and performance tracking. With WiserNotify, you can build trust and credibility with live notifications that will help to boost your sales.
Sign up for a WiserNotify Account
Signing up for a WiserNotify account is easy and straightforward. All you have to do is provide your name, email address, and password. Once your account is set up, you can start creating notifications and campaigns with real-time data from your website or app. With WiserNotify, you can easily customize your notifications to match the look and feel of your brand and add images, videos, or HTML to make them stand out. 
You can also integrate with multiple third-party platforms like MailChimp, Zapier, and Slack to automate campaigns for different customer segments. Overall, WiserNotify makes it easy to set up automated customer engagement campaigns that drive conversions and increase sales.
Connect with your Preferred Email Service Provider
Connecting with your preferred email service provider is a great way to ensure that your WiserNotify notifications are sent out quickly and efficiently. With integrations to over 1000 different apps, you can easily sync data between platforms, create powerful automated workflows, and even segment your customers into groups to send more personalized notifications. 
This means that you can keep customers up-to-date on the latest offers, promotions, and events while building trust and credibility with live notifications.
Design and Customize your Notifications
Using WiserNotify, you can easily design and customize your notifications to meet the needs of different customer segments. With its easy-to-use drag-and-drop interface, you can create beautiful notifications with 50 notification designs that are fully customizable. You can choose from a wide range of colors and combinations to match your brand, while also customizing the position and animation style of your notifications.
Additionally, Wisernotify allows you to integrate with multiple third-party platforms so you can send automated campaigns for different customer segments easily. With its comprehensive analytics feature, you can track and analyze the performance of your campaigns to better understand how your customers are engaging with your notifications.
Create Automated Campaigns for Different Customer Segments
Using WiserNotify, you can create automated campaigns for different customer segments to reach them effectively and strategically. Automation takes the hassle out of creating campaigns and helps you keep track of what works and doesn't. It also allows you to personalize messages for each segment, ensuring that customers get the right message at the right time. With automated campaigns, you can easily increase your reach and ensure that your customers receive the right message at the right time.
Track and Analyze the Performance of your Campaigns
Tracking and analyzing the performance of your campaigns is essential to ensure you are getting the most out of your digital marketing efforts. With WiserNotify, you can easily track and analyze the performance of your campaigns, from real-time notifications to automated campaigns for different customer segments. 
You can customize your notifications, integrate with multiple third-party platforms, and quickly analyze the data to see which campaigns perform best. This way, you can ensure that you reach the right people with the right message at the right time. With WiserNotify, you can be sure that your campaigns are hitting their mark.
Read Also More: Radaar Review
Pricing and Packages of WiserNotify
WiserNotify offers three different pricing plans to suit different needs. The Free plan is perfect for those just starting, as it allows unlimited notifications and social proof widgets. The Subscription plan offers additional features, including advanced analytics and personalized support. 
For larger businesses, the Enterprise plan is tailored for scalability and flexibility. All plans come with a 14-day free trial to give you time to make sure the software meets your needs. Whether a small business or a large enterprise, WiserNotify has a pricing plan to help you get the most out of your social proof notifications.
Free ($0/month):
1,000 guests

Brand-managed, premium-priced templates

Online Resources

Social-proof notifications

Call-to-action gadgets

Choosing Analytics A/B-test

200+ mergers
Starter ($16/month):
10,000 uniques max

All features in the free plan plus

Access to Premium Designs for Branding
 Standard Plan ($26/month): 
30,000 visitors monthly

All Features in the starter plan
Premium ($40/month):
50,000 monthly visitors

All Features in the Standard plan
Pros and Cons of WiserNotify
WiserNotify Review will make you a unique script that is easy to read and gives your viewers a lot of value. WiserNotify has become a popular choice for businesses seeking to leverage social proof's power. With an array of customizable notifications, WiserNotify provides businesses with the tools to increase their conversion rates, build successful email lists, and make more sales. The platform also offers an array of features that make it easy to set up and use, saving time and money. While WiserNotify has many advantages, some drawbacks should be considered before investing in the platform. 
For instance, some users may find the cost of WiserNotify too high for their budget or may find that certain features are not as user-friendly as expected. In addition, it may take some time for businesses to see the full benefits of using WiserNotify since it takes time for notifications to start appearing on their website or social media accounts.
Pros
Easy-to-use interface

Boosts conversions

Highly responsive and kind help

Embedded notifications 

Amazing customer support
Cons
No option to change the source of data in A/B testing
Compare the price between WiserNotify vs notification X
Find out which software has the best value pricing and which one offers a free trial and money-back guarantee.
| | | |
| --- | --- | --- |
| Pricing comparison | WiserNotify | NotificationX |
| Pricing Range | From $0 to $40 per month | From $39 to $99 per year |
| Pricing types | Annual subscription / Monthly subscription | Annual subscription / Lifetime payment |
| Free plan | Yes | Yes |
| Free trial | No | No |
| Money back guarantee | Yes, 14 days | Yes, 14 days |
Different Forms of Social Proof
WiserNotify allows businesses to take advantage of different forms of social proof to increase trust and credibility. Companies can show live visitor counts, sales, reviews, announcements, and other forms of social proof on their websites. WiserNotify offers customizable design templates with A/B testing in a free plan, so businesses can try out different variations of FOMO and other forms of social proof. 
This will help them build trust and increase conversions with social proof notifications. With WiserNotify's intuitive dashboard, businesses can easily create, customize and target their social proof notifications to the right audiences. Our WiserNotify Review is meant to be helpful.
Also, Read More: Mobile App Features for Business
Customizable Social Proof Notifications
Customizable social proof notifications are essential to any successful marketing strategy, and WiserNotify makes it easy to create effective and eye-catching notifications. With dozens of templates, customizable design options, and A/B testing options, WiserNotify allows you to create unique notifications that perfectly fit your brand. 
No matter what kind of notification you want to create, WiserNotify has the tools to help you make a lasting impression on your customers. With WiserNotify, you can increase trust and conversions with social proof notifications designed specifically for your website.
Is it Worth Using?
WiserNotify is an invaluable tool for businesses that want to stay connected with their customers in a meaningful way. It offers a wide range of features and benefits that make it worth the investment. Real-time notifications, customizable templates, integration with third-party platforms, automated campaigns, and tracking and analysis options all make WiserNotify an easy-to-use and powerful tool for customer engagement. 
With its robust features, WiserNotify is an effective way to increase customer engagement and loyalty, driving more sales and revenue for your business. WiserNotify Review is worth checking out!
Keep Reading: Proof of Stake an Overview
Is WiserNotify Safe for Use?
WiserNotify takes security and privacy seriously, using the best encryption technologies to keep your data safe. All the data within WiserNotify is stored in secure servers that are regularly monitored. They also have strict policies to ensure that your data is never shared with third parties without your consent. 
Additionally, their team is constantly working to stay up-to-date with the latest security protocols and technologies to ensure that your data remains secure. With WiserNotify, you can rest assured that your data is safe and secure.
Final Verdict
Our WiserNotify Review is over. WiserNotify is a powerful tool that provides customizable social proof notifications to boost website conversions. With WiserNotify, it is possible to use the FOMO marketing strategy and provide customers with dynamic and interactive reports to increase sales. 
WiserNotify offers critical features like real-time notifications, customizable design, and free updates. It also provides various pricing packages so users can choose what fits their budget. WiserNotify is a great tool that can help businesses increase their credibility and trustworthiness to attract more customers and boost their sales.
Apart from WiserNotify Review, you can read more entertainment and informative articles here.
Frequently Asked Questions (FAQs)
What is WiserNotify?
Wisernotify is a tool that helps you use social proof to build trust and get more sales. We make engaging, relatable, and meaningful social proof stories, and we share them with your potential customers. It gives customers a sense of trust and confidence and makes them want to buy.
Who are the typical users of WiserNotify?
Most of the people who use WiserNotify are Freelancers, Large Enterprises, mid-size businesses, and Small Businesses.
What are social proof notifications?
Proof of Society Using the actions of other customers, notifications can show how busy and interactive your store is. You can show how popular and in demand your products are by showing how many people are looking at a product simultaneously and how many of those products have been sold.
What Features Does WiserNotify Offer?
WiserNotify offers a wide range of features to help increase website conversions. With 50 notification designs, users can customize their notifications to match the look and feel of their website. Additionally, WiserNotify provides widgets, announcements, and timers to help create an engaging and dynamic social proof experience. 
Furthermore, WiserNotify also provides guides, tutorials, and customer support for users who need assistance with their notifications. With all these features, WiserNotify is an effective tool for increasing website conversions and improving the overall user experience.
What is a social proof app?
Social proof apps easily show your customers what other people say about your business. Reviews, product ratings, testimonials, user-generated content, and pop-up messages that appear in real-time are all examples of social proof content.
Which proof source is usually the most powerful?
The testimonial is a must-have for every product type, so it doesn't matter what industry it works best in. It is the most convincing social proof.
How powerful is social proof?
Social proof is an essential part of marketing that you can't ignore. People listen to what others say to decide which brands to trust and what products to buy. If your business doesn't already have a Proof-Based Marketing plan, you should start using one. Don't forget that proof sells and promises don't.
How do you test for social proof?
A/B testing is a good way to see how different places of social proof work. In A/B testing, two versions of the same page are compared to each other, and statistical data is used to determine which page has a statistically significant difference in conversion rate.
What is social proof in relationships?
How does social proof work? Social proof is the idea that people will do what others do because they think that what others do is the right thing to do.
How many followers do you need for social proof?
To get more people to join the conversation, highlight or celebrate social proof metrics like reaching 100,000 followers. This will help you get even more people to follow you. Change how people buy things and what they decide to buy. Use social proof to show that people can trust and rely on your brand to get them to buy.
Subscribe to Our Latest Newsletter
To Read Our Exclusive Content, Sign up Now.
$5/Monthly, $50/Yearly