All The Video Games That will be Released in 2023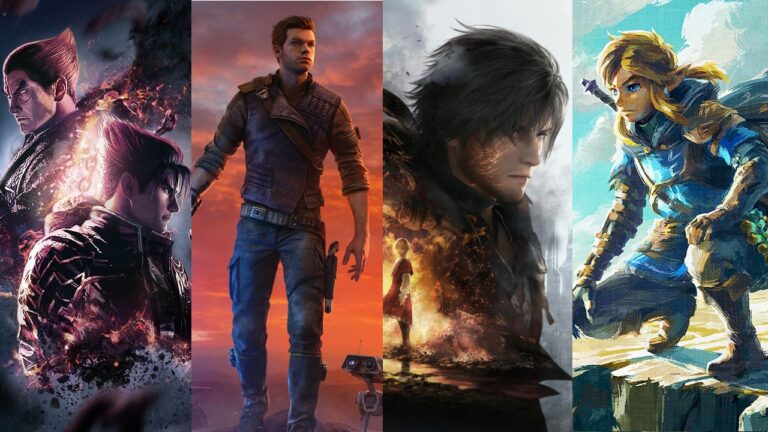 Listen to the Podcast:
The year 2023 is shaping up to be a landmark for the gaming industry. It will be a period of 12 months during which we will not only see the publication of well-known AAA titles but also video games for which we have waited years. There are also indie video games on the schedule that you will want to play.
With releases such as The Legend of Zelda: Tears of the Kingdom, Starfield, Marvel's Spider-Man 2, Resident Evil 4, and Star Wars Jedi: Survivor, 2023 will be an incredibly intense year for video games. This means that it can be difficult to keep up with all the new releases for PlayStation 5, PlayStation 4, Xbox Series X|S, Xbox One, Nintendo Switch, and PC.
For your convenience, we have compiled a list of the year's most significant releases. We will update it so that you can return to view the most anticipated releases.
Video Games That are Released in January 2023
Scrap Riders ― January 9 (PC, Switch)
Fears to Fathom ― January 9 (PC)
Lone Ruin – January 12 (Switch, PC)
Glimmer in Mirror ― January 10 (PC)
Children of Silenttown ― January 11 (PC)
Drago Noka ― January 11 (PC)
GROSS ― January 11 (PC)
Dragon Ball Z Kakarot ― January 13 (PS5, Xbox Series X|S)
One Piece Odyssey ― January 13 (PS5, PS4, Xbox Series X|S, Xbox One, PC)
A Space for the Unbound ― January 19 (PS5, PS4, Xbox Series X|S, Xbox One, Switch PC)
Persona 3 Portable ― January 19 (PS5, PS4, Xbox Series X|S, Xbox One, Switch PC)
Persona 5 Golden ― January 19 (PS5, PS4, Xbox Series X|S, Xbox One, Switch PC)
Colossal Cave ― January 19 (PS5, Xbox Series X|S, Xbox One, Switch, PC)
Fire Emblem Engage ― January 20 (Switch)
Monster Hunter Rise ― January 20 (PS5, PS4, Xbox Series X|S, Xbox One)
Forspoken ― January 24 (PS5, PC)
Hi-Fi Rush ― January 25 (Xbox Series X|S, PC)
OddBallers ― January 26 (PS4, Xbox One, Switch, PC)
Story of Seasons: A Wonderful Life ― January 26 (PS5, Xbox Series X|S, Switch, PC)
Dead Space ― January 27 (PS5, Xbox Series X|S, PC)
Age of Empires II: Definitive Edition ― January 31 (Xbox Series X|S, Xbox One)
Inkulinati ― January 31 (Xbox Series X|S, Xbox One, Switch, PC)
Season: A Letter to the Future ― January 31 (PS5, PS4, PC)
SpongeBob Square Pants: The Cosmic Shake ― January 31 (PS4, Xbox One, Switch, PC)
Video Games That are Released in February 2023
Cuddly Forest Friends ― February 2 (Switch)
Deliver Us Mars ― February 2 (PS5, PS4, Xbox Series X|S, Xbox One, PC)
Hogwarts Legacy ― February 10 (PS5, Xbox Series X|S, PC)
Blanc ― February 14 (Switch, PC)
Wanted: Dead ― February 14 (PS5, PS4, Xbox Series X|S, Xbox One, PC)
Theater Final Bar Line ― February 16 (Switch, PC)
Tales of Symphonia Remastered ― February 17 (PS4, Xbox One, Switch)
A Weekend in Puzzleburg ― February 17 (PC)
WILD HEARTS ― February 17 (PS5, Xbox Series X|S, PC )
Like a Dragon Ishin! ― February 21 (PS5, PS4, Xbox Series X|S, Xbox One, PC)
Atomic Heart ― February 21 (PS5, PS4, Xbox Series X|S, Xbox One, PC)
Digimon World Next Order ― February 22 (Switch, PC)
Horizon Call of the Mountain ― February 22 (PSVR2)
Resident Evil Village ― February 22 (PSVR2)
Gran Turismo 7 ― February 22 (PSVR2)
Blood Bowl 3 ― February 23 (PS5, PS4, Xbox Series X|S, Xbox One, Switch, PC)
Company of Heroes 3 ― February 23 (PC)
Sons of the Forest ― February 23 (PC)
Kirby's Return to Dreamland Deluxe ― February 24 (Switch)
Octopath Traveler 2 ― February 24 (PS5, PS4, Switch, PC)
Destiny 2: Lightfall ― February 28 (PS5, PS4, Xbox Series X|S, Xbox One, PC)
Scars Above ― February 28 (PS5, PS4, Xbox One, Xbox Series X|S, PC)
Video Games That are Released in March 2023
We Long: Fallen Dynasty ― March 3 (PS5, PS4, Xbox Series X|S, Xbox One, PC)
Melon Journey: Bittersweet Memories ― March 7 (PC)
Fatal Frame: Mask of the Lunar Eclipse ―March 9 (PS5, PS4, Xbox Series X|S, Xbox One, Switch, PC)
The Legend of Heroes: Trials to Azure ― March 14 (PS4, Switch, PC)
Bayonetta Origins: Cereza and the Lost Demon ― March 17 (Switch)
Remnant: From the Ashes ― March 21 (Switch)
Have a Nice Death ― March 22 (Switch, PC)
Resident Evil 4 ― March 22 (PS5, Xbox Series X|S, PC)
The Last of Us: Part I ― March 28 (PC)
Bat Boy ―March 30 (PS5, PS4, Xbox Series X|S, Xbox One, Switch, PC)
Video Games That are Released in April 2023
Meet Your Maker ― April 4 (PS5, PS4, Xbox Series X|S, Xbox One, PC)
Mega Man Battle Network Legacy Collection ― April 14 (PS4, Switch, PC)
Star Trek: Resurgence ― April 15 (PS5, PS4, Xbox Series X|S, Xbox One, PC)
Minecraft Legends ― April 15 (PS5, PS4, Xbox Series X|S, Xbox One, PC)
God of Rock ― April 18 (PC)
Horizon: Forbidden West: Burning Shores ― April 19 (PS5)
Afterimage ― April 25 (PS5, PS4, Xbox Series X|S, Xbox One, Switch, PC)
Roots of Pacha ― April 25 (PC)
Star Wars Jedi: Survivor ― April 28 (PS5, Xbox Series X|S, PC)
Dead Island 2 ― April 28 (PS5, PS4, Xbox Series X|S, Xbox One, PC)
Video Games That are Released in May 2023
Redfall ― May 2 (Xbox Series X|S, PC)
Midautumn ― May 9 (PC)
The Legend of Zelda: Tears of the Kingdom ― May 12 (Switch)
Suicide Squad: Kill the Justice League ―May 26 (PS5, Xbox Series X|S, PC)
Video Games That are Released in June 2023
Esophaguys v―June 1 (PC)
Street Fighter VI ― June 2 (PS5, PS4, Xbox Series X|S, PC)
Diablo IV ― June 6 (PS5, PS4, Xbox Series X|S, Xbox One, PC)
Final Fantasy XVI ― June 22 (PS5)
Other Games Expected in 2023
Alan Wake II ― (PS5, Xbox Series X/S, PC)
Aliens: Dark Descent ― (PS4, PS5, Xbox One, Xbox Series X/S, PC)
Amnesia: The Bunker ― (PS4, Xbox One, Xbox Series X/S, PC)
Ark 2 ― (Xbox One, Xbox Series X/S, PC)
Armored Core VI: Fires of Rubicon ― (PS4, PS5, Xbox One, Xbox Series X/S, PC)
Assassin's Creed Mirage ― (PS4, PS5, Xbox One, Xbox Series X/S, PC)
Atlas Fallen ― (PS5, Xbox Series X|S, PC)
Avatar: Frontiers of Pandora ― (PS5, Xbox Series X/S, PC)
Baldur's Gate 3 ― (PC)
Blazing Strike ― (PS4, PS5, Switch, PC)
Blue Protocol ― (PS5, Xbox Series X/S, PC)
Coffee Talk Episode 2: Hibiscus & Butterfly ― (PS4, Xbox One, Switch, PC)
Cyberpunk 2077: Phantom Liberty ― (PS5, Xbox Series X/S, PC)
Disney Illusion Island ― (Switch)
Disney Speedstorm ― (PS5, PS4, Xbox Series X|S, Xbox One, Switch, PC)
Dune: Awakening ― (PC)
Eiyuden Chronicles: Hundred Heroes ― (PS4, PS5, Xbox One, Xbox Series X/S, Switch, PC)
Final Fantasy VII Rebirth ― (PS5)
Forza Motorsport ― (Xbox One, Xbox Series X/S, PC)
Gord ― (PS4, Xbox One, PC)
Gunbrella ― (Switch, PC)
Hades II ― (PC)
Hellboy: Web of Wyrd ― (PS4, PS5, Xbox One, Xbox Series X/S, Switch, PC)
Hollow Knight Silksong ― (Xbox One, Xbox Series X/S, Switch, PC, Mac, Linux)
Killer Klowns from Outer Space: The Game ― (PS4, PS5, Xbox One, Xbox Series X/S, PC)
Layers of Fear ― (PS5, Xbox Series X/S, PC)
Lies of P ― (PS4, PS5, Xbox One, Xbox Series X/S, PC)
Lightyear Frontier ― (Xbox One, Xbox Series X/S, PC)
The Lords of the Fallen ― (PS5, Xbox Series X/S, PC)
Marvel's Spider-Man 2 ― (PS5)
Minecraft Legends ― (PS5, PS4, Xbox One, Xbox Series X/S, Switch, PC)
Nightingale ― (PC)
Palworld ― (PC)
Pikmin 4 ― (Switch)
Redfall ― (Xbox Series X/S, PC)
Remnant II ― (PS5, Xbox Series X/S, PC)
Risk of Rain Returns ― (Switch, PC)
RoboCop: Rogue City ― (PlayStation 5, Xbox Series X/S, Switch, PC)
SCHIM ― (PS4, Xbox One, Switch, PC, Mac, Linux)
STALKER 2: Heart of Chornobyl ― (Xbox Series X/S, PC)
Sea of ​​Stars ― (PS4, PS5, PC)
Skull and Bones ― (PS5, PS4, Xbox Series X|S, Xbox One, PC)
Starfield ― (Xbox Series X/S, PC)
Suikoden I & Suikoden II Remaster ― (PS4, Xbox One, Switch, PC)
TEKKEN 8 ― (PS5, Xbox Series X/S, PC)