Unveiling the Revolutionary Spirit: The Life and Works of Kazi Nazrul Islam
Listen to the Podcast:
Kazi Nazrul Islam was born on May 24, 1899, in Churulia, Bengal Presidency, British India. He is a renowned poet, playwright, essayist, novelist, journalist, singer, actor, soldier, and revolutionary who used his pen to combat colonialism, fascism, religious orthodoxy, and elitism. Let's explore the life and works of Kazi Nazrul Islam. 
He is officially acknowledged as the national poet of Bangladesh and is also highly respected in India. Academics credit him for initiating a cultural revolution amongst the Muslim minority of Bengal and for "liberating" Bengali literature and poetry from its medieval obstructions. Kazi Nazrul Islam aided his people in embracing modern life by connecting traditional Islam and modern sensibilities. 
In his work, themes such as freedom, humanity, love and revolution were recurrent. He was an opponent of all types of religious, caste and gender-based prejudice and extremism. Nazrul wrote short stories, novels and essays, but his most famous works are his poems and melodies. He is noted for his extensive use of Arabic, Persian and Urdu vocabulary in his writings and for making Bengali ghazal tunes popular.
Kazi Nazrul Islam Biography
Name 

Kazi Nazrul Islam

Title

Bidrohi Kobi — Rebel Poet

Nickname

Dukhumiyan

Pen name

Dhumketu

Birth Day 

24 May 1899

Birth Place 

Churulia, Asansol, Bengal Presidency, British India

Father's Name

Kazi Faqeer Ahmed

Mother's Name

Zahida Khatun

Spouse

Pramila Devi

Children

Kazi Sabyasachi, Arindam Khaled, Kazi Aniruddha, and Krishna Mohammad

Profession

Poet, writer, Song composer, Singer, Novelist, Soldier, Film Actor

Nationality

British Indian (1899 – 14 August 1947)

Indian (15 August 1947 – 18 February 1976)

Bangladeshi (18 February 1976–29 August 1976)

Religion

Islam

Death

29 August 1976
Early Life and Education
Kazi Nazrul Islam is regarded as one of the greatest poets in Bengali literature. Kazi Fakir Ahmed, the local mosque and mausoleum curator, and his wife, Zahida Khatun, were his parents. Nazrul was their second child out of four.
After his father's untimely death, the villagers named Nazrul "Dukhu Mia" because of the tribulations he endured in his youth. At age ten, he began working in his father's position as the mosque's caretaker, supporting his family and assisting teachers in the classroom.
In 1910, Nazrul attended Raniganj's Searsole Raj High School and then Mathrun High English School. Due to financial constraints, he abandoned his studies and began working in various capacities, including as a cook, in a bakery, and at a tea store in Asansole.
In 1914, Nazrul resumed his education and graduated from the tenth grade. He studied Bengali, Sanskrit, Arabic, Persian literature, and Hindustani classical music, among other subjects. In 1917, he enlisted as a combatant in the Indian Army, where he served for three years before achieving the rank of Battalion Quarter Master (Havildar).
The Life and Works of Kazi Nazrul Islam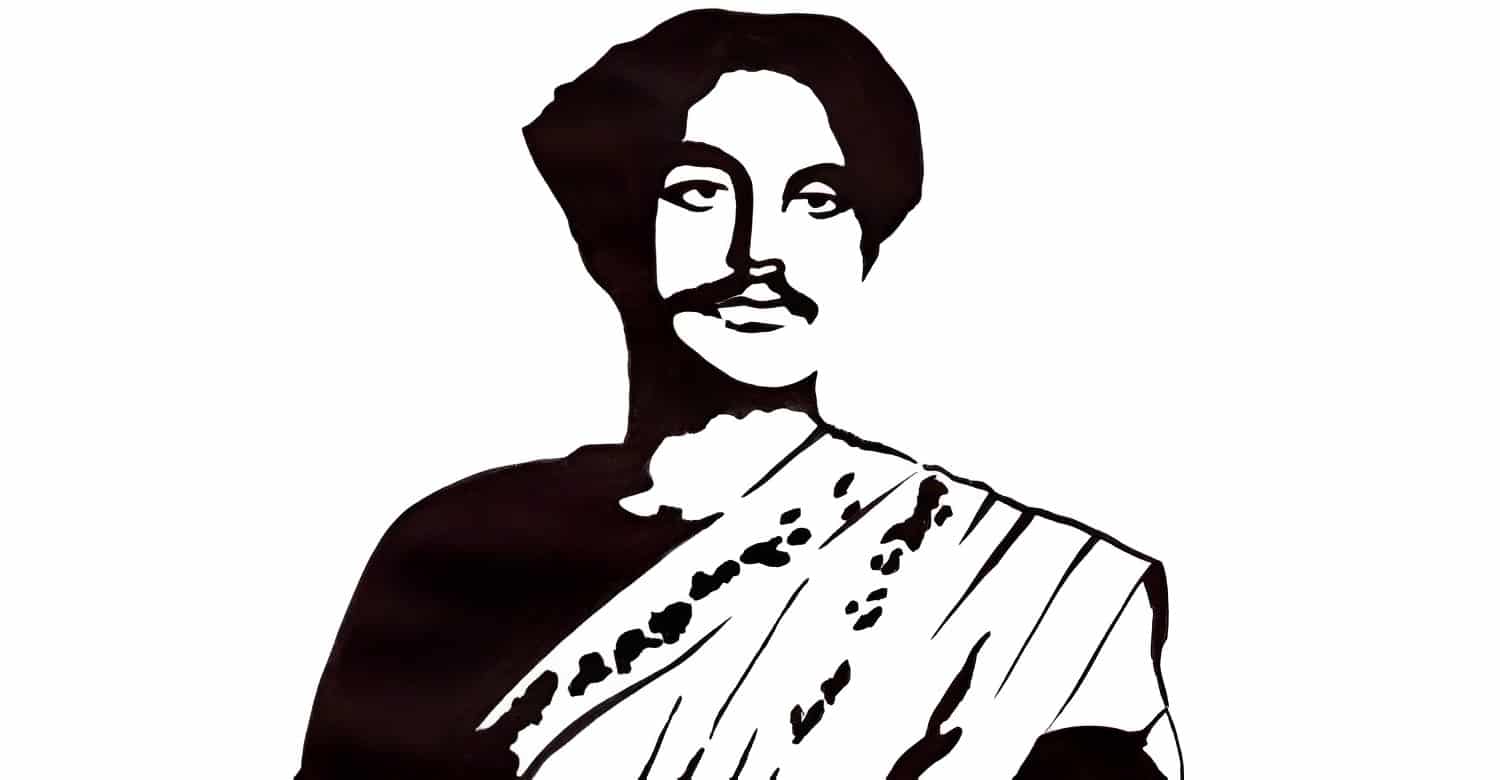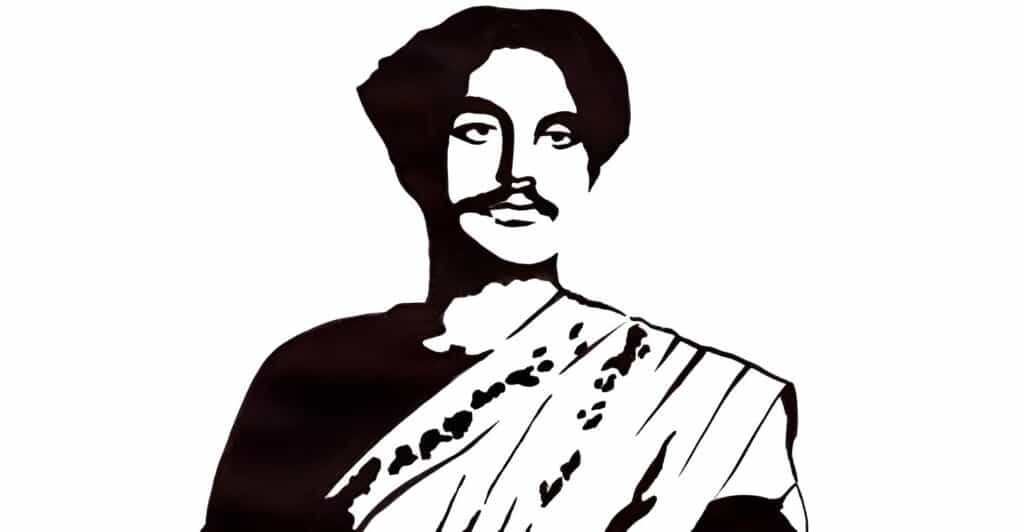 Kazi Nazrul was born in 1899 in the Indian state of West Bengal. He is recognized as a renegade poet for his iconoclastic and majestic literary works.
The Nazrul Institute says that Kazi Nazrul wrote 2,600 melodies, 600 poems, three books, and 43 articles throughout his 21-year career before he lost his voice.
Kazi Nazrul supported his family by working as a caregiver and as a muezzin at a mosque following the loss of his father. He was required to leave school at nine to join a Churulia-based professional "Leto" company.
Working for the group introduced him to Bengali and Sanskrit literature. After a year, he returned to school and enrolled at Matharun English School but bowed out of Class VI due to poverty.
Among his lyrics books, the one called Zulfikar is a collection of Muslim religious songs, and the one called Sarbahara is a collection of patriotic songs.
Kazi Nazrul began his literary career within a few years of joining the British Army as a soldier in 1917. 1921 he published the cult classic poem 'Bidrohi' (The Rebel). A year later, he launched a biweekly publication, ' Dhumketu' (The Comet).
On multiple occasions, his nationalist participation in the Indian Independence Movement landed him in the clutches of British colonial authorities.
Kazi Nazrul wrote 'Rajbandir Jabanbandi' (Deposition of a Political Prisoner) while incarcerated, and his writings later inspired the Liberation War.
In Kazi Nazrul's magnificent literary works, liberty, humanism, love, and revolution are recurring themes. He opposed all forms of religious, caste-based, and gender-based prejudice and extremism.
He wrote short stories, novels, and essays, but his most critically acclaimed literary works are his songs and poetry. He is known for his liberal use of Arabic and Persian elements in his writings and for popularizing Bengali ghazal melodies.
Nazrul Geeti is a compilation of 4,000 songs that Kazi Nazrul wrote and composed the music for, many of which were recorded by HMV.
Due to an unexplained illness, Kazi Nazrul began to lose his voice and memory in 1942. Later, a medical team in Vienna determined that he was suffering from Pick's disease, an uncommon and incurable neurodegenerative condition.
In 1972, his family moved to Dhaka, Bangladesh, at the invitation of the then-Bangladeshi administration. 1974 Dhaka University awarded him an honorary post-doctoral degree for his monumental contribution to Bangla literature and culture. In 1976, he was awarded the Ekushey Padak. Kazi Nazrul passed away on August 29, 1976, in Dhaka.
Read More: Samaresh Majumdar
Nazrul's Contribution to Bengali Literature
Kazi Nazrul Islam deviated from the literary norms of his period and developed his poetic language. He frequently employed Arabic and Persian vocabulary. He composed and set approximately 3000 melodies to music. Most of Nazrul Islam's songs were initially ghazals (a form of north Indian light classical poetry). Still, he incorporated elements from Bengali folk and devotional tunes, Middle Eastern music, thumri/another form of north Indian classical music, and other sources.
In his poetry, Nazrul Islam developed a distinct approach distinct from Tagore's musical compositions. Among his lyrics books, the one called Zulfikar is a collection of Muslim religious songs, and the one called Sarbahara is a collection of patriotic songs. Many critics consider his compositions his most significant contribution to Bengali literature. He was also involved in theatre and wrote screenplays for motion pictures.
Kazi Nazrul Islam's exuberance enabled him to generate a vast body of work in a relatively brief literary career. In 1942, he lost the ability to speak and his memory, which he never recovered. In 1972, the then-prime minister of Bangladesh, Sheikh Mujibur Rahman, brought him to Dhaka as a state guest, where he died.
He received the Jagattarini Gold Medal from Calcutta University, the Padma Bhushan from the Indian government, and the Ekushe Padak from the Bangladeshi government. His main poetry collections include Agnibina, Dolonchapa, Bisher Bani, Chhayanat, Samyabadi, SindhiHillol, SheshSaugat, and Sanchita. His collections of essays and short stories include Yugabani, Dhumketi, and Byathou, Dan. Additionally, he authored the novels Bandhanhara and Kuhelika.
Kazi Nazrul Islam as a Freedom Fighter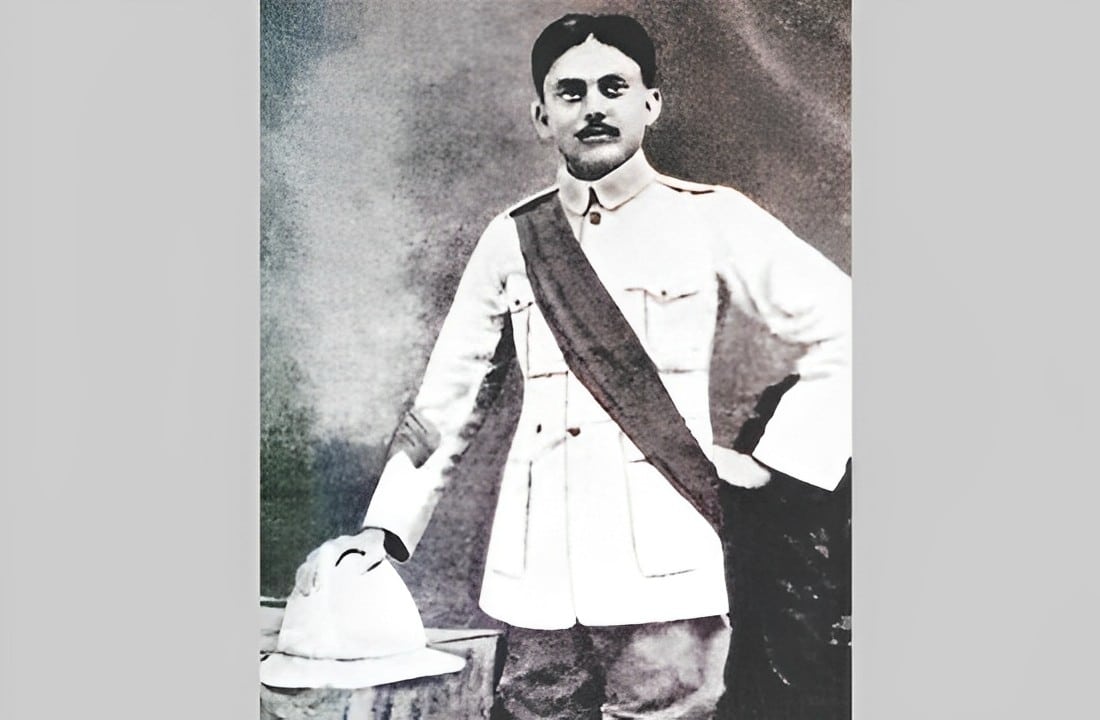 In the struggle against foreign authorities, Kazi Nazrul Islam used his pen as a weapon. In 1917, he enlisted in the military to receive training in using arms to remove foreign authorities. In 1919, however, he returned to his birthplace and settled into literary labor. He joined the Indian National Congress and actively participated in its programs during the National Movement. He never hesitated to criticize wrongdoings that his conscience rejected.
He produced revolutionary literature encouraging young people to join the National Movement and overthrow the British government. As a consequence, he was labeled a 'Rebel Poet.' In his writings, he was highly critical of British mismanagement. The British government, offended by his writings, imprisoned him. Even while incarcerated, he resisted the authorities. He went on hunger strike for forty days in the prison, demanding that the conditions of the detainees be improved.
Following his release from prison, Islam founded the 'Shramika Praja Swarajya Dal' in 1925 to gain ultimate self-rule. He founded the periodical 'Langal' to propagate Dal philosophy. Meanwhile, he met communist leader Muzaffar Ahmed and was affected by the Russian Revolution's advances.
This infuriated the British rulers. They imprisoned him multiple times and banned his magazines and poetry. Nazrul Islam, on the other hand, never stopped writing. Despite illness and hardship, he continued criticizing British rulers, landlords, and imperialists in his writings.
Not only was he an accomplished orator, but he was also a talented singer. In 1942, Islam fell ill and lost his voice entirely. He remained silent for roughly thirty years. After independence, the governments of India and Bangladesh presented Nazrul Islam with several awards and honorary doctorates. 1960 saw the awarding of the Padmabhushan to Khazi Nazrul Islam by the Indian government.
Read More: Bangladesh Independence Day
Family Life
Nazrul met the book publisher Ali Akbar Khan in the office of the Muslim Literary Society between April and June 1921. With him, he first visited the home of Birjasundari Devi in Comilla. Here he met Pramila Devi, with whom he fell in love and subsequently wed.
But before that, Nazrul wed Nargis Asar Khanum, the sister of Ali Akbar Khan. After the marriage contract was finalized, there was a dispute in Nazrul's home in Kabul over the terms of his in-law status. Nazrul Ghar refused to be a son-in-law and moved to Birjasundari Devi's home in Comilla town after leaving Nargis before Basar was completed. Nazrul was gravely ailing at the time, and Pramila Devi cared for him. They eventually got married.
Nazrul was a communist pioneer. Despite being Muslim, he gave his four offspring Bengali and Arabic/Persian names. For example, Krishna Muhammad, Arindam Khaled (Bulbul), Kazi Sabyasachi and Kazi Aniruddha.
Read More: Tagore's Memories with Nagor River
Works by Kazi Nazrul Islam
Poetry
Agnibeena (The Fiery Lute), 1922

Sanchita (Collected poems), 1925

Phanimanasa (The Cactus), 1927

Chakrabak (The Flamingo), 1929

Satbhai Champa (The Seven Brothers of Champa), juvenile poems, 1933

Nirjhar (Fountain), 1939

Natun Chand (The New Moon), 1939

Morubhaskar (The Sun in the Desert), 1951

Sanchayan (Collected Poems), 1955

Nazrul Islam: Islami Kobita (A Collection of Islamic Poems; Dhaka, Bangladesh: Islamic Foundation, 1982)
Poems and Songs
Further information: Nazrul Geeti

Dolan Chapa (name of a faintly fragrant monsoon flower), 1923

Bisher Bashi (The Poison Flute), 1924

Bhangar Gan (The Song of Destruction), 1924 proscribe in 1924

Chhayanat (The Raga of Chhayanat), 1925

Chittanama (On Chittaranjan), 1925

Samyabadi (The Proclaimer of Equality), 1926

Puber Hawa (The Eastern Wind), 1926

Sarbahara (The Proletariat), 1926

Sindhu Hindol (The Undulation of the Sea), 1927

Jinjir (Chain), 1928

Pralaya Shikha (Doomsday Flame), 1930, proscribed in 1930

Shesh Saogat (The Last Offerings), 1958
Short Stories
Bathar Daan (Offering of Pain), 1922

Rikter Bedon (The Sorrows of Destitute), 1925

Shiulimala (Garland of Shiuli) 1931

Padmagokhra ()

Ognigiri (The Volcano)

Jiner Badsha (The King of the Jinns)
Novels
Bandhan Hara (Free from Bonds), 1927

Mrityukshuda (Hunger for Death), 1930

Kuhelika (Mystery), 1931
Plays and Drama
Jhilimili (Window Shutters), plays, 1930

Aleya (Mirage), song drama, 1931

Putuler Biye (Doll's Marriage), children's play, 1933

Madhumala (Garland of Honeysuckle), a musical play, from 1960

Jhar (Storm), juvenile poems and play, 1960

Pile Patka Putuler Biye (Doll's Marriage), juvenile poems and play, 1964

Shilpi (Artist)
Essays
Joog Bani (The Message of the Age), 1926

Jhinge Phul (The Cucurbitaccus Flower), 1926

Durdiner Jatri (The Traveller through Rough Times), 1926

Rudra Mangal (The Violent Good), 1927

Dhumketu (The Comet), 1961
Awards
Jagattarini Gold Medal (1945)

Padma Bhushan (1960)

Ekushey Padak (1976)

Independence Day Award (1977)
List of Things Named after Kazi Nazrul Islam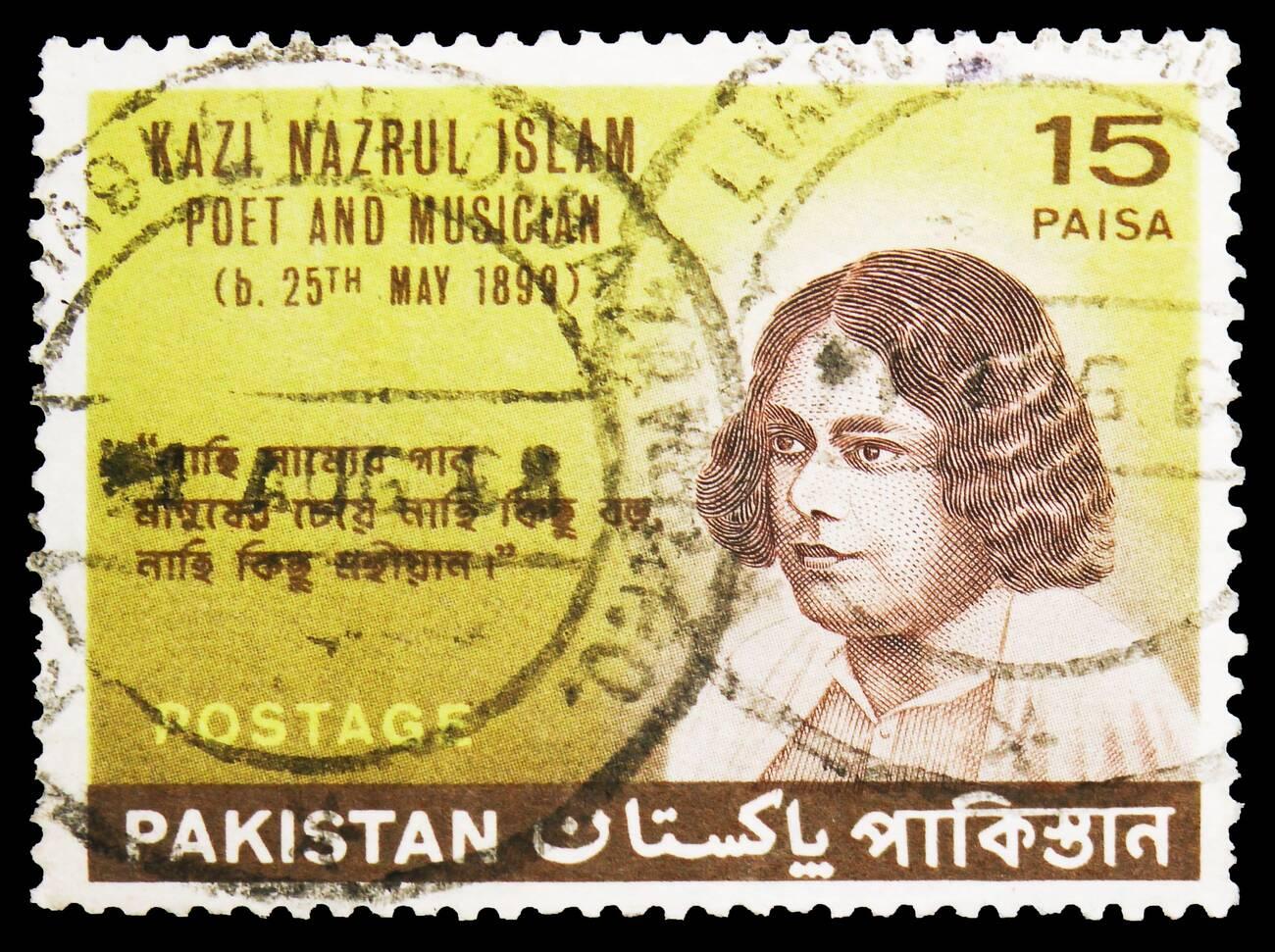 Organizations
Nazrul Institute

Bangladesh Nazrul Sena

Nazrul Endowment

Nazrul Academy; Maghbazar, Dhaka
Educational Institutions
Jatiya Kabi Kazi Nazrul Islam University

Kazi Nazrul University

Kabi Nazrul Government College

Kabi Nazrul College

Kazi Nazrul Islam Mahavidyalaya

Nazrul Sena School

Nazrul Centenary Polytechnic

Kabi Nazrul Govt. Primary School, Narayanganj, Bangladesh
Buildings
Nazrul Mancha

Nazrul Tirtha

Nazrul Mancha (Kamarhati)

Nazrul Islam hall (BUET)

Kazi Nazrul Islam hall (Comilla University)

Kobi Kazi Nazrul Islam Hall (Sher e Bangla Agricultural University)

Nazrul Islam Hall (BUTEX)

Kazi Nazrul Islam Auditorium ( Rajshahi University)
Streets
Kazi Nazrul Islam Sarani, Kolkata

Kabi Nazrul School Road, Bandar, Narayanganj, Bangladesh

Kazi Nazrul Islam Avenue, Shahbagh, Dhaka, Bangladesh

Station and Airport

Kazi Nazrul Islam Airport, Durgapur, India

Kavi Nazrul metro station, Garia, Kolkata, West Bengal, India
Monuments and Memorials to Kazi Nazrul Islam
Chetonay Nazrul at Shilpakala Academy, Comilla 

Chetonay Nazrul monument at Comilla Zilla Shilpakala Academy

Comillae Nazrul, memorial plaque in Comilla Victoria College

Kazi Nazrul Islam Memorial, Rajshahi, Bangladesh

Kazi Nazrul Islam Memorial Museum, Mymensingh

Kazi Nazrul Islam Memorials – Memorial park in Jāmuria, India

Nazrul Memorial Social Space Renovation Plaque – Madhyamgram Bazaar – Kolkata

Poet Nazrul's statue in BFDC

Statue of Kazi Nazrul Islam, Asansol
Death
Due to Pramila Devi's paralysis, Nazrul's health began deteriorating after 1941, and he underwent several mental treatments. He spent four months in a mental institution in 1942 and was readmitted to Ranchi in 1952. Nazrul and Pramila were sent to London and Vienna by the "Nazrul Treatment Society" and other prominent supporters, where Nazrul was diagnosed with Pick's disease. In 1953, he returned to India due to his incurable illness.
Later, the deaths of his wife in 1962 and his youngest son in 1974 took their toll on Nazrul, who passed away on August 29, 1976. He was interred on the University of Dhaka campus near the mosque according to his final desires.
Final Thoughts
Kazi Nazrul Islam was a remarkable poet, writer, and musician who played a significant role in Bengali literature and social activism. Known as the "Rebel Poet," he advocated for equality, justice, and freedom through his works. His writings greatly inspired the Indian subcontinent, especially during the Indian independence movement.
Despite facing numerous challenges throughout his life, including a debilitating illness that eventually took away his ability to speak and write, Nazrul's legacy continues to live on as a symbol of resistance against oppression and an advocate for unity and understanding between different religious and cultural groups.