Tagore's Memories with Nagor River: A Tribute on His 162th Birth Anniversary
Listen to the Podcast:
"I used to sail from Padma to Ichhamoti, from Ichhamoti to Boral, Huro Sagar, Chalan Beel, then Atrai, Nagor River, then after crossing the Jamuna and through Sajadpur canal to Sajadpur."
In Chhinnapatraboli's letters, Rabindranath Tagore's journey from Shilaidah to Shahzadpur (Sajadpur) and Patisar is described. Between 1891 and 1901, he lived continuously in Bengal. He used to visit Patisar in Naogaon to observe the plight of the estate until 1937. In 1830, his grandfather, Prince Dwarkanath Tagore, purchased this estate. Tagore arrived in Patisar in 1891 in order to manage this estate.
The Patisar Kachharibari is located in the midst of natural vegetation, surrounded by agricultural fields. There is an open field in front where people congregate every afternoon. There are a few communities nearby. The local market occurs once per week. The natural beauty of Patisar influenced Rabindranath Tagore's poetic imagination. Many of his literary works were composed here. In his philosophical and literary works, Tagore reflected the realism of the Patisar locals' way of life.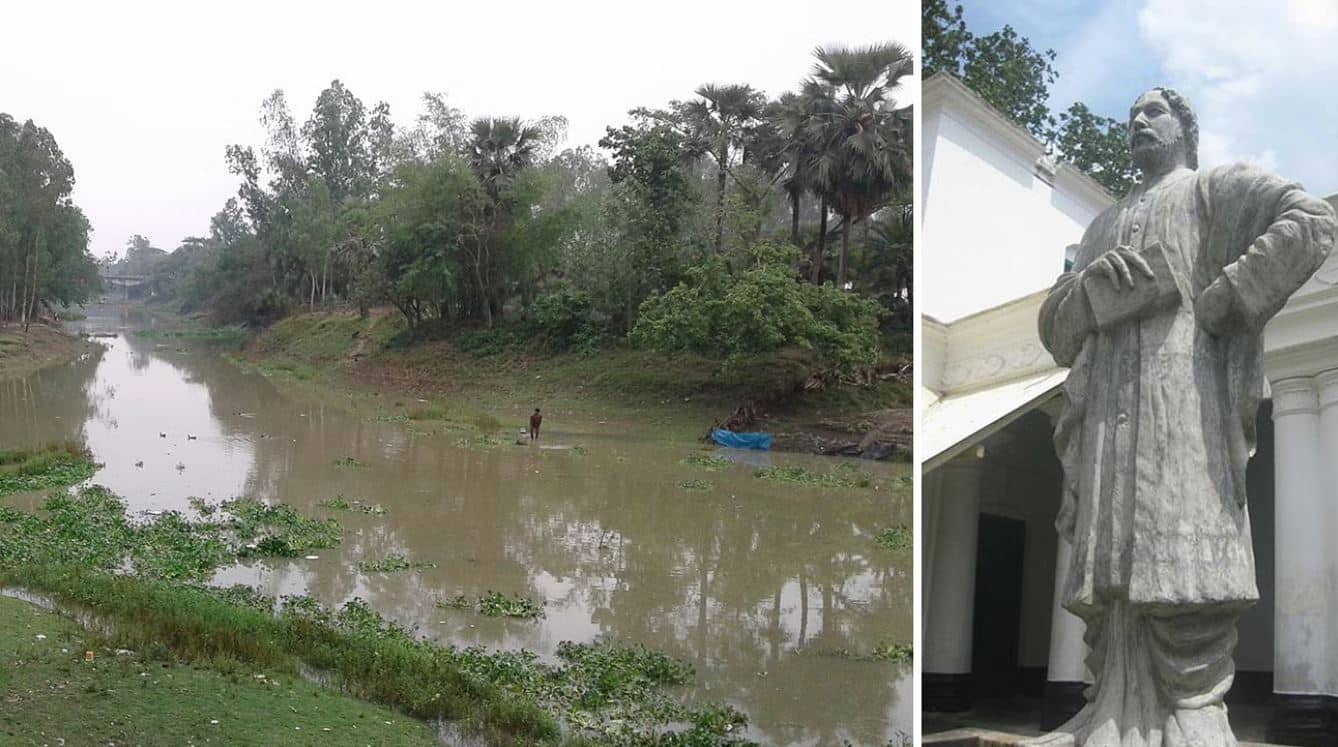 In addition to his many other humanitarian efforts, Rabindranath constructed a charitable dispensary for the underprivileged citizens of Patisar. Here, he used Taka 1,80,000 from his Nobel Prize money to establish the 'Agriculture Bank' for farmers. He initiated the use of the mechanical plough for the agricultural sector's advancement. Tagore also established agricultural, needlework, and pottery cooperatives. To educate illiterate locals, he established the "Kaligram Rathindranath Institution" in his son's honour.
Read More: Rabindra Jayanti 2023
The boat 'Padma' was his best company on the waterway. There was also a second small boat. Tagore was enchanted by the beauty of the area around the river Nagor, which inspired him to write many great works. Tagore wrote the popular rhyme "The palm tree standing on one leg rises high above all and peeks at the sky" while he was on the boat "Padma." There is no longer a palm tree there. But the river Nagor is still running near Patisar Kachharibari. Before, people in the area called the river Nagor Chhoto Nodi. This is also where the poem "Amader Chhoto Nodi" was written.
Nagor is still the same as Tagore wrote about it in the summertime. Still, during the summer month of Baishakh, it becomes a shallow body of water that looks like a canal that has lost its busy stream. But when it rains, Nagor is completely full. In the fall, catkins bloom along the riverbank and look like they are playing with the clouds.
Nagor, which connects the Chalan Beel to Naogaon via Bogra's Dupchanchia, is growing thinner as a result of land-grabbing. It has fallen from grace due to a lack of sufficient maintenance. To preserve Tagore's memory, local authorities should take appropriate actions to renew the river by evicting unlawful properties and ceasing sand extraction from it.
Rabindranath also wanted to go to Dupchanchia, where the Dupchanchia Model High School is located on the bank of the river Nagor. It is only 20 kilometres from the city of Bogra, which was once known as Pundrabardhan. Around the end of the 19th century, the school was set up. The school was started as a Sanskrit Toll by a group of smart and caring people. It became an English school in 1920 and was called 'Middle English' (M.E.) School. In 1923, it finally became Dupchanchia High School. Ananta Mohon Kundu, a student at this school and an anti-colonial fighter, got in touch with Rabindranath Tagore. After the 'Punhyo' event at Patisar ended on July 27, 1937, Tagore wanted to go to a reception at Dupchanchia High School, but he got sick suddenly and couldn't go. His last day in Bengal had come. In a letter, he sent his best wishes.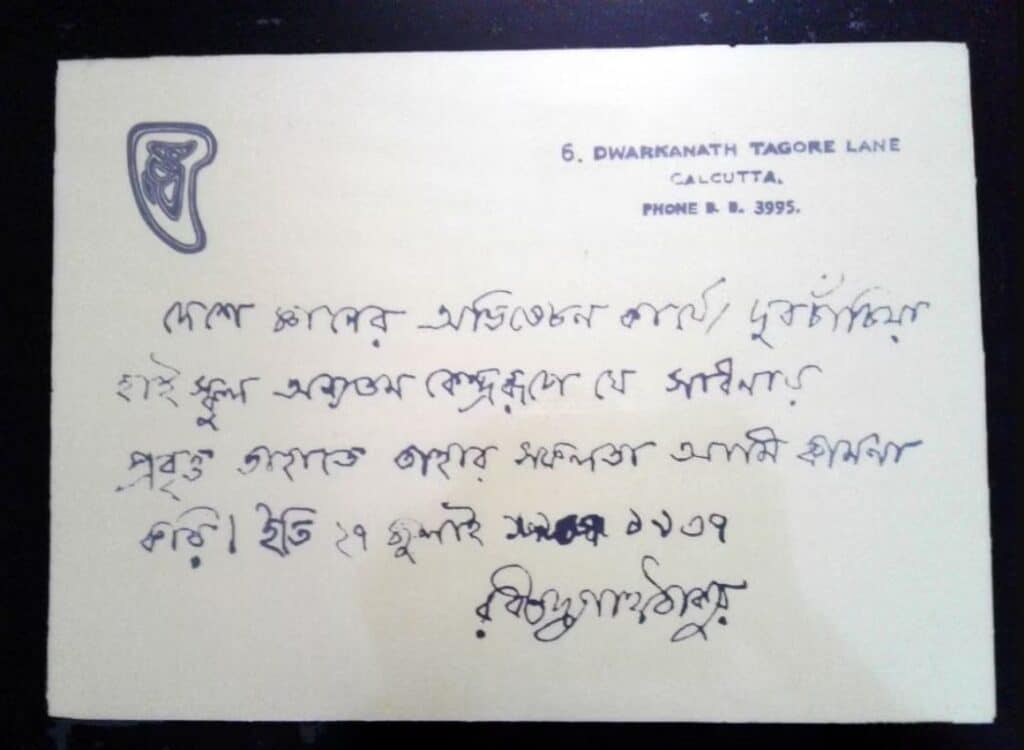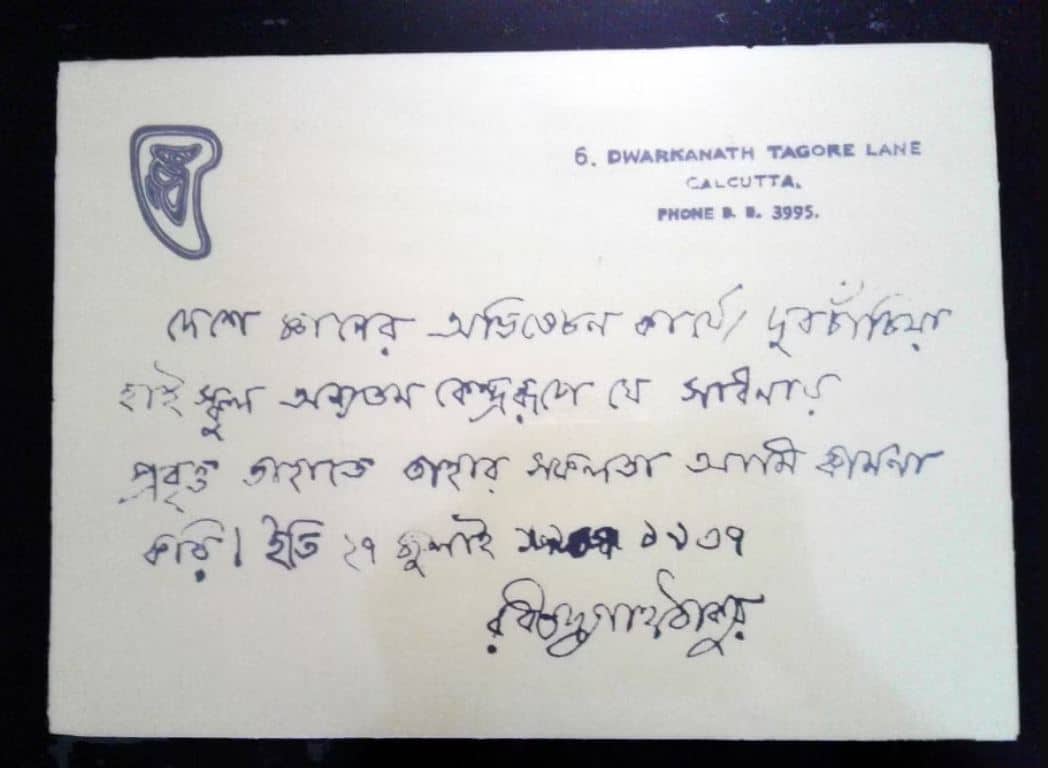 He wrote, "I wish all the success to Dubchanchia High School in its mission as one of the centres for imparting knowledge in the country."
Many meritorious students passed from this school. Ramendra Kumar Podder was one of them. He was the Vice Chancellor of the University of Calcutta from June 20, 1979 to December 30, 1983.
Tagore's Writings at Patisar: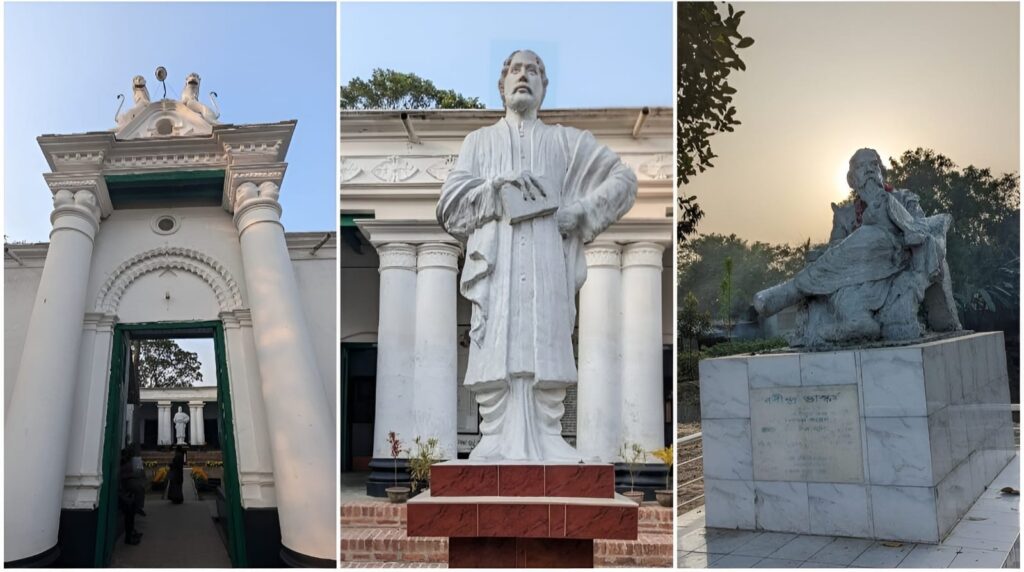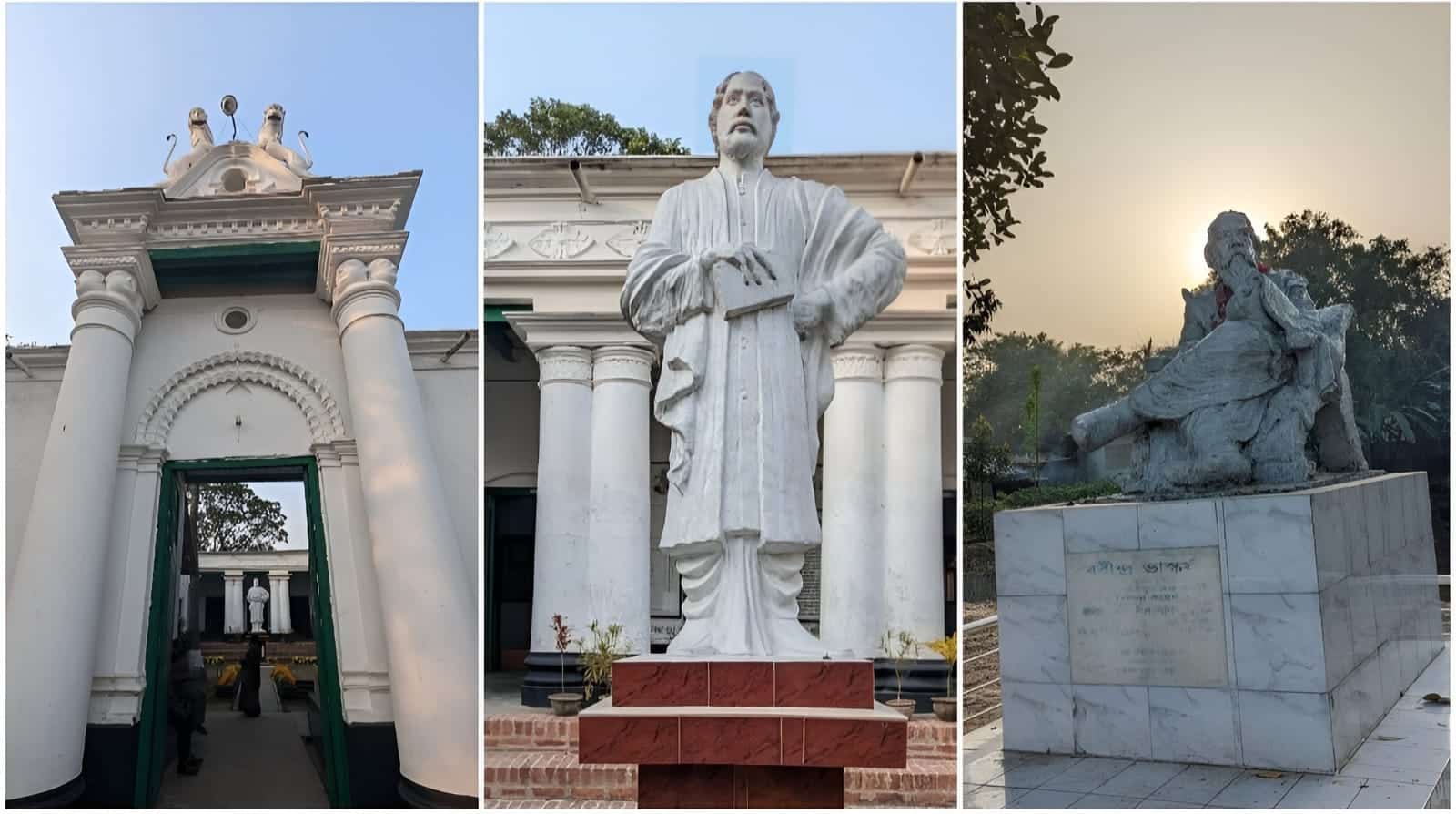 Tagore spent considerable time in Patisar. Many of his literary works were composed in this city. 'Biday Ovishap,' 'Chitra,' 'Gora,' portions of 'Ghore Baire,' 'Protihingsa,' 'Thakurda,' and 'Engrej O Bhartabasi' are examples of such works. Notable melodies composed here include 'Tumi sandhyar meghmala', 'Tumi amar nivrito sadhana', 'Bodhu miche rag korona', and 'Tumi noborupe eso prane'. Here, he composed 54 poems from his renowned poetry collection Chaitali. Here, the renowned compositions 'Dui bigha jomi' and 'Sandhya' were also composed.
Our Little River
Our little river flows in graceful loops
The summer heat dries her to a gentle flow,
Both cart and cattle travel across with ease
Her banks are high, her depths are shallow
The sand bed glitters, no trace of mud
The far bank shimmers with Kash flowers white,
where flocks of mynas chirp busily all day
And jackal calls arise at night
This bank shelters sleepy hamlets in the shade
of ranks of ancient mango and palm tree
At bath times, children swim and play
Splashing water at each other in noisy glee
Each day as their bathing is done
They catch little fish in nets of cloth
Women take home their pots scrubbed clean
Their washing all done, they return to their chores
When the rains descend, the river swells fast
Rushing waters raise voice in happy uproar,
The muddy torrent spins in eddies and swirls
Both banks uniting in joyous clamor
Awake, to join in the festival of rain.
Our Little River Rhymes in Bengali:
আমাদের ছোট নদী
রবীন্দ্রনাথ ঠাকুর
আমাদের ছোটো নদী চলে বাঁকে বাঁকে
বৈশাখ মাসে তার হাঁটু জল থাকে।
পার হয়ে যায় গোরু, পার হয় গাড়ি,
দুই ধার উঁচু তার, ঢালু তার পাড়ি।
চিক্ চিক্ করে বালি, কোথা নাই কাদা,
একধারে কাশবন ফুলে ফুলে সাদা।
কিচিমিচি করে সেথা শালিকের ঝাঁক,
রাতে ওঠে থেকে থেকে শেয়ালের হাঁক।
আর-পারে আমবন তালবন চলে,
গাঁয়ের বামুন পাড়া তারি ছায়াতলে।
তীরে তীরে ছেলে মেয়ে নাইবার কালে
গামছায় জল ভরি গায়ে তারা ঢালে।
সকালে বিকালে কভু নাওয়া হলে পরে
আঁচল ছাঁকিয়া তারা ছোটো মাছ ধরে।
বালি দিয়ে মাজে থালা, ঘটিগুলি মাজে,
বধূরা কাপড় কেচে যায় গৃহকাজে।
আষাঢ়ে বাদল নামে, নদী ভর ভর
মাতিয়া ছুটিয়া চলে ধারা খরতর।
মহাবেগে কলকল কোলাহল ওঠে,
ঘোলা জলে পাকগুলি ঘুরে ঘুরে ছোটে।
দুই কূলে বনে বনে পড়ে যায় সাড়া,
বরষার উৎসবে জেগে ওঠে পাড়া।।
N.B. Actually, this content was first published on The Daily Star in 2017. After taking the permission of the Author, Editorialge Authority republished the post.
Subscribe to Our Latest Newsletter
To Read Our Exclusive Content, Sign up Now.
$5/Monthly, $50/Yearly