Printed and Embroidered Sweatshirts for Women in 2023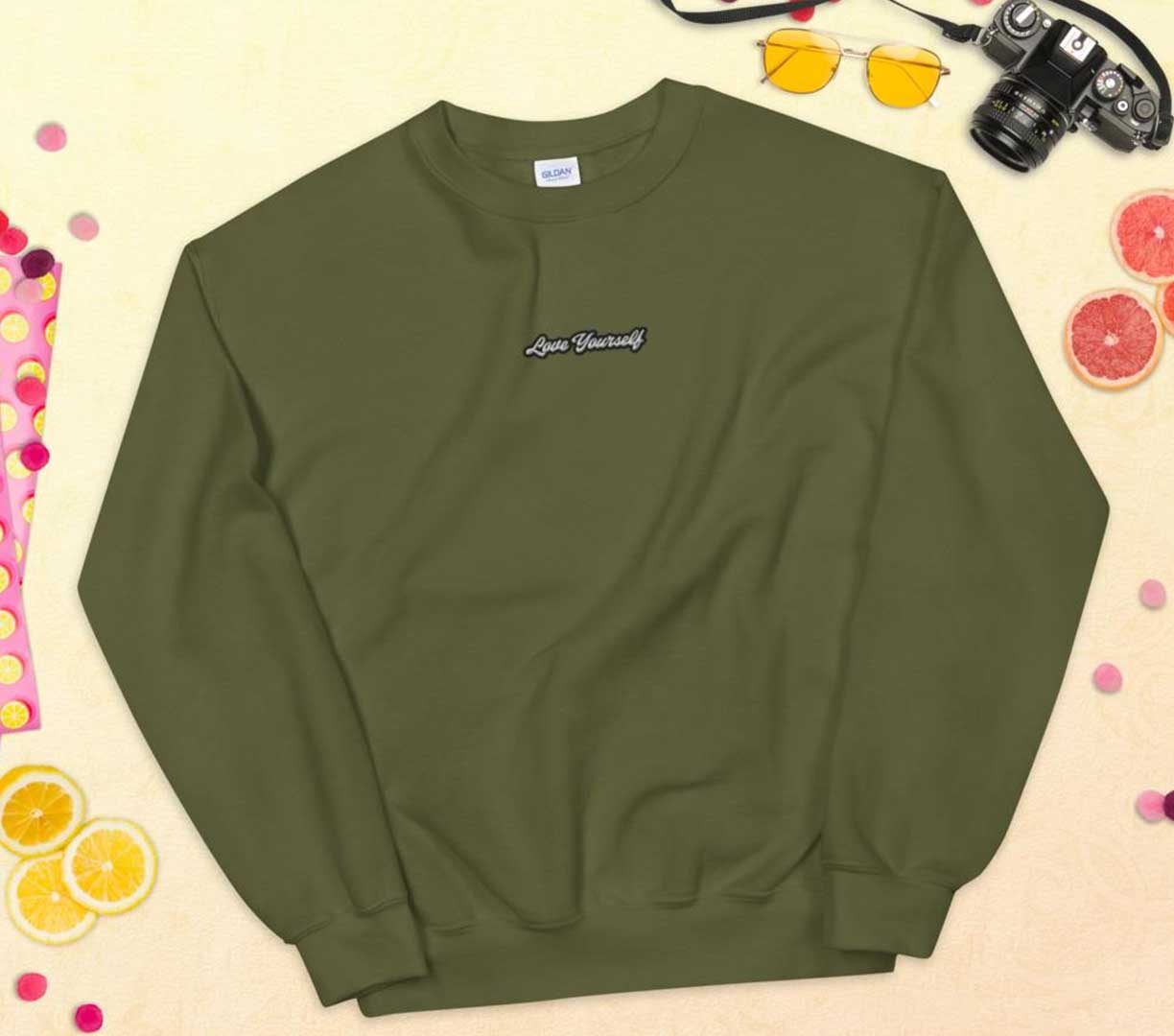 We all know that feeling when we have to leave our bed and our comfortable sheets in the morning and work out or walk our dog. Much much we wish that we can keep the warmth and comfort of our linens with us. That is where the sweats come in. dress designers have understood this need of people and invented sweats. Sweatshirts are loose, long sleeves pullovers. As their name suggests, they absorb your sweat during exercise. A sweatshirt is usually made of cotton or polyester material or a blend of both. They have a very finisher look on one side of the fabric, and the inside side of the fabric is usually soft and fluffy on the skin. They are so comfortable to wear, And nowadays we can wear sweats as a casual dress and only as loungewear. 
Sweatshirts and sweat pants have been around for as long as we can remember. They were just meant to be worn only inside the house or for working out and doing sports in the past. But during the recent few years, you can wear them as a casual dress, doing your everyday chores outside the house, running errands, going lunch or breakfast with friends, during shopping, working out in the gym, or even as streetwear. There are many types of sweatshirts. Crewneck sweatshirts is a type of sweatshirt that has a round neck and has no collar.
Printed and Embroidered Sweatshirts for Women in 2023
Swear shirts don't have to be boring, plain, or single-colored nowadays. Many designers have introduced their collection of sweatshirts in the recent couple of years which are colorful, fun, have lots of prints, logos, numbers on them. They are even tied and dye. They now look more stylish, fashionable, and cool. They have prints like flowers of different colors on them. Some have printed cool logos of different numbers in fun colors on them. Since they are worn on so many occasions, they now resemble the design of puffy sleeves shirts, blouses, and much other formal wear, but still made of soft material like cotton or fleece. Even embroidered sweatshirts are available are in the market as well. Embroidery could be of different flowers, animals, or anything. In 2023 printed and embroidered sweatshirts are going to be so much in trend.
Very famous dress designers will focus on printed and embroidered sweatshirts for their new collection. In fact, in 2021, sweatshirts were the major part of spring runways. Designers introduced such stylish sweatsuits that have not been seen before. They were of various types, styles, and colors. Some famous clothing brands like Givenchy, Max Mara, and Tibi updated the sweats from the old style and made them more interesting. The same is to be expected for 2023. You can look effortlessly cool after wearing them. 2023 will be a whole new game for sweatshirts. 2023 will elevate sweatshirts which are already so popular, to a new level. Printed and embroidered sweatshirts especially, crewneck sweatshirts will be a top designing priority for many top-class brands.
Ideas for printed and embroidered sweatshirts for women in 2023
The fashion industry is evolving and changing day by day. The designers want to remain up to date with the requirements of today's society. And for most people, when it comes to clothing, comfort is also a priority for people, along with style and fashion. That is why so many clothing brands are introducing different styles of printed and embroidered sweatshirts in the market. ERL has already introduced its 2023 spring collection of sweatshirts. Ideas for printed and embroidered sweatshirts for women in 2023 could be
Printed Sweatshirts with hoodies look cool on almost anyone.
Sleeveless sweatshirts with print or embroidery could be your style. There could be even more styles of sleeves like half sleeves.
Many people like crop tops. Printed and embroidered crop top-length sweatshirts are going to be popular in 2011.
Velvet round-neck sweatshirts, either printed or embroidered, are already common but will be more common in 2023. These are outdoor casual sweatshirts.
Women like Sweatshirts that have printed logos of different brands on them.
Turtle neck sweatshirts in different colors or embroideries are liked very much by people and will be hyped in 2023.
Sweatshirts with check prints on them are already in fashion.
A plain white sweatshirt with just a logo or brand printed on top is the go-to for many women.
Floral printed sweatshirts look very feminine and elegant on all body types of women.
Printed sweatshirts that have a shirt collar look unique and stylish on almost all women.
Printed and embroidered sweatshirts can have a zip on the front of them. It's just a matter of your style.
Embroidered sweatshirts that have zipping on the front look very chic on almost every woman.
Printed and embroidered high-neck sweatshirts are trending for winter, as they have muffler necks and provide warmth in cold weather.
Leopard print sweatshirts are going to be a unique look in 2023.
Printed and embroidered v-neck sweatshirts look very funky and cheerful.
Sleeveless sweatshirts with hoodies are going to light up your style in 2023.
Printed and embroidered oversized sweatshirts are smoothing that women can not stop gushing on.
Sweatshirts with printed stripes on them look contemporary.
Sweatshirts with printed or embroidered Disney characters on them are desirable for women of every age.
Printed and embroidered long sweatshirts with round necks and straight fit will be in style in 2023.
Printed and embroidered crewneck sweatshirts, either hooded, sleeveless, or half or long sleeves, are comfortable and functional.
Printed and embroidered Polo sweatshirts are going to be wildly popular in 2023.
Printed and embroidered fitted sweatshirts look very stylish.
Even athletic wear sweatshirts were coming in lots of prints and embroidered.
Printed and embroidered mock neck sweatshirts are a new style. And they look very modern and classy.
From time to time, it is important to update your wardrobe with quality pieces that are both fashionable and functional. The clothing that you wear speaks about your personality, taste, and sense of style. That is why it is important to find clothing that fits your needs and to be able to wear it any time of year.