[2022] Passvers iPhone Unlocker: How Can It Unlock iPhone/iPad?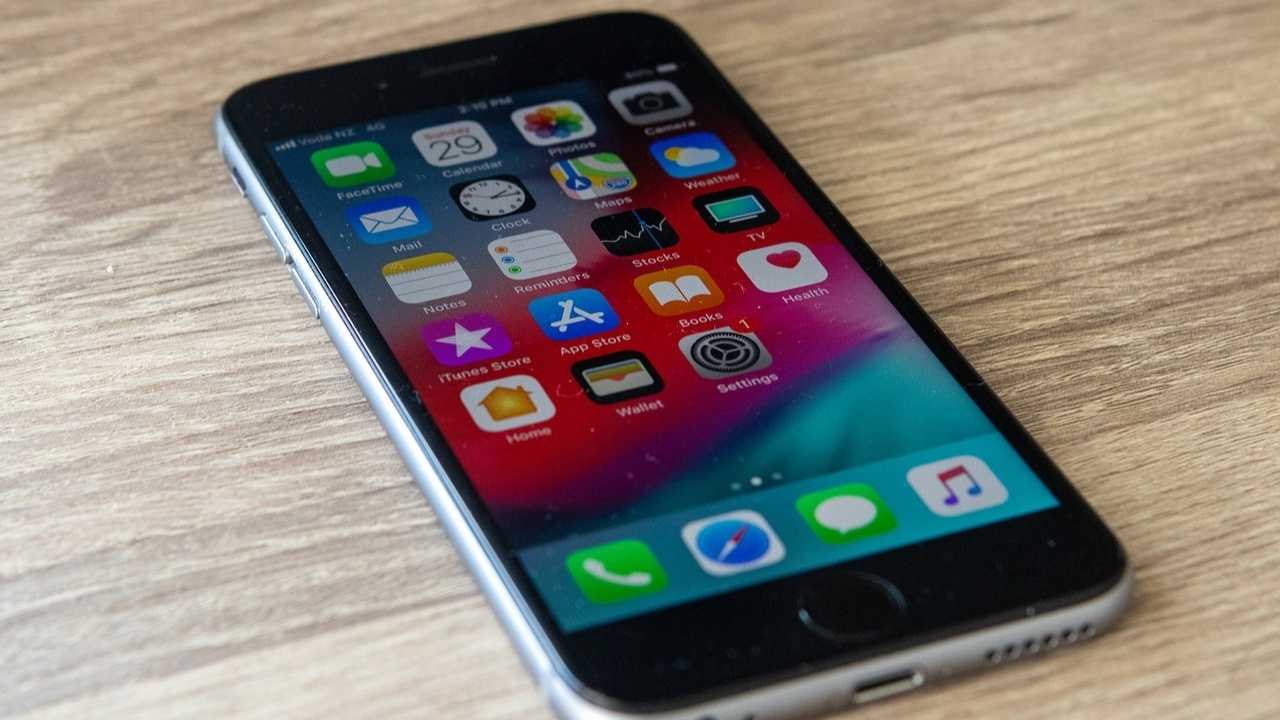 Apple's focus on user experience and privacy wins our hearts. The built-in security features including Apple ID, Touch/ Face ID, Find My iPhone and two-factor authentication help us a lot in protecting digital privacy. We can associate all our iOS devices, which at the same time can be against almost any intrusion. This may be one of the main reasons that iPhone buyers will also get a Mac if they need a desktop or laptop.
Apple ecosystem is successful, but we can encounter some problems that the well-designed system cannot fix. Functions like Apple ID and Touch/ Face ID work because we set the codes or the ID for them, but what if we forget them? Here we know one tool that helps you out: Passvers iPhone Unlocker. Let's learn the solutions with Passvers iPhone Unlocker in the following passage.
What is Passvers iPhone Unlocker?
Passvers iPhone Unlocker is an expertise in unlocking iOS devices. Namely, it can remove your passwords and help you access your iOS devices once you forget the codes but have to use the devices in a hurry. Therefore, you can download this app if you are now facing the problems, or just in case. It's easy to get started.
What can it do?
Just as its name and what we've mentioned above, this part will show you what it can do to unlock your iOS devices.
1. Remove Screen Passcode
If you fail to unlock your iPhone with the right screen code, pitifully, you cannot do anything with your iPhone because you cannot access it. Considering the valuable and essential files stored on the phones, you desperately want to unlock our iPhone immediately! And instead of trying hard to find the screen code, it seems more practical to remove it and set a new one that you can remember currently.
We are impressed by Passvers iPhone Unlocker as a useful screen passcode remover. No matter which kind of screen code we have set, Touch ID, Face ID or common 4/6 digits password, it will remove them within a few seconds. When you find your iPhone screen passcode has been removed, you can then set a new one. That's a great solution to use Passvers iPhone Unlocker.
Note:
After Passvers iPhone Unlocker successfully remove your iPhone screen passcode, your iPhone will lose all data and update itself to the latest OS version. Although iTunes & iCloud can back up your files on your iOS devices, it's better to back up the important data manually before you use Passvers iPhone Unlocker. Besides, the tool enables you to reset your screen code directly if Find My iPhone is off, but if you enable it, you need your Apple ID to reset the code.
2. Remove Apple ID
Apple ID is a vital part to protect personal information and privacy, and you can associate your iOS devices with the same Apple ID to sync messages across devices. But once you forgot your Apple ID, things will become tricky. That's why we introduce Passvers iPhone Unlocker to you. Apart from iPhone screen passcode, you can also remove Apple ID with this tool.
The entire process is as easy as removing screen code we've told you in the former part. Similarly, after you deleted the original Apple ID, you can sign in a new account on your device.
Things You Should Know:
There are also some limitation and preparation if you want to delete Apple ID with Passvers iPhone Unlocker:
If you disable Find My iPhone, you just need to remove the ID directly. Your data on iPhone won't be deleted, and you can use a new Apple ID the moment you remove the old one.
If your Find My iPhone is on, you need to check your OS version. Versions lower than iOS 11.4 can be seen as the same as the situation that your Find My iPhone is off.
But if you are using iOS 11.4 and higher versions, it is necessary that the two-factor authentication and screen code are enabled, otherwise the unlocking can fail. Then, choose "unlock by passcode" to delete your original Apple ID. Besides, your data will be deleted and your iPhone will update itself to the latest version. So, make sure you have a backup for your device.
3. Wipe out Screen Time Passcode
Screen Time is an interesting iPhone feature. You can use it to check what you are doing with your iPhone and can set a screen time lock to control your using iPhone/ apps. Well, we have to say that accidently we need to use those locked apps in a hurry or things like that, and the screen time lock turns to a trouble. Guess what? It is also possible remove the screen time passcode with Passvers iPhone Unlocker, and it also does a nice job.
We find that if you are using iOS 11 and lower versions, Passvers iPhone Unlocker will directly show you the passcode and unlock it. For iOS 12 and higher versions, you won't see the password, but it can still remove the screen time lock.
Note:
This function requires you to disable Find My iPhone, or you cannot remove the screen time passcode. Besides, this process won't cause data loss.
How does Passvers iPhone Unlocker work?
We've introduced the 3 main functions of Passvers iPhone Unlocker to you, and it can remove the 3 types of passcodes by flashing your iPhone. Now, we will show you the simple guide on how to use Passvers iPhone Unlocker.
1. Connect Your iPhone to Passvers iPhone Unlocker
First, you need to connect your iPhone to Passvers iPhone Unlocker. Then, you can begin to choose a mode.
2. Choose One Mode
Currently, Passvers iPhone Unlocker provides us with 3 modes: Wipe Passcode, Remove Apple ID and Screen Time. Just tap the one you need.
3. Follow the Instruction to Complete the Removal
As what we present in the former part, the process varies from different conditions and needs. Therefore, we won't list the complete guide here, which can be too long and boring. Passvers iPhone Unlocker has put the detailed instructions on the screen during the unlocking. You just read the instruction and follow it to remove the code.
4. Wait for Successful Removal
When you follow the guide and finish what you need to do, just wait for your iPhone unlocked successfully.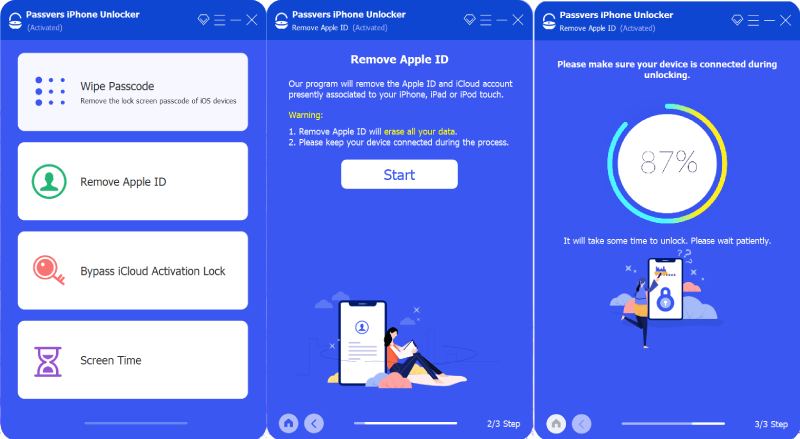 Why You Can Choose t?
We actually have a good experience when testing Passvers iPhone Unlocker, and we'd like to list some items that we think it is worth using:
Powerful unlocking solutions: you can easily remove your screen passcode, Face ID, Touch ID, Apple ID and screen time password on iPhone, iPad and iPod.
Ease of use: you don't need to worry about the steps because it shows the detailed guide on the page.
High efficiency: the whole process doesn't demand complex settings or long waiting time.
Still, it has improvements in some aspects, like automatic system upgrading. And data deleted during the unlocking may cause some inconvenience. If Passvers iPhone Unlocker can do better, we will appreciate it a lot.
Conclusion
Above all, this Passvers iPhone Unlocker review comes to an end. We really think it a helpful tool concerning iOS passcode removal. And you can deal with problems caused by forgotten Apple ID with this powerful mobile utility. If you are now facing such cases, download Passvers iPhone Unlocker and try the free trial version.
Subscribe to Our Latest Newsletter
To Read Our Exclusive Content, Sign up Now.
$5/Monthly, $50/Yearly