Top 60 Most Handsome and Richest K-Pop Idols [Latest Updates in 2023]
Listen to Podcast:
Many people know about K-Pop idols success stories, like BTS, Blackpink, and even Aespa, who just last week made their world debut at Coachella. A lot of K-pop idols are well-known not just in Korea but all over the world as well.
But even though some stars are making a lot of money, being rich and well-known is not as common as you might think. Even though many people train for years to become K-Pop idols, not all of them get to debut, and even if they do, that doesn't mean they will be successful in the industry.
This makes me wonder what happens to K-Pop idols who don't get very famous. Well, it's not surprising that they often decide to change jobs, and some of them end up far away from show business.
What is a K-Pop Idols?
A K-pop idol is a performer in the K-pop industry or Korean pop music. These artists may be part of a K-pop group or work on their own. Before they become full-fledged K-pop idols, they usually start out as trainees at Korean entertainment agencies. They go through a lot of training to improve how they sing, dance, and speak a foreign language.
How to be a K-Pop Star?
Trainees have a hard life because they live, train, and perform with other trainees when they are still very young. SOUL SPACE talked to many experts in the K-Pop idols industry, including producers, past idols, and staff members, to get ten tips on how to become K-Pop idols.
This will be the most detailed online guide to how to become a K-pop star. Remember that you need 2 out of 3 things to become K-Pop idols. Be able to sing or rap well, dance well, and look good. At least two of the three are needed.
What to Expect at K-Pop Auditions?
Before, there were the top 3, but now there are the top 4. YG Entertainment, JYP Entertainment, SM Entertainment, and HYBE. There will be a lot of people who want to be a trainee at these K-pop entertainment companies. Only 1-2 people out of the thousands who apply will be chosen to be trainees. The hardest company to get into is HYBE, which is mostly about boy bands. They pay a lot of attention to and promote one group in particular. Same thing with the BTS pop band.
A few days before every audition, you will need to fill out an audition application form, which is kind of like a resume. On the day of the audition, you will be in a practice room with a lot of other people. Then they will give you a list of names to let you know when you will go into another room to audition.
The actual audition is different for each company, but you'll usually have to introduce yourself, sing or play 1-2 songs, and dance to one choreography. The judges won't give you any feedback on this audition, but if they like you, they may call you back for a second round or tell you what you need to work on. About 15 to 20 people will be in Round 2, and each will have to sing one song inside a recording studio.
Some K-Pop idols entertainment companies prefer group auditions. This means that about 10 people walk into the audition room together, and then each person chooses whether to sing, rap, or dance. Using this information, they will call to ask for a second audition.
Roles of K-Pop Idols in a Group
Members of K-Pop idols also have certain roles that they complete in the group. Here are some of them
The Leader: 
This member is seen as the main guide for the other band members and is usually the one who speaks for the group in interviews and public appearances. Because age and experience are so important in Korean culture, the leader is usually one of the oldest people in the group.
Vocalists:
Then there is the main singer, who can be one or more people. In most songs, they get the most lines to sing. There are also lead and backup vocalists, like Chen from EXO.
Image
People think that the visual is one of the most attractive people in the group of K-Pop idols. Sometimes, instead of having one visual, a band will have a "visual line," though fans may argue about who the actual visual members are.
The Visual: 
There is also usually a rapper in many Korean K-Pop idols. If there is more than one rapper, the terms main, lead, and sub still applies. For example, Junhyung, who used to be a member of BEAST but is now known as Highlight, was a sub.
Dancers:
K-Pop idols usually sing upbeat pop songs, so dancing is a big part of their shows. This means that there is usually one lead dancer who sings less than the others but is in the front and center of every performance. For example, J-Hope of BTS is the lead dancer.
The Maknae and Hyung/unnie Lines:
Maknae is the most junior member of the group, while Hyung (male) or unnie (female) is the most senior member. The group's younger members, known as the "maknae line," are often paired and talked about together. Their older members, known as "hyungs" or "unnies," are referred to as their "mentors."
Here are the 'Most Handsome K-Pop Idols' in 2023:
There's no question that all male K-Pop idols are good-looking. With their stunning looks, huge amounts of talent, and charming personalities, it's hard to choose the best because it depends on what you like.
The 100 tried to narrow it down with their annual list of the "100 Most Handsome Faces of K-Pop idols." Netizens and critics both voted on the list. Here are the idols who made it to the top.
BTS Jin

BTS V

EXO Kai

EXO Baekhyun

Stray Kids Hyunjin

BTS Jungkook

ENHYPEN Jake

SHINee Taemin

ATEEZ San

TXT Soobin

GOT7 Mark

TREASURE Haruto

EXO Sehun

ASTRO Cha Eunwoo

GOT7 Jackson

SEVENTEEN Mingyu

NCT 127 Taeyong
10 Most Beautiful K-Pop Idols – Female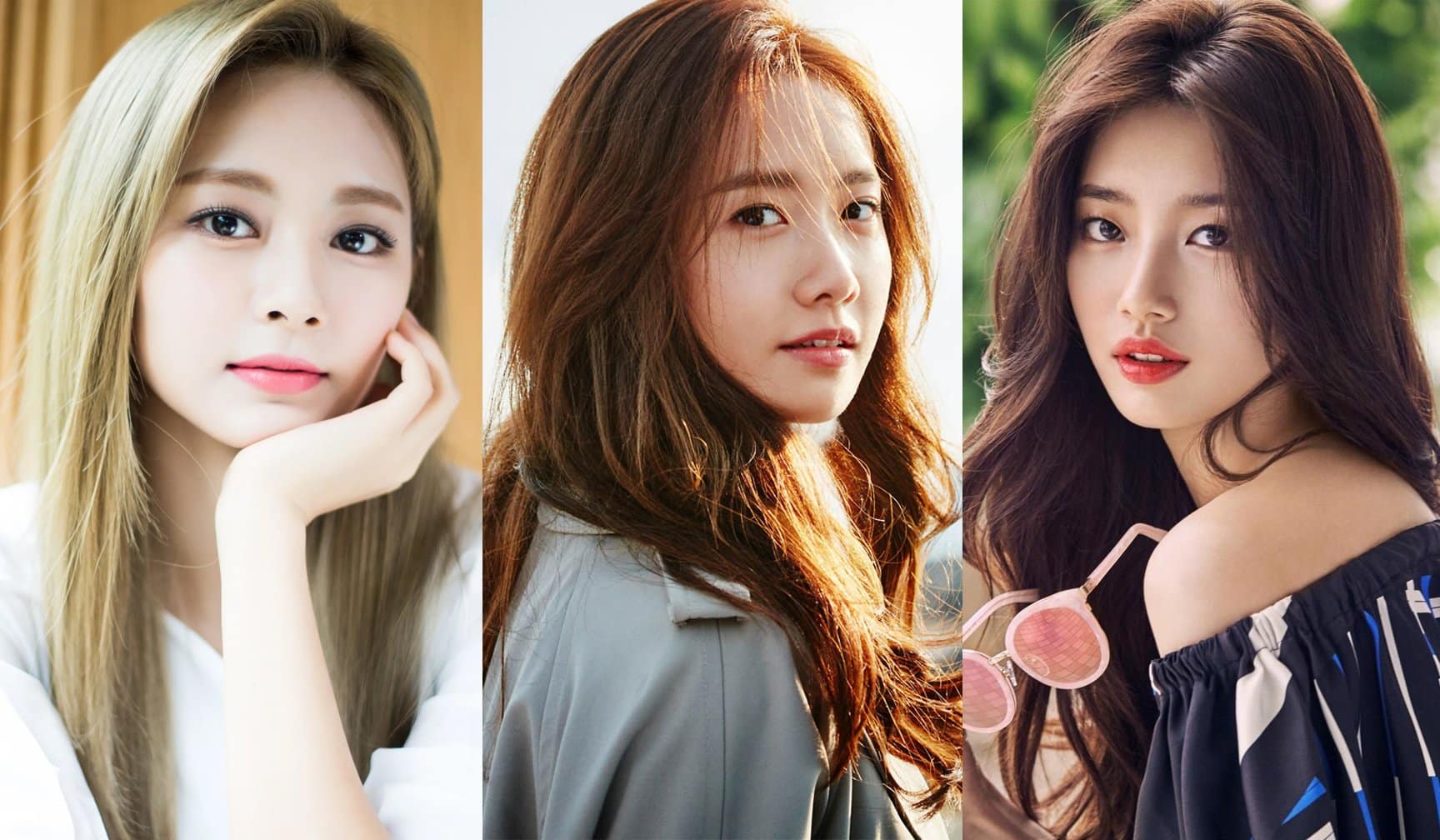 K-Pop girl groups have become a global phenomenon thanks to their addictive melodies, production values, visually stunning choreography, and the exceptional beauty of their members. Here's the list of the top 10 most popular and beautiful K-Pop female idols who will make your jaw drop!
Tzuyu (TWICE)

Irene (Red Velvet)

Jisoo (Black Pink)

Dayul (DAONBIN, Rockit Girl)

Eunbi (IZONE)

Sana (TWICE)

Krystal (f(x))

Somi (Soloist, disbanded I.O.I.)

Kyulkyung (PRISTIN)

Seolhyun (AOA)
10 K-Pop Idols Who Will Be Returning From The Military This Year
Teen Top's Ricky

Block B's Park Kyung

The Rose's Jaehyung

The Rose's Hajoon

INFINITE's L (Kim Myung Soo)

PENTAGON's Hui

DAY6's Sungjin

EXO's Chanyeol

SHINee's Taemin

Teen Top's C.A.P
Here Are The 12 Richest K-Pop Idols
The Korean music industry is already known around the world and is growing quickly. And because of this, it's getting harder for K-pop idols to get to the top.
Making it big in the K-pop world isn't easy, but some artists have done it amazingly well in a very competitive field. These amazing musicians started out in bands or as solo artists and have now made millions of dollars.
Kim Jae-joong
Choi Siwon

PSY (Park Jae-sang)

G-Dragon (Kwon Ji-yong)

Rain (Jung Ji-hoon)

IU (Lee Ji-eun)

Taeyang (Dong Young-bae)

J-Hope (Jung Ho-seok) 

Lee Hyori

DARA (Sandara Park)

Bae Suzy

BOA (Kwon Bo-ah)
10 K-Pop Idols Who Aren't Actually from South Korea
Since the K-pop industry is always trying to do something special or bring something new to the table, it's not surprising that they're always looking for trainees to bring on board. And what better way to find talent than to look outside of South Korea?
As the industry gets more popular, more and more people from outside of South Korea want to break into it.
We've made a list of 10 K-pop idols who aren't from South Korea. Some of these faces might surprise you.
Lisa (Blackpink)

Lucas (NCT)

Sorn (CLC)

ViVi (LOONA)

Momo (TWICE)

Fatou (BLACKSWAN)

BamBam (Got7)

Lay Zhang (EXO)

Amber Liu (f(x))

The8 (Seventeen)
Conclusion 
K-Pop idols is a musician who makes Korean pop music skills. These artists can be part of a group or work on their own. Before they become full-fledged idols, they are usually trainees who work hard to improve how they sing and dance.
A lot of K-pop idols are well-known not just in Korea but all over the world as well.
But it doesn't happen as often as you might think, and most people have to work their way up through the ranks before they get to the big stage.
Frequently Asked Questions (FAQs) about K-Pop Idols
Which is the 1st K-pop group?
The first K-pop group was Seo Taiji and Boys.
Who is the main in K-Pop idols?
Jungkook is the most popular K-pop star in the world right now. He is the youngest member of BTS. He has a lot of fans all over the world, not just in South Korea.
Who is the best dancer in K-pop?
Jimin of BTS was named the "Best K-Pop Dancer of 2021″… Jimin from BTS is, without a doubt, one of the best K-pop dancers ever.
What is the Fakest K-pop group?
#1 secret fan said that BTS is the fakest idol group in K-pop. BTS is the most honest group you can see on TV.
What is the dark side of K-pop?
People say that some idols have killed themselves because the so-called "perfect and glamorous" life wasn't worth the long hours of work and practice, the harsh expectations and criticism from netizens, and the huge amounts of pressure from their companies.
Who was the king of K-Pop idols?
BTS V won the K-pop Idols of the Year Male award, beating out a number of well-known K-pop music artists (King Of K-pop). BTS Jimin, EXO's Baekhyun, GOT7's Jackson Wang, Astro's Cha Eunwoo, BTS Jungkook, BTS Jhope, EXO's Sehun, BTS's Suga, and SHINee's Taemin were all in the running for the award.
Who is known as the Queen of K-pop?
Kwon Bo-ah was born on November 5, 1986, in South Korea. She is a singer, songwriter, dancer, record producer, and actress who goes by the stage name BoA. She has been called the "Queen of K-pop" because she is one of the most popular and successful Korean singers.
Are there any Indian K-Pop idols?
The first K-pop artist from India was an 18-year-old from Odisha. Gabriela Dalcin from Brazil will also be joining the South Korean girl group Blackswan. In an Instagram post, Blackswan's label, DR Music, said that the band had added new members.
Is it hard to become a K-pop idol?
People know that life as a trainee is hard because of the tight schedules. Because of this, some people give up on their dreams of becoming K-Pop idols. The average time it takes to train someone is between 2 and 4 years. After a while of training, the trainee may be ready to show what they can do. But not all trainees make it to the top.
Why becoming K-Pop idols is hard?
To become a trainee is to get your foot in the door. Becoming an idol, on the other hand, is a much tougher task. An agency will look at a trainee's talent, ability to fit in with a group, ability to handle the hard parts of "idol life," and ability to stay out of trouble over the course of a seven-year contract.
How will I know if I passed the audition?
They will send you a text message or call you to let you know. On the form you filled out before auditioning, there would be information about you.