How to Clean Suede Shoes?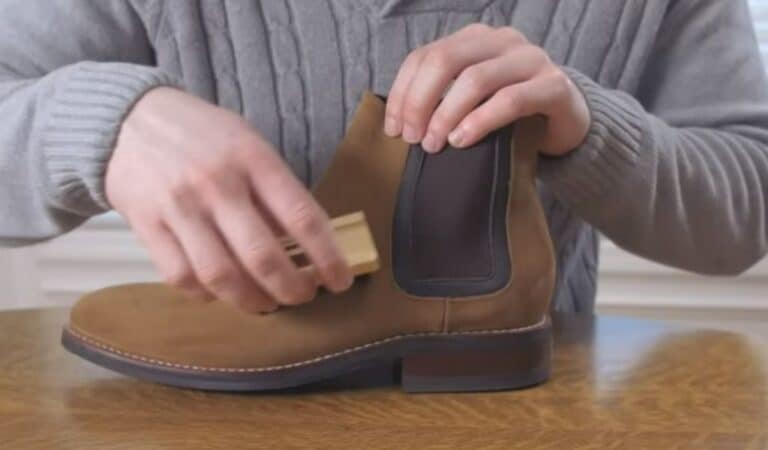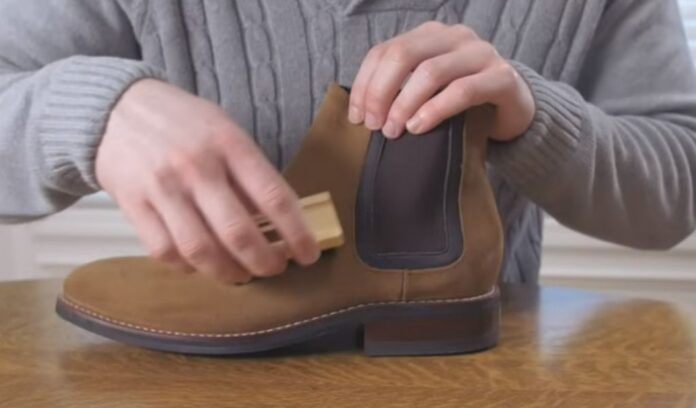 Listen to the Podcast:
Do you need to know how to wash suede sneakers, or do you want to learn how to clean a suede bag? We explain everything.
The first recommendation when learning how to clean suede shoes, including boots and sneakers, is never to use water on the part of the surface. Partial application of water can leave streaks and make your shoes look old, worn, and discolored. That's not to say you can never use water to clean suede, but since it's such a delicate material, you need to know precisely how to use liquids to clean it.
Here We present the three Steps to Clean Suede without Damaging the Material
1. Prepare the Chamois
First, ensure that the shoes or boots are completely dry, and use the suede brush to remove surface dirt from your shoes. Thus, the chamois will be cleaner before other, more intensive treatments are applied—brush following the direction of the grain of the material and not in the opposite direction.
2. Get the Stains Out
As tempting as it is to put your sneakers in the washing machine, avoid it at all costs! Washing suede shoes in the washing machine can cause irreparable damage since large amounts of soap and water harm this material.
In summarizing the best ways how to clean light suede shoes or sneakers, the best techniques are as follows:
To clean mud stains, the first thing is to make sure that the stain is completely dry. After brushing the suede, we can clean the sole with a sponge and soapy water, but always with great care so as not to touch and stain the suede with the water. Later, we can use a thick-bristled suede brush to finish removing the remains of dry mud.
An eraser is a very effective way to remove the most stubborn stains. That same rubber your child uses for school can be your great ally when cleaning suede. You can buy suede rubber if you don't have any rubber at home. Rub the glue over the stain in a circular motion.
If the rubber doesn't work, try water. Unlike rubber, where we only work in the area of the stain, with water, we will have to clean the entire suede to avoid leaving color differences once it dries. Use the suede brush to apply a small amount of water to the entire shoe and brush off the stained area. Place a last or paper bun inside the shoe to preserve its shape and let it dry. Do not use newspaper; this could transfer the ink to the material.
If, after cleaning them with water, there are still stains or the hardness of the water leaves salt marks on the chamois, use a cloth with a bit of white vinegar to clean them. Gently brush it over the stain, let it dry, and remove the color with the suede brush.
3. I Protected the Chamois
Finally, following the manufacturer's instructions, apply some suede protectors. This will help prevent future staining.
How to Clean a Suede Bag?
To clean a suede bag, you have to follow the same three steps as when you clean shoes made of this material, although with some minor differences:
1. Prepare the Chamois
Pass a brush to loosen and remove dirt.
2. Remove the Stains
To clean stains (especially oily residue or sweat marks), apply a thin layer of cornmeal to the garment and leave it for a few hours for the cornstarch to absorb the stains. Next, use a chamois brush to remove the flour.
Steam cleaning is also effective for spot-cleaning suede jackets, but make sure you don't oversaturate the material. The best option is to hang the chamois item in the bathroom after a bath or shower.
3. I Protected the Chamois
Use a chamois protector to care for your clothes after cleaning them. It is also advisable to apply a suede protector before wearing our garments.
How to Clean Suede Leather?
Suede leather, which we generally find in jackets, can be cleaned following the three basic steps that we already mentioned: 
1. Prepare the Chamois
Using a suede brush first to remove surface stains and dirt from your garments. Brush the leather, following the direction of the grain. 
2. Remove the Stains 
We can use a suede eraser to remove stains. All you have to do is gently run the eraser over the stain. 
Another way to remove the stain is with vinegar and water: mix vinegar and water in equal parts, moisten a cloth and wipe it over the stained garment. 
If your suede garments have more difficulty removing stains, it is best to take them to the dry cleaner. Dry cleaning is the best procedure for suede leather. 
3. I protected the Chamois
Lastly, again, use a chamois protector. It is available in shoe stores or supermarkets. This product helps keep your suede clothing and accessories free from water, oil, and other everyday stains.
How to Clean Black Suede and How to Clean Light Suede?
We will always start by brushing the garment or accessory to remove dirt, and then we will follow the appropriate procedure depending on the color.
How to Clean Black Suede?
 The advantage of this color is that it allows us to use many more methods than light colors. To do this, you can rub carbon paper over the entire surface. Then, pass a dry brush to spread it well, and finally, pass a wet brush to remove excess. Another option may be to remove the stains using a brush and a little water, and once it is dry, apply a layer of black suede ink.
How to Clean Light Suede?
After brushing very carefully, you can remove the stains with an eraser. If there are still stains after passing the rubber, mix water and vinegar in equal parts and wipe them over the garment using a cloth.
Finally: How to Care for Your Suede Clothes and Items?
Now that you've learned how to clean suede boots and handbags, as well as jackets and sneakers, the next thing is to learn how to maintain them and how to prevent them from getting too dirty again, although that's easier said than done!
These tips will help you protect your suede garments:
I kept the garment dry. Before you head out, check the weather forecast, and if it's about to rain, wear something more waterproof. Chamois doesn't do well in the rain and can get ruined.

Brush the garments regularly; in this way, the dirt will not adhere to the material.

Clean up water stains with more water. Did you leave your house on a rainy day with suede boots? Don't worry. The only way to remove water stains is with water. Moisten a brush and gently pass it all over the garment. Let it dry in a ventilated environment. Once dry, brush the garments again.

Do not put the garment in the sun. Sunlight is very powerful and can change the color of your suede garments as well as their texture. Store your suede jackets, shoes, and accessories in a cool place out of direct sunlight.

Store it in good conditions: Do not store your garments in places that can accumulate moisture, such as attics, garages, or damp closets.

Protect your garments when transporting them. If you're going on a trip and want to take suede clothing, don't store it in plastic bags or other hermetic materials because they could make the suede sweat. It is better to use a cotton cloth bag or even a pillowcase.

Use a chamois protector: as we already mentioned with each garment, they act as a barrier against dirt and water stains.
Now that you know how to clean suede and how to care for and maintain your favorite accessories so that they last longer, put on your jacket, tie your shoes, grab your wallet, and go out to enjoy your suede clothes.
Subscribe to Our Latest Newsletter
To Read Our Exclusive Content, Sign up Now.
$5/Monthly, $50/Yearly