FIFA President Gianni Infantino Criticized for Selfie Near Pele's Coffin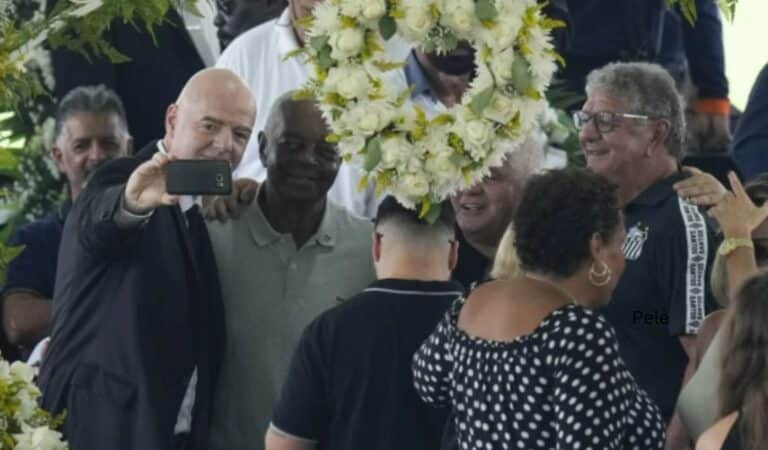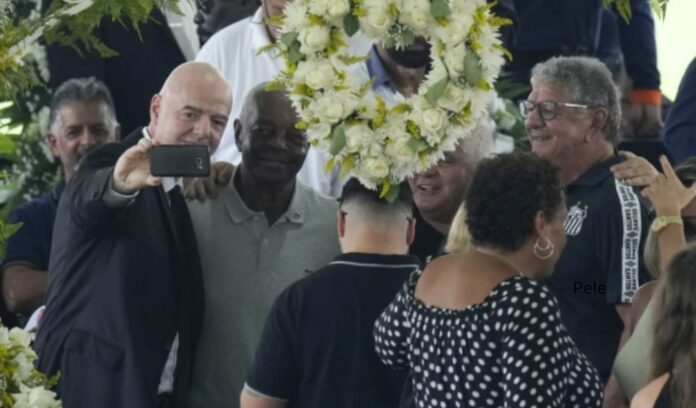 Listen to Podcast:
FIFA president Gianni Infantino has been criticized for allegedly taking a selfie next to Pele's coffin at the legendary footballer's funeral in Santos, Brazil. People lined up to see Pele's body, which was in an open casket in the middle of the field at the Vila Belmiro stadium, home of the Santos Football Club. Pele died Thursday at age 82 after a long battle with colon cancer.
Read More: Pele Funeral
Infantino was one of the first people to arrive at the funeral for the legendary football player, who was the only person to win three FIFA World Cup trophies.
Pele was seen giving condolences to Pele's widow, Marcia Aoki. After that, he was seen taking a selfie with Pele's former Santos teammate Lima. Pele was also sending his condolences to Pele's children.
Read Also: Final Farewell to Football King Pele
Fans were not impressed by Infantino's selfie, and quite a few criticized the FIFA president's behavior at Pele's funeral. People asked why they were posing for photos while hundreds of Brazilians were mourning the death of one of their greatest national heroes.
Infantino pulls out his mobile to take a selfie in front of #Pelé lying in his coffin according to the report below. What a disgrace. https://t.co/g9HCbgPJ6A

— Bonita Mersiades (@bonitamersiades) January 3, 2023
Stunned Salt Bae didn't show up in Santos with Gianni Infantino to sprinkle salt over Pele's open casket while posing for a selfie

— Mustafa Redonkulous (@mredonkulous) January 2, 2023
And Infantino is going to take a selfie at each one. pic.twitter.com/xNIMbc3FOO

— Anyone But United TV (@AnyoneButUtdTV) January 2, 2023
Venu se «recueillir» au pied du cercueil du plus grand footballeur de tous les temps au stade de Santos, au Brésil, le président de la #FIFA Gianni #Infantino dégaine son portable et photographie cet instant devant le pauvre #Pelé gisant. Quelle indignité, quelle honte. #àvomir pic.twitter.com/C5nqbhLVln

— Arnaud Bédat (@ArnaudBedat) January 2, 2023
infantine asked all of the members of FIFA to make sure that at least one stadium is named after Pele to honor the legendary soccer player.
Infantino said, "Pele is eternal."
"FIFA will definitely give the "king" the respect he deserves. We have asked all 211 football associations around the world to honor Pele with a minute of silence before every game and to name a stadium after him. Pele must be known and remembered by people in the future."
To Know More: Top Sports Stories 2022
TV footage showed that former Brazil midfielder Ze Roberto and Pele's son Edinho helped put his coffin on the field. Neymar, Vinicius Junior, and the Spanish club Real Madrid all sent wreaths of flowers.
On Tuesday, a procession carrying Pele's coffin will move through the streets of Santos. It will end at the Ecumenical Memorial Necropolis cemetery, where he will be buried in a private ceremony.
Subscribe to Our Latest Newsletter
To Read Our Exclusive Content, Sign up Now.
$5/Monthly, $50/Yearly