Eva Fleurose – The Rise of the Social Media Sensation, Influencer Phenomenon of 2023!
Eva Fleurose is one of the most promising influencers who has taken Instagram by storm in 2023. Focused on her fans, she always finds time to respond to their comments. What is most interesting – although she lives in France, she comes from Poland and started her adventure with fashion as a teenager. Later, she worked as an assistant to the CEO of a recruitment agency for luxury fashion brands such as Louis Vuitton or Chanel. Today she has become a constant source of inspiration on the web and, as a fashionista in her own right, she does it brilliantly.
CHECK HER INSTAGRAM – CLICK HERE
Sunny Spain – a beginning of adventure and success in 3 months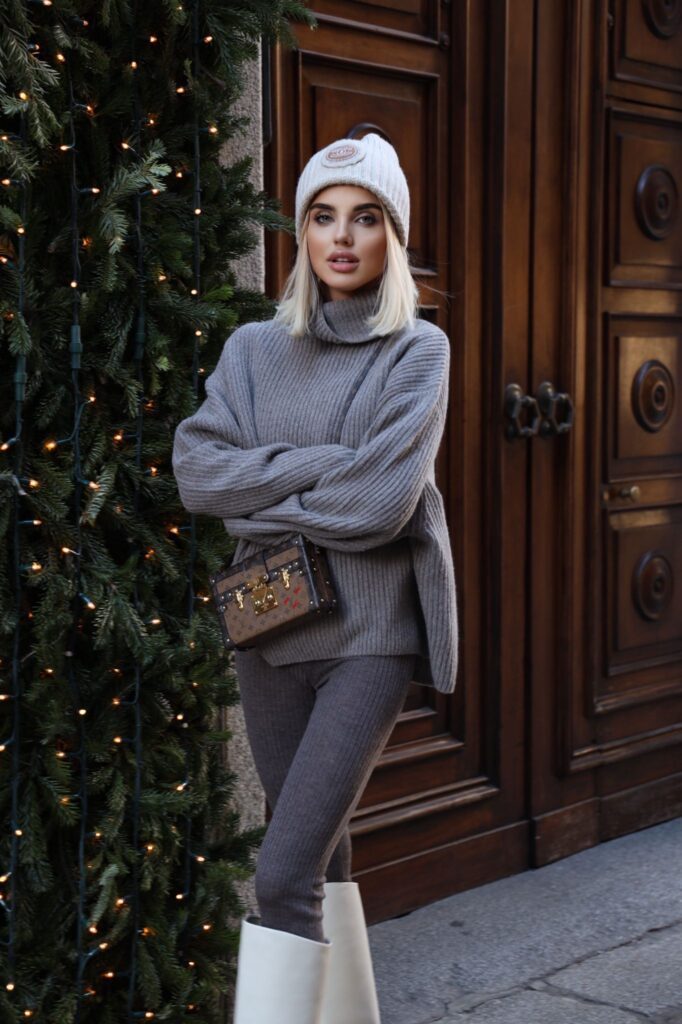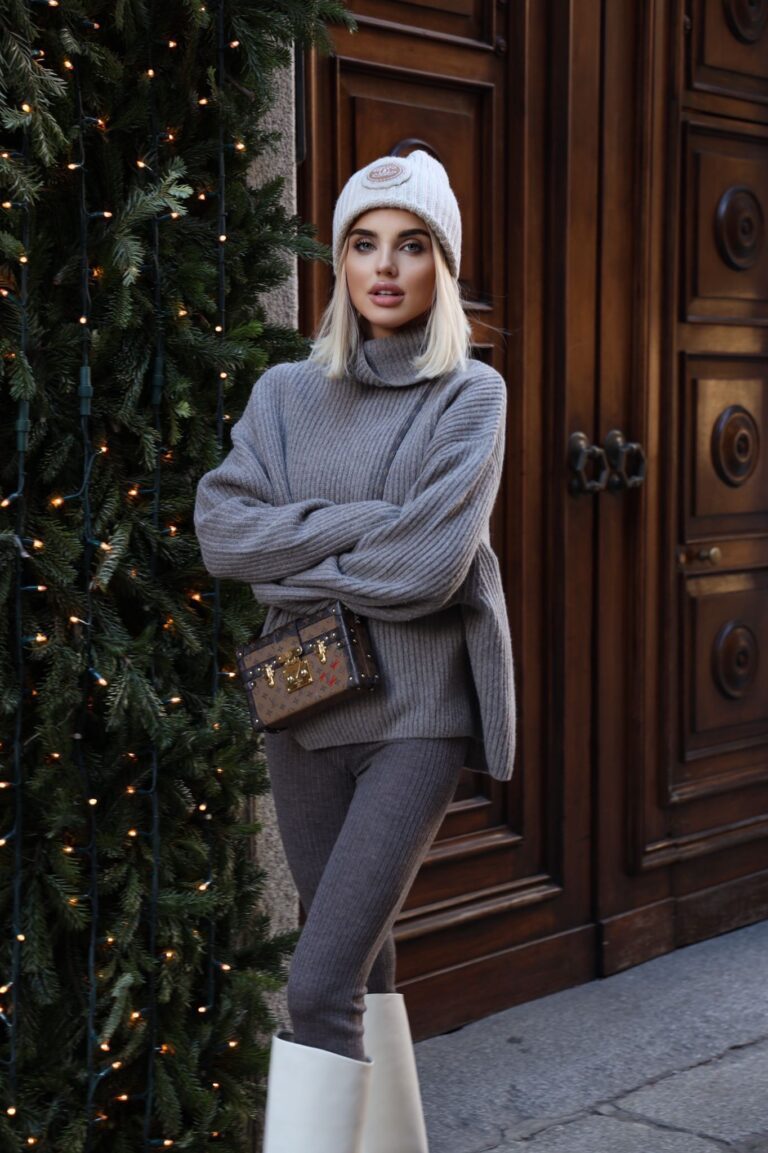 Eva's story makes an inspiring example of a story about the right person in the right place. According to her own words about her beginnings online, it was friends and her sister who encouraged her to launch an Instagram account. This took place in enchanting Spain, in Mallorca, where her first photoshoot took place, featuring images composed of sunshine and fabulous clothes. Her styling ranges from chain-store pieces to top fashion brands such as Dolce Gabbana and Louis Vuitton, and the mixes are exceptionally energetic, colorful, and evoke an unforgettable summer vibe.
Despite the fact that her account was only created this summer, she started to capture the hearts of her followers incredibly quickly – after just 3 months, her Instagram account attracted more than 200,000 followers! When recalling this moment, she admits that it was a natural path for her – since her friends had always asked her for some styling tips, on ways to spend their free time, traveling or taking care of themselves: "In fact, I was already doing it, it was just in private. Then my sister kept telling me "You should do that!" and she eventually convinced me! That's how it started."
In her nostalgic reminiscences, she also recalls the moments when, already while attending school, she carefully arranged her outfits for the following day, which she found quite natural. At the age of 16, she moved to London and it was there that she got her first fashion job.
That was the exact moment she found herself falling in love with the industry and the glamorous world of beauty forever. Afterward, she pursued her adventure in the fashion industry by working in a recruitment agency for luxury fashion brands. In her role as assistant of the company owner, she had the opportunity to participate in numerous events, as well as travel and find inspiring ideas, which until now she continues to confidently share on her Instagram page: " Instagram has now become to me both my passion and my work, and my free time – absolutely everything."
Making yourself accessible to your fans: inspiring principles and content
In fact, Eva founds her success on a few basic principles, something she repeats like a mantra and good advice for newcomers to the fashion adventure on the web. So, what does she focus on in her activity? Well, it is consistency in what she is doing and respect for people and their time.
When it comes to her own work, she always tries to find enough time to respond to her fans because, as she explains, the 10 seconds that someone devoted to a post a comment on her profile really matters to her.
However, that is not all – due to the content she publishes – fashion, beauty, lifestyle – on her profile she has attracted over 90% of women who support and inspire each other. This is another key factor for her – she has succeeded in creating a place where everyone can share her views, moods, and stories. Eva pays a lot of attention to making her content both inspiring and encouraging other women to take care of themselves, their femininity, and their appearance. Those are essential aspects that make us feel good about ourselves.
Being a mum, she perfectly understands every woman's need to spend at least 30 minutes a day looking after herself and to regularly do meaningful things for herself, as well as the challenges associated with this when you have a family. She herself enjoys following the profiles of other mum influencers, such as world-famous Ciarra Ferrgani, an influencer with a successful blog "Blonde Salad".
"It makes me feel cool when I can inspire others. In fact, I get messages from girls who have just lost weight or didn't have the motivation in the morning to dress up or make-up themselves, yet once they got on my Instagram they felt motivated. That's really great to receive that kind of feedback!". In her everyday life, Eva is a very active woman: she works out every morning, does intermittent fasting, and cares passionately about her complexion, as well as about her femininity and the rituals that make her feel special in her own skin.
Aside from fashion, she also posts inspirational content like this regularly on her profile. What's more, the lifestyle to which she adheres, as well as the fact that she is Polish, also finds its mark on her profile- the posts we can find there are in both Polish and English.
Parisian life, London, Milan, and the world of fashion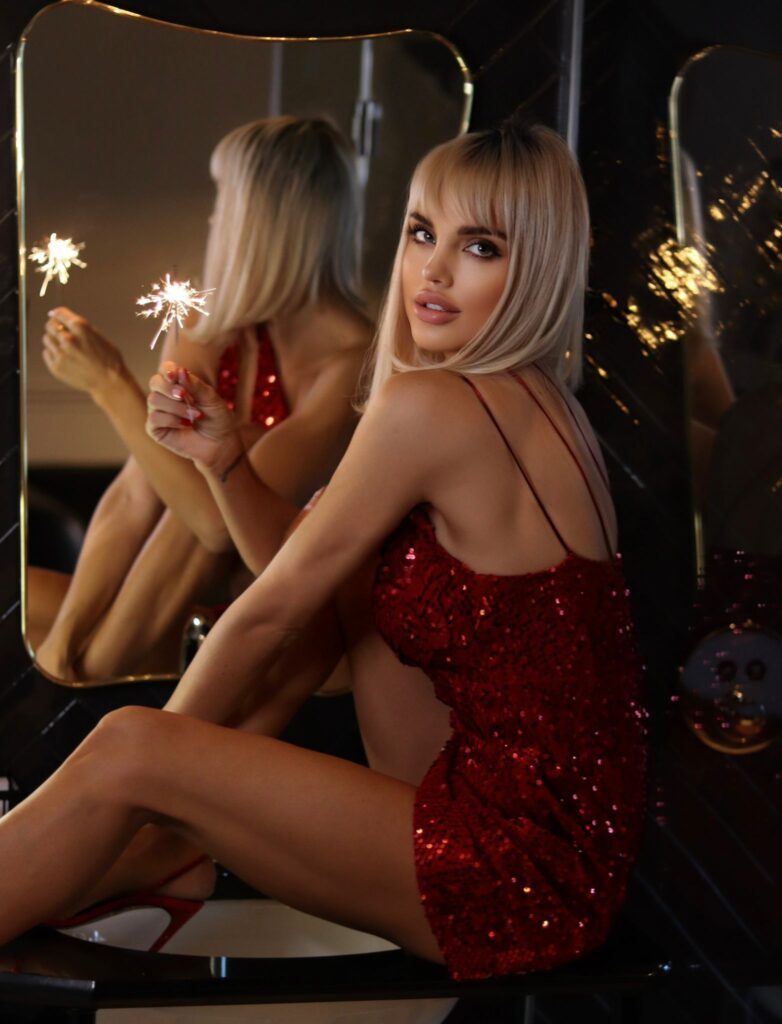 At present, Eva lives in Paris, pursuing her life as a mother of two daughters and a wife who loves to create a positive buzz in her home – supported by the presence of her beloved pet golden retriever, a gift for children who share her love for animals. In this place, her life focuses on her family, as well as on creating carefully thought-out content for her audience: "It is important to show my character, my personality – the things I like." That is the way she puts it when she talks about her work and preparations for the upcoming shoots, which reveal her perspective on fashion, trends, and femininity.
Surprisingly, when questioned about where she looks for her inspiration, she mainly points to… the streets of Paris. Even though the Internet plays an important role in her search, it is by observing people that she finds the most interesting styles, colors, and ideas for new content. Part of her favorite ritual is drinking coffee in French cafés, at a table with a view of what is happening outside. It is here on a Parisian street that she keeps an eye on what is currently fashionable among various people and recharges her batteries. As another source of inspiration, she mentions traveling – which has a very important educational dimension for her, revealing new possibilities and perspectives and motivating her to create.
Not without significance is the fact that Eva has so far also lived in London (over 10 years) and Milan, the most important European fashion capitals. She had the opportunity to observe the local culture and emerging fashion trends, which were then introduced to the streets and regular shops during Fashion Week. It was this diversity of experience that made it possible for her to fully develop her own style, which she describes as the closest to Italian. Colors, experimental attitude, and free self-expression are her guidelines, although the more classic Parisian approach to fashion also has its well-deserved place in her work. As she puts it herself with a laugh: " I invest in fashion and I keep telling that to my husband too…"However, for her, these classical pieces are not only timeless accessories but also precious gifts that she will be able to pass on to her daughters. Today, when asked about her favorite brands, she turns her eyes towards Polish designers, emphasizing that she would love to support them: " Now I have bought myself shoes for the first time from a Polish designer – from Magda Butrym. I look at these pieces and am impressed by their quality."
Sunny Spain: plans for the future and a fresh new stage in life
Despite only being in Paris for two years, she is already thinking about the idea of moving again.
She intends to settle in hot Spain, the place where it all began for her. This return to the country which gave birth to her success is also a symbolic moment marking the start of a new phase in her life – in the midst of nature, silence, and magnificent beaches.
After all, these are exactly the values she cherishes in her everyday life, as much as pursuing her dreams. The opportunity to live by the sea was one of them. Being asked about the motto that motivates her to act, she declares:
" I very much believe in the power of attraction – everything I've achieved in my life, is something I imagined early on. " You can achieve whatever you dream of" – this is what I always keep myself thinking. So, even now that I am moving to Spain with my husband… it feels so unreal! Since I was very young, it was my dream to live by the sea and now it is coming true. Indeed, if we can dream about something, we can achieve it!"
Her other dream is to set up her own shop in Spain, as she is keen on having direct contact with people, which she really enjoys. Being able to have such a large community around her, this project, like Eva's other activities, could become an instant success. So it is definitely worth following her activities in 2023 to keep your finger on the pulse to see what she has prepared for her fans!
Being a strong, independent woman
Regarding herself, Eva admits that she is not a person that waits until life suddenly changes – whenever she really wants things to be different, she puts it into practice straight away – whether it's new eating habits, taking care of herself, or everyday life. Asked about her professional goals, she reveals that there are brands she would like to work with, such as Louis Vuitton: "They are timeless, elegant, unique, that's my dream too."
However, she considers herself a strong, independent woman who wants to demonstrate to her daughters that they can be like that when they grow up. It is important for her to make her children proud – which is for her an important motivation to act.
Eva is a great inspiration for all women at the turn of 2023 to reach for their dreams, pursue their goals and never hesitate to create the future of their dreams!
If we dream of success, it is within our reach.
Subscribe to Our Latest Newsletter
To Read Our Exclusive Content, Sign up Now.
$5/Monthly, $50/Yearly