What is the Domino Intelligence Test?
Listen to the Podcast:
The domino intelligence test, also known as the D-48 test, is a non-verbal graphic psycho-technical test that assesses the central functions of intelligence, such as abstraction and understanding of relationships, and whose final objective is to measure the general factor (G) of the intelligence of individuals through the analysis of their logical faculties.
Read More: Ireland Theory Test
Next, we briefly explain Spearman's bifactorial theory, which gave rise to the concept of "general intelligence,"  as well as the origin, applications, and interpretation of the domino intelligence test that measures Factor G.
The Domino Test and General Intelligence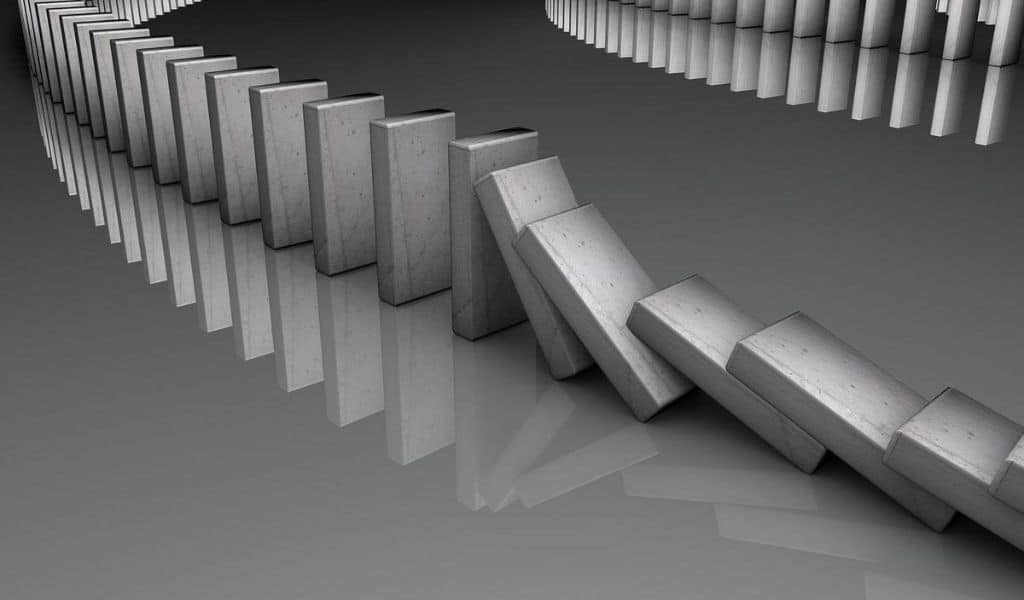 Charles Edward Spearman (1863–1945) was a London psychologist who approached this science from a statistical perspective. In 1904, the American Journal of Psychology published his article General Intelligence Objectively Determined and Measured. He presented a series of experiments inspired by the previous work of Francis Galton, a cousin of Charles Darwin.
Galton had been a pioneer in applying statistical methods to the study of human differences and the inheritance of intelligence, introducing the statistical concept of correlation and using questionnaires and surveys to collect data on communities of individuals.
Influenced by Galton's studies, Spearman concluded through his experiments that the branches of intellectual activity share a fundamental function (Factor G), while the remaining or specific elements of the activity (Factor S) would be those that correspond to each other with a particular ability.
Read Also: Types of Intelligence You Must Develop
In this way, Charles Spearman defines his bifactorial theory of intelligence, according to which an individual's intelligence would be defined by the conjunction of a stable general factor that differs quantitatively between individuals and is also genetically determined and a series of specific factors. Independent of each other, which manifest as aptitudes, strengths, and weaknesses.
The domino intelligence test would try to objectively analyze Factor G, "the ability to infer relationships and from them adduce stories," as Charles Spearman defined this "mental energy."
Origin of the Domino Intelligence Test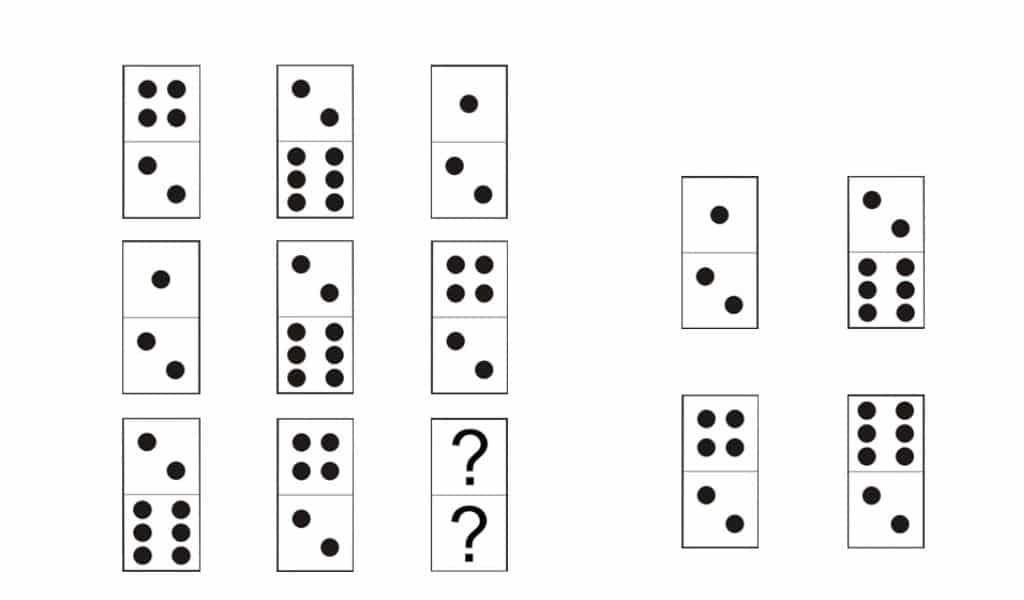 Based on Spearman's work, other psychologists began experimenting with various tests to measure general intelligence objectively, concluding that perceptual and non-verbal tests that pose problems of abstraction, comprehension, and deduction of relationships are the most reliable.
Influenced by the Raven Progressive Matrix test used with the British Armed Forces, the English psychologist Edgar Anstey, who worked for the British Ministry of Defense—and who is said to have played a key "moderating" role during the Missile Crisis in Cuba—carried out a new test in 1944 using dominoes as a figurative stimulus.
Ten years later, Anstey gave shape to the definitive version of the Domino intelligence test, with 48 items grouped into eight pages each at a rate of six per page.
Application of the Domino Intelligence Test
According to the original model designed by Anstey and later perfected by Pierre Pichot, each page of the domino intelligence test would be defined by a principle: symmetry (page 1), alternative and simple progression (pages 2 and 3); asymmetry (pages 4); circular progression (page 5); complex progression (page 6); a combination of previous principles (page 7); addition and subtraction (page 8).
Each design comprising a set of dominoes contains a blank whose answer must be deduced by the individual, inferring the ordering principle or law to complete the design.
The time to solve the test varies depending on various factors, especially the age of the group of individuals, but it is usually around 25 to 30 minutes. Similarly, this test can be applied to both individuals and groups, with a limit of no more than 60 people at a time to ensure better control.
For the test application, you only need the test booklet, the answer sheet, a pencil, and an eraser. If applicable, the evaluator must use a stopwatch, the manual with the rules of application and interpretation, and the correction template.
Domino Test: Results and Interpretation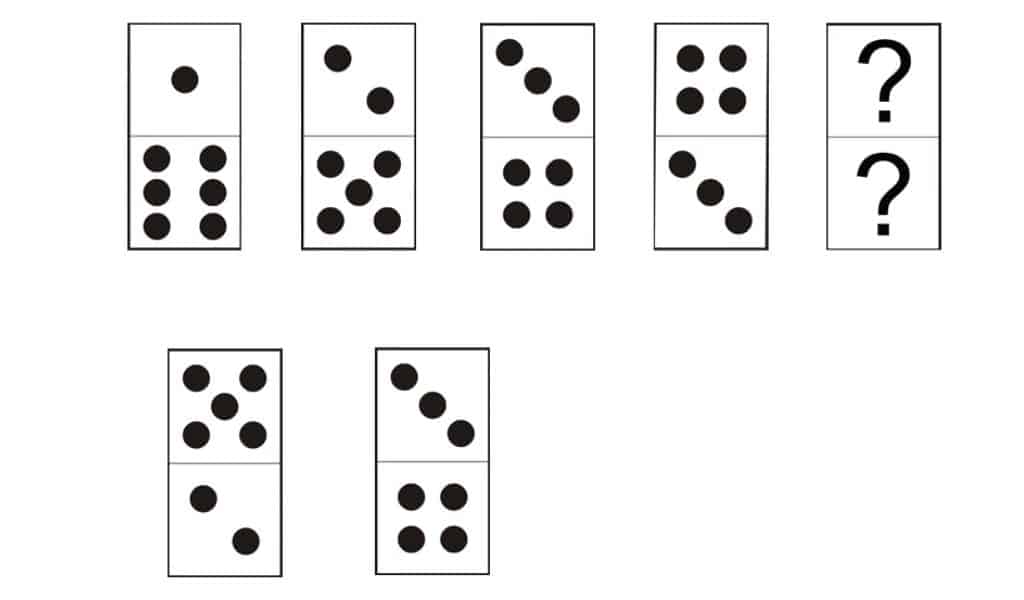 Almost 80 years after its first version, the domino intelligence test is still the primary test to evaluate an individual's general intelligence. As many of you have heard in school, this test can be used from 12 to approximately 65 years old. And indeed, the reliability of the test, which increases with age, is considered very high according to the different analyses.
The use of non-verbal stimuli and the absence of cultural content make it easier for this test to be applied successfully in different demographic and cultural contexts, as it requires little prior knowledge. In this sense, studies on applying this test indicate that knowledge of the game of dominoes does not influence the results.
In addition, according to its supporters, the domino intelligence test manages to focus the analysis on the G factor, the final objective of the test, avoiding the saturation of other specific factors that are not general intelligence.
For the interpretation of the test—always carried out by a professional evaluator—various tables of scales are followed that compare the individual results with the general ones according to age, taking as reference percentiles—the level of correct answers compared to a scale—and enterotypes—nine units typical according to correct answers. For example, a 16- to 17-year-old boy who hits between 40 and 44 designs would have a 99th percentile as part of the 9th enterotype.
On the other hand, there are also scales aimed at the professional level (NP)—such as, for example, NP-1 Management Level or NP-3 Graduates—as well as the cultural level (NC)—NC-1 Primary Education and General Culture or NC-7 Engineers— In any case, these scales change over time, adapting to social and demographic circumstances.
Applied in different fields such as personnel selection, psycho-pedagogical and vocational guidance, and clinical psychology, the Domino intelligence test, despite its reliability, is still another tool for evaluating human intelligence.
And it is that, despite the evolution and advances in neurobiological studies of the last 80 years, we still do not have a clear conception of human intelligence. There are, for example, studies of the Prince of Asturias Award and Harvard professor Howard Gardner, author of the theory of multiple intelligences, which states that we have up to nine bits of intelligence that cannot be evaluated by a single intelligence test, no matter how reliable it has proven to be.