CES 2023: All You Need to Know about Biggest Tech Conference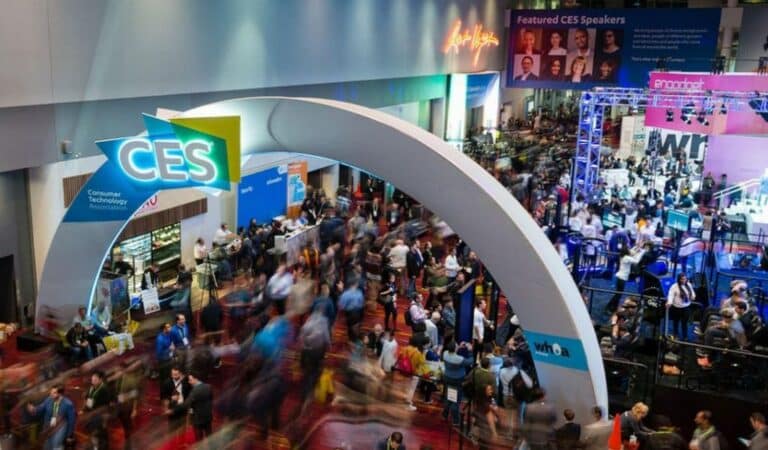 Listen to Podcast:
From January 5 to 8, 2023, CES, one of the biggest consumer electronics shows, will take place in Las Vegas, Nevada. There will be product launches, stand-alone events, and keynotes at different places around Las Vegas.
Read More: Metaverse Future
Most of the time, big names in the industry show up at CES to launch new products, make big announcements, and share their plans for the future. Some well-known leaders are also expected to give keynote speeches and plans for the coming year. Along with big companies like Apple, Samsung, Intel, Asus, AMG, Qualcomm, and others, we also expect new companies to show off their products.
Read Also: CES 2023: Samsung
This year is expected to be bigger than last year because the rules for visitors seem to be less strict. For example, the official website only says, "CES encourages all attendees to get the booster shots and vaccine."
What to Look for at CES 2023?
Last year, several well-known people decided not to go because they were worried about the Covid-19 pandemic. This year, a lot of big tech companies have said they will be back. Microsoft, Google, Sony, LG, Garmin, Asus, Nvidia, and many others are known to be taking part. Aside from big tech companies, visitors can expect to see concepts and new commercial EVs from brands like Mercedes-Benz, Toyota, BMW, Honda, and many others.
Below, we look at some of the biggest consumer tech products and technologies that we may see at CES 2023.
From Micro LEDs to a Wireless OLED Television
In 2022, innovations like a roll-up screen and 8K resolution were shown. This year at CES 2023, Sony and Samsung may show MicroLED TVs with a screen size of 100 inches or more. Also, Displace, a new US company, may show off the world's first OLED TV that can be used without any wires at CES 2023.
Innovative Wearable Technology
At CES 2023, there will also be updates to technology that can be worn. Smartwatches that will be shown at CES 2023 will likely be able to track more of our health and wellness.
Sony/ Honda Mobility
Sony and Honda are working together to make electric cars, and it is likely that they will make an announcement about this at CES this year. The Vision S prototype, Sony's idea for a car, was on display at CES.
ソニー・ホンダモビリティー株式会社
ティザー動画公開

2023年1月に米国ラスベガスで開催される #CES2023
ソニー・ホンダモビリティ株式会社がソニープレスカンファレンスに登壇し発表を行います。

どうぞご期待ください!#Sony #Honda #Sonyhondamobility #FutureSonyhttps://t.co/QOFhviFQBJ pic.twitter.com/kT2k1AfDhi

— Sony Group – Japan (@SonyGroup_JP) December 20, 2022
Audio
At CES 2023, there are a lot of speakers, headphones, soundbars, and other audio devices from companies like Sony, LG, JBL, and more.
Automotive
At CES events, cars and electric vehicles are always a big deal. At CES 2023, new electric cars, self-driving cars, and other technologies may be shown for the first time.
What a ride #CES2023 @MercedesBenz pic.twitter.com/4UxgwfF9Ki

— 🇺🇦Evan Kirstel #B2B #TechFluencer (@EvanKirstel) December 28, 2022
Computing
The show will likely still be mostly about laptops and PC parts, with dozens of new devices and updates. For 2023, Asus, Lenovo, Dell, and HP are all likely to release new laptops and 2-in-1s.
Change is in the air.
See you at @CES with #ASUS

#CES2023 #ASUSLaunchEvent #ASUSIndia pic.twitter.com/yb5rJSR3Sk

— ASUS India (@ASUSIndia) December 28, 2022
Mobile
Even though smartphone tech has reached the point where only small changes are made, cameras could still get better, processors could get faster, and there could be new battery and charging tech. Almost all of the big OEMs, including Samsung, Xiaomi, Oppo, and even some of the smaller ones, are expected to show off new ideas and technologies.
Samsung's Products and Technologies
Samsung will show off its new technologies and products for both consumers and businesses. Samsung will show off a 2nd Generation smart SSD, a processor for cars, and Ultra-fine pixel technology for mobile cameras.
Subscribe to Our Latest Newsletter
To Read Our Exclusive Content, Sign up Now.
$5/Monthly, $50/Yearly