10 Best idle RPG Games for your Android Mobile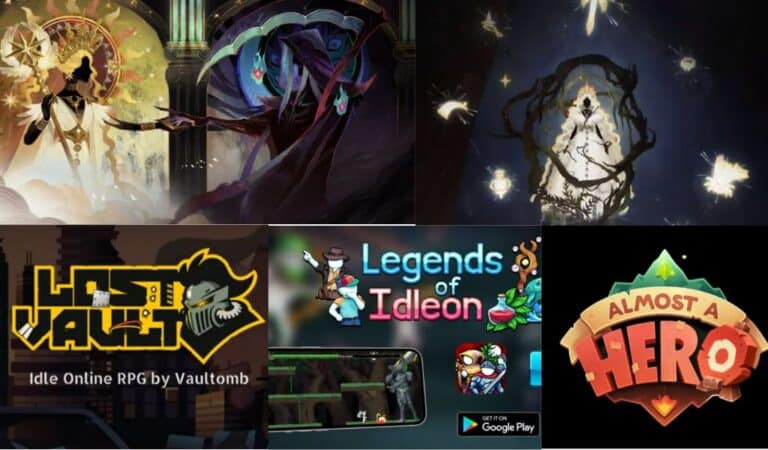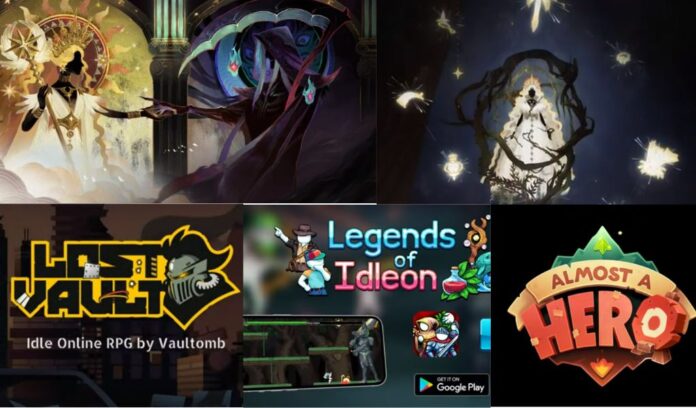 Listen to the Podcast:
Idle games are getting more and more popular, especially among people who play games on their phones. The reason is more than obvious: these games give you very rewarding results with almost no work.
So, if you want to start playing them or want to find your next favorite, here is a list of the 10 best idle RPG games for Android.
Yes, two very popular types of books come together to make a list of books that you are sure to love.
The best thing about all of this is that most of the games are free and can be played without an internet connection. There are also a huge number of rewards, evolutions, and prizes that can be won.
1. Almost a Hero
You have to work hard to get a team of brave and strong heroes, and Almost a Hero is the best way to do that. Build a team of "useless" characters, which is what the game calls them, and turn them into the heroes they may have been meant to be. They can improve their stats, weapons, and level by fighting in battles over and over again.
There are different ways to play Almost a Hero, like the adventure mode and the time trial mode, which help the player improve their skills on the battlefield. Get more gold and buy fighters like pyromaniacs, goblins, and caring grandmothers for your team. Then, equip them with artefacts, come up with the best strategy, and watch the battles happen even when you're not online, or use your rings to help them win.
2. Lost Vault
Warriors, wizards, knights, rebels, and many other creatures fight to stay alive in a world after the end of the world. Lost Vault combines idle gameplay with MMORPGs since battles happen on their own. But you can play against other people online, raid their lairs, and even join a clan.
As you play the game, you'll be able to access new dungeons with monsters and bosses that you have to beat to get resources. Use those resources to build your hideout, buy gear, and help your warriors grow stronger. Fight on your own or with your clan, and use your game time to try to be the last person alive in the Lost Vault.
3. Legends of IdleOn
We're adding this game to the list because it deserves to be there. It's an idle RPG game with the option to play online with other people. IdleOn is an "idle" massively multiplayer online role-playing game (MMORPG) where you can make heroes that will earn rewards and experience on their own and then fight other heroes online.
You can talk to other players, make a lot of warriors and equip them with the best gear, join a guild, play in dungeons with other players, breed pets, and do a lot more. IdleOn has a lot of options, and the fact that it's free, doesn't have ads, and is easy to play makes it a wonder of its kind.
4. AFK Arena
Even though it wasn't the first idle RPG, AFK Arena is without a doubt one of the most popular games in this genre. This game has beautiful graphics and more than a hundred heroes from seven different factions. It also shows what idle games are all about: you get rewards while you're online and let your heroes fight when you're not.
In AFK Arena, you play in a made-up world called Esperia, and your job is to make the strongest heroes ever seen so they can fight the forces of death that want to take over that world.
To do this, you will need to come up with plans, build strong teams, arm your warriors, and come up with a way to save these beautiful landscapes quickly.
5. Tap Wizard 2
If you don't like the idea of idle games, you could try an idle game with a clicker mechanic, which means you can interact with what's happening. In Tap Wizard 2, you will have to touch the screen hundreds of times to make your wizard attack and cast spells.
The way the game works is very easy to understand: you make your magician and send him into battle against huge groups of enemies by pressing the screen in the direction of the enemies. When you beat a big group of enemies, you can get your rewards and use them to improve your wizard. Your character will keep fighting hordes even when you're not online, so every time you open the game, you can get rewards.
6. Godville
Godville is for you if you've ever wondered what it would be like to be a god to someone, to watch their life unfold and sometimes help or punish them. In this type of RPG called a "idle RPG," your job is to make a hero who will do what he wants throughout the game and gain experience, powers, weapons, and a lot of other things while keeping a diary.
As his god, all you have to do is sit back, relax, and read about all of his adventures. Every now and then, you can give him something good or bad to change the whole story.
This is what's called a "zero-player game," and the goal is just to laugh at the funny story as it happens and join in whenever you want.
7. Ever Legion
Ever Legion is a classic role-playing game in which you have to put together a group of warriors that includes elves, knights, wizards, and other fantasy characters. However, it has a unique feature that makes it very appealing. We're talking about how this game takes place in a 3D world and how the movement and art are very good.
Ever Legion is a good choice if you want an idle RPG to make your own team of warriors and train them. Not only does it look great, but it also has online modes where you can play against the guilds of other players. It also has an amazing story and great characters, like the main bad guy, the Necromancer Balor. Ever Legion is, without a doubt, a very full idle RPG game.
8. Blade Idle
We recommend Blade Idle if you want something simpler, with less context, where you can play whenever you want and let the rewards build up while you rest. This anime-style game is about a farmer who gets a magic sword that sends him on dangerous adventures.
You can dress up your farmer in one of the available outfits and send him out into the world to fight hordes of enemies and get attacks, pets, relics, and special abilities that will make him a better fighter.
It's not the hardest game in the world, which makes it easier to learn quickly.
9. Farm RPG
Farm RPG is a great role-playing game that you can play in your spare time. It's different from all the battles, monsters, warriors, and wizards. In this game, you can pretend to be a farmer by planting, harvesting, fishing, taking care of animals, etc.
This game has a lot of RPG elements, like a large community of online players with whom you can trade goods, NPCs who give you daily quests, and semi-idle gameplay that lets you earn rewards without doing much. There are no ads in this free game, and there are a lot of things to do and see.
10. Clickpocalypse II
To end this list, we want to give you exactly what you came here for: a simple, idle, incremental RPG with monsters, swords, and dungeons. We all know that it works, so fighting over something we all like is not worth it.
Clickpocalypse II works like most 8-bit idle games. You build your team of warriors, give them the best weapons you can afford, and send them into the first monster-filled dungeon you get. You watch them fight bravely and then take their money so you can buy them better weapons and get them ready for the next dungeon. A never-ending adventure that requires little work and gives many rewards.
There are a surprising number of idle RPG games out there right now, but not all of them are worth your time. So, we hope that this list of the 10 best idle RPG games for Android has made it easier for you to find your favorite game in the Play Store.