20 Best Free AI Art Generator Apps for Android – Create Amazing Art
Listen to the Podcast:
With Artificial Intelligence (AI), you can now generate unique images. After its expanding popularity this year, AI Art Generator for phones continues to evolve. Here, we tell you about some of the Best Free AI Art Generator Apps for Android that is very popular.
These applications transform text and phrase the user provides into beautiful and distinct artistic styles. The AI Art Generator Apps generate a picture by inputting an idea and concept. Findings are usually unexpected because no two photos are identical.
In recent years, there have been revolutionary advancements in artificial intelligence. Artificial Intelligence is capable of unimaginable feats, such as independently making graphics. In reality, an AI picture generator from the text may produce an image based on the textual description provided. This article discusses the various AI Art Generators capable of text-to-image art production. Examine the top AI-powered image-generating apps for Android, iPhone, and iPad.
What is an AI Art Generator?
An AI art generator is software that employs the most recent advances in artificial intelligence to generate images based on text input.
AI-generated artworks may alter modern technology and Future art creation methods. You may make portraits, landscapes, and abstract art with software that utilizes artificial intelligence. Even the styles of renowned artists can be imitated.
Fake art generators are on the verge of becoming widespread. Even while most great tools are limited to demos, it won't be long before the most significant AI image generators become an integral part of our everyday lives regarding art, design, and branding.
How Does An AI Art Generator Apps Work?
An AI Art generator is a tool that translates text or images into unique images in seconds; these programs are now popular on the Internet. Text-to-picture generators have been around for a long time, but now these programs have taken them to the next level by adding multiple themes and image styles based on the inputs you provide.
AI Art generator Apps utilize an artificial neural network and are a complicated system that attempts to recognize various patterns and generate predictions based on those patterns. When data is provided to a neural network to assist it in recognizing an object, the web will automatically learn to detect different things with similar characteristics.
Once you input words into the interface of AI Art generator apps, it will generate an image based on your input using a machine-learning algorithm. Several color textures and styles will be animated in the final artwork.
20 Best Free AI Art Generator Apps For Android
AI art generators are a huge hit, and there are currently numerous AI art and AI generator-related apps on the market. If you're looking for the best AI-powered art generator app, you've found it. Here, we introduce you to the 20 best AI art generator apps for Android, enabling you to produce AI-generated images or avatars anytime and anywhere.
Fotor

Starryai

GoArt

Dream By WOMBO

Craiyon

DeepArt

Uni Dream

StarryAI

Lensa

FacePlay

TikTok

Fantasy

PicsArt

Dawn

Canva

Aiby- AI Art & Avatar Generator

FaceApp

AI Picasso

Wonder
Best Free AI Art Generator Apps for Android with Details 
Fotor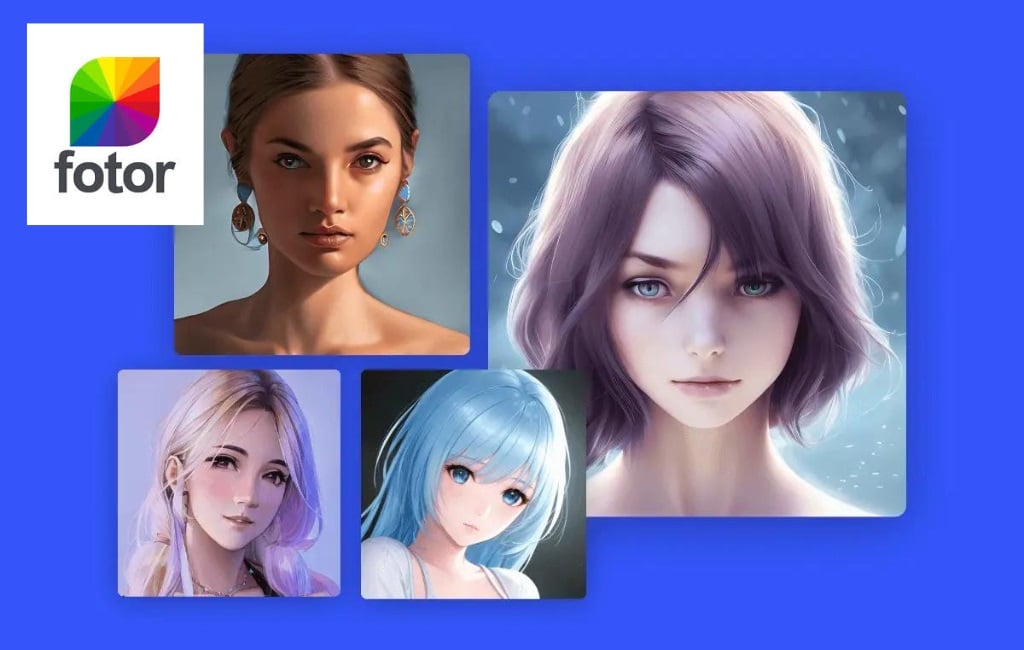 Check out Fotor's AI Art Generator if you're searching for a technique to transform your photographs into art pieces! By uploading a photo and selecting one of Fotor's numerous pre-made styles, you can quickly and effortlessly transform any image into a work of art using this convenient application. Or, if you're feeling particularly inventive, you can create your style! Try it out since the results are always fantastic!
StarryAI
starryAI also functions as an AI Art Generator that converts text to graphics. This Artificial Intelligence Art Maker delivers predetermined art styles to match your query. This allows users to apply their preferred style to the notion in mind. Every art style displays a sample, allowing viewers to visualize how their artwork will appear. Greg Rutkowski, Art Station, Kilian Eng, and Asad Hanuka are among the well-known artistic styles provided to the user.
The cost of a regular art generation is one credit. Get credits by doing various tasks, such as seeing advertisements and sharing your AI-Generated artwork to different social networking platforms. You get more credits the more jobs you accomplish. In addition, users have the opportunity to purchase credits.
GoArt
GoArt -AI Art Generator is a fantastic tool that enables you to generate AI artwork in seconds by entering prompts in a text box.
In addition to entering text to make AI-generated images. Using its robust AI technology, you can use GoArt's extensive selection of art-style filters to transform your photos into works of art. Everyone can be an AI artist in GoArt.
One of GoArt's unique capabilities is converting AI-generated artwork into NFT digital painting. Mint NFT, a GoArt-integrated mini-application, enables you to directly encrypt your NFT artwork and trade it in OpenSea for monetary rewards.
Dream by WOMBO
The idea is simple: the program uses your clues to create a picture, so you must express your needs. But be careful not to overload the app with keywords. Include a few reference photos if it isn't enough and you need something very particular.
You can also personalize the art technique, and there are numerous options (dozens, to be exact). There is a pro version that unlocks additional styles, but you don't need it. You won't have any problems because the UI is simple to use.
The outputs are of good quality, and you can view the same in various styles if necessary. You may also consider how the art is made (literally the whole process) and save the video to your phone. It's nice that the amount of pieces you can make is limitless.
Craiyon – AI Image Generator
Craiyon is a well-known AI art generator program, formerly Dall-e mini, that makes images in seconds based on text box instructions. Moreover, it will generate numerous AI images concurrently, allowing you to choose the desired style.
Craiyon employs an AI model derived from the open-source project dale-mini, devoted to producing the most excellent AI-generated photos. Also, you can hit the camera icon to upload your photographs to produce AI-generated artwork. You may also share your artwork with others using the #craiyon hashtag.
Read Also: Best Free AI Voice Generators 2023
Lensa
Searching for a way to transform your photos into works of art without requiring more time or space on your device? Lensa is your ideal app! Upload an image from your camera roll, and the software will handle the rest. In no time, you will have a work of art that is certain to impress your friends and family.
TikTok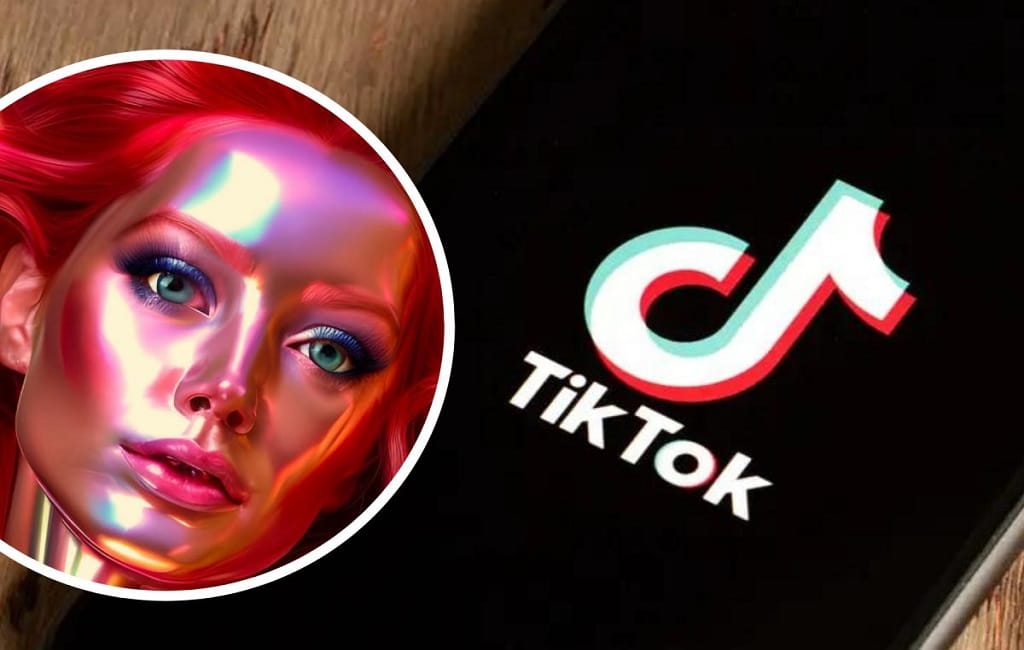 As the influence of social media on our daily lives grows, platforms are continuously innovating to keep users interested. TikTok is the latest software to sweep the globe, and one of its best features is the ability to convert your images into AI art. TikTok enables users to apply various filters to their photos, subsequently making captivating films with fantastic animation effects based on their pictures. Select a photo from your camera roll, select a filter, and watch as the application brings your image to life.
Not only is this feature amusing, but it also demonstrates the capabilities of artificial intelligence in an approachable manner. By allowing users to build their AI-generated art, TikTok is democratizing the technology and making it accessible to everyone.
AI Picasso
The AI Picasso software is built on text-to-image technology. Therefore you must tell the AI what kind of artwork you want. You have several style options (not too many, but still). You can purchase a pro-sub-pack for additional styles, although doing so is optional.
Also, the software appears to comprehend the hints rather well, but there may be occasional issues and distortions. You can improve it by using concise keywords and expressing your thoughts clearly. Avoid including excessive prompts so as not to confuse the app.
Typically, it takes only a few seconds for an image to be generated. The outputs are of excellent quality; therefore, there are no concerns here. There are no limits on the number of photos that can be generated. But you must view an advertisement before viewing each.
FaceApp
FaceApp is a fun method to edit your selfies, so you should check it out if you're interested. This app allows you to apply several filters to your face in real-time to alter its appearance. You may also include accessories such as caps and glasses. In addition, the program has an aging simulator that allows you to visualize your appearance in the far future.
Dawn – AI Avatars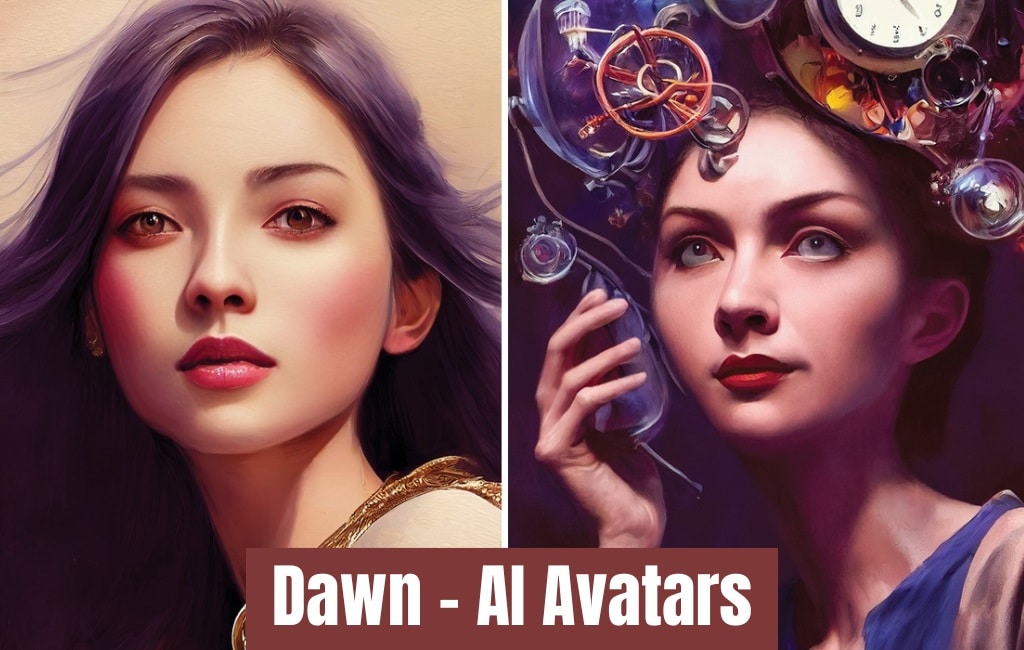 It is simple to impress your friends and followers with an astonishing avatar. Use Dawn to generate an AI image from your uploaded photo quickly. The application analyzes your images using cutting-edge technology and generates terrific portraits in various styles.
From hyperrealistic photographs, anime, impressionism, and 3D rendering to classical art, it allows for exploring infinite genres and situations. After generating the images, you can post them on Instagram, TikTok, WhatsApp, Telegram, Snapchat, Roblox, and other social media networks. This free app offers in-app purchases beginning at $2.99.
AI Art – AI Generator by Aiby
AI Art is a highly-rated app that makes fascinating AI graphics in seconds. The AI generator of AI Art has been trained using countless images, including the works of renowned artists, photography, and other forms of artwork.
Enter your text and select one of the available styles. And AI Art will generate the best possible AI-generated artwork. Similarly, AI Art allows you to upload your photographs as the basis for new AI drawings or avatars. AI Art also offers thousands of works by AI artists for you to download or use as inspiration.
Wonder 
Wonder is also a text-to-image art generator powered by AI. Customers have free access to this service thrice daily by viewing advertisements between each generation. This AI Art Generator offers memberships that remove advertisements and provide users with additional features.
With a Wonder Pro membership, you may create endless artwork. In addition, it provides customers with rapid processing, ad removal, and 20 additional styles for art generation. The membership is available for purchase on a weekly or one-time basis.
Conclusion
AI art generators are a great way to create art from text, photos, and more. Whether you are looking for a photo-realistic image or unique artwork, there is an AI art generator app for android. From Deep Dream Generator to Canva AI Art Generator, the best free AI art generator apps for android. It offers various options for your creative needs. No matter your budget or what type of artwork you're looking for. These apps can help you create amazing images quickly and easily.
Frequently Asked Questions (FAQs) about Best Free AI Art Generator Apps for Android
Are AI art generators free?
AI Art creation is typically a complex process that involves technological expertise; however, we have simplified this procedure. starryai is a free iOS and Android app. Join the ranks of thousands of AI artists.
What AI art generator is everyone using?
OpenAI's Dall-E-2 picture generator is the most well-known artificial intelligence painting generator known to the public. AI technology enables the creation of very realistic graphics in minutes. It can make graphics, develop goods, and produce innovative business concepts.
Is Wombo AI art free?
WOMBO gives each Yearly Membership a free trial. You can only use it once, and it has a limited time ("Free Trial"); you may be asked to enter your billing information to sign up for the Free Trial.
How is AI-generated Art made?
The machine learning algorithm examines millions of internet photos and text to make AI-generated art. The algorithms identify patterns in the images and text and eventually begin to make educated guesses about which image and text pair best. If the model can anticipate how an image should appear based on a particular phrase. It may generate whole new images depending on a new set of descriptive text entered by app users.
Subscribe to Our Latest Newsletter
To Read Our Exclusive Content, Sign up Now.
$5/Monthly, $50/Yearly