AI Old Photos Restoration: Make Old Photos Restoration Online Free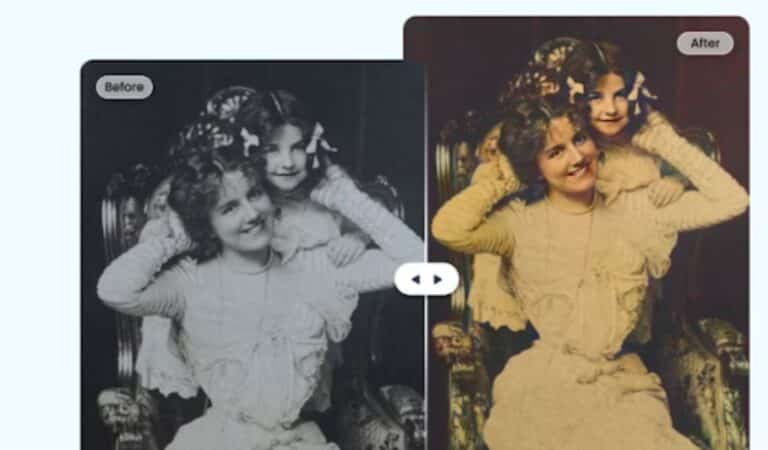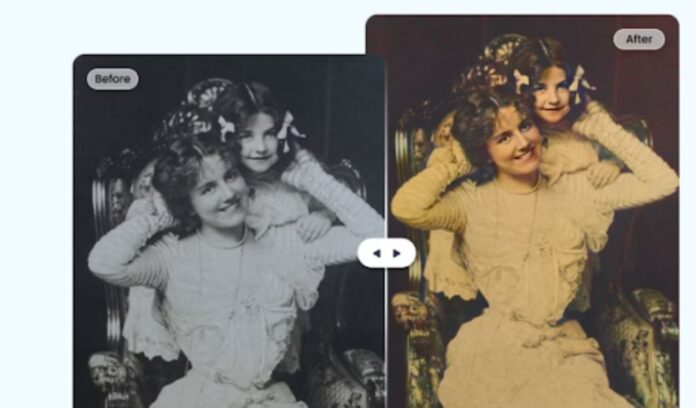 Old photos are memorable and precious to us. As they capture and remind us of our best memories, milestones, and memorable moments. But, as time passes, the photos get blurred, damaged, or get too much scratched. So, repairing our old memorable photos are very important for us. AI photo restoration is a new technology that can help you with old photo restoration to its former glory. 
Wondershare Repairit – Online Old Photo Restoration uses artificial intelligence to identify and repair damaged and old photos. It can help you repair any photos like scratched, torn, blurred, and many more like these damages. In many cases, you can also color your old black-and-white photos using the Repairit AI tool. The results of AI photo restoration online free are unique and wonderful.
In the below post, we will help you know the details, features, and working protocol of the Repairit AI tool. 
What is Repairit – Online Old Photo Restoration? 
Repairit is an online tool that uses AI technology to repair and restore old photos which are now damaged and faded. If your memorable photos are blurred or damaged by scratches, stains, and possess any other imperfections, you can modify and give your old memories a new look by using Repairit online tool. If your old photos are in black-and-white mode, you can use the Repairit tool to colorize them.
Here are some features you can enjoy using the Repairit online old photo restoration tool.  
Repaitit allows you to quickly restore old photos online in JPEG, WEBP, GIF, BMP, JPG, PNG, and many other formats. 

By using advanced AI upscaling techniques, it helps you get the detail and visual clarity. 

For seamless

old photo restoration online free

, it automatically enhances visual clarity with fast AI upscaling. 

With advanced AI algorithms, it helps you achieve advanced and natural facial enhancements. 

All the

AI restore old photos

are handled using privacy, securely, and backed by its guarantee. 
What Does Repairit Photo Restoration Do? 
There are some extraordinary features you can benefit from ai restore old photos on Repairit. If you are wondering "how to restore old photos," check out the points below and find their best out. 
1. Remove Photo Scratches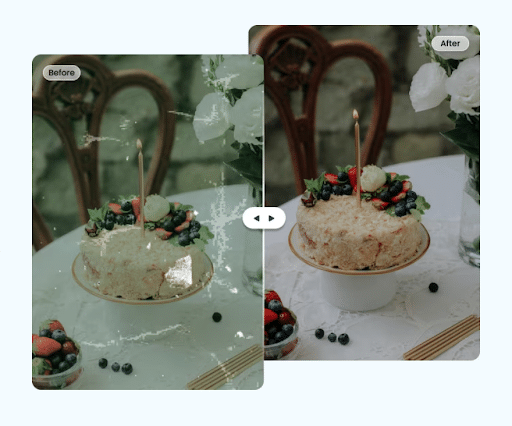 As long as you keep the photos, they are more likely to have spots, smudges, or scratches on their surface. Because of these pockmarks, your photos cannot be clearly visible, and as time passes, the situation gets worse. Hence, this ai photo restoration online free help you remove scratches and get you back your intact and clear images. 
2.  Refind Facial Details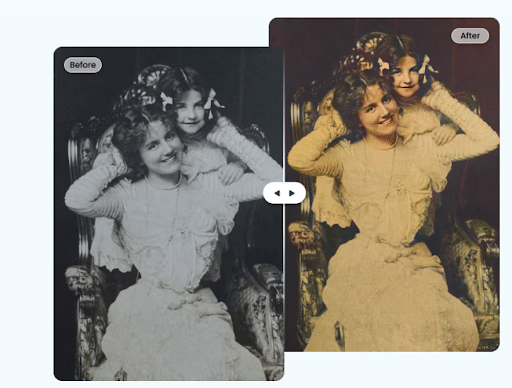 With the help of Repairit's AI photo restoration online free, you can experience the transformation of your damaged photos. Its advanced algorithms analyze and enhance facial details by restoring old photos using Repairit's AI restore old photos technology. 
3.  AI-Powered Photo Digitization and Colorization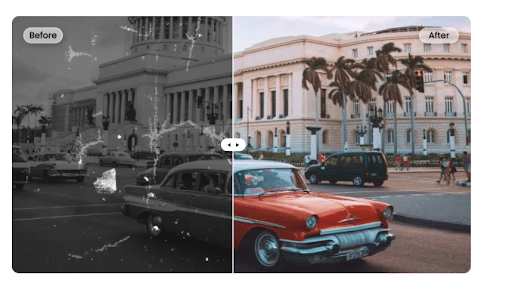 It is possible that your old photos are from the vintage charm. But, as time passed, it got scratches and old marks. If you add colors by restoring old photos, it gives another effect with a great outlook. Therefore, adding colorized versions adds a diverse style to your photos. Fortunately, using Repairit old photo restoration online free AI tool offers easy colorization without doing any installation.
If you are thinking about "how to restore old photos," you only need to upload old vintage photos and let Repaitit AI do the old photo restoration process. 
How to Use It To Restore Old Photos Online For Free?
The Repairit AI tool uses three steps for old photo restoration online free process. Check the headers below and learn how to restore old photos easily or give your vintage photos a colorized look.
Step 1: Upload Old Photos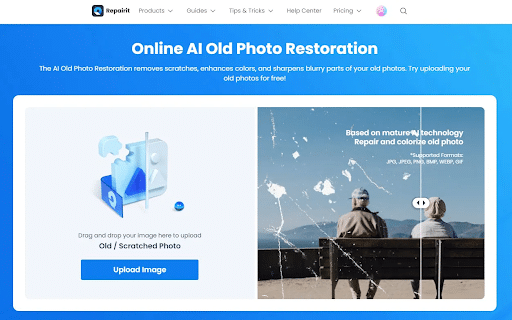 You first need to upload corrupted photos or videos that you wish to get repaired. If you wish to use AI restore old photos, follow the below steps. 
Enter the online repair video or photo page. 

A window will appear that indicates uploading photos and videos. 

Click the

"Upload Image"

option, or drag photos or videos. 

You will see all the photos and videos with details for each on the interface page. 
Step 2: Start AI Photo Restoration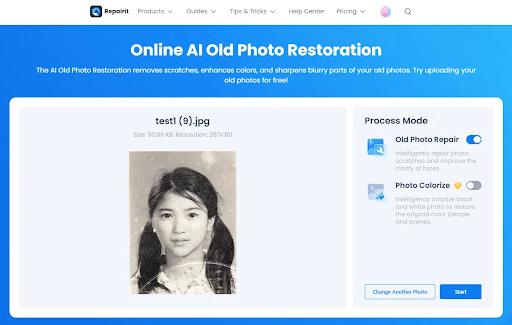 You can now launch the restoration process by following a few simple steps. Check the steps below to do it sequentially. 
To start the repair process, choose the repair mode "Old Photo Repair". 

Click the "Repair" button to initiate the old photo restoration process.

Wait for a few seconds to get the process to finish. 
Step 3: Preview and Download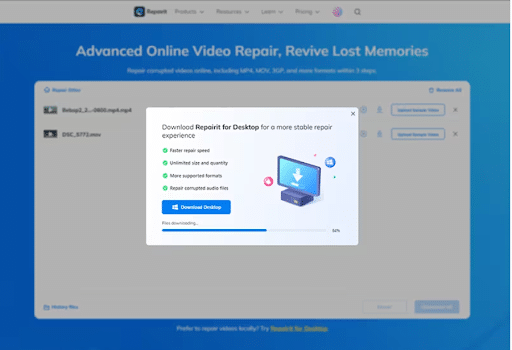 As soon as your photo is restored, you must first preview them before starting the downloading process. Here are the steps on how you can preview and then download the restored photos. 
Click on the "Play" ▶️ icon to play videos and photos you have processed for restoration. 

if you are satisfied with the photo that AI photo restoration online free made, click on the "download" ⬇️option. 
Note: Play and download buttons are present on the right side of the video or photo. 
Bonus: How to Prevent Photos From Being Older?
As Wondershare Repairit is available to get your damaged and vintage charm photos a new look, but prevention is better than cure is a great saying. Hence, I will share a few perfect and ideology tips that will help you prevent your photos from getting old and damaged. Here are some ways that will help you to protect your wonderful and memorable photos from being damaged.
Proper Storage:

  To prevent your best and evergreen photos from deterioration, keep them in a cool, dry, and dark environment. 
Digital Backups: In this era, a perfect storing solution in the digital world. Create a digital backup and scan your photos to keep them save them and keep them safe from damage. 
Handling:

Always wash and dry your hands before touching the photos so that no dirt, oil, or any unwanted grease transfers to the photo. 

UV Protection:

Never keep your photos directly in sunlight to protect them from UV radiation.