Pica AI Illustration Generator Turns Your Imagination into Art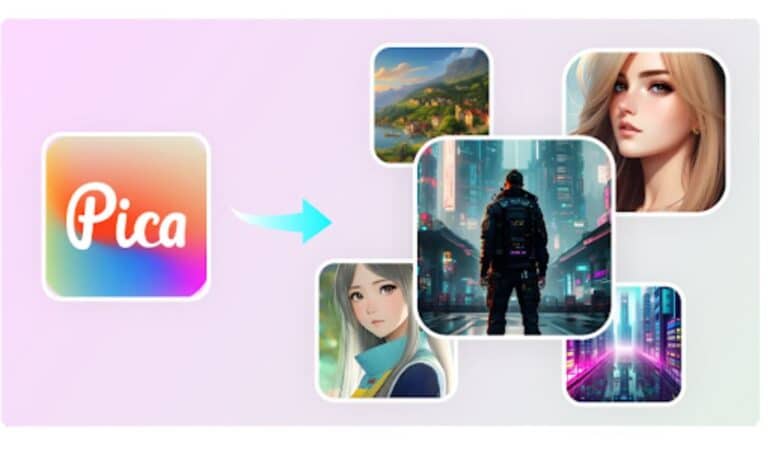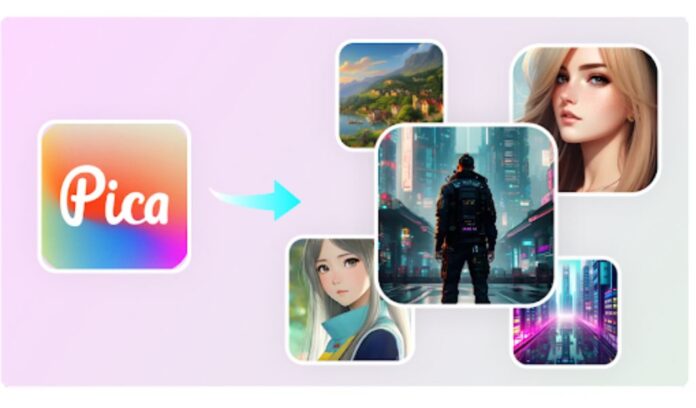 Long gone are the days when an immense amount of effort and inspiration were required to produce a single illustration. With the advent of AI, we have ushered in exciting changes that can transport us into fantastical realms and swiftly transform our imagination into stunning works of art. 
From crafting beautiful album covers to designing amusing cartoon characters, you can unleash your inner creativity effortlessly thanks to the Pica AI Illustration Generator. This innovative tool empowers human imagination and propels it to unimaginable heights, unlocking limitless avenues for generating awe-inspiring AI-created visuals.  All it takes is a brief text prompt to create stunning visuals. 
Let's dive in!
Unleash Your Creativity with Pica AI Art Generator
Pica AI serve as a text-to-image AI generator and also the image to illustration converter. Fueled by sophisticated artificial intelligence, Pica AI empowers you to effortlessly transform your text prompts into breathtaking illustrations. With it, you can convert your image into captivating visuals for your content, whether it's for social media, website design, marketing campaigns or simply sharing them with friends. 
By using cutting-edge deep learning algorithms, Pica AI combines your customization options and the details of the image uploaded, then generates high-quality images that accurately represent your preferences. This ingenious technology saves you time and cost, eliminating the need for manual image creation or hiring professionals. 
If you're in need of some creative ideas, simply explore Pica AI generated illustrations library. With its vast range of styles including oil painting, cartoon, watercolor, and digital art, Pica AI has unlimited possibilities for your creative pursuits. Let your imagination run wild and draw whatever you desire.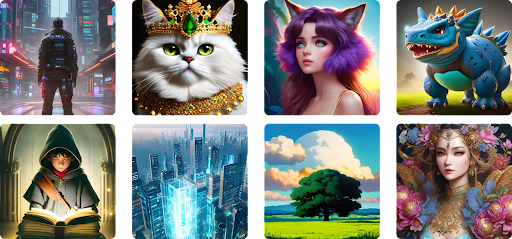 Briefly up, the features and benefits that Pica AI offered are summarized below: 
Free credits of 5 images per day

Numerous styles available to choose, i.e fantasy 3D, cyberpunk, landscape, etc. 

Customizable ratio, i.e. square, portrait, and landscape

Equipped with advanced server that support generation in seconds

Trending page page available to give you inspiration

Signing up is optional

Adaptable in any devices, i.e. smartphone and PCs

High-quality illustration generated

Watermark-free

Ads-free

Multiple language available, e.g. English, Spanish, Japanese, Traditional Chinese, etc.
Of course, the features and benefits it offered are not limited to the point listed above. To learn more about it, read on the following section.
How to Generate Illustrations with Pica AI?
Using Pica AI illustration generator is incredibly simple.
Step 1: Open the Pica AI website and describe the illustration you want by typing a text prompt, or alternatively, choose to turn your uploaded photo into an illustration. If you're facing difficulty in creating appropriate text prompts, then you can give the AI prompt generator a try.
Step 2: With just one click on the "Generate" button, Pica will quickly produce AI illustrations that meet your requirements within seconds.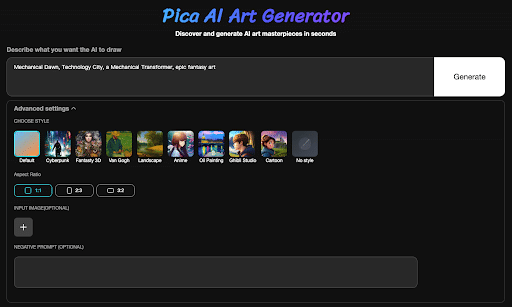 Step 3: If the AI generated illustration does not meet your expectations, you can make modifications to the text prompt, fine-tune the details, try different effects, and effortlessly generate new illustrations until you find the perfect one.
Step 4: Once you are satisfied with the outcome, you can download your artwork in its original quality by clicking the download icon. You are free to use and share your design as you please!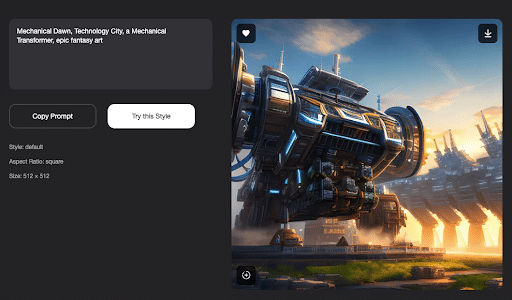 Long story short, Pica AI emerges as a powerful solution for those seeking an AI image generator that can transform images or text descriptions into captivating visuals. With its advanced deep learning algorithms and easy-to-use interface, Pica AI facilitates the process of image creation, saving valuable time and cost.
So, look no further and unleash your imagination with Pica AI art generator!
FAQs about Free AI Illustration Generator
After all, does Pica AI offer free or paid service?
Pica AI offers free credits of 5 images per day. If you've exceed the limit, it may require you to pay. However, the subscription plan is very affordable, i.e. $1.99/week, $5.99/month, or $59.99/year.
Can I use Pica AI for commercial purposes?
Yes, Pica AI can be used for any purpose like personal and commercial purposes. Whether it is for your business website ormarketing campaigns, Pica AI provides the flexibility and freedom to support your commercial endeavors.
Does Pica AI protect my privacy by not sharing personal data?
Definitely, Pica AI prioritizes user privacy and data security. The data you provide to the platform is processed locally, thus, it will not store or share any user data without explicit consent.
Subscribe to Our Latest Newsletter
To Read Our Exclusive Content, Sign up Now.
$5/Monthly, $50/Yearly