The Ultimate Video Wireless Mic in 2023 That Facilitates Your Shooting Experience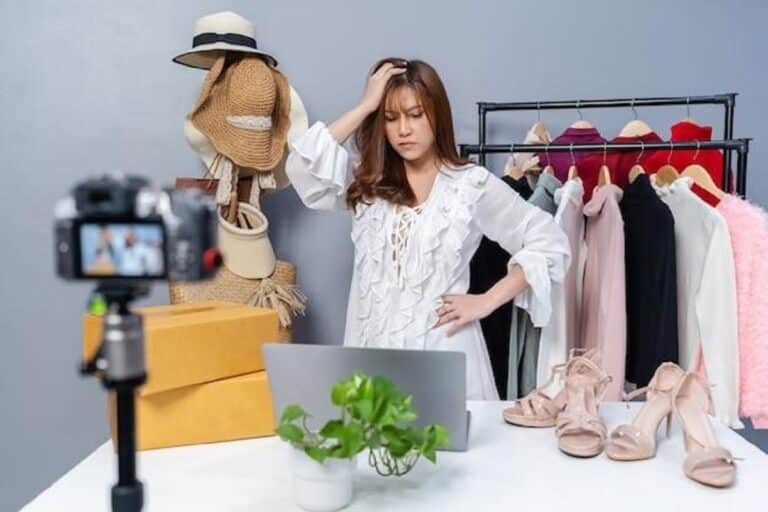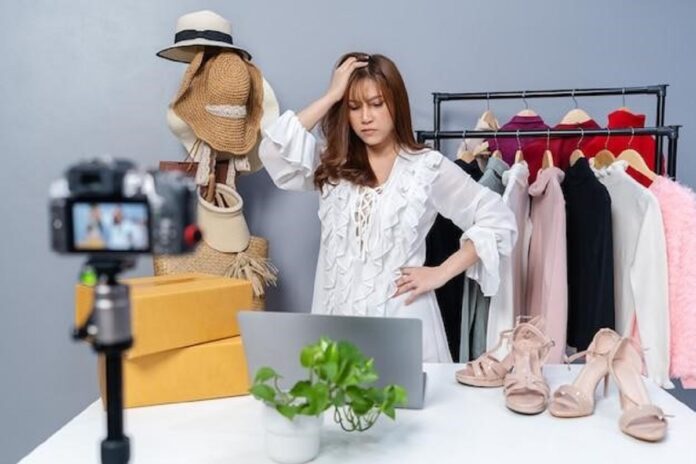 WiFi, Bluetooth, IrDA, NFC, Zigbee, UWB…everything is moving towards wireless, and a mere glance at technological innovations will tell you that. While we are accustomed to the benefits of wireless devices, what more can be obtained from a lack of cables in microphones? For starters, like all wireless devices, wireless microphones get rid of the obtrusive cables and offer you more freedom to move around, while enhancing the tone quality during sound recording in video shooting. Even your audience has a far better experience during interviews, live conferences, streaming, and teaching as well. Cables add another element to the mix; the cleaner it is, the more immersed your audience will be.  
What Makes a Good Video Wireless Mic?
The convenience of the wireless video microphone should not come at the cost of its worsened tone quality. That is why so many people attach high importance to "the sound" when picking a video wireless mic. But other than sound quality, there are also several factors that set the good and the bad apart. We here conclude 7 factors that no one should miss in the selection and purchase. Let's see what makes a good video wireless mic!
If you use a video wireless mic for streaming, lectures, or any other purpose, you don't want the audio to lag behind the video, rendering the audio out of sync with the video. Imagine what a disaster it can cause when you are doing live streaming! That is the first tell of a low-quality microphone. Always get a mic with a low latency to live in the moment.  
Even without a tangled charging cable attached to the device at all times, you don't have to worry about the mic running out of its battery halfway. Battery life of typically more than 6 hours enables your work to run smoothly.
High-definition and high-quality recording 
A wireless microphone for video recording should be able to record high-definition audio, which is only possible if the video wireless mic has an omnidirectional condenser with outstanding capability to filter background noise. We know you will appreciate this if you've ever been on the receiving end of a low-quality recording.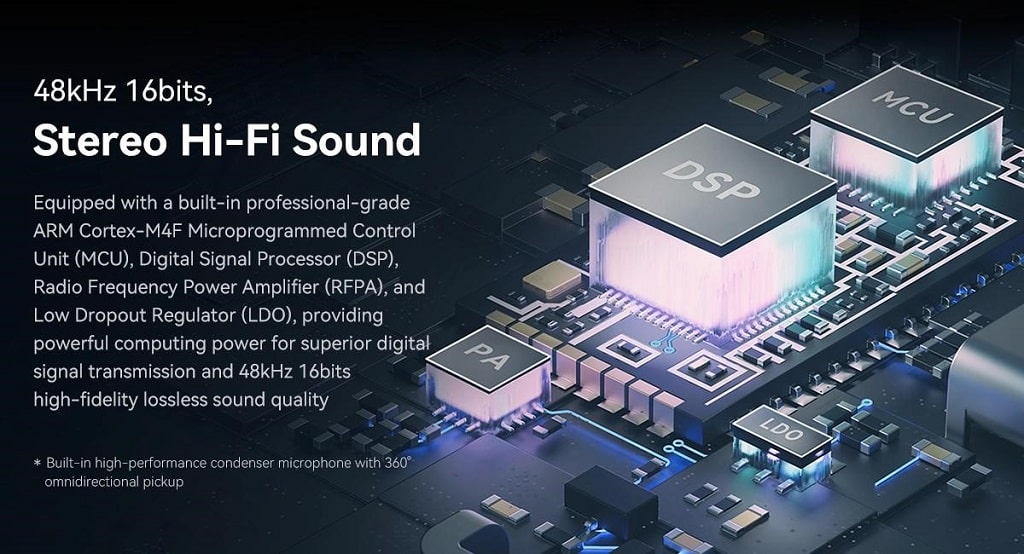 When we talk about pure or transparent sound quality, we mean that a 2.4G wireless microphone should eliminate low-frequency noise. To be on the same side, we assume that you don't want to hear traffic noise or booming from recreational facilities, and neither does your audience.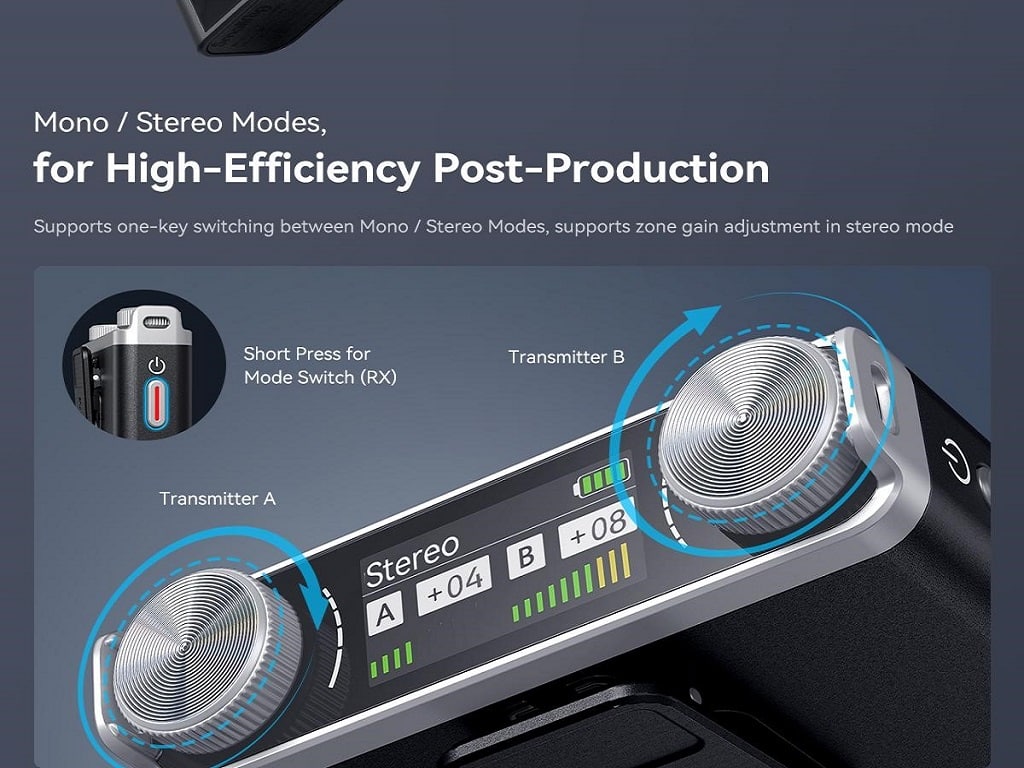 Switchable between mono/stereo for efficiency 
Nothing beats stereo for an immersive experience and to hear sounds as they are. But even the best features have shortcomings; for instance, a wireless microphone for video recording in live teaching and streaming would work best as a mono. Of course, a switchable mic between mono and stereo would be the best of the lot. After all, why settle down for one when you can have both?
Clear display for frequent checks and precise control 
Here's a pro tip. Constantly fiddling with knobs and buttons on the mic to figure out the volume and low-cut function is not the way to go. Get one that makes your life easier by having a practical display. If the video wireless mic also shows the remaining battery, you have hit the jackpot.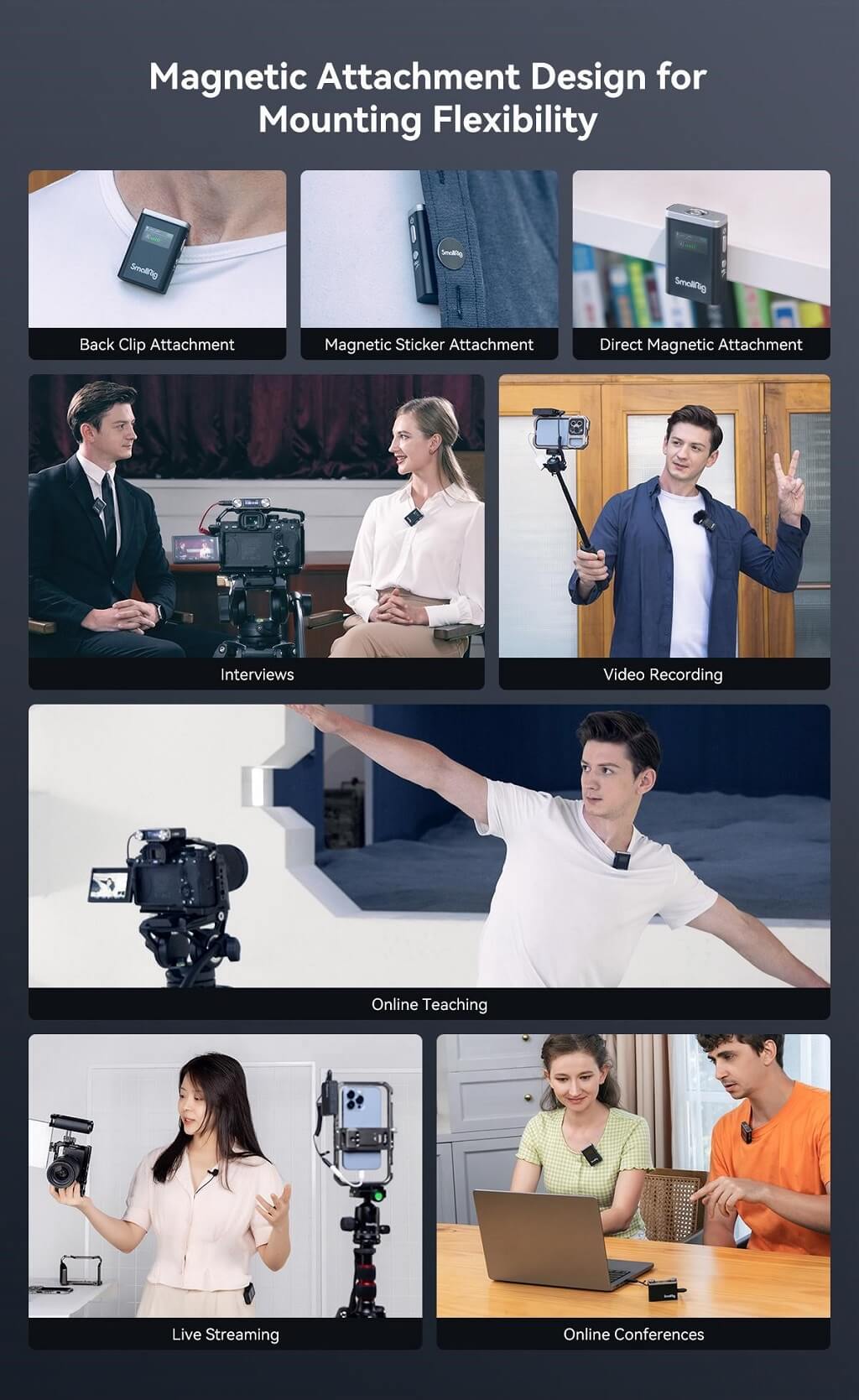 Portable with good mounting flexibility 
Finally, we come to portability once again. A considerately designed video wireless microphone should not just be portable to be carried around but also has excellent mounting flexibility. A magnetic attachment or back clip design would contribute greatly to the freedom of your hand when you simply can attach the wireless mic to your collar.  
Enter SmallRig Forevala W60 Wireless Microphone 3487 
The market is overflowing with video wireless mics, but only some can be called professional. To save you trouble and time, we present SmallRig's Forevala W60 Wireless Microphone 3487. And we stand by our words; it does everything mentioned above and more at a reasonable price. Make your audio crystal clear, and let us know when you get compliments next time you are on a video conference or call.
Curious about SmallRig? 
Now that you know how to buy an excellent video wireless mic how about a little briefing about SmallRig? With 10 years of product-building experience, SmallRig has dedicated itself to the inspiration and creation of the photography community with a set of quality photography accessories, all designed to satisfy photography and videography lovers.
If you are interested in more details, check out their website at: smallrig.com. Discount is on now!