Seven Common Misconceptions about Crowdfunding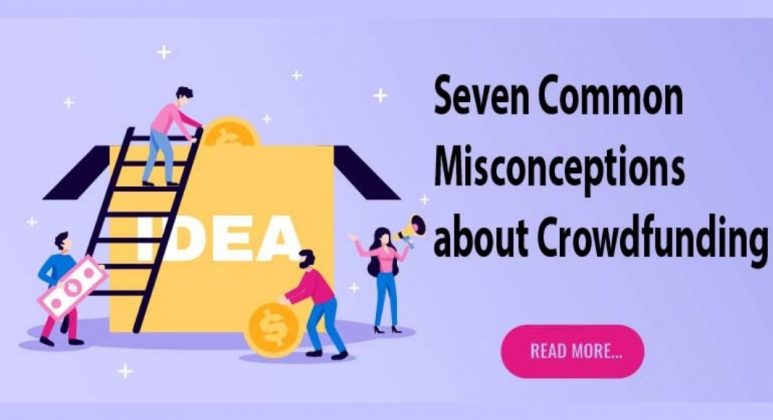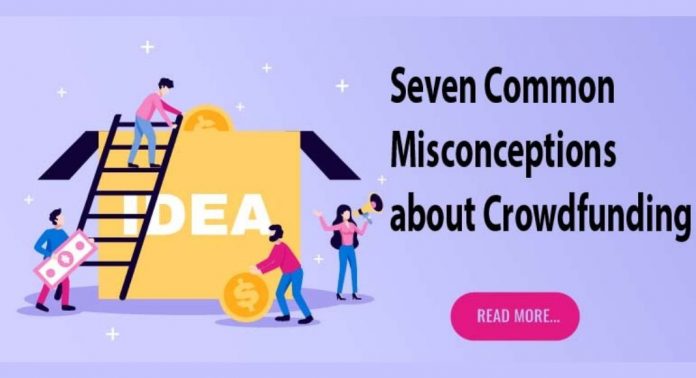 Introduction
The concept of charity has evolved tremendously in the last few decades or so. Many innovative ways of raising funds for the poor have emerged, the latest of which is crowdfunding. Now, we know crowdfunding is a money-raising technique used, not just for charity, but for starting up small businesses and enterprises as well. This is exactly the reason why we are going to talk about some of the misconceptions about crowdfunding in general in this discussion. We know that some of you think that crowdfunding is a super easy method of raising funds. Well, this discussion is just for you, if you are one of them! 
So, without further ado, let us bust some of the common myths about crowdfunding! 
There are no expenses! 
This is, perhaps, the most common misconception people have about crowdfunding. You just can't open a digital portal and expect people to donate towards your cause. And while it is true that opening digital crowdfunding portals is not that expensive, you will still have to put in a lot of financial resources in promotional marketing. Social media marketing, for example, requires effective strategies these days. And that, my friend, requires some investing! Then to make sure that your crowdfunding platform is in the press often, you will have to spend a fair bit on the local and global advertisements as well. So, you can see that the claim that there are no expenses in crowdfunding is just a claim! 
Only ideas matter 
Yet another perception that needs to be changed, crowdfunding isn't about just a great idea. Rather, there must exist an effective plan through which the set goals and objectives can be achieved. And you will need to avail the services of those who are good at crafting such action plans. Also, what are your plans for attracting the audience at the very initial stages of your crowdfunding campaign? We don't mean to be discouraging but the start can be rough! So, you will need to develop and execute a stratagem through which you can bring in a steady amount of funds at the very beginning of your crowdfunding campaign. 
You can see how Transparent Hands is working on Crowdfunding. JOIN THEM AND BE A PART OF THEIR LIFE-SAVING JOURNEY. Transparent Hands is Providing free healthcare services to those who cannot afford.
You can ditch campaigning 
We are pretty sure that pre-launch of your crowdfunding portal or platform, you must have some idea about your potential backers. Who is going to fund you before a crowd actually finds out that your venture exists as well? You will need to engage any potential funders that you can think of. Also, don't ask them to just contribute, ask them to spread the word as well. This way, your crowdfunding venture, and platform will become more highlighted and illuminated, which is always good! When you couple these efforts with your multimedia marketing, you can feel good about your crowdfunding venture's future!  
Long term marketing strategies are more effective! 
Well, not necessarily. In fact, in the kind of times we are living in right now, short but effective strategies are allowing ventures to reap more rewards. Hence, we would advise you against modelling your crowdfunding portal on long term plans. It is more about figuring out what is vogue in the present! And the present is all about issuing calls to action every day, every hour. The mediums can vary, the message can vary and the nature of the message itself can vary. However, all the short-term routes must lead to the central goal of raising more funds for your business, entrepreneurial venture, or charity. 
Raising money is the primary goal 
Now, we know that we sound a lot materialistic, but in reality, crowdfunding isn't just about raising money. No, no. Crowdfunding has become a great source of awareness as well. People are becoming familiar with more and more issues and interests that they had not even heard of previously. Take the example of healthcare crowdfunding portals. Not only are they raising funds for the underprivileged patients, but they are raising awareness about different issues of the healthcare sector as well. This is just one example, some companies are using crowdfunding for marketing purposes as well. 
A marketing manager can get the job done
Well, this is a mistake made by some of us, just not in the crowdfunding sector, but in many other spheres of business life as well. We tend to rely on an individual or two for the successful management of a venture or business. Ditch this approach, it is horrendous, to say the least! A crowdfunding venture cannot become successful without a collaborative effort, a team must exist that takes care of everyday business. So, instead of putting all of your eggs in one basket, you must avail the services of a competent team. A team that can promote your cause and attracts an audience for that cause in an effective manner!
It only needs a few hours of your time
The lies that we tell ourselves! No sir! Attracting your masses towards your platform so that they get to know what are you rooting for, and then converting that audience to contributors or donors demands effort. You can probably take a few hours off once you have raised enough money for your start up or charity, but even then, the attention and focus must not slip. And if you are beginning from scratch, you will have to invest in a lot of resources at the start. The most important and valuable resource is, of course, your time. So we daresay, be mentally ready about what you are going to face i.e. a lot of challenges! 
Conclusion
Well, folks, that would be all for now. Raising funds for a noble cause or a venture that would help you grow is an initiative that demands a lot of effort and skill. Crowdfunding is one of the faster ways of raising funds, but it is also a challenging one. Looks easy, but isn't! So, we daresay, if you are thinking about launching a crowdfunding portal or plan to do it manually, you have got your work cut out. You can't hope for the best if you are not putting in a decent effort! 
Subscribe to Our Latest Newsletter
To Read Our Exclusive Content, Sign up Now.
$5/Monthly, $50/Yearly