Is It Really Necessary To Scotch Guard the Couch?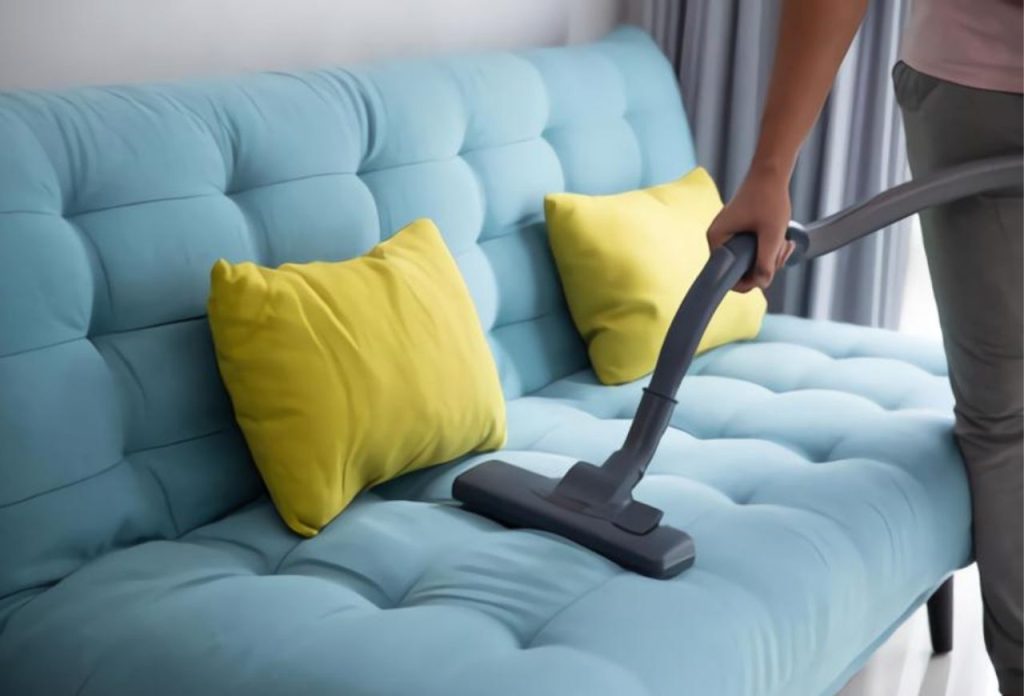 We frequently relax, cuddle up with loved ones, binge-watch a favorite show, and even dine on the couch. Needless to say, it is the most exploited item of upholstery and should be taken care of timely so it remains pristine for a long time. Some people vacuum clean the sofa and some seek help from a professional couch cleaning Sydney service for the same. Regardless of what you pick it has to be performed at a regular time interval. Apart from cleaning the couch safeguarding it with a fabric protector is also necessary to maintain it in excellent shape.
What is scotch guarding?
Scotch guard is a solution that comes in spray form, it protects upholstery from staining. The solution when sprayed on the fabric post sofa cleaning coats the fabric of your sofa with a protective layer that prevents stains & dust from seeping into the foundation. Experts often safeguard your sofa post couch cleaning service with a scotch guard; this solution is easily available in retail outlets if you are attempting cleaning at home. The scotch-guarding formula is completely safe for the fabric & for the residents as well.
Benefits of scotch guarding couch
Prevents dust & dirt from settling into a fabric- The protective layer scotch guarding creates around the fabric prevents grime, dust, dirt & pet hair from settling into the fabric. The dust remains on the surface and can be extracted with the help of a vacuum cleaner. Additionally lesser dirt & pollens mean fewer allergies & health risks to your family. Your couch doesn't have heavy dirt build-up and you can get rid of grime by vacuuming the couch every week.
Stain-resistant- Besides preventing dust & dirt fabric protectors also prevent stubborn stains from seeping into the fabric. If you have a sofa you know how difficult it is to get rid of stains without the aid of couch dry cleaning. But when you scotch guard the sofa the stain doesn't absorb into the fabric so you can enjoy your coffee or wine sitting on the couch. And in case of an accidental spill just use a paper towel to blot the affected area.
Water-resistant- Scotch guarding the sofa will make it water-resistant so you need not worry about mold growth or funguses growing on couches fabric. Merely vacuuming will be enough even in case of a spill, except when the couch is infested with contaminated water. Even then the scotch guard solution will prevent a lot of damage.
Increases the durability of a couch- When experts arrive to serve couch cleaning service ask them to safeguard your sofa post cleaning with a fabric protector. As seen above it helps resist stains, dust, allergens, etc from settling into your upholstery. Once these damaging factors are repelled the aging process slows down. This makes your couch highly durable so you don't need to replace it even after years of use.
Maintain appearance- When your sofa is stain-free, dust-free, allergen-free it appears fresh & beautiful. With scotch guarding treatment cleaning the sofa becomes easy & quick thus you can maintain the fresh & lively charm of your couch for a long time. This also helps you create a good impression on guests and make them feel welcomed.
What you should be vigilant about?
Even though scotch guard has numerous benefits there are certain precautions you need to take in order to ensure proper protection of your upholstery. Experts recommend allowing the solution to dry organically, i.e. without a dryer. So you should avoid using the couch until the solution dries; likewise, if the solution dries quickly it means the layer is not thick enough and has to be reapplied. Again scotch guarding is not a permanent solution, so just like you seek professional couch cleaning twice every month you have to safeguard the couch using scotch guard solution at least once a year or after every professional wash.
They say an ounce of prevention is worth a pound of cure that exactly what scotch guarding does to your upholstery. Although expert sofa cleaning Melbourne may help with sofa maintenance, a scotch guarding treatment can be beneficial as well. So, before you hire specialists, ask if they provide protection services so you can keep your sofa looking great eternally.
Subscribe to Our Latest Newsletter
To Read Our Exclusive Content, Sign up Now.
$5/Monthly, $50/Yearly