15 Best Things About the Iconic Painted Ladies of San Francisco
Listen to the Podcast:
Do you want to know about Painted Ladies? Along the eastern edge of Alamo Square Park is one of San Francisco's most recognizable and photographed landmarks. These pastel-colored residences, which line the gentle slope of Steiner Street, are referred to as the Painted Ladies.
Often known as "postcard row" for their picturesque splendor, these Victorian homes (which are still inhabited by locals) are a charming reminder of old San Francisco, while the sparkling downtown cityscape of modern San Francisco shimmers in the background.
This location is at the top of most visitors' San Francisco bucket lists, as it has been featured in some of the city's most iconic stories, probably most notably "Full House."
What are Painted Ladies?
Several individuals use the term painted ladies to refer to the Victorians located on Steiner Street near Alamo Square Park. Yet, they have a broader meaning.
The term "painted ladies" refers to historic homes (often Victorian or Edwardian homes) constructed in the late 1800s or early 1900s with at least three different paint colors. San Francisco is filled with old homes, but the only truly "Painted Ladies" are those with colorful exteriors.
In addition to San Francisco, painted ladies can be found in other notable cities, including Cincinnati, Baltimore, and St. Louis.
Read More: How to Save Money on Home Maintenance
History of the Painted Ladies in San Francisco
Midway through the nineteenth century, San Francisco builders began constructing Victorian-style homes in the city. They constructed tens of thousands of them until April 1906, when construction abruptly ceased. This was when one of San Francisco's greatest earthquakes ever occurred. This big earthquake damaged a large portion of San Francisco and hundreds of Victorian mansions. Unfortunately, the fires that raged for days following the earthquake caused the most damage to the city and these beautiful homes.
At Van Ness Street, the city constructed a fire line to protect the western and southern neighborhoods. This is why you will find hundreds of Victorians on the western side of the city but only a handful of painted women in eastern neighborhoods such as Nob Hill, North Beach, and Telegraph Hill.
It took years to reconstruct the city after the catastrophe that surrounded it. Even though tens of thousands of these homes were damaged by the earthquake, they decided to reconstruct them until 1915.
Thankfully, we have the artist Butch Kardum to thank for the reintroduction of brilliantly colored Victorians. In 1963, he painted his home a blend of blue and green hues. Some adored it, while others despised it. Others who admired his bright home resolved to make theirs similarly vibrant.
This began a fad that was later named the "Colorist Movement." It resulted in the writing of the above-mentioned book, which was renamed the painted ladies. Also, it enabled even more residents to exhibit their creativity on the exterior of their homes. This tendency continues today, as an increasing number of homeowners use vibrant paint colors to accentuate the beautiful aspects of their historic homes.
Tours of the San Francisco Painted Ladies
In addition to touring the interior of the blue-painted lady, here are a couple of excursions outside these Victorian homes where you can discover more about their history, costs, and more!
Here are only a handful of my suggestions.
5-Hour GoCar Tour
This guided GoCar excursion is very popular. This tour is entertaining since you get to drive a "GoCar" that tells you the histories of the houses as you pass them. It departs from Fisherman's Wharf and makes ten stops before returning to its starting place. You will view the Golden Gate Bridge and Twin Peaks and then have the opportunity to photograph the renowned Painted Ladies of Alamo Square.
San Francisco Movie Sights Tour
If you are a fan of Full House or want to see where other TV shows and films were filmed in San Francisco, then this trip is a must! There are locations where Mrs. Doubtfire, Dirty Harry, and Bullitt filmed scenes. It's an enjoyable way to view the city!
Read Also: Painting And Bodywork on Car
Good to Know When Visiting the Painted Ladies
Before sunset is the finest time to visit the Painted Ladies. Take pleasure in the vista as the evening sun illuminates the mansions, making them even more stunning. The location is accessible via bus or other public transit.
The Church of Eight Wheels, Toronado, the Archbishop's Palace, the San Francisco Symphony, and Japantown are also nearby. The adjacent Osha Thai Noodle Café, Emilio of The Art of Hospitality, and Alamo Square Seafood Restaurant offer delectable cuisine.
The Best Spot to Photograph the Painted Ladies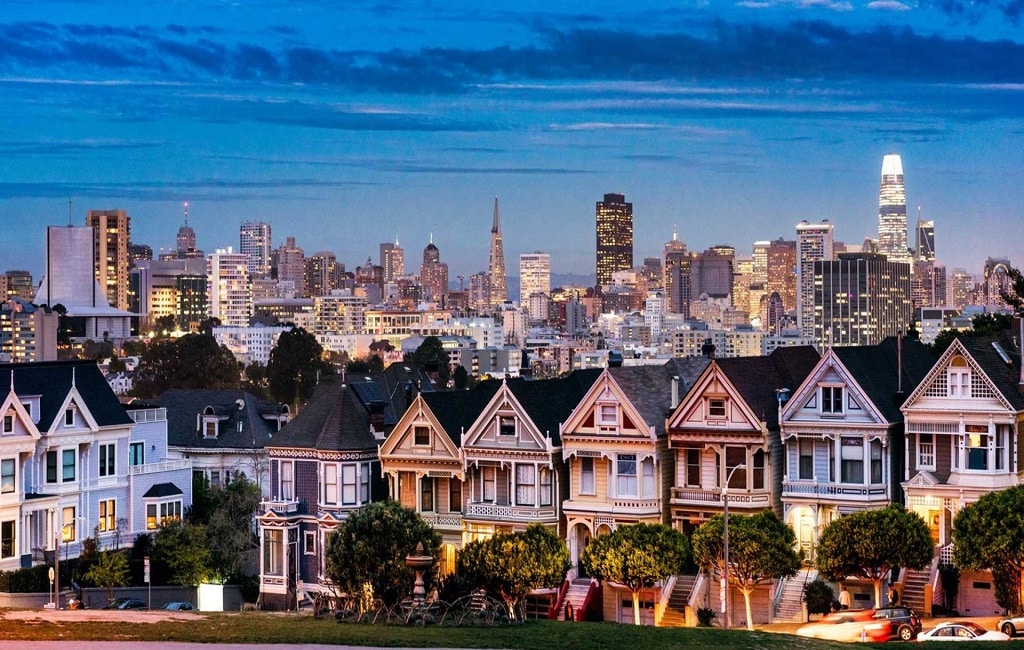 The side of the park that overlooks Hayes Street is a fantastic location for taking photographs of the Painted Ladies. Although the park is situated on a hill, if you ascend a little, you may take a picture of the famous Victorian houses with the city skyline in the background, one of the city's postcard-favorite panoramas (see photo below). Others claim that midday is the optimal time to snap photographs since the illumination is optimal.
Also Read: Best Places in SriLanka
How Much is the Painted Lady Worth?
Millions, plural. But, one of the residences sold for $900K less than the asking price in 2014! While these ancient mansions are San Francisco landmarks, their owners must contend with tens of thousands of tourists taking photographs.
As of 2016, many of the residences were projected to be worth $3.5 million, despite the fact that their sizes and amenities vary. Almost all of them have at least four bedrooms, four bathrooms, and a garage, and each has its own story.
Why Visit the Painted Ladies in San Francisco?
Throughout the route through Haight Ashbury, the GoCar San Francisco Painted Women Tour will provide you with a wealth of additional interesting information. Want to travel even further in an open-air GoCar? Now you may plan to cross the Golden Gate Bridge in your favorite new yellow automobile that will navigate, narrate, and make jokes along the route, creating an unforgettable experience. Call GoCar Tours for information on how to plan a genuinely unique San Francisco trip.
Read Also More: Home Remedies for Ticks
Movies Featuring the "Painted Ladies"
Although most people recognize them from the opening credits of Full House, the Painted Ladies of San Francisco have appeared in several television shows and films.
Dirty Harry (1971)

The Conversation (1974)

Invasion of the Body Snatchers (1978)

The Woman in Red (1984)

"Full House" (TV show: 1987–1995)

So I Married an Axe Murderer (1993)

Bicentennial Man (1999)

Shut Up Little Man (2011)

The Five-Year Engagement (2012)
Other Great Architecture in The Area
The Painted Ladies are the most well-known residences in this area, but the neighborhood is filled with a variety of magnificent homes. It is worthwhile to explore the surrounding area on foot. If you head to McAllister Street, you'll discover a wonderful neighborhood to explore some magnificent mansions. Not all of them are as colorful as the Victorians, but their architecture is remarkable. Note that you may view San Francisco's gorgeous City Hall from here!
Victorian Houses Around Alamo Square
In addition to the Painted Ladies on Steiner Street, there are additional noteworthy residences in the vicinity of Alamo Square. From Steiner Street, proceed north along the park (the Painted Ladies will be on your right as you walk away), turn left onto Fulton Street, and then turn right onto Pierce Street. When you reach the crossroads of McAllister Street, you will find exquisite, pointed-roof houses on your right. Snap a photo and continue walking.
Now retrace your steps along Fulton Street, turn left along the park, and you will see the William Westerfeld House on the corner to your right. On the other corner, on Scott Street, there is an additional collection of colorful Victorian homes.
Mrs. Doubtfire's residence is a bit further distant (a 30-minute walk) but is easily accessible in a few minutes by bus (line 22). (2640 Steiner St). If you are a fan of the film, seeing the mansion will be a thrilling experience…
The Victorian Houses of Haight-Ashbury
Suppose you are interested in searching for Painted Ladies. In that case, one of the greatest places to visit is Haight-Ashbury, the location of the Summer of Love, where, in addition to being surrounded by Victorian houses of various colors, you can also experience the still-vibrant hippie atmosphere of the 1960s.
To see the most interesting residences near Alamo Square, you'll have to walk for 20 minutes, but there are many bus stations at the corner of Madison Avenue and Haight Street (6, 7, 37, and 43). This is the neighborhood's focal point and an ideal starting place for exploring the area.
Four Seasons Houses
The Four Seasons is another pair of San Francisco's Painted Ladies that is gaining recognition. This location is in the Haight Ashbury neighborhood. Four Victorian residences along Waller Street. Their Waller Street addresses are 1315, 1321/1323, 1327, and 1333.
Each of these four colorful Victorian homes with similar appearances is embellished with intricate decorations. Each one is considered a "season" based on its colors and an art-filled square located outside the second floor of the house. This neighborhood was likewise constructed in the 1890s.
Grateful Dead House
You will find a parade of colorful houses on Ashbury Street. At number 727, you'll find the Grateful Dead House, named after the band that represents the Summer of Love. If, like me, you are particularly interested in this period of history, walk along Haight Street from Madison Avenue to (at least) Cole Street to be immersed in the hippie atmosphere of the 1960s.
Lower Haight
In the vicinity of the Lower Haight District, you will also find some exquisite homes. They are located between Alamo Square and Haight Street.
These magnificent homes are considerably larger than others on the list. These are not as brightly or colorfully painted, but some of them are painted, and the others have exquisite detailing. As you can see from my photographs, I'm really drawn to blues!
Also Read More: How to Clean a Microfiber Couch
10 Best Things About the Painted Ladies
Full House, a popular 1980s sitcom, helped raise the band's profile internationally.

Over 48,000 of these houses were constructed following the San Francisco Gold Rush.

Built between 1892 and 1896, the oldest of the seven Painted Ladies is the greenhouse on the far left.

During World Wars I and II, these homes were painted gray.

In 1963, the artist Butch Kardum began the "Colorist Movement" and painted these homes with vibrant hues to replace the dull gray.

In their 1978 book, Elizabeth Pomada and Michael Larsen coined the phrase "Painted Ladies" to designate Victorian homes painted in three or more colors.

The Painted Ladies are also commonly referred to as "Postcard Row" and "Seven Sisters."

In 2020, one of the Painted Women was sold for $3.55 million (714 Steiner Street). Despite its condition as a fixer-upper, the home was bid over $800k above the listing price.

The Painted Ladies are located at Alamo Square, which offers breathtaking views of the city and a playground.

In addition, the renowned Westerfield Mansion is located on Alamo Square.
This historic Victorian house (1198 Fulton Street) was built by a prosperous German confectioner in 1889, and it is believed to be haunted. Throughout the 1960s, it was owned by occult filmmaker Kenneth Anger, and Charles Manson allegedly paid regular visits.
You Can Read More: Guide to Road Trips in the United States
Frequently Asked Questions (FAQs) about Painted Ladies
When were the Painted Ladies in San Francisco named?
Although it's commonly believed that they've always been known as the Seven Painted Ladies, the moniker didn't catch on until 1978, when Elizabeth Pomada and Michael Larsen published a book about the homes. Painted Ladies does not specifically refer to these homes but rather to any group of Victorian or Edwardian-style homes with at least hues.
Where Did the Term Painted Ladies Come From?
Although the phrase is now well-known, it has only recently been employed to characterize these historic treasures. It was first used in the 1970s to describe these lovely women. Elizabeth Pomada and Michael Larsen coined the term at this time when they authored the book Painted Ladies: San Francisco's Resplendent Victorians.
Have you ever wondered what exactly the Painted Ladies mean? 
They represent the renowned California Gold Rush. With so much money flowing into the city, builders in San Francisco sought to flaunt their newfound status by constructing these magnificent residences. This is why they have so many impressive windows, rooflines, and towers.
How many houses are the Painted Ladies?
However, the seven homes are included in the city's Alamo Square Historic District. The optimal period for taking images is often between 1 and 2 p.m. in the early afternoon. Since the seven residences face west, photographs taken in the morning cast shadows on their world-famous facades.
Why are the Painted Ladies so famous?
San Francisco's Painted Women have a distinct symbolism. They represent the renowned California Gold Rush. With so much money flowing into the city, builders in San Francisco sought to flaunt their newfound status by constructing these magnificent residences.
Subscribe to Our Latest Newsletter
To Read Our Exclusive Content, Sign up Now.
$5/Monthly, $50/Yearly