Pahela Baishakh 1430: History, Significance, Quotes and Traditions
Listen to the Podcast:
Pahela Baishakh is an important festival of the Bengali community every year with great fanfare. Another Bengali New Year is Poila Baisakh. Not only is it the first day of the year according to the Bengali calendar, but it is also an emotion.
Bongs may have an insane day. With the advent of 'Chaitra,' the final month of the Bengali calendar, the ambiance begins to settle. When we walk down the lanes and byways of every Bengali housing complex or colony, we get the impression that a fresh start is just around the corner. This April date signifies a new beginning for most families, which Bongs discreetly anticipates.
The famous Bengali Pahela is celebrated on the first day of the first month of the Bengali calendar, which is known as Baisakhi. Every year in the middle of April, all Bengalis around the world celebrate this festival.
From a profitable business to maintaining healthy relationships, everyone strives to reach out and revitalize existing connections. Typically, since it is the start of a new year, they intend to sever all negative relationships and terminate all outstanding financial obligations during this time.
Here is everything you need to know about the history and significance of Pahela Baishakh in 2023.
History of Pahela Baishakh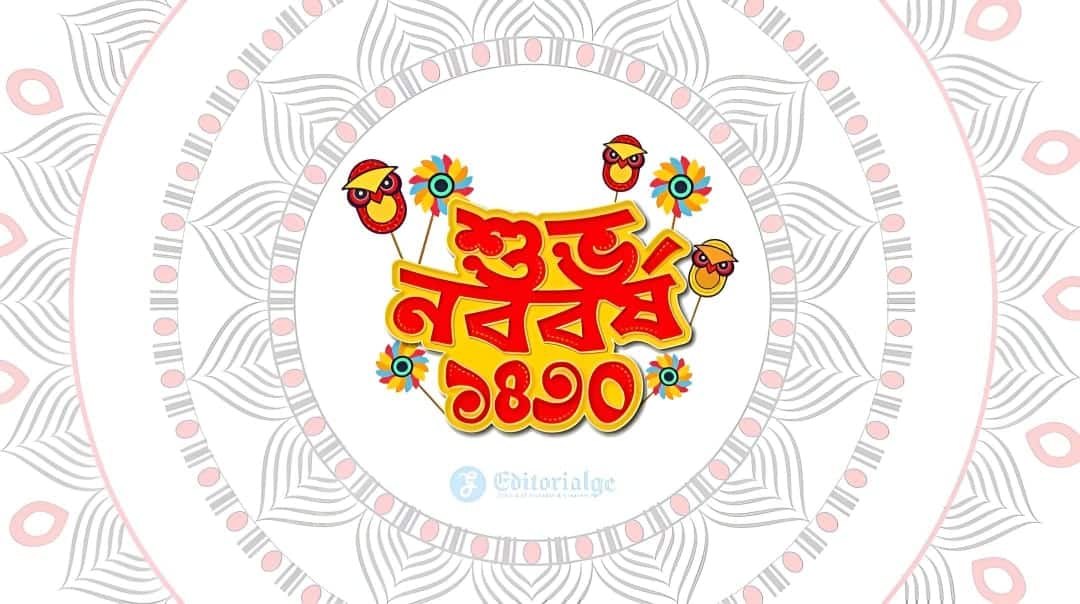 Pahela Baishakh is believed to have originated in Bengal as a tradition introduced during the Mughal administration. Emperor Akbar was the first to observe this day in order to compute the tax year for the Bangabda harvest. Akbar commissioned the royal astronomer Fathullah Shirazi to combine the lunar Islamic calendar and the solar Hindu calendar to create a new calendar. This harvest calendar was known as Fasholi shan, and its first day was known as Pahela Baishakh.
Pahela Baishakh is recognized as a state holiday in West Bengal, Tripura, and Assam. On the occasion of Pahela Baishakh, these states will observe a day off for government offices, colleges, and institutions. Additionally, many private organizations are closed on this day. The hours that shops, stores, and other conveniences are open may be reduced.
When is Pahela Baishakh Celebrated?
As the first day of the Bengali month, Pahela Baisakh is joyfully commemorated on April 14 or 15 across the Indian states of West Bengal, Tripura, Odisha, and Assam. On the fourteenth of April, Bangladesh celebrates Pohela Boisakh, which is a national holiday. Pohela Boisakh is a harvest festival where people celebrate the prosperity and happiness of harvesting produce.
Significance of Pahela Baishakh
People pray to Lord Ganesha and Goddess Laxmi for God's favors on their lives and families during the harvest festival. People pray frequently on this day because they believe it will bring them joy, health, longevity, and prosperity.
After the supplication, the day is deemed favorable for launching a new enterprise or paying off existing debts. They believe the first day of each month should be appropriately commemorated, and the remainder of the year will follow likewise.
How is Bengali New Year Celebrated?
Bengalis visit the Kalighat temple on Bengali New Year's Eve to offer supplication. Holy sites such as Dakshineswar and Belur also experience an increase in the number of worshippers. Families tidy and decorate their dwellings in preparation for the event.
For many, the day begins with a plunge in the Ganges or another sacred river, preferably just before sunrise. People wear traditional clothing, including kurtas and robes for men and sarees for women. Most clothing stores launch their "Chaitra Sale" or end-of-year sale one month prior to Poila Baishakh.
On this day, Bengalis exchange the phrase "Shubho Naboborsho," which means "Happy New Year." It is common to visit relatives or hold a family reunion or gathering. It is essential to indulge in traditional Bengali dishes such as radhaballavi, chholar dal, shukto, fish, and lamb curry, among others. In households, sweets such as rasgulla, kaju barfi, and roshomalai are served. On this day, nearly all restaurants prepare Bengali specialties and are typically crowded.
Across Bengal and other provinces, cultural events are organized. Rabindrasangeet, Najrulgeeti, as well as folk melodies and dance, are integral components of these occasions. The streets and parks are decorated with colored lights, and megaphones are set up to broadcast Bengali melodies.
The Bengali New Year is celebrated by all members of the Bengali community, regardless of caste or religion. Don't miss Poila Baishakh if you're in the eastern part of India in April of next year. It's one of the largest festivals in West Bengal.
How to Celebrate Pahela Baishakh in India?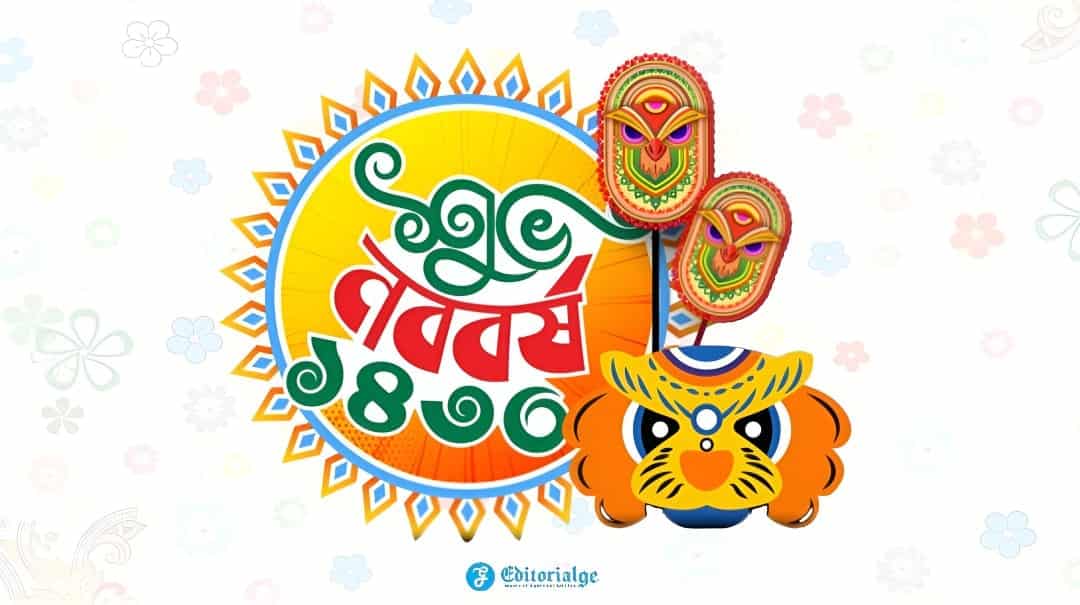 Poyla Boishakh is a statutory regional holiday in the Indian regions of West Bengal and Tripura, where Bengalis have traditionally celebrated it. Additionally known as Nabo Barsho.

Poila Boisakh is the state's traditional New Year's celebration; the new year is known as the Noboborsho. The festival occurs on April 14 or 15, as West Bengal uses a traditional Bengali calendar that compensates for the solar cycle differently than the calendar used in Bangladesh, where the festival occurs on April 14.
Notable events in West Bengal include the Prabhat Pheri cultural processions, which take place in the early morning. In these processions, dance troupes and children adorned with carriages demonstrate their performance arts to Rabindranath Tagore's music.

Tripura and Northeast India
Pahela Baishakh is a Tripura state holiday. People don new attire and begin the day by praying for a prosperous year at temples. This day represents the traditional beginning of the accounting year for businesses. As holiday gifts, confections and treats are purchased and given as presents to friends and family.
Bengali communities in other eastern states, including Assam, also celebrate the festival.
How to Celebrate Pahela Baishakh in Bangladesh?
Pahela Baishakh, or the Bengali New Year, is celebrated annually on April 14 in Bangladesh, where it is a national holiday observed by both the Muslim majority and Hindu minority. The traditional Bengali salutation for the new year is "Shubho Noboborsho," which translates to "Happy New Year"
The day is celebrated across the nation with chanting, processions, and festivals. Traditionally, businesses begin the day with a new roster, emptying out the old, and frequently inviting and offering sweets to loyal customers. This occasion is called Haal Khata.
There are also performances, such as singers rendering traditional melodies and classical Jatra plays. People in Bangladesh also celebrate the new year by donning white-and-red ensembles and by decorating their tresses with blossoms.
During Pahela Baishakh, Bangladeshis prepare and eat a variety of traditional festival dishes, such as ilish bhaji (fried hilsa fish), panta bhat (watered rice), and a number of other special bhartas (pastries).
Baisakhi Mela in Bangladesh
Boishakhi melas (fairs/parades) are the most well-liked event of the day. It is the place where community members gather to celebrate the day with their families. Melas are primarily organized locally in villages, where vendors and artisans offer a variety of traditional goods, including homemade sweets, clay figurines, handcrafted toys, seasonal fruits and vegetables, handloom sarees, glass bangles, bamboo flutes, and numerous other items. Currently, alongside traditional products, these fairs also feature an abundance of branded jewelry. In addition to providing a venue for purchasing, fairs also offer entertainment. In designated fairgrounds, circuses, magic shows, chorus singing, and plays are performed.
Celebration of Bengali New Year in Other Countries
The Bangladesh Heritage and Ethnic Society of Alberta in Canada, along with other organizations, celebrates its annual Heritage Festival, also known as the Bengali New Year, in a vibrant and colorful manner. The Bengali community in Calgary commemorates the day with traditional Bengali food, attire, and other cultural elements. Bangabandhu Council of Australia also hosts Pahela Baishakh celebrations in Sydney Olympic Park.
Steps To Perform Puja on Poila Baisakh
To usher in a prosperous new year, Bengalis engage in the following rituals.
Take a bath or sacred plunge in the river.

Witness the sacred dawn with your family.

Clean and embellish the home with alpana, flowers, and artifacts.

Offer petitions to Lord Ganesha and Maa Lakshmi, two Hindu deities.

Afterward, don fresh gemstones.janampatri report
Gifts and Traditions
Bengalis celebrate the new year by exchanging gifts and delicacies with family and acquaintances. It is an essential component of the Poial Baisakh celebrations. On the first day of the year, minors seek the blessings of an elder family member. Additionally, they send gifts and condolences to those they were unable to see on this day.
Those who live in close proximity visit each other's homes on New Year's Day to wish prosperity and affection. Additionally, they test out traditional and contemporary handicrafts made from organic or eco-friendly materials, which are also quite attractive.
Pahela Baishakh Wishes, Quotes, SMS
Every year, the Bengali people celebrate Pahela Baishakh with immense delight. To share the pleasure of Pahela Boishakh with everyone, everyone sends Pahela Boishakh greetings to their loved ones via various social media platforms. I've inserted below some greetings for the first Boishakh. You can send your preferred greeting messages to your loved ones, friends, family, companions, and suitors from this page.
"A new day will mark the starting of a new year. This new year might bring joy and prosperity to us. Hope everyone remains happy throughout the year. Wishing everyone Happy Pahela Baishakh 2023."
"With the sweetness of Sandesh, and the freshness of new mangoes, let the new year fill you with a new taste of life. Happy Bengali new year!"
"On this new year may all your dreams come true that you ever wished for. Subho Noboborsho 2023 to you and your family!"
"Usher a sign of freshness in Pahela Baishakh. Explore the new and start afresh wiping off the woos. May the New Year's day and days ahead become one to cherish all through."
"May all sorrows are washed away by God and you get showered with the best blessings. Happy Bengali new year 2023!"
"May you leave your worries behind and welcome the future with open arms. Let it be a new beginning! Subh Noboborsho to you and your family!"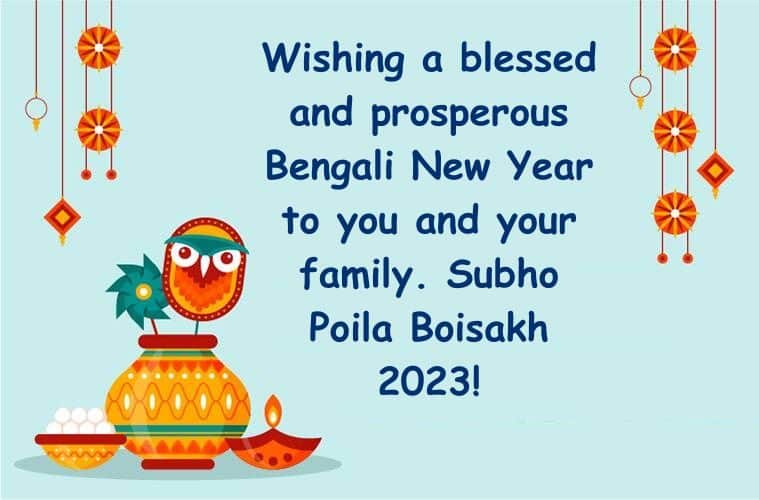 "Wishing a blessed and prosperous Bengali New Year to you and your family. Subho Poila Boisakh 2023!"
"Every new year comes with great possibilities. You have to find out the best possibility for you and work on that to make your upcoming year successful. Hope you will achieve your life goals or will be much closer to them in this new year. Take my love for you on this Pahela Baishakh 2023."
"Shubho Nabo Barsho! Hope your year ahead is as sweet as the rossogolla! Happy Bengali New Year 2023!"
"Let us promise to take life as it comes. Do not complain but make it tolerable by accepting the sorrows along with happiness. Life will be peaceful. Happy Pahela Baishakh!"
"Subh Noboborsho! Wish you a contentful and prosperous year filled with love, peace, hope and joy. May the coming year usher all these goodies on you."
"Greet the Noboborsho with hope, excitement, eagerness, and anticipation. Wishing you a year full of joy, contentment, peace, and opulence."
"Pahela Baishakh is all about new things. Hope you reach new heights in your life this year! Shubho Nabo Barsho 2023!"
"Hope coming new year fulfil all your desires and wishes. Happy Bengali new year 2023!"
"Wishing you a very happy Pahela Baishakh 2023 to be enjoyed with your friends and family. Wishing you to be safe and sound for years. Wishing you to have a blast on this Pahela Baishakh 2023."
Conclusion
Pahela Baishakh continues to serve as a source of inspiration for the Bengali people, despite the passage of time causing certain changes. Numerous Bengalis residing in countries such as the United States, the United Kingdom, and Australia commemorate this holiday. Today, it is the only celebration that unites all Bengalis, regardless of where they reside, the language they speak or the religion they practice. It is not about extravagant attire, delectable cuisine, or vibrant decorations. It is actually a celebration of the rural origins and history of Bengal.
Frequently Asked Questions (FAQs)
When is Bengali New Year?
The Bengali New Year, also known as Pohela Boisakh, will be celebrated on April 14, 2023.
Where is the Bengali new year celebrated?
Bengali community members from West Bengal and Bangladesh celebrate the Bengali new year. The festival is observed as a national holiday in Bangladesh.
Who invented Bengali New Year?
In 593-594 A.D., King Shoshangko of Gour (or Gauda) is said to have created the first Bengali calendar. Later, during the reign of the Mughals, Emperor Akbar modified the calendar to facilitate tax collection.
Why is Pahela Baishakh celebrated?
Pahela Baishakh can be traced back to the Mahifarash community during Mughal rule, as well as the proclamation of Akbar's tax collection reforms. The celebration includes processions, festivals, and family time.