Organic Baby Formula: All You Need to Know in 2023
As a new parent, deciding on the best formula for your baby can feel like one of those "weight of the world" decisions. You want the healthiest option for your child's body and brain, but you also don't want to upset her stomach.
If you live an organic lifestyle, the task may seem even more difficult, because the vast majority of baby formulas aren't made with certified organic ingredients. If that's what you're looking for, some of the industry's most trusted names have developed organic baby formula options.
What Is Organic Baby Formula?
According to the organization, in order for the USDA to certify a food as organic, it must be "grown and processed according to federal guidelines addressing soil quality, animal raising practices, pest and weed control, and use of additives," among other factors. According to the USDA, organic producers use natural substances and "physical, mechanical, or biologically based farming methods" to the greatest extent possible. Produce, for example, can be labeled "organic" if it was grown on soil that had no prohibited substances applied to it for three years prior to harvest.
To be "certified organic" by the USDA, a baby formula must contain at least 95% organic ingredients.
However, it's important to note that all infant formula marketed in the United States must meet strict Food and Drug Administration (FDA) nutritional value requirements before hitting store shelves, regardless of whether it's certified organic. These nutritional requirements include minimum amounts for 29 nutrients as well as maximum amounts for nine of those nutrients.
Organic products must meet certain production standards, such as minimizing the use of synthetic materials and maintaining and improving soil and water quality, according to the United States Department of Agriculture (USDA). Products must be manufactured using USDA-approved substances and without the use of any prohibited methods (think genetic engineering, for instance). All products are supervised by a USDA National Organic Program-authorized agent and must adhere to all USDA organic regulations.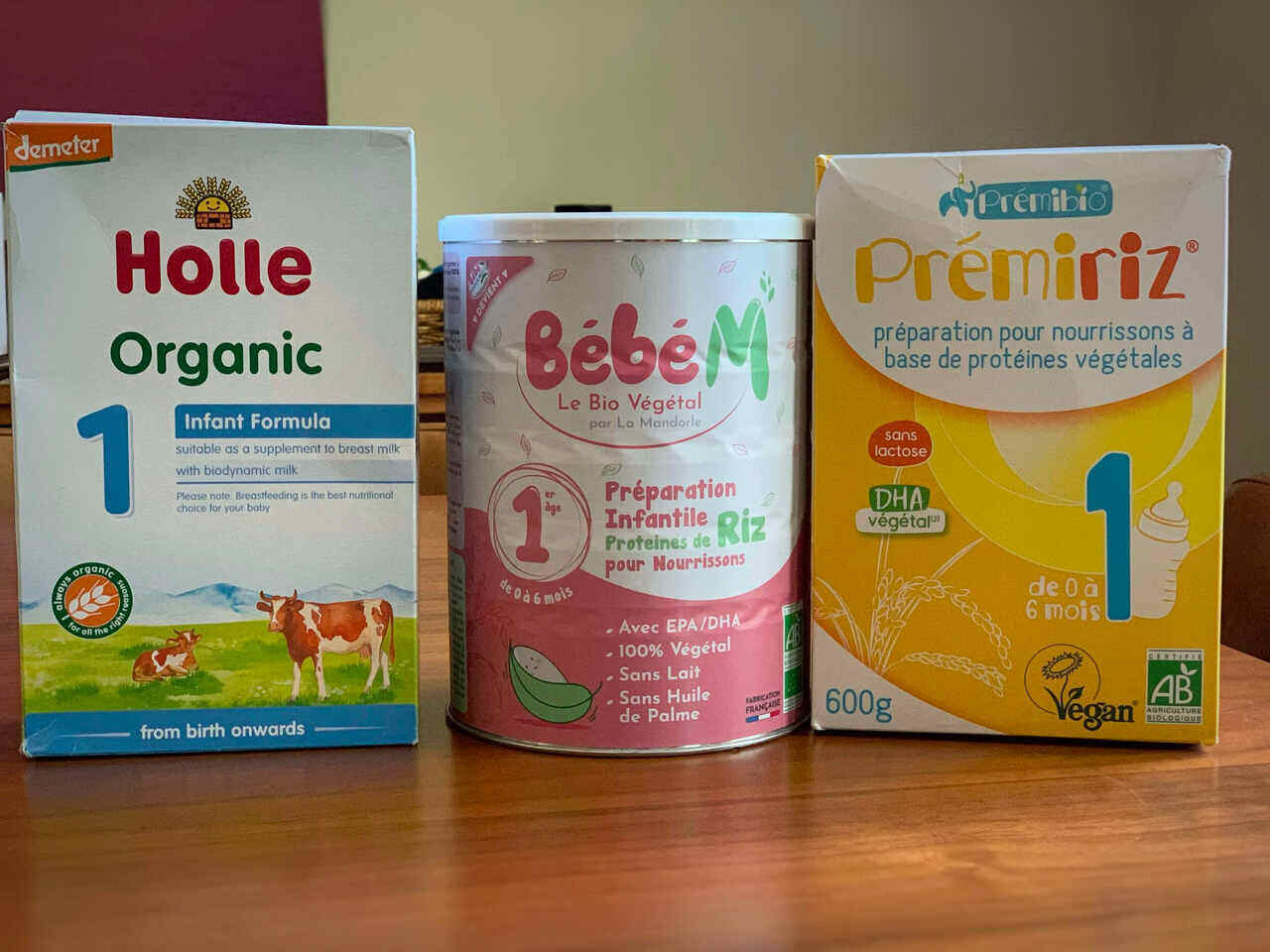 European vs. U.S. Baby Formula
Why is Europe important? Simply put, Europe has higher standards. While American brands may offer baby formula made with organic milk from organic farms, there are significant differences between US organic product standards and EU organic product standards.
The main distinction is that Europe regulates organic standards much more strictly than the United States. Not only must European organic baby formulas contain 95 percent or more organic ingredients, but the EU also requires more transparency and has stricter regulations for detecting trace amounts of any toxic substances in baby formula.
Furthermore, Europe has "beyond organic" designations such as "Demeter" and "Bioland." Demeter is a Greek goddess who represents biodynamic farming on top of organic farming. It is focused on providing the most humane conditions for the cows and ensuring that the farm's practices "give back" to the environment. The term "Bioland" refers to a farm that is entirely organic and produces no non-organic products. Bioland is stricter than organic but not as stringent as Demeter. Holle is the only Demeter-certified European formula, and Lebenswert is Bioland-certified.
It's worth noting that the EU and USDA agree on a few points when it comes to what qualifies for the "Organic" label:
Organic formulas in the United States and Europe can only be considered organic if 95 percent or more of the ingredients are organic.
Cows given artificial growth hormones will not be used in organic formulas in the United States or Europe. The essential nutrients for a baby's growth and development will be present in both US and European formulas.
We understand that as a new parent, it can be difficult to determine which options are best for your child. This is where this blog post comes in!
We have summarized my research and listed the top ten organic baby formulas on the market today. Later in the post, I discuss the main ingredients to avoid in baby formula, analyze each top formula, including a detailed chart ranking all of the organic formulas available, and list a few trustworthy places to buy formula online.
The Top 7 Organic Baby Formulas in 2023
While there is no perfect formula, the baby formulas listed below are far superior to the rest. Click on the formula name to be taken to the formula's best online retailer.
1. HiPP Dutch Stage 1 
It is the best organic baby formula overall. It contains high-quality formula ingredients such as a whey-to-casein ratio that mimics breast milk, vegetable oils for fat, prebiotics, probiotics, and DHA/ARA. It also contains no GMOs, added sugars, starch, soy, synthetic nutrients, or preservatives.
As a new parent, deciding on the best formula for your baby can feel like one of those "weight of the world" decisions. You want the healthiest option for your child's body and brain, similar to hipp formula, but you also don't want to upset her stomach.
2. Loulouka 
Loulouka uses skim milk and does not contain soy or palm oil! It's made in Switzerland and is the best choice for parents who want a formula with DHA and prebiotics (and are willing to supplement with ARA/probiotics separately). Loulouka also contains no added sugars, GMO ingredients, starch, synthetic nutrients, or preservatives.
3. Kendamil Baby formula
Kendamil also contains no soy or palm oil and is made with whole milk rather than skimmed milk! It is made in the United Kingdom and is the best choice for parents looking for a whole milk formula with DHA, ARA, and prebiotics. It also contains HMOs (human milk oligosaccharides), which are supposed to strengthen your baby's immune system by promoting good gut bacteria. Kendamil contains no added sugars, GMOs, starch, or preservatives. It does contain Taurine, L-Carnitine, and Nucleotides, but Kendamil does not extract these nutrients using solvents.
4. Löwenzahn Organics Stage PRE/1
Löwenzahn Organics is one of the newer European formulas on the market, but it's already proving to be one of the best organic formulas on the market! This German-made formula mimics breastmilk, is 100 percent vegetarian, but contains both DHA and ARA in a 1:1 ratio, contains prebiotics, and their entire production chain is completely transparent – the packaging of each product contains a code that can be used to retrieve information about where the raw materials used in production are sourced.
5. HiPP PRE Germany
HiPP Germany is a nutritionally complete formula with ingredients that are very similar to HiPP Dutch. The main difference is the packaging (comes in a cardboard box rather than a can), and HiPP PRE is intended for premature babies up to 3 months of age (vs. HiPP Dutch which is meant for full-term babies).
6. HiPP UK Stage 1
HiPP UK is very similar to HiPP Dutch, with the main difference being that it does not contain probiotics (it only has prebiotics). It is the best value organic infant formula option available at $0.048/gram.
7. Bobbie Organic Infant Formula
The only mother who founded and led an infant formula company in the United States. Bobbie is the first Organic, European-Style Infant Formula that complies with FDA standards. Bobbie's recipe is modeled after breast milk and is intended to meet the most recent EU nutritional standards for key ingredients such as DHA and iron, as well as all FDA nutritional standards for infant formula. There is no palm oil in this product, it is USDA organic, and the milk is sourced from pasture-raised cows at Organic Valley. No corn syrup, cane sugar, maltodextrin, non-GMO, gluten-free, and no natural or artificial flavors or colors.
Is organic baby formula worth the extra cost?
Organic formula, like organic food and other goods, is more expensive than standard options, and it's up to you to decide whether the extra cost is worthwhile.
Some parents have chosen to avoid the cost issue by making their own organic baby formula at home, but the American Academy of Pediatrics considers this practice unsafe.
If the cost of organic formula is prohibitively expensive for your family, do not let this affect how you feed your baby. Feedings should never be reduced in order to use organic formula. A fed baby is a healthy baby.
Varieties of Organic baby formula 
If you choose an organic formula for your child, keep in mind that there are several types to choose from:
Milk-based formula: As you might expect, the milk-based formula is made with cow's milk — it's just been altered to more closely resemble breast milk and provide the proper nutrient balance for infants. For both organic and conventional picks, this is the most common type of formula.
Partially hydrolyzed: These formulas contain milk proteins that have been partially broken down, which may benefit babies who suffer from colic or gas, for example.
Soy-based: Made from soy proteins, these formulas are frequently used in place of milk-based formulas. The AAP recommends that soy-based formulas be used only in exceptional circumstances, so don't use one unless your pediatrician advises you to.
How did we select the best organic baby formulas?
When deciding which formulas to include on this list, we took into account the ingredients as well as feedback from parents like you. While there is no perfect formula, we chose to focus on organic products that stood out from the crowd for a variety of reasons, including:
What to Consider When Purchasing Organic Formula?
When purchasing an organic formula, it's still important to keep an eye on the ingredient list because some may contain ingredients that surprise you. The best formulas on the market will state unequivocally that they include:
To improve taste, lactose is used instead of real sugars or synthetic variants, which have been linked to obesity and overfeeding.)
Whey protein is easier to digest than synthetic proteins, with a low amount of corn sugars, GMOs, and preservatives.
And, if you buy the formula from another country, consider how affordable it is for you to buy the product on a regular basis. Also, keep in mind that the United States has different organic formula standards than the rest of the world, so thoroughly research any formulas made outside of the United States before using them.
The Bottom Line
There are a number of doctor-approved ways to keep your baby fed — all of which are completely legal, regardless of what the mom shamers say. Even if you've decided to go with an organic formula, you have a variety of options with varying prices and ingredients to choose from.
If you're unsure which path to take, talk to your baby's doctor and make sure an option you can afford ends up in your grocery store basket!
Subscribe to Our Latest Newsletter
To Read Our Exclusive Content, Sign up Now.
$5/Monthly, $50/Yearly