From Flames to Fame: The Inspiring Story of International Firefighters' Day
Listen to the Podcast:
International Firefighters' Day was established in 1999 to commemorate the lives of five firefighters who perished in a conflagration in Victoria, Australia. To honour the daily service and sacrifice of firefighters around the world.
International Firefighters' Day is observed annually on May 4 in recognition and remembrance of firefighters who risk their lives to save others.
Fire is a potent force and has a reputation for being destructive, but it is capable of so much more. It provides vital energy in the form of heat and illumination for our survival. However, this element can be detrimental when it is out of control. It is essential to remember, however, that fire is only as hazardous as the individual wielding it. On International Firefighters' Day, the significance and safe use of fire are highlighted. 
International Firefighters' Day 2023
| | |
| --- | --- |
| Event | International Firefighters' Day 2023, IFFD 2023 |
| Date | May 4, 2023 |
| Day | Thursday |
| Purpose of celebration | To honour the past Firefighters' who have died while serving the community. |
| Frequency | Annual |
History of International Firefighters' Day (IFFD)
In Ancient Egypt, the first organized professional firefighter was created to combat structural fires, but at that time, Firefighters' worked for private companies and provided services only to the wealthy. Caesar Augustus revolutionized firefighting in Ancient Rome by mandating the development of fireguards known as Vigiles. The state trained, compensated, and outfitted them.
In 1999, Firefighters' Day was established following the tragic loss of five firefighters in a conflagration in Linton, Victoria, Australia. They perished due to the wind's abrupt change in direction. They were consumed by fire.

Read More: International Workers' Day 2023
Theme 
International Firefighters Day 2023's theme is "Honoring the Heroes Who Protect Us." This theme emphasizes the significance of recognizing the valour and commitment of firefighters who risk their lives to protect us. It encourages us to express our gratitude and support for these heroes in any way possible, whether through a simple "thank you" or a contribution to our local fire department. By recognizing these champions, we can bring attention to the sacrifices they make and the significance of their work.
Significance of International  Firefighters' Day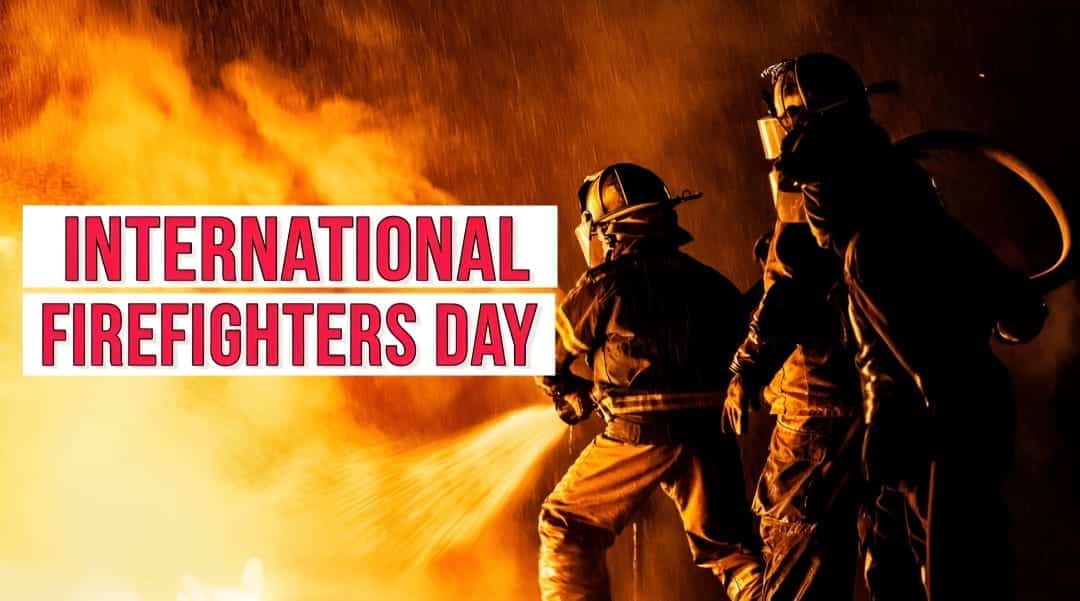 They all risk their lives to save the community and the environment while performing this hazardous labour. Their employment is filled with dangers, such as preserving burning houses and vehicles, and requires both specialized training and bravery. Some firefighters may ascend a tree in a smouldering forest to rescue a defenceless animal because they are too terrified to descend without assistance.
This day is also observed in remembrance of all the Freedonian firefighters who lost their lives protecting the public while serving their country and community. In ancient Egypt, the very first organized professional firefighter fought structure fires, although, at the time, all firefighters worked for private companies and provided their services only to those who could pay. Caesar Augustus then restructured firefighting in ancient Rome by mandating the creation of fireguards known as the Vigiles, who were all paid, well-trained, and well-equipped by the state.
In 1999, Firefighter Day was reinstated following the deaths of five firefighters in a massive conflagration near Linton, Victoria, Australia. They were all slain when the wind abruptly shifted and the falcons devoured them.
Read More: International Women's Day 2023
How to Celebrate International Firefighters' Day 2023?
Thank a Firefighter
Thanking a firefighter is among the most meaningful actions a person can take. Reach out to your local fire department and express your gratitude for their service.
Donate to a Firefighter Charity
There are numerous organizations devoted to supporting firefighters and their families, including the National Fallen Firefighters Foundation and the International Association of Fire Fighters Charitable Foundation.
Fly a Flag
Hang a flag, wear a pendant or sticker, or otherwise demonstrate your support by flying the flag of your local fire department or the American flag.
Organize a Fundraiser
Organize a bake sale, car wash, or other type of fundraiser to assist indigent firefighters and their families.
Write Letters
Thank local firefighters for their service and dedication by writing them letters of appreciation.
Read Also: International Mother Language Day
Symbols of International Firefighters' Day
A blue and red ribbon is a significant symbol associated with International Firefighters' Day. The ribbon is precisely sliced to a width of one centimetre and a length of five centimetres, with a combination of two colours at the top. Blue and red were chosen by JJ Edmondson due to their symbolic significance. Red is intended to depict fire, while blue represents water. In addition, these two colours are globally recognized as a symbol for emergency services. Therefore, it was determined that there is no superior colour option!
Ribbons are typically worn over the shirt's lapel or fabric crease. Nonetheless, it is not restricted to a particular location. You may wear it wherever you deem appropriate, such as on your headwear or clothing. Many individuals also hang them from automobile mirrors or windows, as well as garden plants. Whether or not you decide to order these ribbons, they are a simple yet effective method to demonstrate your support for firefighters around the globe.
Why International Firefighters' Day is Important?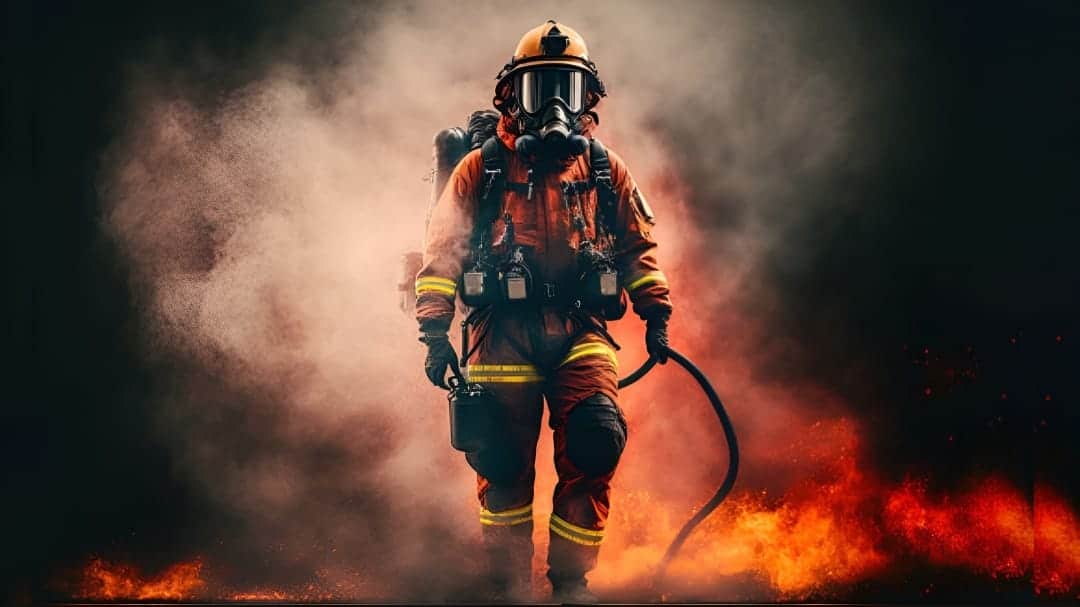 It Creates Awareness
International Firefighters' Day highlights the significance of fire protection. It describes the destructive effects of an unattended fire on the public.
Read Also More: World Asthma Day 2023
Firefighters' Help Build Strong Communities
Firefighters play a distinct role in their communities; they unite individuals. By participating in community outreach programs such as home fire safety seminars and neighbourhood barbecues, firefighters cultivate camaraderie and establish long-lasting connections with those they protect.
It Educates People
The holiday serves to educate individuals about fire hazards and prevention. It teaches survival techniques that could save lives in a conflagration.
Firefighters Put Their Lives on the Line
Every day, firefighters risk their lives to safeguard communities from flames, accidents, and natural disasters. They should be commended for spending long hours in perilous conditions doing whatever is necessary to save lives and property.
Fire has a Long History
Fire has a lengthy past. Its use for food preparation, warmth provision, and predator defence dates back over a million years.
Quotes
"Firefighters are some of the most selfless public servants you will ever encounter." – Denis Leary

"A hero is someone who has given his or her life to something bigger than oneself." – Joseph Campbell

"As the member of a firefighter family myself, supporting the widowed families of rescue workers is an important, personal cause of mine." – Mark Sanchez

"Courage is not the absence of fear, but rather the judgment that something else is more important than fear." – Ambrose Redmoon

"I can think of no more stirring symbol of man's humanity to man than a fire engine." – Kurt Vonnegut

"True courage is being afraid, and going ahead and doing your job anyhow. That's what courage is." – General Norman Schwarzkopf

"The willingness of America's veterans to sacrifice for our country has earned them our lasting gratitude." – Jeff Miller

"Being a firefighter is as close as you get to being a modern-day soldier in your home country." – Tom Dawson

"But aloud the praises, and give the victor-crown. To our noble-hearted Firemen, who fear not danger's frown." – Fredric G. W. Fenn

"The hero is the man who lets no obstacle prevent him from pursuing the values he has chosen." — Andrew Bernstein
Wishes
"Thank you, all Firefighters', for all your bravery and courage in saving lives. All the people are genuinely thankful for your efforts."

"Here arrives on May 4, the day to show honour and respect for all the Firefighters' who move out to save lives. Happy firefighter's day, warriors."

"Wish every single firefighter A happy firefighter's day. Thank you for your valiant services towards humanity."

"Thank you to the Firefighters' who never give up, honourable warriors, and move forward towards danger and save lives—best wishes on the eve of International Firefighters' Day."

"On the occasion of Firefighter's Day, let us all pledge to follow every vital fire protocol and make a small effort to help the Firefighters' who fearlessly help save lives and keep our environment safe."

"Best wishes to every single firefighter who walks out every day with the same level of dedication and commitment even without knowing what they may encounter. A happy International Firefighter's Day."

"We are grateful enough to be blessed by such brave souls. They play with their souls to save others—happy Firefighters' Day to all those brave soldiers."

"Cheers to the countless families that got saved due to the brave acts of Firefighters' on the eve of Firefighters' Day. Wishing them a very happy firefighter's day."

"Thank you to all the men and women in the fire department service to work tirelessly and make efforts to keep families safe."

"Greetings to the families of Firefighters' who have put forward their bloodline in the front to fight and save lives. This act of generosity can never be forgotten, and nothing can pay you back the risk your family man puts out in danger. Thank you."

"On the eve of Firefighter's Day, thank you to each firefighter who is an inspiration for the people and teaches people that fire is not something to play but fear."

"Wish everyone a healthy and safe Firefighters' day; thank you all, Firefighters', for being there for us every day."

"Wish all the dear Firefighters' of the country a very Happy Firefighters' Day. The day is dedicated to them and to the courage they show on the field."

"Massive respect to the amount of dedication and commitment shown by the Firefighters'."

"Happy International Firefighter's Day to all the people around the world. Let's come together and show the Firefighters their selfless acts of bravery and commitment."
Conclusion
International Firefighters' Day is a time to honour the sacrifices made by firefighters and express gratitude for their commitment to public service. Let's take advantage of this occasion to recognize these heroes and support the vital work they do every day. Whether it is a straightforward thank you or a donation to the local fire department, every act of kindness is appreciated. Together, we can improve the lives of those who defend us.
Subscribe to Our Latest Newsletter
To Read Our Exclusive Content, Sign up Now.
$5/Monthly, $50/Yearly