How to Record WhatsApp Call on Your Phone: 2023 Updated Guide
Listen to the Podcast:
WhatsApp users have the possibility of making calls to any of their contacts. However, the app does not have a function that allows them to record these calls.
Therefore, in this post, we explain how to record WhatsApp call using third-party applications and other services that will be very useful for you. Here are some straightforward methods that you can try.
How to record WhatsApp call: Step by step
If you have already decided to record your WhatsApp calls and are an Android user, unless you have a phone with this default function, you will have no choice but to install a third-party app that provides your smartphone with this function. Function.
If you are using an iPhone, starting with iOS 11, Apple introduced a function similar to that offered by the Az Screen Recorder app on Android. In this way, it is possible to use this function to record your WhatsApp calls on your iPhone for free without using any third-party application.
How to record WhatsApp voice calls on Android
Recording WhatsApp voice calls is hassle-free for the Android operating system. With apps like Call Recorder: Record Whatsapp calls, you can register your calls without much inconvenience. Of course, it may not be compatible with all phones and all versions of Android, so it is always good to explore the Play Store for similar apps.
To find out if you can use the app, first go to its support page to find out if your phone is compatible with the app. If it is, you can follow these steps to record WhatsApp voice calls on your Android smartphone: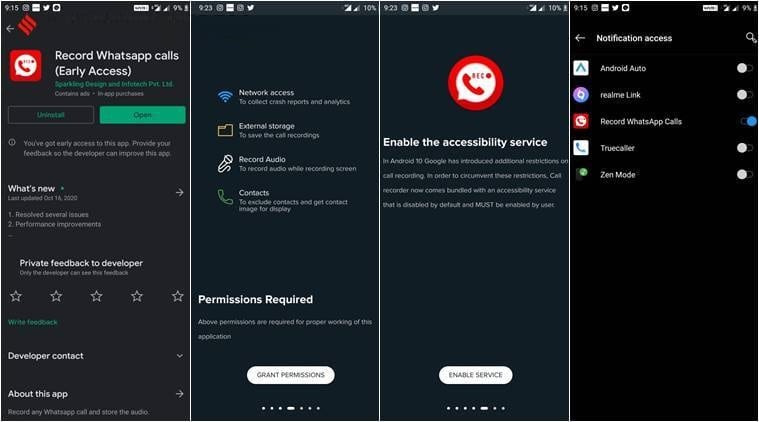 Go to the Google Play Store and search for the Cube Call app.
Download and install it on your Android smartphone.
Open the app and then switch to WhatsApp.
You will see a Cube Call widget on a WhatsApp voice call.
If you can't see it, open the Cube Call recorder settings and choose "Force VoIP call as voice call".
Call back and check if the widget appears or not. Your phone may not allow the application to work correctly if it does not work.
You can check the permissions of this app in the settings section of the phone, or you can long-press the app and tap on App info > Permissions. 
How to record WhatsApp voice calls on iPhone
To record WhatsApp voice calls on iPhone, starting from iOS 11, the first thing you should do is verify that the function has been activated on the device by going to: 
Settings- Control Center- customize controls. 
You will find the Screen recording option, which allows you to activate this function. Once this is done, you can start screen recording from the control centre anytime.
If you cannot do it this way, we give you another option to record a WhatsApp call on iOS. There is a solution which requires a Mac and an iPhone. Next, we explain the procedure:
Connect your iPhone to a Mac using the lightning cable. Select the "Trust this computer" option on the smartphone.
Open the QuickTime app on the Mac device. Go to the File option and choose the New Audio Recording option.
Choose the iPhone option and hit the record button in QuickTime.
Now, from the iPhone, make a WhatsApp call to your phone. Press the add user icon once you are connected.
Then, call the person you want to record the audio with and start your conversation. 
Once this is done, disconnect the call and stop the recording.
Save the file on Mac, and your WhatsApp voice call will be recorded.
Bonus: WhatsApp Chat Tips and Tricks
How to record a WhatsApp call without third-party apps?
The truth is that, although not all smartphones have a call recording function, installing a third-party app is unnecessary. You have to know the process to enable it.
For example, OnePlus native Phone app has a call recording feature. You will find it in the Settings section of the application > Call recording. 
You can configure it automatically if you do not want to record each call manually. In addition, you can choose the "Specify recording page" option in the "Automatic recording range" section. You can select specific contacts or choose the "Unknown Callers" option.
To those wondering how to record WhatsApp call on Samsung, we can say that these devices have the alternative of a native application from the company, Telephone. Open it on your Samsung Galaxy smartphone, tap the three-dot button to open the Settings section, and then tap "Record calls". Now, activate "Automatically record calls".
The Google Phone app 
The Google Phone application from the Play Store is another option you have at hand to record WhatsApp calls for free. 
Please open it and tap the three dots icon > Settings > Call recording.
Under Always record, tap Selected numbers > turn on Always record selected numbers > tap Add in the top-right corner. 
You can then choose a contact and tap "Always record". You can always make changes according to your preferences.
To use this alternative, there are conditions that you must take into account:
Your device must be running Android 9 or newer to record phone calls. 
Google says the user must be in a country or region supported by call recording. 
Note: Before the call begins, Google says the participants receive a notification that the call is recorded.
What should be taken into account before using a third-party application?
Before employing a third-party application, users are advised to be very careful. Above all, you should check the developer's name, reviews, privacy policy and other details. 
Once you're satisfied, install the app and ensure you only allow access to the features required to run the app.
Subscribe to Our Latest Newsletter
To Read Our Exclusive Content, Sign up Now.
$5/Monthly, $50/Yearly