How to Change Your Name on Facebook: A Complete Guide in 2023
Do you know how to change your name on Facebook? Changing your Facebook name is both easy and more difficult than you might expect. People have been compelled to use their legal names on Facebook for a long time. But you have no idea how to change your name on Facebook. Whether you're getting married you changing your name to match your present situation in life, or for any other reason, the Social Media behemoth provides you with some name change alternatives, but they come with some limitations.
There are a variety of reasons why you might want to alter your name on Facebook, whether it's to give yourself a fun nickname, rectify a spelling problem, or because you've changed your name and want your Facebook page to reflect it.
Do you want to modify your overly formal Facebook name to something more casual? You've lost touch with your birth name, or you're married and need a new surname? Are you know how to change your name on Facebook? This post will walk you through the procedures to change your name on Facebook without any problem.
What is Facebook's name change policy?
While you are not required to use your complete legal name on Facebook, there are some restrictions on the names you can use.
Facebook prefers that users use their real names on the site. The following are not permitted in Facebook names:
Symbols, numbers, nonstandard capitalization, repeating characters, or punctuation are all examples of nonstandard capitalization.
More than one language's characters
Any kind of title (whether professional, religious or something else)
Instead of a name, use words or phrases.
Words or phrases that violate Facebook's Community Guidelines
Words or phrases that refer to organizations rather than individuals. Individuals use Facebook Profiles, whereas businesses, organizations, and ideas use Pages.
Facebook accepts nicknames for first and middle names as long as they are a variation of your given name (like Abby instead of Abigail). Impersonating other users is against Facebook's Community Standards and is not permitted.
How to Change Your Name on Facebook?
There are a few ways to change name on Facebook. Including
Changing Name on Browser
Changing Name on Phone (Android & iOS)
and, Changing Name Through Messenger
Changing Name on Browser:
Changing your name on a computer is the simplest of all the procedures. You must also follow Facebook's name guidelines if you want to know how to change your name on Facebook and modify your name. To access the Facebook website, you simply need to have a suitable browser installed.
From the upper right, select "Dropdown menu."

Select "Settings" from the "Settings & Privacy" menu.
Click "Edit" next to your name under "General profile options."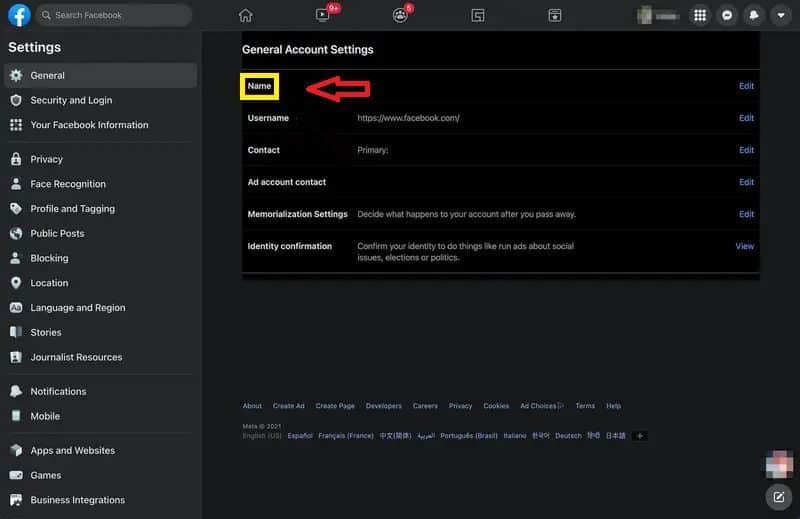 Make the necessary modifications.
Choose "Review Change" and then "Confirm."
Changing Name on Phone (Android & iOS):
This solution works on both Android and iOS devices. Go to Facebook and log in with your Facebook account using your browser (chrome, safari, firefox, Opera).
Select "Settings" from the three lines symbol on the right.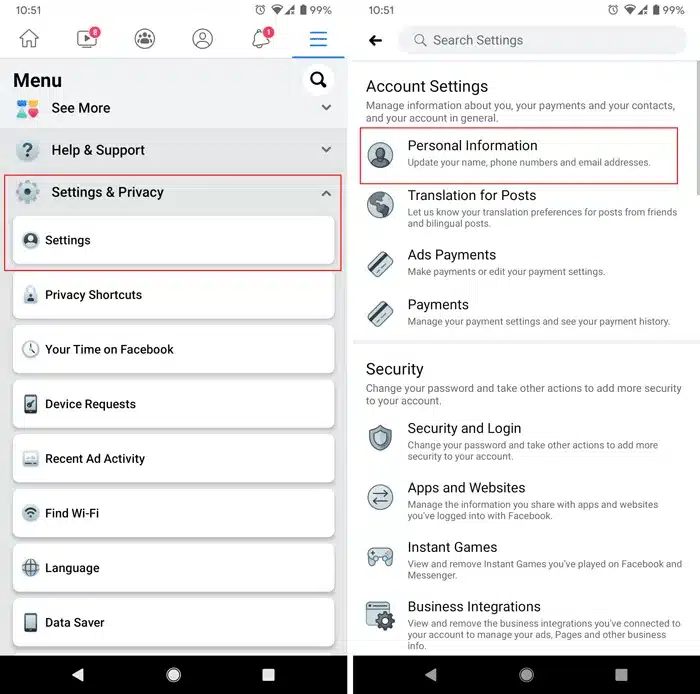 Select "Personal Information" from the Account Settings menu.
Choose "Name."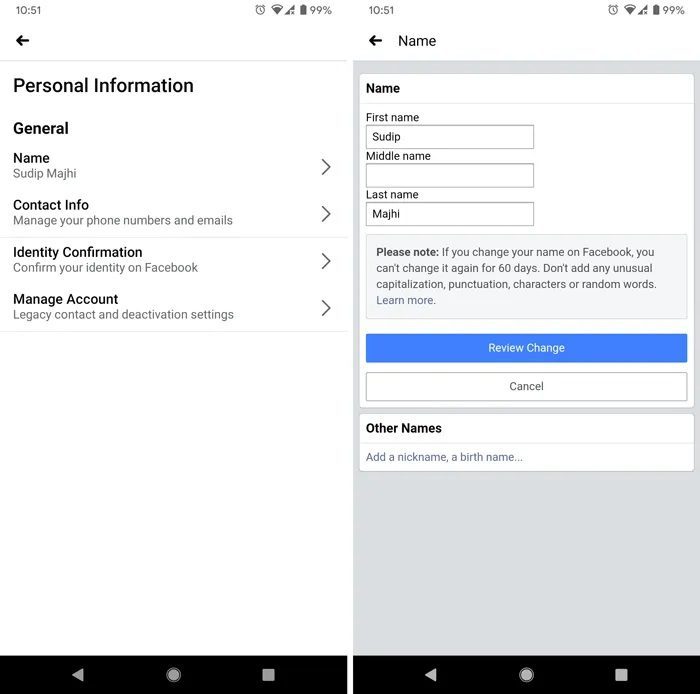 To confirm your changes, hit "Review Change."
The procedure is the same if you already have a Facebook app.
From the bottom right, select "Menu."
By pressing on "Settings & Privacy," you can expand it.
Select "Settings" from the drop-down menu.
Make adjustments to "Personal Information" > "Name" as needed.
Changing Name Through Messenger:
If you are thinking about how to change your name on Facebook using messenger. To alter your first and last name, you don't need the Facebook app. It's also possible to accomplish it through Messenger. You can go to the same name change screen as the Facebook app by signing into the messaging app.
On the top left, tap on your profile icon.
Select "Account Settings" from the drop-down menu.
Tap "Personal information" under "Account."
Make any necessary adjustments to "Name."
How to Change Your Name on Facebook and Keep Your Maiden Name?
Your maiden name may still be used by old friends and relatives to look you up. You don't have to lose your identity if you change your last name. You can add additional names to Facebook, including your maiden name.
Select "General Profile Settings" from the drop-down menu.
Tap the "Add other names" option under "Other names."
Choose "Add a nickname, a birth name" from the drop-down menu.
Select "Maiden name" from the "Name type" drop-down menu.
"Show at top of profile" > "Save." Enter your "Maiden name."
How to Change Your Name on Facebook Without Notifying Everyone?
Facebook may report all of your profile changes activity to keep your followers up to date. You can disable some Facebook sharing features if you don't want everyone to know about how to change your name on Facebook.
Select "Settings & Privacy" from the drop-down menu in the top right corner.
Select "Privacy Shortcuts" from the drop-down menu.
Then "See more privacy settings" from the Privacy menu.
Select "Edit next to Who can view your future postings" under Your activity.
"Only me" should be the picklist option.
Now you can change your name without having to notify everyone by following the methods outlined above.
Changing Your Business or Page Name on Facebook
You must switch to utilizing your business or page profile to modify your business or page name. On a PC, you may accomplish this by going to the Switch Profile drop-down menu and selecting the business page.
From the dropdown menu, select "Business page profile."
The Front Page Scroll down and select "Edit Page Info" from the drop-down menu.
You can now call the page whatever you like, regardless of your business name. However, Facebook does not always allow new names. As a result, double-check that the new name is an accurate reflection of your company name and adheres to the Facebook page name criteria.
Change Your Group Name on Facebook
Changing group names is far more convenient than changing names on Facebook. Changing the name of a Facebook group is limited to 28 days.
Additionally, any time you modify the group's name, all members will be notified immediately. To modify the name of a group on Facebook, you must be a group admin.
1. Select "Groups" from the left navigation pane.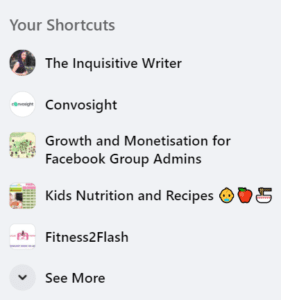 2. Choose the "group name" you want to change.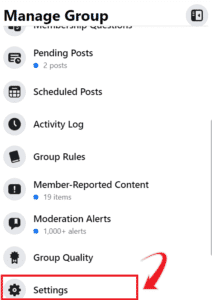 3. Select "Group Settings" from the drop-down menu.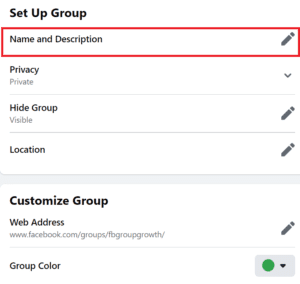 4. Make any necessary changes to "Name and description" and then click "Save."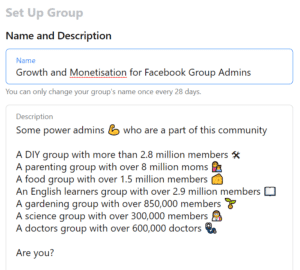 How to Change Your Name on Facebook Group Chat?
On each group conversation, Messenger allows you to set individual nicknames. Only members of the group can see these names. Changing the name in a group conversation has no effect on your regular messenger name.
Separate names can be assigned to different group conversations without interfering with each other. Within the group chat, you can also modify your friend's name.
Open the "Group chat" for which you want to modify your name.
On the top right, tap the "Info symbol."
Choose "Nicknames" from the drop-down menu.
Make adjustments to your "Profile Name" by tapping on it.
"Set to Save Changes" should be selected.
Changing Your Webpage Name on Facebook
Facebook creates a default webpage based on the name of your page. You can personalize this address to make it easier to remember. This function is also known as a public username or timeline address on Facebook.
Unlike your Facebook profile name, the URL for your website must be unique.
Select "Settings" from the drop-down menu.
Click "Edit" next to the Username field in the General Page settings.
Select "Save changes" after entering a "new username."
Change Your Alternate Name on Facebook
The day's restriction does not apply to change your alternate name if you have one set up.
Alternate names appear on your timeline next to your full name. In a Facebook search, searching by your alternate name also brings up your profile. Correcting your alternate names is just as vital.
Alternate names are available on Facebook in a variety of categories, as indicated below.
In your timeline, go to the "About" tab.
Select "Details about you" from the drop-down menu.
Click "Add a nickname, a birth name," etc., under "Other names."
Make adjustments to your "alternative name" by selecting a "Name type."
How to Change Your Name on Facebook Before 60 Days?
You can't change your name again for 60 days after you've changed it. However, if you have a good reason to alter your name before that period, you can do so and get this method on how to change your name on Facebook before 60 days.
It's worth noting that you'll need a photo of your government-issued ID or passport on hand. Facebook validates that the name you submitted is the same as your legal name. After that, they'll give you another 60 days to change your name.
If you want to revert to your prior name, you can do so within 48 hours of the name change.
To learn more, go to "Settings" > "Learn More."
Select "Fill out this form" from the drop-down menu.
On the form, fill up the "New name details."
Select a "Reason for this Change" from the drop-down menu.
Choose "Choose files" and paste your "ID" into the box.
Select "Send" and wait a few hours for your name change to be confirmed.

Video Credit: https://www.youtube.com/channel/UCU5pjAzVVE68WbU9KbAB6QA
The Benefits of Changing a Business Name on Facebook
Branding Consistency: Consistency and branding are inextricably linked. Your brand should be consistent across all mediums, from aesthetics to messaging. Users will be less confused when they visit your Facebook for Business page, Instagram page, or website if you do it this way. They'll see a unified front that gives a clear picture of your company.
Better UX: Customers utilize social media to locate and communicate with businesses. People will search for the wrong thing and become frustrated if they can't find what they're looking for if your Facebook for Business page name doesn't match your website or other social channels.
Your company's revenues could be harmed as a result of this poor UX. Change your company name on Facebook so that clients can find the information they need—like hours of operation and contact information—quickly and easily.
Better Conversion: When it comes to sales, customers who easily locate your company on Facebook are more inclined to conduct business with you. If you use Facebook ads, you should also use a consistent name and branding on your Facebook profile to seal the deal.
Build Trust and Credibility: You risk losing your consumers' trust if your business name is not correctly advertised, misspelled, or misleading. All of your business profiles should be polished and polished. You won't be perplexing customers or giving them a reason to believe your firm isn't as professional as they once thought.
Common reasons why you can't change your name on Facebook
Some Facebook users have had trouble altering their names for a variety of reasons; here are a few of the most common:
The limitations imposed by Facebook on initials, characters, capital letters, and other elements may limit your ability to change your name. Due to the nature of their languages and the names that are widespread in certain countries, various ethnic groups, such as Tamils, Irish, Native Americans, Japanese, and Vietnamese, may face similar challenges.
In the last 120 days, you have attempted to change your name far too many times.
The name you're trying to give violates Facebook's guidelines for possible platform names. You are not permitted to use:
More than one language's characters (for example using Japanese and Spanish characters or accents in the same name).
A phrase cannot be used as a name.
There can't be too many repetitive characters, punctuation, capitalization, or symbols in the name.
A religious or professional title cannot be included in the name (like Reverand Donaldson or Dr. Donaldson)
Facebook's Community Standards prohibit names that violate them.
Organizations and groups cannot be represented by their names; nevertheless, Facebook offers the option of creating a page for businesses and organizations.
Why My Name Change Rejected?
For a variety of reasons, Facebook may not approve the update. Let's say you've done your homework and are confident that your name falls within their parameters. What other reason might they have for delaying the transition?
It's possible that you're changing your name too frequently. Regardless of the legality of the names, Facebook mandates at least 60 days between name changes.
You've been asked to verify your name on Facebook using your ID before. If Facebook has previously suspected your account, it may request a proof before confirming the update.
If you've been asked for identification, it's possible that the ID you've provided does not match their list of accepted forms of identification.
Whatever the case may be, don't get worked up about it. Facebook isn't trying to harm you. You and your friends, want your profile to be safe and accurate. With enough time, you should be able to resolve the name change.
Facebook Name Guidelines and Rules
So, what are the names that are permitted on Facebook? What is more appropriate is to ask what names are not permitted. A complete list of things that names can't be or have may be found on Facebook. Check to see if your new name contains any of the following:
 Special characters are  $, #, or @.
Punctuation, spacing, or capitalization is unusual. It's possible that what odd implies will be a point of contention. You'll have to talk to Facebook about it.
Characters who speak many languages.
Thesis Statements (like Dr, Prof, or Sir). Even if the headline is correct, Facebook will not accept it.
Words or phrases that clearly aren't names. This is up to the person considering your change request's discretion.
Words that are offensive.
Names for groups of people. This does not apply to names with hyphens. This essentially means that a profile cannot be shared by two persons.
All vowels have been removed from the names.
Characters that keep repeating themselves. We assume that this refers to a letter being repeated an exceptional amount of times (like Aneglaaaaaaa).
Choose a Nickname
Some names, of course, contain unusual capitalization or punctuation. Some names may even contain special characters that are legal. Is this to say that Facebook doesn't like your name? If you show an appropriate ID confirming that your name looks precisely how you've spelled it, there's a strong possibility Facebook will make an exception for you. In the interim, they offer some other tips to help customers choose a suitable account name.
Choose a nickname from your circle of friends. This essentially means that you should choose the name by which you are known. You're not going to get that approved if your name is Susan and your pals call you Bacon.
Nicknames are OK, but only if they are variations of your given name. To put it another way, Bacon is out, while Susie is in.
Never try to pass yourself off as someone you aren't. Keep an eye out for phony celebrity accounts. Creating accounts for your pets is not a good idea.
Always spell out your last name completely. Fake or shortened surnames will be rejected by Facebook. However, if you only want your initials in front of your surname, it may be OK.
Frequently Asked Questions (FAQs):
How to Change Your Name on Facebook in a Different Language?
Only a few languages enable you to change your Facebook name in other languages. Anyone who uses Facebook in that language will see your translated name when you set a language-specific name. The same can be said for you.
When making the modification, keep in mind that you must still adhere to the Facebook name convention. Here's where you may learn more about the languages that are accessible.
As explained above, go to the "Name Change" settings.
"Add or change your language-specific name" is the option to choose.
Change the language of your "Name" and "Save changes."
How to Change Your Name on Facebook After the Limit?
If you've changed your Facebook name too many times, Facebook may consider you to be engaging in questionable behavior. It may prohibit you from changing your name again.
Fill out the how to change your name on Facebook request form if you still need to change your name. You must submit a legal document that proves your legal name. Before your new name appears, verification may take some time to complete.
How Long Does it Take to Change Your Name on Facebook?
The procedure for requesting a name change isn't very lengthy. It should take you less than five minutes to complete the process if you follow the preceding steps carefully.
However, Facebook will check your new name against its name guidelines. Your new name should be visible immediately away if it matches the criteria. When compared to other names, some names may take longer to verify. By the end of the business day, your name should have changed.
Can I change the name on my Business account?
Yes, although there are some guidelines that apply here as well. To change the name displayed on your account, go to your Business Page and click on the Settings choices.
A Facebook page's name can only be changed by administrators or page owners, and there are additional restrictions for this as well. For example, you can't include your tag line in your page's name (there are verification badges for that), and you can't include the word Official in your page's name (there are verification badges for that).
Visit the Facebook support center for a complete list of guidelines.
Can you have a joint Facebook account?
No, it's technically against Facebook's guidelines, yet people still do it. It is possible to have two persons on the same account if you put your first names together and then your last name, or if you put one as the first name and the other as the middle.
Can I create a new Facebook page with a new name?
You certainly can. However, you will lose all of your info, friends, photos, and posts if you do this. Another reason this isn't the best way to show off your desired name is that Facebook now requires a phone number. If you try to log in with the same phone number and email address as your former account, Facebook will direct you to a page where you can reactivate your account.
The Pros and Cons of Changing a Business Name on Facebook
Pro: Changing the name of your business on Facebook provides a variety of advantages, including consistent branding, making it easier for clients to locate you, and increasing your trustworthiness. If you spend time on Facebook advertising and publishing organically, be sure the fundamentals of your Facebook for the Business page are in order.
Conclusion
Not all businesses will be able to update their business names on Facebook sites. You won't be able to update your regional page if your business is part of a parent company that has a global Facebook page, as described above. For the right trickle-down effect, you may need to contact headquarters to modify the name there. That's why it's crucial to use caution when naming your company for the first time!
If you find yourself in this situation, you might find it easier to create a new Facebook for Business page. Create a campaign to redirect your followers to the proper page. It's easier to take a step back and get your ducks in a row than to keep growing a fan base on a page that doesn't correctly represent your business.
There aren't many drawbacks, aside from the few minutes it takes to update how to change your name on Facebook. Don't put it off any longer if you know you need to enhance your Facebook profile. It's well worth the time and improved client experience you'll provide.