Durand Cup Final 2023: Mohun Bagan Clinch Record 17th Title!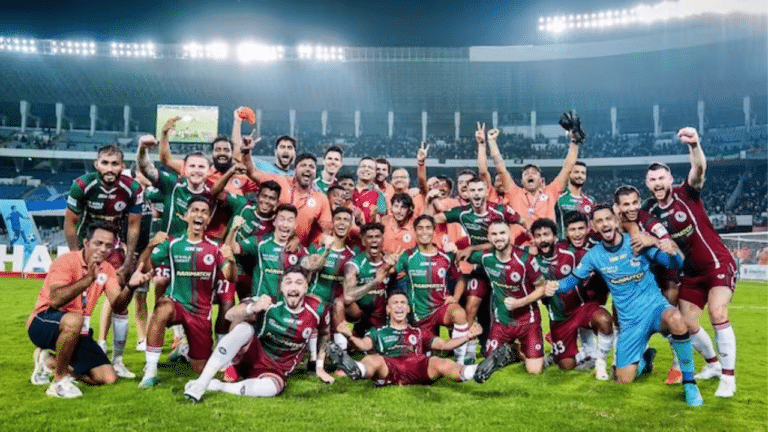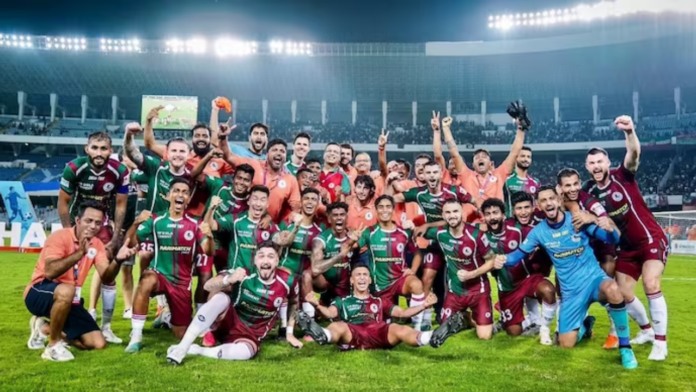 It was a historic victory for Mohun Bagan as they beat East Bengal 1-0 to win the Durand Cup final 2023. This is their 17th title in the tournament, ending a 23-year wait. In this blog post, we will discuss Mohun Bagan's triumph, along with highlights of the final match and its significance for Indian football.
Get ready to journey through the excitement and emotion of a game that has been remembered by fans for years!
Content Highlights
Mohun Bagan ended their 23-year trophy drought by winning the Durand Cup Final 2023 with a 1-0 win against East Bengal.
Dimitros Petratos scored the decisive goal in the 71st minute of the match, leading Mohun Bagan to become Champions of Kolkata football and crown them joint top successful teams in tournament history alongside East Bengal.
In spite of all odds, 10-man Mohun Bagan displayed defensive strength under duress along with resilience coupled with clever tactics which enabled them to snatch victory from the jaws of defeat despite missing multiple chances.
The match highlighted how there can be changes even during the last moments showcasing what determination and dedication can do for any team's fortune within 90 minutes!
Durand Cup Final 2023 Highlights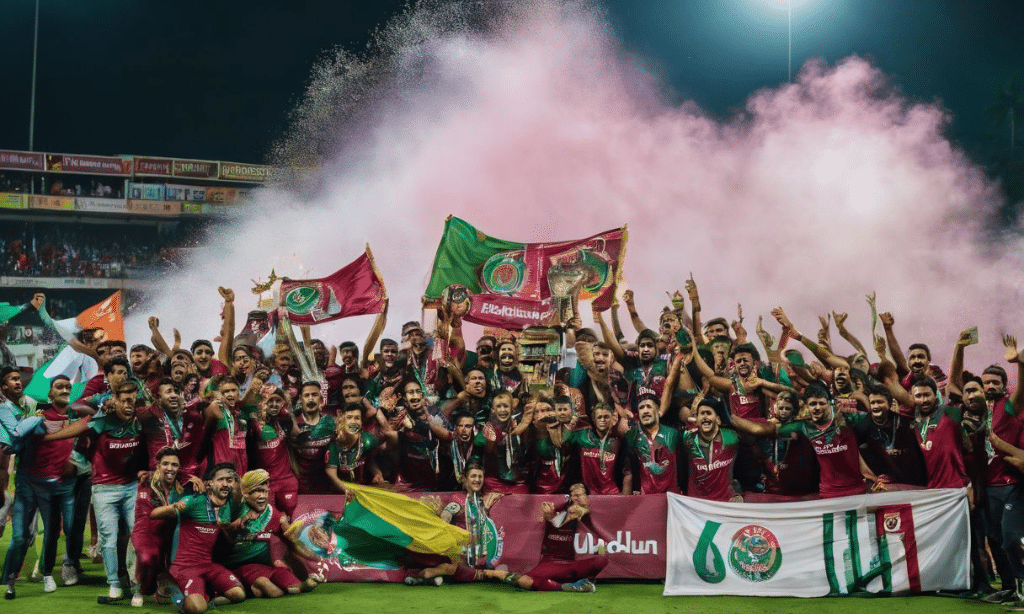 Mohun Bagan emerged victorious over East Bengal, courtesy of a goal from Dimitros Petratos in the 71st minute and despite Nishu Kumar's missed header in stoppage time.
Mohun Bagan's Victory Over East Bengal
in the 2023 Durand Cup Final marked their 17th title win, securing their place as the joint-most successful team in the tournament's history and ending a long 23-year trophy drought. The only goal of the match came from Dimi Petratos in the 71st minute, while Nishu Kumar almost salvaged East Bengal with a header at stoppage time but it went just wide.
During those intense 90 minutes, many tense moments occurred that often seemed to deliver an advantage for Mohun Bagan, such as when a Red card was given to Dimas Delgado 25 minutes before full-time due to a red card offense.
Ultimately, though East Bengal dominated possession throughout, they were unable to convert this into scoring opportunities until late on and fell short against Mohun Bagan's composed defensive tactics.
Dimitros Petratos' Goal in the 71st Minute
was the deciding factor in Mohun Bagan's win in the Durand Cup Final 2023. The Australian forward scored the single goal that sealed a victory over East Bengal, with a 1-0 win. The timing of this game-winning goal was critical – only ten minutes remained until full time and the match could easily have ended in a draw had Petratos not made his mark at such an important juncture.
He was instrumental in breaking down East Bengal's defense and giving his team their seventeenth title win in Club Football History. His decisive moment certainly contributed to Mohun Bagan becoming Kolkata football champions once again after five years of no major titles from them!
Red Card for Dimas Delgado
Dimas Delgado received a red card during the Durand Cup Final 2023 match that saw Mohun Bagan become champions. This was a significant moment as it reduced the team to 10 men, yet despite being one man down, they managed to secure the victory in stoppage time with Dimitros Petratos' goal in the 71st minute standing out as a major factor for their success.
Although East Bengal had several missed opportunities throughout the game, Mohun Bagan's brilliant defensive strength and determination allowed them to emerge victorious against all odds.
Nishu Kumar's Missed Header in Stoppage Time
was a crucial moment in the Durand Cup Final between Mohun Bagan and East Bengal. With mere minutes remaining in the match, Kaylokble Nishu Kumar's header went wide at the goalmouth denying East Bengal any chance of an equalizer.
It was a nail-biting finish as Mohun Bagan had been reduced to 10 men earlier in the game when their star player Dimas Delgado received a red card for dangerous play. However, despite being down to 10 players and giving up possession to East Bengal, Mohun Bagan still managed to keep their lead with some impressive defensive prowess before taking back control late in the game thanks to Dimitrios Petratos' 71st-minute strike that put them firmly ahead on points.
In the end, then missed header by Nishu Kumar sealed victory for the debutant team and signaled a new era of dominance amongst Kolkata football teams – signaling an end to near century-long supremacy enjoyed by East Bengal over local rivals since the 1930s!
Mohun Bagan's Championship Status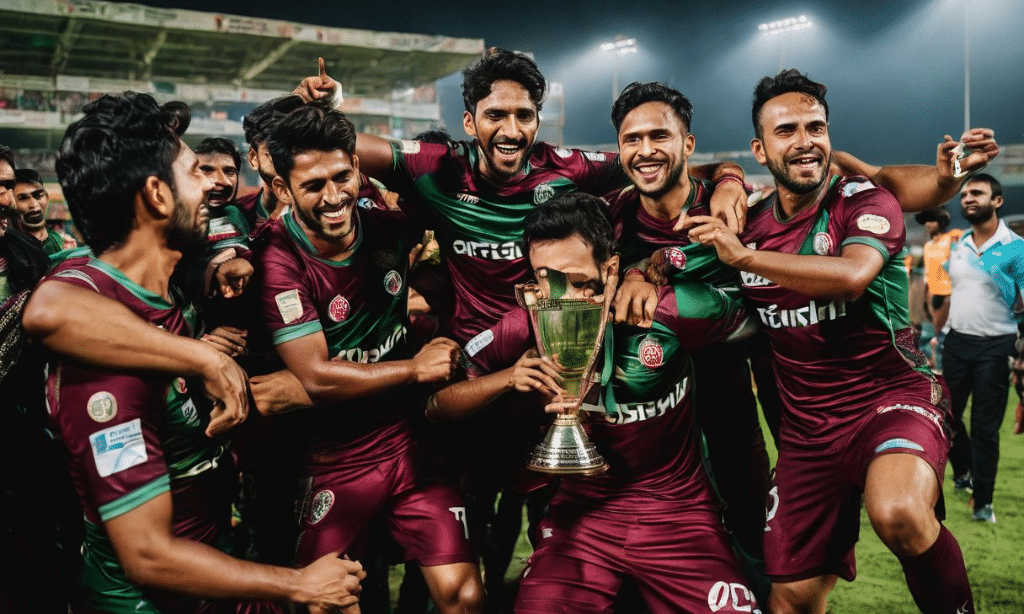 With their win over East Bengal, Mohun Bagan cemented their place as Champions of the Durand Cup and Kolkata football.
Champions of the Durand Cup
Mohun Bagan's long-awaited victory in the 2023 Durand Cup final was a defining moment in Indian football. Having reached the finals for the fourth time since 2010, their comfort in knowing how to handle such big occasions had become prominent with this impressive win against East Bengal.
With Dimitri Petratos' 71st-minute strike securing the 1-0 triumph, Mohun Bagan finally got their hands on their 17th title of what can be called India's oldest and most prestigious tournament: The Durand Cup.
This result stands as a testament to the convolute nature of Kolkata derby matches but moreover, it affirms Mohun Bagan's continuous control over these competitions. Having been crowned champions four times previously since 2012, their success towards winning this year was even more astounding given that they played much of the second half being reduced to 10 men when Delgado received his marching orders after picking up two yellow cards during stoppage time.
Champions of Kolkata Football
Mohun Bagan's victory in the Durand Cup Final of 2023 symbolizes their supremacy and marks them as the Champions of Kolkata football. The win over East Bengal established Mohun Bagan as one of India's greatest clubs, reclaiming a coveted spot amongst the greats after 17 long years without being crowned champions since 2004.
This is a significant moment for Indian football fans who have grown familiar with this age-old rivalry between these two historic clubs: Mohun Bagan and East Bengal. A match steeped in history, cherished by both sets of passionate supporters.
The current result shines an internationally recognized light on Indian football; it brings to life all that makes the sport special here in its homeland – passion, determination, resilience, and hard work from each team standing tall against odds they cannot control yet still making their dreams come true through sheer will power alone!
Key Moments in the Match
Highlights included East Bengal missing opportunities, Mohun Bagan's defensive strength, the decisive impact of Petratos' goal, and Mohun Bagan being reduced to 10 men; making for an emotional climax.
East Bengal's Missed Opportunities
The Durand Cup final saw East Bengal fail to convert their scoring opportunities into goals as they narrowly lost 1-0 to Mohun Bagan. Everything seemed in favor of the red-and-golds until a 71st-minute goal from Dimitros Petratos tipped the balance toward Mohun Bagan.
What followed was technologically gifted midfielder, Dimas Delgado receiving his marching orders after receiving two yellow cards within minutes apart. The ten men Kolkata giants fought with resilience and managed to hold off multiple injudicious attempts by East Bengal, including Nishu Kumar's missed header in stoppage time.
These missed chances had a significant contribution towards determining the outcome of this intense rivalry match as it shattered any chance that existed for East Bengal's prospects of lifting the title at stake.
Mohun Bagan's Defensive Strength
was deeply evident in their 1-0 victory over East Bengal during the final of the Durand Cup. The Indians displayed a resilient and strong defensive performance against their arch-rivals, thwarting many risks and challenges their opponents posed throughout the match.
Jason Cummings, Nandhakumar Sekar, and other defenders held the defense firm neutralizing every attack from East Bengal with great vigor. In particular, Mohun Bagan's defensive resilience was noticed during key moments such as when Dimas Delgado got red carded or when Nishu Kumar missed his header towards the end of stoppage time allowing them to keep a clean sheet.
Dimitros Petratos' well-placed corner kick proved that it only takes one moment for a winning goal to be scored in football due significant contribution of their robust defense. Without Mohun Bagan's reliance on its firmly established backline, they would not have been able to become champions of Indian Football this season at the Durand Cup thus showcasing an invaluable strategic shift by passengers around Dais Kawardha Lake..
Impact of Petratos' Goal
Dimitri Petratos' goal in the 71st minute proved decisive for a hard-fought victory against East Bengal, propelling Mohun Bagan to end their 23-year wait for the Durand Cup title. The goal came about in an intense and pressure-filled atmosphere of Indian football's two fiercest rivals go head to head, as Nishu Kumar's missed header in stoppage time denied East Bengal even a draw from what seemed like a certain victory.
Petratos' precise strike managed to fly past opposite goalkeeper Rakshit Dagar and secured Mohun Bagan's win despite playing with 10 men due to Dimas Delgado receiving a red card earlier.
His pivotal role highlighted his class as well as further testifying the thought that good players always show up when needed most. With this monumental result, members, supporters, and Indians wanting quality football celebrated across India as it can be said that West Bengal now officially belongs to Mohun Bagan who have been crowned champions of Kolkata football by securing their second triumph over their archrivals since 2017's Iftar encounter at Eden Gardens.
Mohun Bagan Reduced to 10 Men
Mohun Bagan were reduced to 10 men in the 62nd minute of the final match when Anirudh Thapa was shown a red card, triggering an avalanche of challenges for them. East Bengal had complete control over possession and seized every opportunity to create opportunities on goal.
Despite being able to fill all their allotted player slots, Mohun Bagan capitalized on their defensive strength combined with tenaciousness and resilience against adversity. This enabled them to stave off each attack with clearances and thwart any promising footing for East Bengal's attempt at counter-attacks.
However, they took a huge risk when Dimirtos Petratos snatched the nothing ball from self-destructing defense in the 71st minute seizing up victory from East Bengal as Nishu Kumar failed to convert his header into a precise last chance during added time stoppage right between two rows of defenders! As history has it, this isn't the first instance that the Durand Cup Final winning team has been reduced by expulsion as the Indian hockey team was successful even when many topnotchers were stripped out due to regulations or injuries.
Post-Match Analysis
A detailed analysis of the match was undertaken, which highlighted East Bengal's wastage of possession and Mohun Bagan's defensive tactics.
East Bengal's Possession Wastage
Throughout the Durand Cup Final, East Bengal failed to keep a hold of the ball and suffered from possession inefficiency. This meant that they lost out on several valuable opportunities throughout the game which cost them dearly.
In particular, Nandhakumar missed a great opportunity in the 23rd minute due to his failure to retain possession which could have had profound consequences for Mohun Bagan's chances of victory.
To make matters worse, their problems with possessions carried on throughout the match resulting in East Bengal having an immobility which allowed Mohun Bagan's Dimitros Petratos to secure their only goal late in the second half.
The efficiency that was missing from East Bengal's play style was visible as they rarely retained possession for any length of time before losing it again or squandering away any goalkeeper saves created by chances due to Eisenfeld and Sheikh Saifi's good movement upfield during counter-attacks.
Mohun Bagan's Defensive Tactics
Mohun Bagan was effective in the Durand Cup final, as they limited East Bengal's opportunities to score while ensuring their own chances of success. The team adopted a compact defense which served to limit space for East Bengal attackers and left little room for error on Mohun Bagan's side.
Central midfielders stayed close together, the back four remained connected at all times, and forwards worked hard to put pressure on defenders when possession changed hands. This also allowed the Blues more time to organize themselves with regard to positioning, communication among defenders was far clearer than that of their opponents, and balls into dangerous areas were cleared or intercepted promptly.
In addition, goalkeeper Dimi Petratos' heroics between the sticks prevented any potential goals from finding the net – his save in stoppage time diminished Nishu Kumar's chance of equalizing late on.
Overall Performance of Both Teams
Both teams fought fiercely in the Durand Cup Final 2023, with Mohun Bagan coming out on top. The match was full of chances for both sides but it was decided by Dimitrios Petratos' goal in stoppage time.
East Bengal had more possession than their opponents and created chances through Al Amna's creative play. However, they were unable to capitalize on these opportunities, which ultimately proved to be costly as Mohun Bagan took their first Durand Cup title since 2000.
On the other hand, despite being reduced to 10 men due to a red card for Dimas Delgado late in the game, Mohun Bagan stayed compact at the back and relied heavily upon counter-attacking football.
Read also: How ball-connected technology is changing football
Significance of the Durand Cup
With the Durand Cup representing over a century of Indian footballing history, Mohun Bagan's victory highlights the enduring rivalry between East Bengal and Mohun Bagan as well as its huge contribution to Indian football.
Historical Importance of the Tournament
The Durand Cup is India's oldest football competition, having been established in 1888. It holds significant meaning not just for Indian football fans but also for followers of the game throughout the world due to its incredible longevity and cultural importance; it has become an integral part of Indian football history.
The tournament serves as a symbol of determination and courage that inspires both players and fans alike, driving them to excel in their respective sports. Its prestigious status appeals across all levels of domestic teams from professional clubs to amateur leagues; every team competes with ambition and vigor at this unique event where plans are formed on the field with utmost skill displayed during every match.
Besides being paramount partaking in matches, emotions run high amongst supporters whilst witnessing key moments played out by talented individuals showing what they have practiced so diligently over time – unity and pride resonate throughout stadiums thus providing massive industry impact everywhere each year when held!
Rivalry Between Mohun Bagan and East Bengal
As the teams representing Kolkata in the sport of football, Mohun Bagan and East Bengal have had a longstanding animosity that dates back generations. This rivalry has come to be known as one of Indian football's fiercest contests – The Kolkata Derby.
As east-meets-west representation at its finest on the soccer pitch, this tradition is still continued year after year with each club showing determination to outwit their competitor.
Every match is stacked with intense competition as both teams display strong showings of possession play and battle it out for ball control throughout the game. With games as close as they can get, never failing to leave audiences on their feet, these matches are quite obviously some of Indian soccer's most jaw-dropping displays.
Impact on Indian Football
The Durand Cup has an immense impact on Indian football, both in terms of its historical importance and the significance it holds for two great rivals in Mohun Bagan and East Bengal.
The final between these clubs showcases the talent and competitiveness of teams within India while also reviving age-old rivalries that capture attention from all over the nation. The tournament marks a significant achievement in gaining bragging rights over archrivals in addition to contributing towards the growth and development of footballing culture within India.
Furthermore, regional powerhouse tournaments such as this one, provide an opportunity for Indian domestic players to showcase their abilities at a very competitive level. If you're interested also read on the impact of data analytics in football. 
Frequently Asked Questions (FAQs)
Now let's learn about some common questions on this topic.
1. What is the Durand Cup?
Durand Cup is the oldest football tournament in India, held annually since 1888. It is one of the most prestigious and famous domestic tournaments in Indian football.
2. Who won the 2023 Durand Cup Final?
Mohun Bagan won the 2023 Durand Cup Final after beating East Bengal 2-0 on 17 October 2023 at Kolkata's Salt Lake Stadium.
3. How many teams attended this year's tournament?
This year's tournament was attended by 16 teams from all parts of India including Goan giants Churchill Brothers and a strong representative team from South Indian side Chennai City FC.
4. What are some interesting facts about this tournament?
The trophy for this tournament has been sponsored by SportsKhoj since 2018, making it one of only three major tournaments to have their trophies sponsored Besides I-League & SuperCup winner's prize money also comes from the same company; the winning club earns ₹25 lacks, and runner up gets ₹15 lacks as cash award from them each season; champions also get 15 out 15 gold medals while runners-up receive 8 silver medals.
Takeaways
The 23rd edition of the Durand Cup presented one of the most significant clashes in India's football history with Mohun Bagan and East Bengal facing off for the coveted title. Both sides had been itching to get back their hands on a trophy after two decades.
Eventually, it was Mohun Bagan who ended their 23-year-long wait to secure another championship under their name. The match started with high passion from both teams, but an unexpected red card reduced Mohun Bagan to 10 men and put them at a huge disadvantage.
However, despite this Dimitri Petratos emerged as a hero when he scored the winning goal late into stoppage time, giving his side much-needed victory and sparking joyous celebrations among fans.
Subscribe to Our Latest Newsletter
To Read Our Exclusive Content, Sign up Now.
$5/Monthly, $50/Yearly