Dave Chappelle Net Worth with Complete Biography, and Career Updates in 2023
Listen to the Podcast:
Dave Chappelle net worth has an estimated total of $60 Million as of 2023. One of today's most well-known and wealthy comedians. In his own right, he is legendary. So much so that, according to CBS News, Chappelle is thought to have received the torch from late comedy great Richard Pryor.
Since his early days as a stand-up comedian, Chappelle has been a significant audience attraction both to both his stunning talents and his contentious themes.
Chappelle is well-known due to his numerous comedy specials, despite having been in and worked behind the camera in films and television. Also, according to Celebrity Net Worth, here is where the majority of his fortune, which is thought to be around $60 million, has grown. As a young stand-up who has grown into a megastar, Chappelle has undoubtedly gone a long way. Continue reading to find out how he amassed his wealth and about the numerous achievements, business ventures, and obstacles he overcame to become a multimillionaire.
Who is Dave Chappelle?
Chappelle, who was born on August 24, 1973, was raised in Maryland by parents who both taught at colleges. His career in comedy began in high school when he majored in Theater Arts and received his diploma from the Duke Ellington School of the Arts in Washington, D.C., in 1991. Chappelle didn't go to college after relocating to New York in the 1990s so he could pursue stand-up. He made his acting debut in Robin Hood: Men in Tights, directed by Mel Brooks, in 1993.
Chappelle debuted his own program, Chappelle's Show, on Comedy Central in 2003. Chappelle's Show normally began with a stand-up routine, transitioned into sketch comedy, and finished with a musical number.
Chappelle's Show came to an end in 2006 after he abruptly quit, leaving a $ 50 million deal behind, but he kept doing stand-up. He made a comedic comeback in 2014, performing ten nights at Radio City Music Hall. Chappelle has won numerous Grammy Awards for Best Comedy Album in addition to numerous Emmy Awards.
Read More: Marla Maples Net Worth
Quick Info
| | |
| --- | --- |
| Full Name | David Khari Webber Chappelle |
| Nick Name | David Chappelle |
| Birth Date | August 24, 1973 |
| Birth Place | Washington, D.C., United States |
| Age | 49 |
| Marital Status | Married (Elaine Chappelle) |
| Nationality | American |
| Education | Duke Ellington School of the Arts |
| Net Worth | $60 million dollars |
| Source of Wealth | Television |
| Children | 3 (Sulayman, Sonal, Ibrahim) |
| Height | 6′ 0″ (1.82 m) |
| Weight | 78 kg (172 lbs) Approx |
Early Life
On August 24, 1973, Chappelle was born in Washington, D.C. His father was a dean and a vocal performance professor at Yellow Springs, Ohio's Antioch College. His mother was a professor and a priest as well. Also, he has a stepbrother and stepmother.
As a child, he went to Woodlin Elementary School in Silver Spring, Maryland. Chappelle stayed in Washington with his mother when his parents separated, but he spent his summers in Ohio with his father.
He was a Ford's Theatre escort while still in high school. He earned a theatre arts degree from the Duke Ellington School of the Arts in Washington in 1991. Richard Pryor and Eddie Murphy were two of Chappelle's comedic actors.
Read More: Holliday Grainger
Career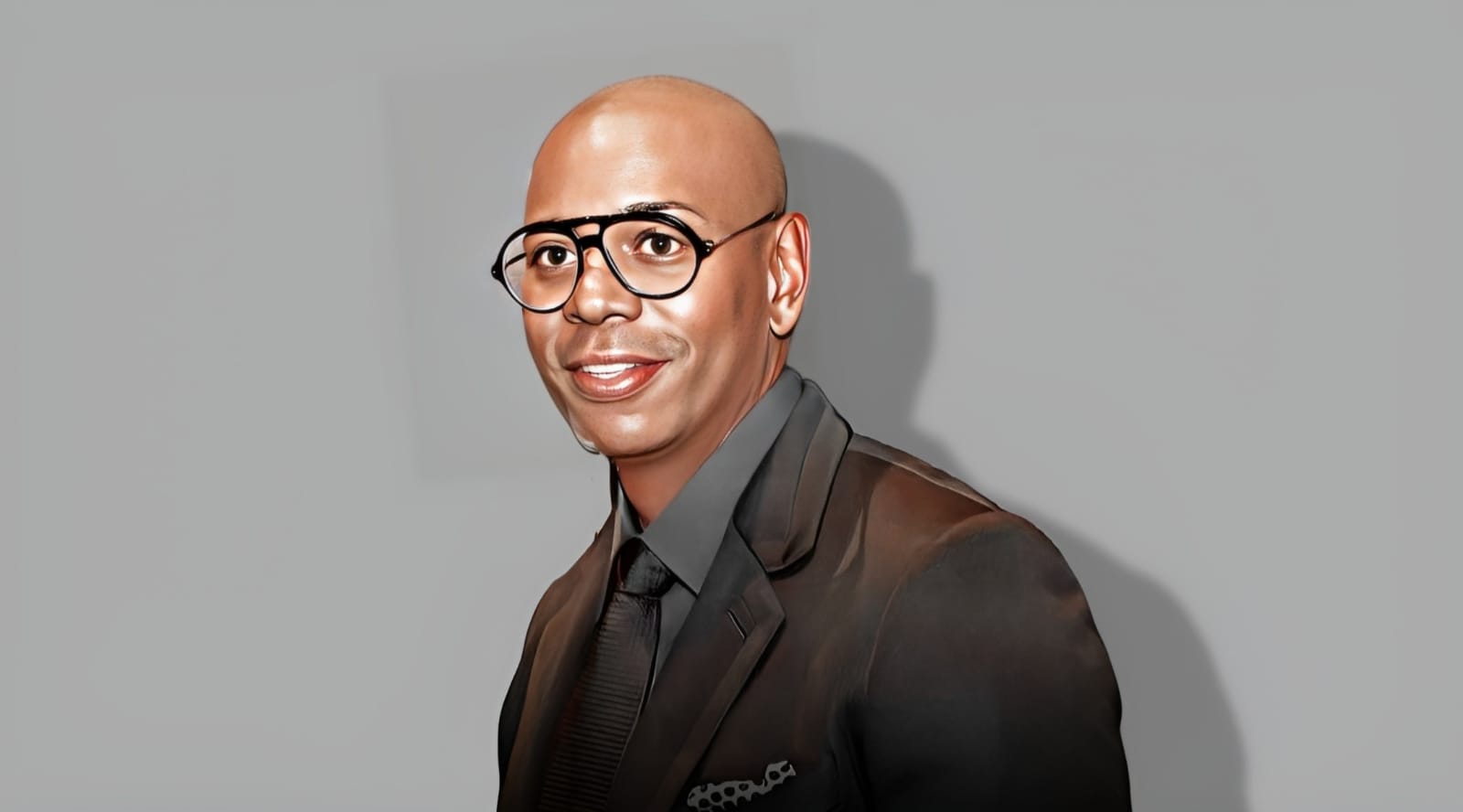 For the purpose of developing a full-time career as a comedian, Dave Chappelle relocated to New York City. He gave his first performance at the Apollo Theatre on "Amateur Night," but he was booed off the stage.
He picked himself up, nevertheless, and carried on giving performances to crowds all across New York. Chappelle made his first cinematic debut in Robin Hood: Men in Tights when he was just 19 years old.
On Comedy Central, "Chappelle's Show" premiered in 2003. Comedy Central offered Chappelle a $55 million contract to continue the sketch comedy program for another two years because of how well-liked it was. Two years later, Chappelle left Comedy Central and declined their offer of a new $60 million contract in the process.
In addition to his enormously popular comedic shows and sketches, Chappelle has appeared in a ton of other movies since breaking into the business at the age of 19. Check out a few of the movies in the highlights section below. Dave Chappelle net worth has an estimated total $60 Million, making him one of the richest comedians in the world.
Dave Chapelle Net Worth
According to Forbes, Dave Chappelle net worth has an estimated total of $60 Million as of 2023. He is a phenomenon, a living legend, and his car has taken him to an untold number of landmarks. Together with stand-up comedy, he has achieved success in television and film. He has been featured on many shows and has made everyone's day.
Dave Chappelle is a phenomenal artist who has excelled in his industry and reached a number of significant milestones. He lives in America and has multiple homes there. He owns a huge mansion in Washington, where he was born. In addition to other places, Dave has real estate in Pennsylvania, Beverly Hills, and New York.
The best stand-up comedian and actor in the business is Dave Chappelle. His motor collection includes some of the most expensive and elegant models. In addition to several other vehicles, he has a Lexus LX, a Jaguar F-type, a Cadillac Escalade, and more.
Read More: Rod Wave Net Worth
Dave Chappelle Signs a Lucrative Netflix Deal
In addition to performing at Radio City Music Hall, anchoring "Saturday Night Live," and receiving an Emmy, Dave Chappelle capped off his comeback with a sizable deal. Netflix reportedly paid Chappelle $60 million in 2016 for three stand-up specials that the service will start streaming in 2017. According to reports, the contract was one of the highest-paying ones ever offered to a comedian.
When the news first surfaced, Lisa Nishimura, vice president of original documentaries and comedy series at Netflix, told The Hollywood Reporter that "Dave's three new specials promise to be among of the most anticipated events in comedy, and we are pleased he will celebrate his global return on Netflix."
The comeback specials for Chappelle were not only anticipated but also a huge success. According to Insider, the first of the trilogy ended up being the most-watched comedy special on Netflix ever. In December 2017, Netflix subsequently revealed a fourth Chappelle stand-up special.
Dave Chappelle Car Collection
The Rolls Royce Phantom, Dave Chapelle's most luxurious car, costs close to $500,000.
Celebrities are renowned for leading opulent lifestyles. Daily existence is only one aspect of a luxury lifestyle. They frequently turn to vehicles once they have purchased the dream home of their dreams and spent money on vacations and other luxuries.
The American stand-up comedian Dave Chapelle has been spotted driving about in various vehicles. Some are extravagant, while others are subtle. Rolls Royces to Lexuses are all part of Dave's collection, which we are revealing today.
| | |
| --- | --- |
| Car Collection | Prices (USD) |
| Rolls-Royce Phantom Drophead Coupe | $492,000 |
| Porsche 911 Carrera S | $117,000 |
| Lexus LS460 | $76,000 |
| Eighth Generation Ford F-150 | $14,000 |
| Ducati 848 Evo Superbike | $14,000 |
Dave Chappelle's Wife and Kids
Elaine Chappelle, his lifelong girlfriend, and the comedian, 48, are married. Elaine was born to Filipino parents in Brooklyn, New York, in August 1974, according to Newsweek. According to Chappelle in a previous interview with Howard Stern, he first met her in the city while he was still a young comedian and later started dating her. Chappelle and Elaine eventually got married in 2001 and had Suleyman, Ibrahim, and Sanaa as their first three kids.
The comedian has never revealed much about his family's personal life; they reside in Yellow Springs, Ohio. Yet, he attributes his life's transformation to his kids. He once told CBS News that "Once I had kids, everything changed." "I was more serious about my career. And I believe that once I had children, I developed more as a man.
Read Also: Lil Durk Net Worth
Dave Chappelle's TV, Films, and Comedy Specials
"Robin Hood: Men in Tights," 'Comic Relief VI'
In order to pursue a career as a stand-up comedian in New York City, Dave Chappelle left college early. He began to get prominence for his comedic work in the early 1990s. In 1993, he made his feature film debut in Mel Brooks' Robin Hood: Men in Tights, and he performed on HBO's Comic Relief VI as the youngest comedian (1994).
"Buddies"
At the age of 18, Chappelle started to break into the television industry and accepted the first of several TV deals that would eventually be extended to him. Only one of the pilots he shot was broadcast: Buddies, an ABC comedy created by Disney about two buddies from New York. Sadly, Chappelle's television program was canceled after only four episodes, but his fame increased after that.
"The Nutty Professor"
His outstanding performance was featured in the American science fiction comedy "The Nutty Professor" in 1996. He co-starred with Eddie Murphy and Jada Pinkett Smith in the movie as Reggie Warrington. The film received fantastic reviews, but Dave's performance was acclaimed universally. The film earned $274 million at the box office, exceeding its $54 million budget.
"Killin' Them Softly," 'Undercover Brother'
Chappelle then went on to helm the enormously popular comedy special Killin' Them Softly in 2000 and the movie Undercover Brother in 2002. While his fan base developed, he was still unable to get the role that would make him a household name.
Chappelle's Show (2003 – 2006)
Even with the recent influx of Netflix specials, Chappelle's Show, which aired for three seasons from 2003 to 2006, is where most of his stand-up material can be found. Every week, Chappelle would launch the show in front of a live audience at Austin's Moody Theatre, performing a variety of classic skits and parodies as America tuned in to hear his distinctive take on the world.
The hilarious stand-up comedy episodes of Chappelle's Show pushed the boundaries of the genre and may have even redefined it for years to come with each episode bringing something fresh and unexpected.
The Closer (2021)
While being one of Chappelle's best stand-up comedy specials, The Closer is also one of his most divisive. It's likely that his criticism of the LGBTQ+ community and the responses his shows receive on social media have just fueled the fire regarding his particular style of humor.
He doubles down and highlights the "Me Too" movement's hypocrisy before identifying himself as a proud feminist. Despite all of these daring portions, his touching account of his friend and fellow comic Daphne Dorman is without a question the most moving element of the evening. It really highlights how much he knows and how at ease he is with his profession, even though a growing number of people aren't, given that it's one of his most recent performances.
Also Read More: Tee Grizzley Net Worth
Dave Chappelle's Recent Work
Chappelle landed a deal for three Netflix stand-up comedy specials not long after anchoring SNL. He reportedly received $60 million in exchange for the contract. This continues to be one of the largest salaries ever paid to a comedian. The fact that the specials were a huge hit suggests that the streaming service made a wise investment.
For the first two discs, Chappelle received the Grammy for Best Comedy Album in 2018. Deep in the Heart of Texas and The Age of Spin were their titles. Also, his comedy album Equanimity won a Grammy and an Emmy for Best Variety Special. He received yet another Grammy in 2020 for Sticks & Stones.
In the movie A Star Is Born, Chappelle reprised his role as Bradley Cooper's best buddy, Noodles.
How did Dave Chappelle get Famous?
He soon established himself on the New York comedy circuit after gathering the guts to pursue his dreams of a career in the show industry despite the negative experience. Chappelle even gave performances in the parks of the city, earning the moniker The Kid from Whoopi Goldberg.
Then, at the age of 19, he made his acting debut in Robin Hood: Men in Tights as Ahchoo. His film roles continued after that, and he had three unsuccessful appearances on Star Search. He was offered the role of Benjamin Buford "Bubba" Blue in Forrest Gump that year, but he declined it.
He continued to participate in movies like "Getting in," but he also performed as Aretha Franklin's opening act. TV network executives were drawn to Chappelle's performances, and together they created a number of pilots, but none of them became a series.
The network granted him and his real-life pal Jim Breuer their own spin-off sitcom called Buddies as a result of their appearance in Home Improvement, where they approached the host for advice on their women. When Jim Breuer was replaced by Christopher Gartin for the 1996 season premiere, the show debuted to dismal ratings.
He attempted to join another pilot, but the network expressed unease over the cast's ethnicity, leading him to accuse them of racism. Soon after, he returned to Ohio due to the death of his father and made the decision to leave the entertainment industry. Later, he co-starred with Eddie Murphy in the comedy The Nutty Professor 1996, which brought in $129 million at the box office. He played a nightclub comic in the movie.
Dave Chappelle Comedy Specials on Netflix
All six of Chappelle's Netflix comedy specials are available to stream on Netflix. We list the specials below:
The Age of Spin (2017)

Deep In the Heart of Texas (2017)

Equanimity (2017)

The Bird Revelation (2017)

Sticks & Stones (2019)

The Closer (2021)
Dave Chappelle Education/Qualification
Chappelle attended Woodlin Elementary School after being reared in Silver Spring, Maryland. He worked as an attendant in Ford's Theater, the scene of Lincoln's murder, while he was a high school student. In 1991, he received his degree in theater arts from the Duke Ellington School of the Arts in Washington.
Dave Chappelle's Social Media Profiles
On social media sites like Facebook, Twitter, and Instagram, Dave Chappelle is active.
As of May 15, 2022, he had more than 2,489,058 followers on Facebook, over 934,5 K followers on Twitter, and about 2.7 M followers on Instagram.
| | |
| --- | --- |
| Twitter              | @DaveChappelle |
| Facebook | @ChappellesShow |
| Instagram | @davechappelle |
Unknown Facts about Dave Chappelle
On Comedy Central's list of the 100 greatest standups ever, he was ranked number 43. The youngest person on the list, he is.
She performed 10 sold-out performances at Radio City Music Hall in 2014.
Dave agreed to perform, produce, and star in three specials for Netflix, each of which is worth $20 million.
Over the past three years, he has performed more than 500 stand-up events across the nation.
What Happened to Chappelle's Minneapolis Show?
Only hours before the comedian was scheduled to appear, Chappelle's Minneapolis stand-up gig on July 20, 2022, was postponed owing to criticism the First Avenue theater received on social media.
"We hear you, staff, artists, and members of our community, and we are sorry. We are aware that we must hold ourselves to the highest standards and that you were disappointed. First Avenue stated their choice in an Instagram post, writing, "We are not just a black box with people in it, and we understand that First Ave is not just a space, but meaningful beyond our doors.
"You and the First Avenue team have worked hard to make our locations the safest places in the nation, and we will keep up that effort. We respect the right to free speech and artistic expression, but in doing so, we neglected to consider the consequences. The Varsity Theater in Dinkytown served as the venue for the Minnesota performance.
Read Also More: Blake Lively Bet Worth
Awards & Achievements
Dave has received recognition for his exceptional performances with two Grammy Awards and two Emmy Awards.
He was given an Emmy in 2017 for his guest appearance on Saturday Night Live.
He received a Grammy Award for Best Comedy Album in 2018 for his Netflix performances of The Age of Spin and Deep in the Heart of Texas.
He was named the Comedy Genius of America by Esquire in 2006. He was cited by The Best in 2013 by one of the Billboard writers. In 2017, Rolling Stone ranked him ninth on its list of the 50 greatest stand-up comics ever.
He was awarded the 2019 Mark Twain Award for American Comedy by the Kennedy Center, which is America's highest comedy accolade.
He was presented with a Grammy Award in 2019 for his album Equanimity. Also, it helped him win an Emmy for Best Variety Special in 2018.
Conclusion
Dave Chappelle is an extraordinary person who enjoys a rich and content life with his children and family. In his entire life, he has never encountered any issues. People all across the world have praised and acknowledged his humor. He has made significant contributions to stand-up comedy. He is rated as the ninth finest comic in the world and the greatest of all time as a result. Everyone loves and follows Dave Chappelle.
Frequently Asked Questions (FAQs) about Dave Chappelle Net Worth
What is the Salary of Dave Chappelle?
It has been speculated that Dave Chappelle brings in somewhere about $5 million on an annual basis.
How did Dave Chappelle famous?
Beginning his career on television with a starring part in the ABC sitcom Buddies, Chappelle quickly rose through the ranks (1996). It was on the satirical sketch comedy series Chappelle's Show on Comedy Central that he first gained widespread recognition (2003–2006). Chappelle left the program in the middle of production for the third season and the series continued on until that point.
How old is Dave Chappelle?
Dave Chappelle was born on August 24, 1973, which makes him 49 years old as of right now.
Who is Dave Chappelle's wife?
Elaine Chappelle is the name of Dave Chappelle's wife.
What is the Height of Dave Chappelle?
Dave Chappelle has a height of 1.83 meters.
What is the Dave Chappelle's Salary?
Probst's annual salary is estimated to be approximately $5 million, according to a variety of different sources.
Why did Chappelle's show end?
Chappelle had his first television interview since filming wrapped up on the third season of The Oprah Winfrey Show on February 3, 2006. The interview aired on that day. He explained that he had reached the point of burnout, had lost control of his creative direction, and was working in an environment that was unpleasant. These were some of the reasons he decided to leave the program.
What does Dave Chappelle drive?
Dave Chappelle is the proud owner of a Rolls-Royce Phantom Drophead Coupe that is estimated to be worth over $440,000.
Why did Chappelle quit?
Chappelle claims that the network did not feel comfortable with the predominantly African-American cast and requested the addition of white actors. Chappelle put up a fight and later accused the network of harboring racist attitudes. Chappelle's father passed away not long after that, and after returning home to Ohio, the comedian considered walking away from the entertainment industry.
How long did Dave Chappelle stay in South Africa?
Dave Chappelle has already visited South Africa, but not for the purpose of performing there. He relocated here in 2005, when he was at the pinnacle of his fame, in order to get away from it all. After an additional thirteen years, he is now in South Africa preparing to perform on stage.
Who is the highest-paid comedian?
Kevin Hart is reportedly the highest-paid stand-up comedian in the world, according to a list that was published by Forbes in the year 2019. At that time, he had a net worth of more than fifty million dollars.
When did Dave Chappelle come back from Africa?
Simply put, you should get ready to have your heart destroyed… have your tickets to Africa ready, sweetie. Because you have no idea!" In 2008, Chappelle made his way back to the program in the capacity of guest host and had an interview with Lipton himself. It was in 2013, right before he began to make a comeback in the comedy scene, that he made his second trip back.
Does Dave Chappelle have a family?
Sulayman was born in 2001, Ibrahim in 2003, and Sanaa in 2009 are Elaine and Chappelle's three children. Sulayman was born in 2001, and Ibrahim was born in 2003. Supposedly, the comedian converted to Islam in 1991, and their one-of-a-kind names derive from the religion to which he adheres now.
Subscribe to Our Latest Newsletter
To Read Our Exclusive Content, Sign up Now.
$5/Monthly, $50/Yearly