SharePoint vs. OneDrive vs. Microsoft Teams: Who wins the war?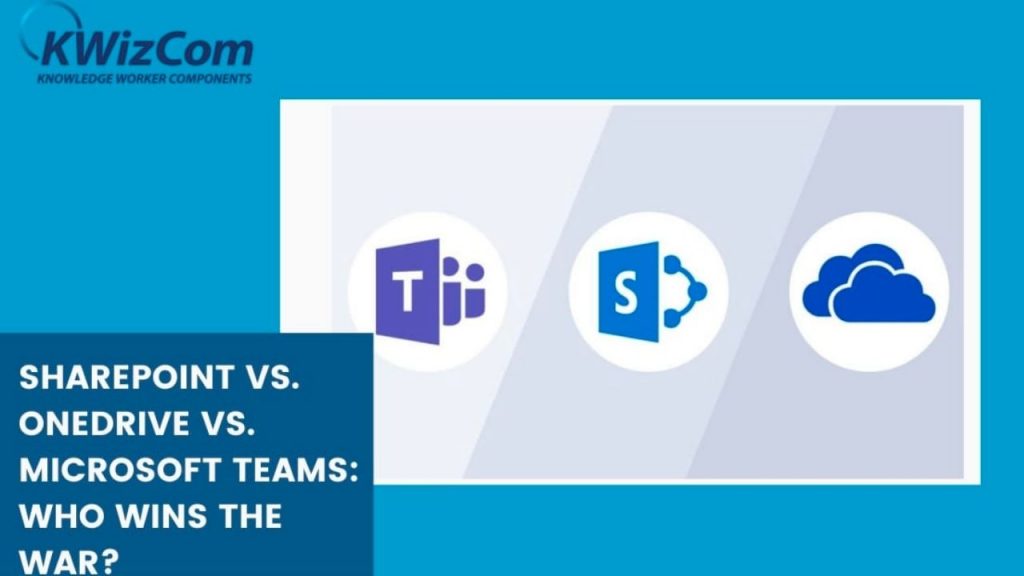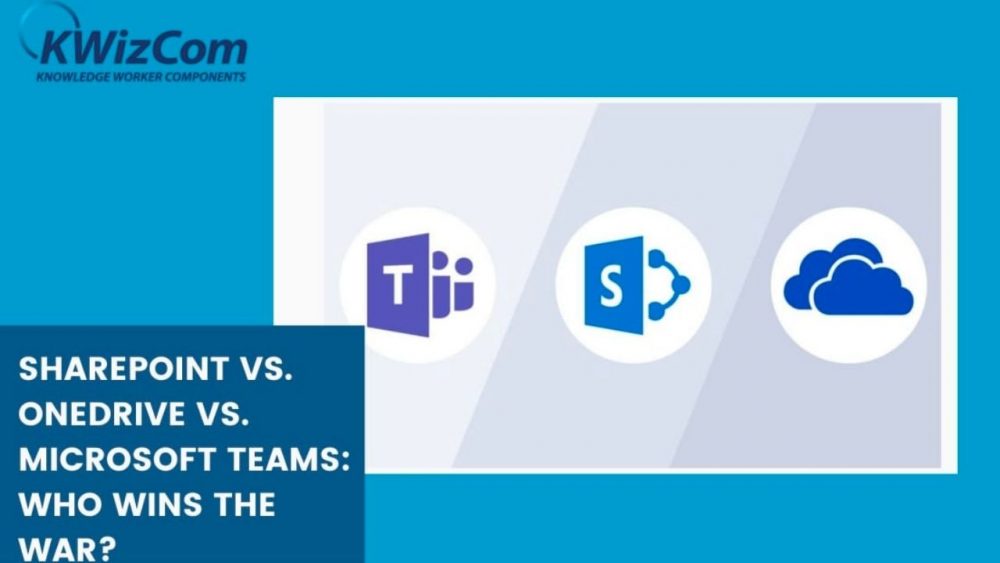 Business owners or employees have been looking for methods to improve productivity to bring effective results. With so many tools available, you might have second thoughts about choosing the best one for your organization.
Aren't you tired of tracking the documents, policies, and other files? Have you tried SharePoint, OneDrive, or Microsoft Teams?
Well, we will be looking at SharePoint vs. OneDrive vs. Microsoft Teams!  
SharePoint is an application platform that provides file sharing, social features, and collaboration in an organization. The main aim is to help organizations automate business processes, secure information, and track progress. The main usage of SharePoint are:
Document Management: It helps to share and store files that can be grouped under specific tags. Admins can manage the permissions of the docs based on users.
Content Management: It helps develop internal websites to manage news, blogs, videos, and images. SharePoint also gives freedom to track and monitor the updates in the documents.
Knowledge Management: With the SharePoint lists, you can run surveys and polls to gather your organization's insights.
Project Management: Users can share project information, track tasks and activities, and collaborate effortlessly.
OneDrive
Microsoft has developed a file hosting and synchronization service named OneDrive. Users can store their personal files and data like photos, documents, and more. Moreover, it synchronizes system settings, themes, visual communication, browsing history, and app settings. Here are a few methods OneDrive is used:
Backup files: By default, this tool keeps the files on the OneDrive folder synced with the cloud. It is also used to maintain a backup of their desktop, images, folder, and documents.
Share Files: The process of sharing individual or group files is easier with OneDrive. Users can send invitations to other people through a link or share button.
Delete Files: When you need to remove an image, document, or file from OneDrive, there are several methods. This will remove the file from all the OneDrive enabled devices and make space for new files.
Microsoft Teams
It is a chat-based collaboration platform that helps share documents, online meetings, and many other useful features to enhance business communications. It provides a service to interact through text chat, video, or voice call. The usages of Microsoft Teams are:
Productivity: Teams focus on real-time messaging that helps work collaboratively on documents inside the application. It becomes the connector or hub to increase the productivity of users.
Meetings: It supports video and audio conferencing, ensuring strong connectivity inside the organization. The pandemic has increased the usage of virtual meetings when the employees are working remotely.
Integration and Automation: The core focus is to provide better features and functionalities for the users by providing support to third-party tool integration.
Integration of Office 365 tools: The OneDrive SharePoint is a deadly combination for organizations. It will sync all the changes automatically in SharePoint in real-time. Also, you can use Outlook and SharePoint, where employees can access the documents without leaving their current platform.
Scalable and Customization: The platform is highly scalable. More than 20,000 employees can use that. Moreover, users can enhance the platform based on their required functionality.
No Coding needed: Complex software leads to resistance in adopting it for their business. SharePoint is bringing updates to make it a perfect solution for non-technical users. Being a business owner, you can build a SharePoint website from scratch.
Personalization: The main focus of audience targeting is to give a personalized experience to the visitors. Employees can tailor the content based on the location, department, level of seniority, or function. Owners can alter the security permissions to make sure the data is safe.
Security Controls: Many Government entities use SharePoint Online over other cloud-based intranet platforms. It has some advanced capabilities that help handle user permissions and control their access to the different websites, libraries, and lists.
Benefits of using OneDrive:
Availability: It has multiple data centers, which means if one data center breaks, another data center will become the primary node. OneDrive manages this with ease and does not impact the accessibility to the users.
File Sharing and Permissions: Owners have the right to decide who and what actions can be taken on the documents. Users can set the expiry date on the shared link and manage it for specific users. OneDrive File Sharing has great advantages with improved capabilities.
Data Storage: OneDrive gives up to 1 Terabyte of space for each user. The data is synchronized by default on the OneDrive on your local drive. Admins can determine the storage space of employees and determine that from the storage metrics page.
Data Discovery and Protection: OneDrive has licenses that help businesses access sensitive content in SharePoint Online and OneDrive for business. Organizations can set up security policies and generate reports for the documents.
Benefits of using Microsoft Teams:
Teams and Channels: Teams are made using channels that act as conversation boards between the employees.
Ease of conversation: Every team member has the right to view and add in different conversations. They can also use the @ function to invite someone in another conversation instead of sharing links.
Chat Function: This is available with most collaboration applications that will help to exchange information between teams, individuals, and groups.
Document Storage: Each team using Microsoft Teams must have a website in the SharePoint online that contains the default document library folder. Every file shared in the conversations is saved in this folder automatically. Security and Permissions are customizable for sensitive data.
Online calling and screen sharing: Teams ensure to provide seamless and fast video calls within your organization or outside with clients. Users enjoy effortless sharing of the screen for any assistance and real-time collaboration.
Conference Meeting: This feature is highly beneficial for firms to discuss important topics and know other viewpoints. Microsoft Teams provide you with audio conferencing, making it accessible through phones and requiring no additional licensing.
The Final Winner!
We have given you a clear idea of SharePoint vs. OneDrive vs. Microsoft Teams. You got to know about the benefits and usage of these platforms. It might be easier for you to make the final decision.
To be great, you can integrate the platforms and enjoy their features to enhance productivity and boost the results.