Mother's Day Around the World: Love Knows No Borders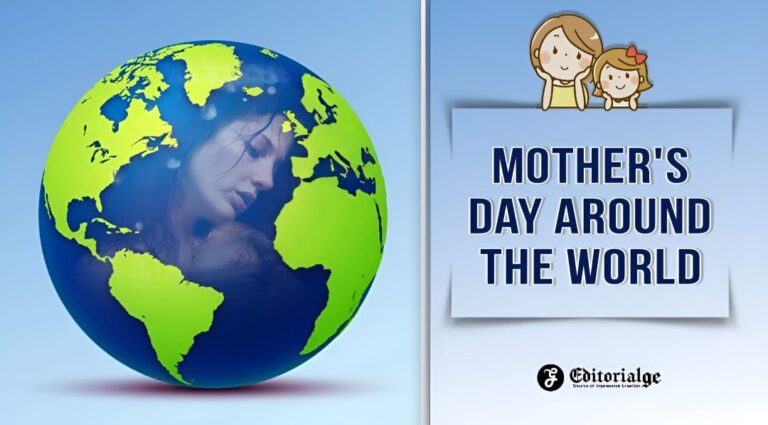 Listen to the Podcast:
Discover how people around the world celebrate Mother's Day! This guide is an excellent resource for learning about this occasion's various dates, traditions, and celebrations. A wonderful approach to learning about how other countries honor mothers and maternal characters.
What is Mother's Day?
Mother's Day honors and praises mothers and maternal figures for everything they do. It's a day to express gratitude to maternal figures for their impact on our lives and their efforts in society at large.
This celebration varies depending on where you are in the world. However, they all center on expressing love and admiration for mothers.
Why Are There Different Dates for Mother's Day around The World?
Mother's Day is observed on several dates worldwide in various seasons. Some form a line by the United Nations' official Mother's Day date on the second Sunday in May. Others have their traditional festivals and ceremonies that have come to be known as Mother's Day.
Many countries and cultures have unique ways of honoring important people, such as mothers. People worldwide may refer to these ceremonies as 'Mother's Day,' even if they have a distinct cultural origin. Many customs are associated with these dates, such as International Women's Day.
Dates of Mother's Day Around the World
Date
Country
Second Sunday of February
Norway
8th March
Albania, Armenia, Azerbaijan, Belarus, Bulgaria, Kazakhstan, Moldova, Russia, Serbia, Vietnam
Fourth Sunday of Lent
Guernsey, Ireland, Isle of Man, Jersey, Nigeria, United Kingdom
21st March
Egypt, Iraq, Jordan, Kuwait, Libya, Lebanon, Mauritania, Oman, Palestine, Qatar, Saudi Arabia, Somalia, Sudan, Syria, United Arab Emirates, Yemen
10th May
Mexico, El Salvador, Guatamala
Second Sunday of May

Antigua and Barbuda, Australia, Austria, Bahamas, Bangladesh, Barbados, Belgium, Bermuda, Bhutan, Botswana, Brazil, Canada, Cambodia, Cayman Islands, Central African Republic, Chile, China, Colombia, Croatia, Cuba, Cyprus, Czech Republic, Denmark, Ecuador, Estonia, Ethiopia, Fiji, Finland, Gambia, Germany, Ghana, Greece, Greenland, Grenada, Guyana, Honduras, Hong Kong, Iceland, India, Italy, Jamaica, Japan, Kenya, Latvia, Liberia, Malaysia, Malta, Namibia, Netherlands, New Zealand, Pakistan, Papua New Guinea, Peru, Philippines, Puerto Rico, Samoa, Singapore, Slovakia

South Africa, Sri Lanka, Switzerland, Taiwan, Tanzania, Tonga, Trinidad and Tobago, Turkey, Uganda, Ukraine, United States of America, Uruguay, Vietnam, Venezuela, Zambia, Zimbabwe

26th May
Poland
30th May
Nicaragua
Last Sunday of May
Algeria, Cameroon, Dominican Republic, France, Haiti, Madagascar, Mali, Mauritius, Morocco, Niger, Senegal, Sweden, Tunisia
12th August
Thailand
15th October
Malawi
Mothers Day Around the World
Most places observe Mother's Day with comparable traditions, such as sending cards, flowers, and presents to mothers or maternal figures who deserve honored. However, certain places and civilizations celebrate uniquely with popular traditions and customs.
Here are just a few places that celebrate Mother's Day and how they do it uniquely.
United Kingdom
In the UK, Mother's Day is the same as Mothering Sunday, a traditional Christian holiday. The Christian season of Lent takes place on the fourth Sunday. People used to go to their mother church, which is the church where they were baptized or where they went regularly as a child. This means that Mother's Day dates change every year, even though most people no longer celebrate it as a religious holiday.
Mother's Day is about honoring mothers and maternal figures for whom we wish to express gratitude and affection. Typically, people will send their mothers flowers, cards, and children will handcraft gifts and souvenirs.
Read More: International Workers' Day 2023
USA
Mother's Day is observed in the United States on the most popular day of the year, the second Sunday in May. Contemporary Mother's Day as we know it today was founded in America by Anna Jarvis in 1907. She advocated for a day to honor mothers in memory of her mother, who died in 1905. Her campaign lasted until 1911, when Mother's Day became a recognized holiday in every state in the United States.
Mother's Day is becoming increasingly popular. Soon after, greeting card companies emerged, and the custom of purchasing flowers and gifts became the standard. Because carnations were Anna Jarvis' mother's favorite flower, they connected with Mother's Day. Anna Jarvis was outraged by this development, claiming that the holiday was becoming more about commerce than sentiment. After striving to have Mother's Day recognized, she spent the remainder of her life campaigning against this type of celebration.
Australia
Mother's Day is also observed on the second Sunday of May in Australia and was first observed in 1924. Janet Heyden is credited with starting Australia's Mother's Day gift-giving tradition. Many moms had lost their husbands and boys in the aftermath of World War I. So Janet Heyden started a campaign to offer them humanitarian gifts to ensure they still felt loved. This was a big hit, and now gift-giving is a worldwide custom for Mother's Day.
Carnations, however, are less popular in Australia because they do not bloom throughout the autumn months. So, for Australians, chrysanthemums are the most traditional Mother's Day flower.
Read More: The Wilds Season 3
India
Modern Mother's Day has been assimilated into Indian culture and is celebrated every year on the second Sunday of May. Indians do not celebrate the occasion as a religious event; its celebration is mostly restricted to urban areas where it has been largely commercialized.
Bangladesh
Mother's Day has no historical significance in Bangladesh, although it has grown in popularity due to Western influences. It is not a public holiday and is observed on the second Sunday of May. Mother's Day was not extensively celebrated until recently when it was popularized by the nationwide Millennial and Generation Z populations via social media.
Although many religious households do not observe it, it is more popular than ever. Many parents, especially mothers, say, "Every day is Father's/Mother's Day, so you will love your parents every day." The majority of people simply want or pray for their mother.
Read More: International Nurses Day
Mexico
Mothers have one of the most important roles in Mexican society, and Dia de las Madres honors these women's teachings and sacrifices. Children traditionally begin the day of May 10 by getting up early and playing or performing music to awaken their mother. It is also customary for youngsters to perform for their mothers at some time throughout the day. Following these performances, handcrafted Dia de las Madres cards and gifts are usual, as is a lunch or dinner out so mom doesn't have to prepare.
France
Mother's Day in France, also known as Fête des Mères, originated as a historical commemoration of women's equality. Before 1904, males with large families of four or more children received a special honor from the government to encourage families to have more children during an epidemic of low birth rates.
In 1904, women became eligible for this award and were acknowledged as equal family chiefs for the first time. The French government proclaimed a national holiday to honor mothers and women's equality in 1920. Unless Pentecost falls on the last Sunday of May, Fête des Mères is celebrated the following Sunday. Customarily, the celebrations consist of a large meal and modest gifts.
Thailand
Mother's Day in Thailand is celebrated on August 12 because that is their monarch's birthday, monarch Sirikit. It was first observed in 1976 because Queen Sirikit is considered the matriarch of her nation. The day honors her efforts to assist the needy citizens of her country and mothers across the nation. As a result, charitable giving is an integral element of celebrations. Children will participate in donations to priests and other acts of charity to demonstrate their gratitude.
It is observed as a national holiday, which may include parades, pyrotechnics, and other festivities. There are numerous flag decorations and portraits of Queen Sirikit. In addition, it is customary for children to present their mothers with jasmine flowers, representing the purity of a mother's affection.
Ethiopia
Unlike other Mother's Day festivities worldwide, Ethiopia's lasts three days. It occurs at the autumn's end of the rainy season, usually around October or November, depending on the weather. Antrosht is a celebration of mothers in communities and Mother Earth and all she provides for us.
It is observed over three days with feasts, singing, and dancing.
Malawi
Mother's Day is celebrated as a national holiday in Malawi on the 15th of October each year. This day is also World Rural Women's Day, which is frequently honored by the president giving a public statement emphasizing the value of mothers.
Japan
Mother's Day was originally observed on March 6th in Japan since it was Empress Kjun's birthday. However, it was altered to the second Sunday in May 1949 to coincide with the most prevalent date for Mother's Day worldwide.
In Japan, red carnations are the most popular flower to present on Mother's Day.
Russia
Russia celebrates Mother's Day on two different dates throughout the year! In addition to International Women's Day on March 8, it can also be observed on the last Sunday of November.
March 8th has a long activity history, having sparked significant upheavals in the early twentieth century. Protests led by women have significantly impacted the social and political landscapes of Russia and other countries around the world. Mother's Day is now a day to honor the influence of moms and maternal characters in our lives and the culture around us. It's a day to bring attention to significant issues that touch everyone, regardless of gender.
Nicaragua
Mother's Day is observed on May 30th each year in Nicaragua. The day's purpose is to ensure that Nicaraguan moms are recognized. Many schools and businesses are closing to allow families to gather together and celebrate their beautiful mothers, grandmothers, aunts, and other motherly figures!
South Korea
Koreans celebrate Parents' Day on May 8 rather than Mother's and Father's Days separately. It is to recognize parents' unwavering love and selfless endeavors in raising their children to be responsible adults.
Carnations are traditionally made by children and set on their parents' chests. The most popular floral options are carnations and roses. The parents also receive gifts and greeting cards. 
Bolivia
Bolivia's Mother's Day tradition has deep historical roots dating back to the 1800s. On May 27, 1812, a group of Bolivian women took up arms against the Spanish Army to achieve their country's independence. Since then, Bolivia has commemorated women and mothers on May 27 in memory of those who sacrificed their lives for their country's independence. Mother's Day became an official holiday in 1927; children traditionally performed for their mothers and gave them cake instead of flowers.
The Origins of Mother's Day
Mother's Day is observed in many ways around the world. Although different civilizations celebrate the same event, the manner it is integrated into society and regarded will differ depending on the cultural lens of each country. However, the variance in celebration may also be due to how the holiday began in each civilization, as this varies by country.
In ancient societies such as Ancient Greece and Rome, festivals commemorated and honored the mother goddesses Rhea and Cybele. The Christian festival "Mothering Sunday" is the most prominent example of a contemporary holiday honoring mothers. This was once a significant tradition in the United Kingdom and sections of Europe, but its popularity has since waned. In the middle of the 20th century, it was merged with the American Mother's Day holiday, reviving its prominence.
The origins of Mother's Day in America can be traced back to Anna Jarvis, who is credited with inventing the contemporary Mother's Day event. Her mother first formed a women's group to promote health and friendship. Jarvis hosted a memorial ceremony at her mother's church after her mother died in 1907. This celebration, however, did not stop at this church; within five years, it had become a popular event, and in 1914, President Wilson declared it a national holiday.
This festival is observed by wearing a pink carnation as a tribute to one's maternal figure, and over time, the feature of sending presents and cards, as well as recognizing a broader range of women in the family, such as grandmothers and aunts, was introduced.
However, because of the holiday's enormous commercialization, Jarvis spent the last years of her life seeking to eliminate it.
The holiday was first observed in Australia in 1924. Janet Heyden, a Sydney woman, frequented a hospital and encountered many elderly, lonely mothers. Heyden attempted to assist them and to present them with mementos of gratitude and celebration of their roles as moms.
Heyden invited several schools and businesses to provide gifts to these women to accomplish this. This was an extremely difficult subject that many consented to assist with because many of these women had lost their kids and husbands in World Conflict I or had never been a wife or mothers due to the conflict.
Mother's Day is traditionally observed on the second Sunday of May due to Janet Heyden's initiatives. Although it is not an official holiday, many people celebrate it with their maternal figures.
Subscribe to Our Latest Newsletter
To Read Our Exclusive Content, Sign up Now.
$5/Monthly, $50/Yearly