Hiroshima: Born Again from the Ashes
The bombed-out parts of Hiroshima's Genbaku (A-bomb) Dome look eerily the same as they did 78 years ago, when the American military dropped the first atomic bomb ever used in war over this Japanese city.
When it was let loose early in the morning of August 6, 1945, it killed thousands of people quickly. Some of them vanished when temperatures reached 3,000 to 4,000 degrees Celsius.
Only the half-exploded Genbaku Dome, which used to be the Hiroshima Prefectural Industrial Promotion Hall, was left standing in the bomb's hypocenter after the bombing leveled Hiroshima city to the ground.
Even today, it's a stark reminder of how terrible war can be for everyone who lives there or visits.
Even though the city's background may be a reminder of the horrors of war, tourists and G7 leaders who visited between May 19 and May 21 would have found a modern city full of shops, parks, and businesses.
From 2015 to 2019, more than 1 million foreign tourists came to Hiroshima each year. In 2019, 1.8 million foreigners came to the city. As tourists return to Japan after the pandemic, the numbers are quickly going up.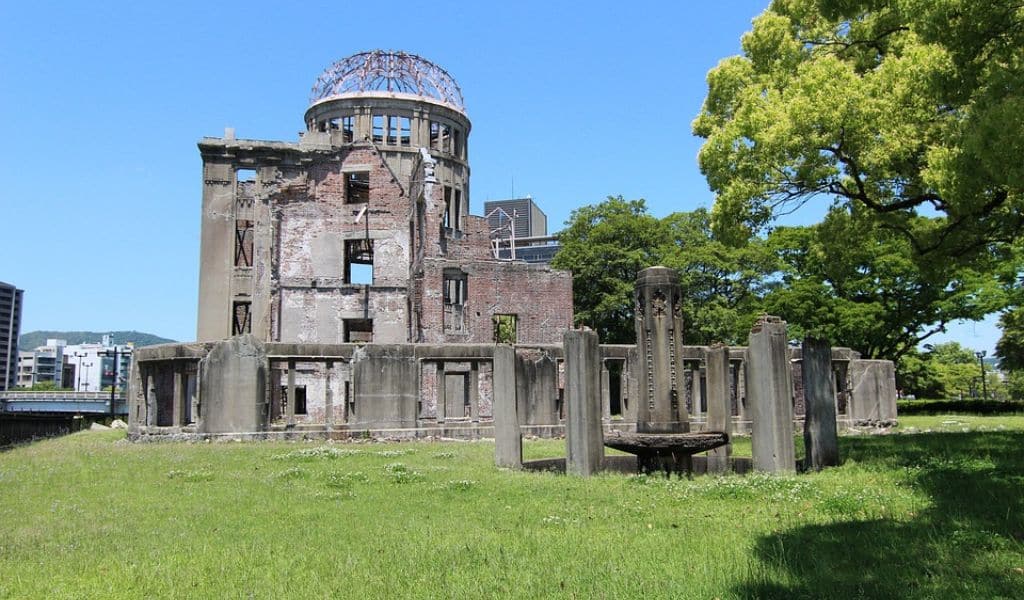 Hiroshima, on the other hand, is known as Japan's "manufacturing prefecture" because it makes everything from cars and ships to electric tools and parts.
With a population of one million, Hiroshima is a great example of how to keep going even when things don't go your way. But some locals say that even though the city tries to spread a message of peace, its complicated past should also be taken into account.
"When people come to Hiroshima from other countries, they tell me they're going to the Peace Museum and Park. They think that Hiroshima is a peaceful place. Still, I want them to know that this city got a lot of its start as a military hub," Hiroshi Ishida, the owner of a bar in Hiroshima and a third-generation survivor of the A-bomb, told CNN.
Castle Town Turned Military Hub
During the Edo period (1603-1867), Hiroshima was one of many big castle towns.
During the Meiji Restoration, Japan became more modern, and in 1888, the Fifth Division Headquarters of the Imperial Japanese Army moved to this city.
The next year, a railroad was built to Ujina port, which is on the southern side of Hiroshima. This made the city a strategic base from which troops could be sent to the Korean Peninsula and the Chinese mainland.
As the fighting got worse in the Second Sino-Japanese War (1937–1945) and the Pacific War (1941–1945), the city's role as a military capital grew, and important army buildings were built there.
The city's prefectural government said that the city's "size and layout" and the number of military sites made it a good place to test the atomic bomb.
Until then, the United States hadn't bombed Hiroshima with firebombs like it had done to other big cities in Japan during the end of WWII.
The website of Hiroshima for Global Peace says that was partly because America wanted to use Hiroshima to show "the full potential of the atomic bomb."
Reconstruction
When the American military set off its first atomic bomb at 8:15 a.m., Japan time (7:15 p.m., ET), about 40% of the city of Hiroshima's population of about 300,000 people died.
A new exhibit in Hiroshima Gate Park called "Pride of Hiroshima" shows how quickly companies in the city helped with recovery and rebuilding efforts after the bombing.
For example, just one day after the bombing, the Chugoku Electric Power Company started fixing a broken transformer in the eastern part of Hiroshima city so that power could be brought back to the port area. By August 20, 1945, the company had brought power back to 30% of the homes that were still standing. By the end of November, the whole city had power again.
Hiroshima Electric Railway, which had lost 185 personnel as a result of the bombing, slowly but steadily rebuilt the city's transportation system and reopened a section of one streetcar line three days after the attack.
Four months after the end of World War II, Mazda began producing its tricycle trucks again, which were known as "batanko," and they made it a point to send them to Hiroshima as soon as could so that people there could use them to transport necessities for daily living.
But getting better wasn't a simple task.
After the Hiroshima Peace Memorial City Construction Law was enacted and the national government was authorized to provide special financial support to Hiroshima, full-scale restoration didn't start until August 1949.
A City Rebuilt
jojo, a third-generation A-bomb survivor and proprietor of a bar, was raised next to elderly people who had burns on their hands and faces and heard tales of the A-bomb's terrible aftermath.
He remarked that he and his pals are appreciative of their parents' and grandparents' efforts in transforming Hiroshima into the modern metropolis. They are nevertheless saddened by the centuries of history that have been lost.
Terao Okihiro, a first-generation A-bomb survivor and 82-year-old stained glass artist, expresses a similar sentiment when he visits Hiroshima's Peace Memorial Park to talk to visitors about his experiences in World War II.
When people praised the Peace Memorial Park, Okihiro said, "I couldn't help but feel a little sad because I knew that it had been the biggest commercial district in Hiroshima before the atomic bombing." Now, I merely convey that deeper history to them instead of feeling sorry about it.
Subscribe to Our Latest Newsletter
To Read Our Exclusive Content, Sign up Now.
$5/Monthly, $50/Yearly