Golden Globe Awards 2023: Big Wins for Banshees of Inisherin and Fabelmans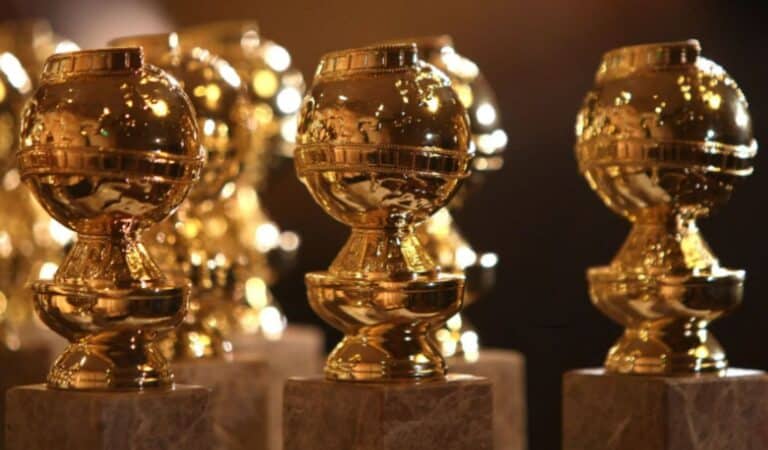 Listen to Podcast:
At Tuesday's 80th Golden Globe Awards, "House of the Dragon" won for best TV drama, and "Abbott Elementary" won for best TV comedy. "The Banshees of Inisherin" won the award for best motion picture musical or comedy during a three-hour-long telecast from the Beverly Hilton Hotel. "The Fabelmans" won the award for best motion picture drama.
Read More: When Will be Altered Carbon Season 3?
The second season of "The White Lotus," which takes place in Sicily, was named the best limited or anthology series. "The White Lotus" is a popular show about wealthy people who stay at a high-end hotel. Their wins came as the tainted awards show tried to make a comeback as a star-studded celebration of movies and TV after it was taken off the air in 2022 because of a number of scandals.
"The Banshees of Inisherin," a comedy about the end of a friendship, won leading three prizes, including awards for its screenplay and for Colin Farrell's performance as the main character. "The Fabelmans," a funny look at Steven Spielberg's childhood, also won Spielberg an award for directing.
Read Also: What We Know so Far About iZombie Season 6?
If the night had a theme, it was about starting over and starting over again. Several of the winners said that they were given golden chances after being cut from or ignored by a business that didn't see their talents. That included Michelle Yeoh, who won the award for best actress in a movie musical or comedy for her role in "Everything, Everywhere, All at Once." She talked about the racism and ageism she faced.
Yeoh, who is 60 years old, told the women, "You all get this." "It seems like opportunities are getting fewer as the days, years, and numbers get bigger."
Farrell added to this idea when he thanked Martin McDonagh, who wrote and directed "The Banshees of Inisherin" and cast him in the 2008 black comedy "In Bruges," for helping him change his career path. It was also said by Ke Huy Quan, who won the award for best-supporting actor and used to be a child actor before he was cast as Yeoh's husband in "Everything, Everywhere, All at Once."
Also Read: House of the Dragon Season 2
"When I started my acting career as a child in "Indiana Jones and the Temple of Doom," I felt so lucky to have been chosen," Quan said. "As I got older, I started to wonder if that was it if that was just luck. I was afraid I had nothing more to offer for so many years. No matter what I did, I could never do better than what I did as a child. Thankfully, two guys remembered me more than 30 years later. Daniel Kwan and Daniel Scheinert, the directors, remembered that kid, and they gave me a chance to try again."
There were also speeches that got very emotional, like the one given by Angela Bassett, who won the award for best supporting actress for her role as a sad king in "Black Panther: Wakanda Forever." She used her time on stage to pay tribute to Chadwick Boseman, the actor who became famous as the king of Wakanda but whose career was cut short when he died of cancer in 2020 at the age of 43.
Bassett said, "We cried, we loved, we got better, and Chadwick Boseman's light and spirit were with us every day."
To Know More: Black Panther 2: Wakanda Forever
Austin Butler was named best actor in a motion picture drama for his role as Elvis Presley in "Elvis," and Cate Blanchett was named best actress in a motion picture drama for her role as an abusive conductor in "Tár."
Jeremy Allen White, who used to be on "Shameless" and had a big hit playing a stressed-out chef in "The Bear," was named best actor in a TV musical or comedy. Quinta Brunson, who created "Abbott Elementary," was named best actress in a TV musical or comedy for her role as an idealistic public school teacher. Zendaya was named best actress in a TV drama for her role as a troubled high schooler in "Euphoria." Kevin Costner won the prize for best actor in a TV drama for his role as a rancher in "Yellowstone." Amanda Seyfried won for her role in "The Dropout," and Evan Peters won for his role in "Monster: The Jeffrey Dahmer Story."
The Golden Globes have been a big part of awards season for a long time, and unlike many of the other ceremonies that fill what seems like an endless stretch of the calendar, this one was fun. The evening was made more fun by alcohol, which was usually provided by a top-shelf sponsor, and the Golden Globes became a must-see TV show because of the way the statues were given out (multiple winners nearly missed their time at the podium because of ill-timed bathroom breaks).
But in 2021, things changed when the Los Angeles Times ran a big story saying that the group behind the telecast, the Hollywood Foreign Press Association, had no Black members. The article also said that the organization had questionable morals. It said that voters got expensive gifts from studios and went on trips paid for by companies looking to curry favor. The HFPA has made a number of changes, such as putting in place stricter ethical standards, and has added more members, with a special focus on getting more people of color to join. The group now has six Black members and about a dozen Black voters who are not part of the group. Even with these changes, Jerrod Carmichael was still able to poke fun at the HFPA.
Carmichael said to the people watching, "I'll tell you why I'm here." "Because I'm Black, I'm here."
He also said, "I won't say they're a racist group." "But until George Floyd died, they didn't have a single Black member, so you can do what you want with that information."
Carmichael was in charge of a show that honored many different winners and attracted stars like Brad Pitt and Lady Gaga (it also may have set a new record for profanity, with Carmichael and winners such as Farrell and Jennifer Coolidge keeping censors busy). Will it be sufficient? After all, the HFPA was in a way going through an audition. In the midst of the controversy, NBC renegotiated its deal with the Globes into a one-year contract. According to a press release about the broadcast's return, this will allow the HFPA and DCP to "explore new opportunities for domestic and global distribution across a beauty of platforms in the future."
This year's ceremony took place just hours after heavy rains and flooding hit Los Angeles. And it happens as storm clouds in a figurative sense are gathering over Hollywood. After COVID shut down movie theaters and messed up production, the entertainment business is still trying to get back on its feet. There have been hits like "Elvis" and "Top Gun: Maverick," but some of the Globe-winning movies, like "The Fabelmans" and "Tár," have not done well at the box office. At the same time, a lot of the companies behind the nominees for the evening's awards, like Amazon, the Walt Disney Company, and Netflix, have laid off a lot of people in preparation for a possible recession. During the broadcast, there may have been a lot of champagne (the creator of "The White Lotus," Mike White, joked that they served alcohol but no food to soak it up), but there was also a lot of worry about the future of media.
Eddie Murphy and Ryan Murphy won the Cecil B. DeMille Award and the Carol Burnett Award, respectively, for their work in movies and on TV. Ryan Murphy used his speech to honor openly gay or trans performers he had worked with, like MJ Rodriguez, Jeremy Pope, Niecy Nash, and Billy Porter. He called them signs of "hope and progress."
"Use them as your north stars," Murphy told viewers who might not see themselves on screen very often or who might feel attacked because of their race or sexual orientation.
Eddie Murphy was less serious when he was on stage. He made fun of a viral moment from last year's Oscars and told the crowd that he got where he is in the movie business by following a simple plan.
Eddie Murphy said, in reference to Will Smith's attack on Chris Rock, "Pay your taxes, mind your own business, and don't say anything bad about Will Smith's wife."
The evening was mostly about the fantasies and fairy tales being told on both the big and small screens, but there were glimpses of the painful reality that people in some parts of the world are living through. The president of Ukraine, Volodymyr Zelenskyy, went on video to rally support for his country, which is still in a life-or-death battle with Russia.
Zelensky said, to loud applause, "The tide is turning, and it's already clear who will win."
Below are the Best Winners
Best Winners for Picture and Drama
"Avatar: The Way of Water" (20th Century Studios) 
"Elvis" (Warner Bros.)
"The Fabelmans" (Universal Pictures) (WINNER)
"Tár" (Focus Features) 
"Top Gun: Maverick" (Paramount Pictures)
Best Winners for Picture, Musical, or Comedy
"Babylon" (Paramount Pictures) 
"The Banshees of Inisherin" (Searchlight Pictures) (WINNER)
"Everything Everywhere All at Once" (A24) 
"Glass Onion: A Knives Out Mystery" (Netflix) 
"Triangle of Sadness" (Neon) 
Best Winners for Director, Motion Picture
James Cameron ("Avatar: The Way of Water") 
Daniel Kwan, Daniel Scheinert ("Everything Everywhere All at Once") 
Baz Luhrmann ("Elvis") 
Martin McDonagh ("The Banshees of Inisherin") 
Steven Spielberg ("The Fabelmans") (WINNER)
Best Winners for Screenplay, Motion, and Picture
"Tár" (Focus Features) — Todd Field 
"Everything Everywhere All at Once" (A24) — Daniel Kwan, Daniel Scheinert 
"The Banshees of Inisherin" (Searchlight Pictures) — Martin McDonagh (WINNER)
"Women Talking" (MGM/United Artists Releasing) — Sarah Polley 
"The Fabelmans" (Universal Pictures) — Steven Spielberg, Tony Kushner
Best Winners for Performance by an Actor in a Motion Picture, Drama
Austin Butler ("Elvis") (WINNER)
Brendan Fraser ("The Whale") 
Hugh Jackman ("The Son")
Bill Nighy ("Living") 
Jeremy Pope ("The Inspection") 
Best Winners for Performance by an Actress in a Motion Picture, Drama
Cate Blanchett ("Tár") (WINNER)
Olivia Colman ("Empire of Light") 
Viola Davis ("The Woman King") 
Ana de Armas ("Blonde") 
Michelle Williams ("The Fabelmans")
Best Winners for Performance by an Actress in a Motion Picture, Musical or Comedy
Lesley Manville ("Mrs. Harris Goes to Paris") 
Margot Robbie ("Babylon") 
Anya Taylor-Joy ("The Menu") 
Emma Thompson ("Good Luck to You, Leo Grande") 
Michelle Yeoh ("Everything Everywhere All at Once") (WINNER)
Best Winners for Performance by an Actor in a Motion Picture, Musical or Comedy
Diego Calva ("Babylon") 
Daniel Craig ("Glass Onion: A Knives Out Mystery")
Adam Driver ("White Noise") 
Colin Farrell ("The Banshees of Inisherin") (WINNER)
Ralph Fiennes ("The Menu") 
Best Winners for Supporting Actor – Motion Picture
Brendan Gleeson ("The Banshees of Inisherin") 
Barry Keoghan ("The Banshees of Inisherin") 
Brad Pitt ("Babylon")
Ke Huy Quan ("Everything Everywhere All at Once") WINNER
Eddie Redmayne ("The Good Nurse")
Best Winners for Supporting Actress, Motion Picture
Angela Bassett ("Black Panther: Wakanda Forever") WINNER
Kerry Condon ("The Banshees of Inisherin") 
Jamie Lee Curtis ("Everything Everywhere All at Once") 
Dolly De Leon ("Triangle of Sadness")
Carey Mulligan ("She Said")
Best Winners for Television Series, Drama
"Better Call Saul" (AMC) 
"The Crown" (Netflix) 
"House of the Dragon" (HBO) (WINNER)
"Ozark" (Netflix) 
"Severance" (Apple TV+) 
Best Winners for Television Series, Musicals, or Comedy
"Abbott Elementary" (ABC) (WINNER)
"The Bear" (FX)
"Hacks" (HBO Max)
"Only Murders in the Building" (Hulu) 
"Wednesday" (Netflix) 
Best Winners for Performance by an Actor in a Television Series, Drama
Jeff Bridges ("The Old Man") 
Kevin Costner ("Yellowstone") (WINNER)
Diego Luna ("Andor")
Bob Odenkirk ("Better Call Saul")
Adam Scott ("Severance")
Best Winners for Performance by an Actress in a Television Series, Drama
Emma D'Arcy ("House of the Dragon")
Laura Linney ("Ozark") 
Imelda Staunton ("The Crown")
Hilary Swank ("Alaska Daily")
Zendaya ("Euphoria") (WINNER)
Best  Winners for Actress in a TV Series, Musical or Comedy
Quinta Brunson ("Abbott Elementary") (WINNER)
Kaley Cuoco ("The Flight Attendant") 
Selena Gomez ("Only Murders in the Building") 
Jenna Ortega ("Wednesday") 
Jean Smart ("Hacks")
Best Winners for Actor in a TV Series, Musical or Comedy
Donald Glover ("Atlanta") 
Bill Hader ("Barry") 
Steve Martin ("Only Murders in the Building") 
Martin Short ("Only Murders in the Building") 
Jeremy Allen White ("The Bear") (WINNER)
Best Winners for Supporting Actor, Television
John Lithgow ("The Old Man") 
Jonathan Pryce ("The Crown") 
John Turturro ("Severance") 
Tyler James Williams ("Abbott Elementary") WINNER
Henry Winkler ("Barry")
Best Winners for Supporting Actress, Television
Elizabeth Debicki ("The Crown") 
Hannah Einbinder ("Hacks") 
Julia Garner ("Ozark") (WINNER)
Janelle James ("Abbott Elementary") 
Sheryl Lee Ralph ("Abbott Elementary") 
Best Winners for Limited Series, Anthology Series, or a Motion Picture made for Television
"Black Bird" (Apple TV+) 
"Monster: The Jeffrey Dahmer Story" (Netflix) 
"The Dropout" (Hulu) 
"Pam & Tommy" (Hulu) 
"The White Lotus" (HBO) (WINNER)
Best Winners for Performance by an Actor, Limited Series, Anthology Series, or Motion Picture made for TV
Taron Egerton ("Black Bird") 
Colin Firth ("The Staircase") 
Andrew Garfield ("Under the Banner of Heaven") 
Evan Peters ("Monster: The Jeffrey Dahmer Story") (WINNER)
Sebastian Stan ("Pam & Tommy") 
Best Winners for Performance by an Actress, Limited Series, Anthology Series, or Motion Picture made for TV
Jessica Chastain ("George and Tammy") 
Julia Garner ("Inventing Anna") 
Lily James ("Pam & Tommy") 
Julia Roberts ("Gaslit") 
Amanda Seyfried ("The Dropout") (WINNER)
Best Winners for Performance by an Actress in Supporting Role, Limited Series, Anthology Series, or a Motion Picture made for TV
Jennifer Coolidge ("The White Lotus") (WINNER)
Claire Danes ("Fleishman Is in Trouble") 
Daisy Edgar-Jones ("Under the Banner of Heaven") 
Niecy Nash-Betts ("Monster: The Jeffrey Dahmer Story") 
Aubrey Plaza ("The White Lotus") 
Best Winners for Performance by an Actor in a Supporting Role, Limited Series, Anthology Series, or Motion Picture made for TV
F. Murray Abraham ("The White Lotus") 
Domhnall Gleeson ("The Patient") 
Paul Walter Hauser ("Black Bird") (WINNER)
Richard Jenkins ("Monster: The Jeffrey Dahmer Story") 
Seth Rogen ("Pam & Tommy") 
Best Winners for Original Score, Motion Picture
"The Banshees of Inisherin" (Searchlight Pictures) — Carter Burwell
"Guillermo del Toro's Pinocchio" (Netflix) — Alexandre Desplat 
"Women Talking" (MGM/United Artists Releasing) — Hildur Guðnadóttir 
"Babylon" (Paramount Pictures) — Justin Hurwitz (WINNER)
"The Fabelmans" (Universal Pictures) — John Williams  
Best Winners for Picture, Non-English Language
"All Quiet on the Western Front" (Germany) 
"Argentina, 1985" (Argentina) (WINNER)
"Close" (Belgium) 
"Decision to Leave" (South Korea) 
"RRR" (India) 
Best Winners for Original Song, Motion Picture
"Carolina" from "Where the Crawdads Sing" (Sony Pictures) — Taylor Swift 
"Ciao Papa" from "Guillermo del Toro's Pinocchio" (Netflix) — Alexandre Desplat, Roeban Katz, Guillermo del Toro 
"Hold My Hand" from "Top Gun: Maverick" (Paramount Pictures) — Lady Gaga, BloodPop, Benjamin Rice
"Lift Me Up" from "Black Panther: Wakanda Forever" (Marvel Studios) — Terms, Ludwig Göransson, Rihanna, Ryan Coogler 
"Naatu Naatu" from "RRR" (Variance Films) — Kala Bhairava, M. M. Keeravani, Rahul Sipligunj (WINNER)
Best Winners for Motion Picture, Animated
"Guillermo del Toro's Pinocchio" (Netflix) (WINNER)
"Inu-Oh" (GKIDS) 
"Marcel the Shell With Shoes On" (A24) 
"Puss in Boots: The Last Wish" (DreamWorks Animation) 
"Turning Red" (Pixar)
Subscribe to Our Latest Newsletter
To Read Our Exclusive Content, Sign up Now.
$5/Monthly, $50/Yearly