How to Create DIY Invitations for a Wedding?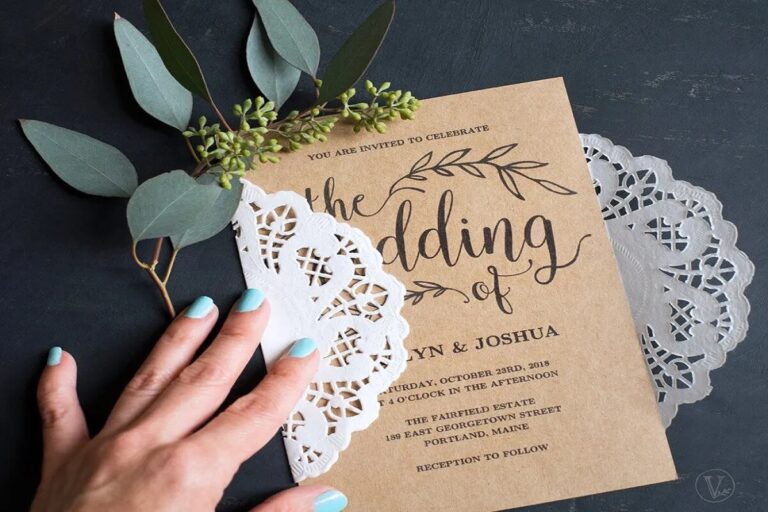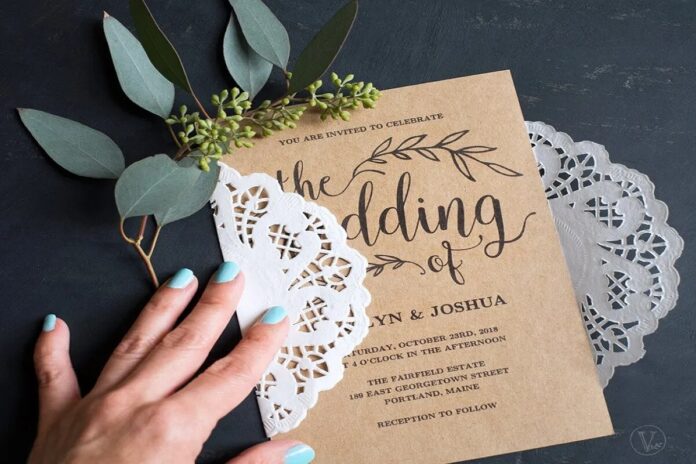 DIY wedding invitations are a wonderful option to bring a personal touch to your wedding and at the same time save money, that never hurts. If you decide to make DIY wedding invitations, you can also involve your closest friends or your mum, so it will be a way to make them a part of this big day right from the start!
Photographs, hand lettering, creative designs: there are many options to suit all tastes and budgets. Making DIY wedding invitations is a way to add more value to what we are doing and to give also a personal and unique touch. Feel free to express the joy and emotion you are experiencing in this invitation, use creative techniques, and don't worry if there are imperfections, they are all a symptom of pure authenticity!
Choose the wedding theme
But how to create the invitations from scratch? First of all, you have to decide your wedding theme, because the invitations should be in line with the style of the whole wedding. For example, if you are getting married in the countryside, or in a rustic villa, you must choose a pattern that recalls rural nature. The motif can be something you love, your favorite flowers, or perhaps an object that you are very attached to. Once you have decided on your wedding style and you have a clear view of how your wedding invitations should look, you can choose the materials, the colors, and the thickness of the DIY invitation cards.
Colors and thickness of the DIY invitation card
First of all, think about the grammage of the paper. It is an important factor because if it is too thin, it can quickly break or fold. That is why normally the paper for invitations is thick paper, around 150 grams.
Now comes the funniest part: the choice of the graphics and the pattern for your customized wedding invitations. If you want to gather inspiration as to pick a suitable pattern for your theme, you can rely on some websites such as Creative Fabrica, which offers thousands of printable paper designs, fonts, and other materials for your crafts.
When it comes to colors, we suggest pastel or light-colored paper, such as a pearl or pale rose tone, which are usually elegant and romantic colors. Some of the other colors that tend to be used are white, ivory or cream, ochre or light blue, or lilac tones.
Returning to the example of the boho chic country wedding, you could buy a cream-colored paper design and straw-colored string, or brown envelopes and white cards, the important thing is to be very clear about what you want to achieve before buying all the materials. Of course, if your wedding theme involves darker colors or patterns, then the invitation cards should follow the same style and colors.
Choose two different fonts for your cards
Once you have picked the paper design, you should choose the font. It is a personal choice, but it's very relevant and impressive. If you have nice handwriting, writing the invitations yourself can give a more intimate and elegant touch. On the other hand, if you prefer to print the invitations in a readable font that is elegant and suitable for the event, you can find a really varied choice on all the platforms for creating invitations such as Creative Fabrica, Canva, etc.
The advice we like to give is to always choose a pair of fonts, one larger and one smaller because there are things that should stand out more like the spouses' names with the wedding date and others that can be written smaller.
Romantic phrases that talk about your love
One of the factors you will need to think about most is the choice of what to write in your wedding invitations. Certainly, the necessary information is to be included in the wedding date, time, and place of the party and banquet.
Then, you can add a few romantic phrases; wedding invitations are, to all intents and purposes, messages of love. Two people who are starting out on a life journey share it with their loved ones. There is nothing more romantic in the world or more eagerly awaited by parents and the bride and groom. For a romantic sentence, you can pluck from your favorite poems or rewrite a song line that represents your story. You can also decide to write your own text of course which would be a perfect option!
After you have spent so much love and energy on your wedding invitations, don't forget to keep a copy for yourself as a keepsake. According to Surrey wedding photographer Moritz, it's "…a good idea to bring a copy of your invitations to your wedding. Ask your wedding photographer to integrate your invitations into your wedding photography. Like wide shots of your wedding venue, a few well-arranged shots of your wedding invitations are a great way to start your wedding album and tell your story!"
Subscribe to Our Latest Newsletter
To Read Our Exclusive Content, Sign up Now.
$5/Monthly, $50/Yearly