9 Totally Weird but Awesome Reason to Throw a Party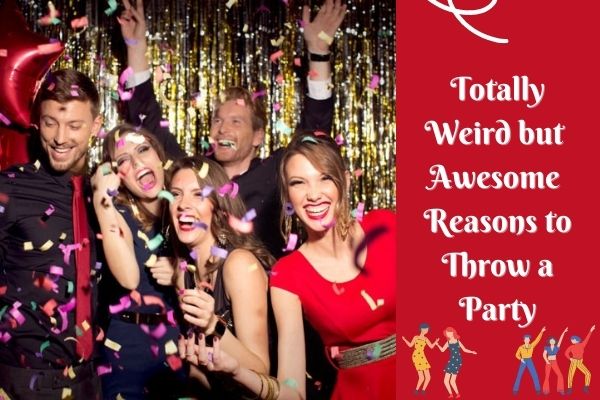 We always look for birthdays, anniversaries, graduations, baby showers, or festivals to throw a party. Have you ever thought about throwing a party without reason? You might be thinking about how foolish this question is. No, I am not kidding there are some weird reasons where you can throw a party. They are completely different from the celebration things. You can enjoy every day by doing something special. I have mentioned a weird reason to celebrate and have fun with friends and family at any time of the day.  No need to wait for occasions you can have fun with friends by creating unusual occasions. You must be asking what they are. Please look at the party reasons mentioned below this line.
Breakup Party:
Many feel sad after breaking up with the girlfriend or boyfriend. But they can convert this moment to a liberation party. They can enjoy being single again, they can enjoy the freedom party after so long time. You can allow your close friends to celebrate the break of the party. Go to a nearby disco, have some dance, enjoy having drinks with your friends and enjoy the breakup party to the fullest. This is one of the silly reasons but it can get relief to the person who lost love in life.
New Relationship Party:
You just proposed to a girlfriend and she said yes. It's a big cause for celebration. Getting into a new relationship is a thrilling experience. Finding a good partner in life is not a part of the game. We have to put in a lot of effort to begin a new relationship. You win the trust of the partner and that results in the "yes" word. So this is a big reason to celebrate the moment. Call all your friends and family, order food, have drinks and dance, and enjoy the late-night party to the fullest with your partner.
Got A New Job Party:
Getting a new job is the hopeful celebration of life. Their dreams are turned into reality and this is the loveliest experience of life. They can share this happiness with family and friends by throwing a party at restaurants or homes. You got what you deserve and you can show your willingness to your friends and family by calling them into the party.
Some Days without Something Party:
You have an addiction to coffee, or you are a chain smoker or drinker. You take a resolution to give up that addiction from your life. It's an appreciable thought and if you conquer the thought for 30 or 70 days you can have a party. It's a good reason and you can expose the reason for everybody to say "you can if you will". This motto party is helpful for motivating others to leave their bad habits from life. But that doesn't mean you can have that bad habit again in life you have to discard that bad habit from life.
Goodbye Party:
Your neighbor is moving to another country or you finally got divorced from your partner. you can say final goodbye by ordering a cake delivery to Spain. Have some drinks, some snacks, and some music and enjoy spending a good time with that person. You can also do some special things like playing games, doing a couple of dance or any special thing you never ever do with the person but always want to do.
Someone Moving Back Party:
Your friend or partner is getting promoted to a local destination. Now you can be with your partner all the time and it's a great reason to celebrate. Now no need to make video calls you can feel your partner by your side in your bed. Really, it's a great reason for celebration. You can throw a party in a local pub or homes and make an official announcement to the public.
Bald and Free Day:
October 14 is a bald and free day. This is an official day announced for celebrating no hair day. This day is specially celebrated to cherish and appreciate the bald heads. Many make smiles and fun on the bald heads. Now bald heads can be honored with great respect on the special bald and free day. They can enjoy freedom from hair by throwing a party on 14th October.
Mood Swing Party:
Girl's mood swings when the hormone changes. Girls got too much pain during periods. Once they got periods, they get freedom from that pain. Girls can enjoy this time by throwing a mood swing party. They can enjoy having good times by drinking wine, eating plenty of chocolates, and making good conversation. This really assists in creating feel-good hormones that help in healing the menstrual pain.
Buy New Bike Or Car Party:
You have just bought a new car or bike and you definitely want to share this happiness with others. A new bike or car party is a great reason for calling friends and have some fun. Order gift baskets online and snacks or go to a new destination with friends to enjoy the party.
So here are some unusual reasons to throw a party. Good reasons got to be celebrated but here we also celebrate the weird reasons. The most important thing is you can create fun out of everything. This means you can catch up on the entertainment from every side of life just you need to know the reason.
Subscribe to Our Latest Newsletter
To Read Our Exclusive Content, Sign up Now.
$5/Monthly, $50/Yearly