Silicon Valley Bank Collapses – Marking Largest US Bank Failure Since 2008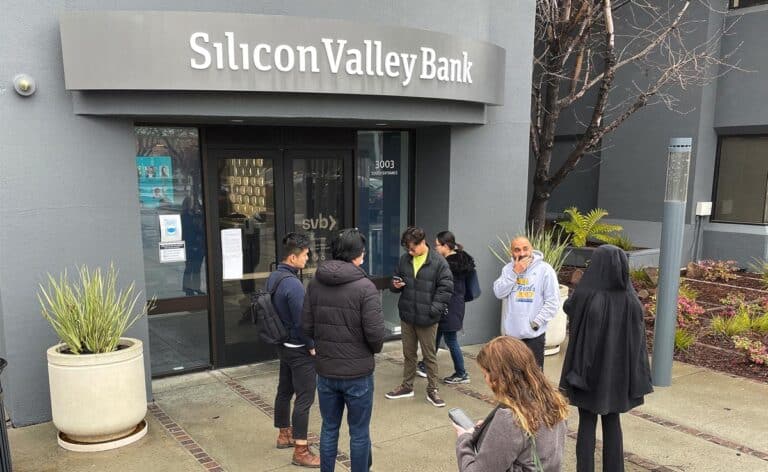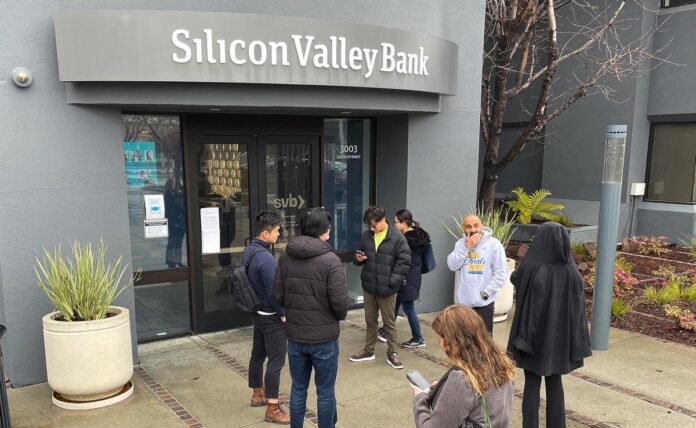 Listen to the Podcast:
On account of a sudden bank run and capital issue, Silicon Valley Bank collapsed on Friday morning and was taken over by federal regulators.
It was the greatest US bank failure since 2008's Washington Mutual. Silicon Valley Bank, or SVB, was shut down by banking regulators on Friday following the bank's abrupt and rapid collapse, marking the second-largest bank failure in U.S. history. Two days ago, SVB hinted that it was experiencing a cash problem. First, it attempted to generate capital by selling shares, and then it attempted to sell itself, but investors were frightened, and the company ultimately failed.
The tragedy has sent shock waves throughout the technology industry. Earlier in the week, several corporations and individuals with money in SVB tried to withdraw it, ironically contributing to the bank's demise. The FDIC covers deposits up to $250,000; therefore, consumers with more than that amount in SVB are in a bind.
Here is everything we know about the bank's collapse, as well as what could happen next.
What is Silicon Valley Bank?
Silicon Valley Bank, which was founded in 1983 following a poker game, was the 16th largest bank in the United States before its demise and a major contributor to the growth of the tech industry. It is easy to forget, given the IT industry's glorification of nerds, that money, not intellect, is the true engine for businesses.
Silicon Valley Bank supplied this fuel by collaborating closely with numerous VC-funded firms. It asserted that it was the "financial partner of the innovation economy" and the "bank of choice for investors." Among those banking at SVB is this website's parent firm. There's more. There were more than 2,500 venture capital firms and a large number of IT executives. It occurred within 48 hours.
How Did This Happen so Fast?
Tucker Carlson on the Silicon Valley Bank collapse:

"When customers showed up at SVB's branch in Manhattan today to get their deposits back, managers called the police. What we have here is a 1929-style bank run. And that's not a good sign for anyone." pic.twitter.com/ZM2qO9NxCK

— Antonio Sabato Jr (@AntonioSabatoJr) March 12, 2023
The fact that SVB was so focused on its business as part of its distinct challenge. SVB served the venture capital and private equity industries, which have performed well over the past decade. As a result of the bank's heavy exposure to a single industry, however, it was exposed to risk. When conditions deteriorated for the bank's undiversified clientele, the bank's situation deteriorated rapidly.
"This demonstrates that having more than 50 percent of your firm in a single industry is extremely risky. They exceeded on the way up, but on the way down, you realize how vulnerable they were," Yokum said.
It didn't help that another bank, Silvergate, which catered to cryptocurrencies, announced its closure on Thursday, nor that, once SVB showed symptoms of difficulty, everyone panicked. "This is not a gradual fall from grace; it is sudden," Yokum stated. They were one of the largest banks in the United States, and it failed within two days. —ES
The Panic Takes Root…
SVB reported on Wednesday that it had sold a number of instruments at a loss and will also sell $2.25 billion in new shares to strengthen its balance sheet. Principal venture capital firms reportedly instructed companies to remove their funds from the bank in response.
As investors began to anticipate a rerun of the 2007-2008 financial crisis, the bank's stock began falling on Thursday morning, and by the afternoon, it had dragged down other bank stocks as well.
By Friday morning, trading in SVB shares had been halted, and the company had abandoned efforts to raise funds or find a buyer immediately. California regulators shut down the bank and placed it under the supervision of the Federal Deposit Insurance Corporation.
What Happens to Silicon Valley Bank's Customers?
The Federal Deposit Insurance Corporation (FDIC), a government entity that has existed since the Great Depression, ensures the majority of banks. Thus, the FDIC insured the accounts of Silicon Valley Bank, but only up to $250,000. So operates FDIC deposit insurance.
That may be a substantial amount of money for an individual, but we're discussing businesses here. Several have monthly burn rates of millions of dollars. A new regulatory filing discloses that as of December 2022, approximately 90 percent of deposits were uninsured. According to the FDIC, it is "unknown" how many deposits were uninsured when the bank closed.
What Does This Mean for Tech Companies in the Near Term?
What happens when I need to pay someone, such as my employees, is the most pressing concern for tech companies whose funds are still connected to SVB and have not yet been released.
Although the FDIC guarantees up to $250,000 in deposits, depending on the size of the institution, this amount may not go very far. This question applies to businesses that have deposited cash with SVB and businesses that use other SVB products, such as revolver loans or credit cards. Vox Media, for example, employed SVB cards: Yesterday afternoon, our chief financial officer, Sean Macnew, sent a message to the firm stating, "We are actively monitoring this situation and doing our best to acquire information via SVB and other partners."
There are also genuine worries regarding ripple effects: Even if your startup does not use SVB, it is possible that your vendors will not be able to supply the services you anticipate and rely on. Even in the positive scenario in which SVB is rapidly acquired by another bank, and the flow of cash resumes, the short-term disruptions could be distressing for many individuals. —Peter Kafka
Subscribe to Our Latest Newsletter
To Read Our Exclusive Content, Sign up Now.
$5/Monthly, $50/Yearly