Our Top 10 Picks for the Best Rugby Movies Ever Made
Listen to the Podcast:
If you are one of those who love rugby and rugby movies, this article is for you! Considered a sport full of values, effort, and teamwork, rugby has managed to change people and societies.
Today we present a selection of the top 10 best rugby movies to enjoy at home. They are stories based on events taken to the cinema that leaves us with beautiful lessons.
10 Best Rugby Movies of All Time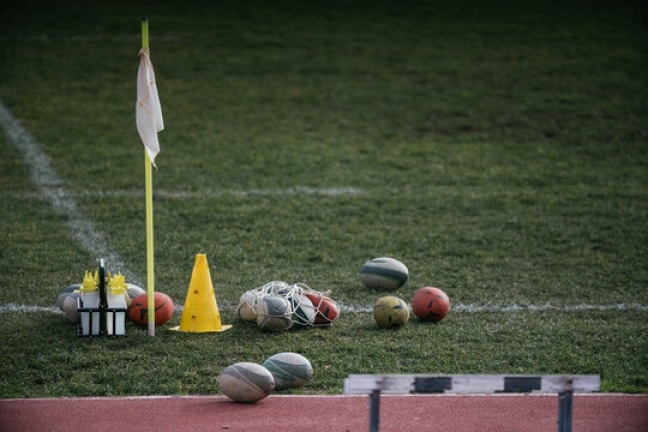 Below are our top picks for all-time great Rugby movies. Pick your best one from the list with a movie summary.
A story based on actual events and directed by Clint Eastwood, tells how South Africa, a country then ruled by Nelson Mandela and dominated by "apartheid," a racial separation between blacks and whites, manages to unify through sport when Mandela decides to support the rugby team in the 1995 World Championship.
The film shows how leadership, optimism, and motivation injected into the rugby team are fundamental to uniting a population and pursuing the same goal. In it, Morgan Freeman (Nelson Mandela) and Matt Damon, who represents the team captain (Francois Piennar), come together to make decisions that strengthen the team and the population in general.
As the story unfolds, we see how these characters resolve social conflicts by practicing values that strengthen their ties as a country. Undoubtedly, a film that reflects how this magnificent sport and good emotional leadership can overcome barriers.
Based on the story of the famous Highland rugby team, this film shows its development as the main character Rick Pennig (played by Sean Faris), one of the best players on the team, suffers an accident because of his behavioral problems and is held in a detention center.
He meets his advisor Marcus Tate (Sean Astin), who helps him reflect on his actions and value his rugby talent. With a reformed life, he enters a new team made up of sincere people who teach him the true meaning of companionship; after a series of victories, he must face his old team led by his father.
A rugby movie that highlights the importance of family values and teamwork, showing how rugby can regenerate behaviors through humility, discipline, and perseverance.
(Video Credit: iln)
This Austrian film, produced by Brian Andrews, shows the business behind rugby league in the 1980s, fracturing the loyalty that characterizes the sport. In the film, its protagonist Grup (captain of the Newton Jets team), played by Matt Nable, begins a war against an administration that wants to leave him out of the group and the betrayal of the coach and his brother.
Desperate, Group tries to maintain his identity and sporting ideals, despite facing problems with the team and at home. A story of struggle, loyalty, and family confrontation that lets us see the other side of rugby.
The documentary narrates the training and matches of an American team that wishes to compete in the Paralympic Games of Athens in 2004 discipline of wheelchair rugby. Throughout the story, preconceived ideas about disability are observed and how, thanks to companionship and family support, the characters manage to overcome them.
A sobering film that shows us the desires, fears, feelings, and effort that disabled people have to face life and achieve their dreams.
Written by Dave Story and Al Dekin, it tells the story of a talented Scottish rugby player (Keir) who, by his arrogance, desire for fame, and struggle to achieve the ideals of his father, a rugby legend, becomes excluded from his country. Desperate for the situation, he flees to the United States, wanting to succeed in
professional football
.
However, he plays for a pathetic Kansas City team, so Keir faces slow professional and personal growth. Then, he must return to Scotland with his new team, where he will be forced to choose between his principles and family reconciliation. History is rich in values, undoubtedly leaving lessons for sports lovers.
Samuel, played by Lorenzo Richelmy, is a young man who lived between crimes until entering a rehabilitation program where he meets his advisor Vienzo (Stefano Casseti), who faces a bad season with the rugby team he manages and the recent death of his wife.
After conversations with Samuel and observing his behavior, Vienzo integrates him into his rugby team, hoping to help him. After a series of events, he guides the team in each victory.
(Video credit: Unifrance)
A beautiful film that tells the story of a former rugby star, Jo Canavaro (Gérard Lanvin), who raises his 13-year-old son (Tom) alone, trying to instill the love and passion for this sport that has been in his family for years. However, the results are unexpected, as Tom does not show the same potential as his father on the court.
This film, directed by Phillippe Guillard, shows Jo's family discord when his son does not want to continue the family legacy of rugby. At the same time, a company threatens to take away the land where he formed the playing field and his own house. A passionate film that shows how to strengthen the family relationship.
A coming-of-age film directed by John Butler that follows the story of Ned, a misfit teenager who is sent to an Irish boarding school. There, he meets and befriends Conor, a star rugby player who is also an outcast due to his love for music.
As their friendship grows, Ned and Conor must navigate the school's homophobic culture while trying to pursue their passions. The film is a heartwarming tale of self-discovery, friendship, and acceptance that uplifts the audience.
The movie begins with a montage of footage from the 1995 Rugby World Cup, which England lost in the final to South Africa. The defeat was a bitter pill for the team, leaving them with a burning desire to win the tournament in 2003. The film then delves into how the team prepared for the tournament, both physically and mentally.
(Video Credit: Gala Theatre & Cinema)
The film also looks at the individual players on the team and how they prepared for the tournament. We see how Jonny Wilkinson, Martin Johnson, and Lawrence Dallaglio trained tirelessly to be at the peak of their fitness and form. We also get an insight into their mindset and how they prepared themselves mentally for the challenges ahead.
As the tournament progresses, the film builds to a crescendo. We see England overcome tough challenges from the likes of Wales and France and face off against their old rivals, Australia, in the final. The tension is palpable as the match ebbs and flows, with both sides giving their all.
Interesting Read: 20 Best Hollywood Movies in 2022
A drama film directed by Sacha Wolff that tells the story of Soane, a young Wallisian man who dreams of becoming a professional rugby player in France. Despite facing racism and discrimination, he manages to secure a spot in a French team thanks to his talent and determination. However, as he becomes more immersed in professional rugby, Soane questions whether his sacrifices are worth it.
The film explores themes of identity, cultural displacement, and the high cost of chasing one's dreams.
Final Notes
As you can see, the stories in rugby movies show us this sport as an example of union, sacrifice, companionship, and family values that have marked the course of many people. 
Subscribe to Our Latest Newsletter
To Read Our Exclusive Content, Sign up Now.
$5/Monthly, $50/Yearly