9 Magical Mermaid Printable Coloring pages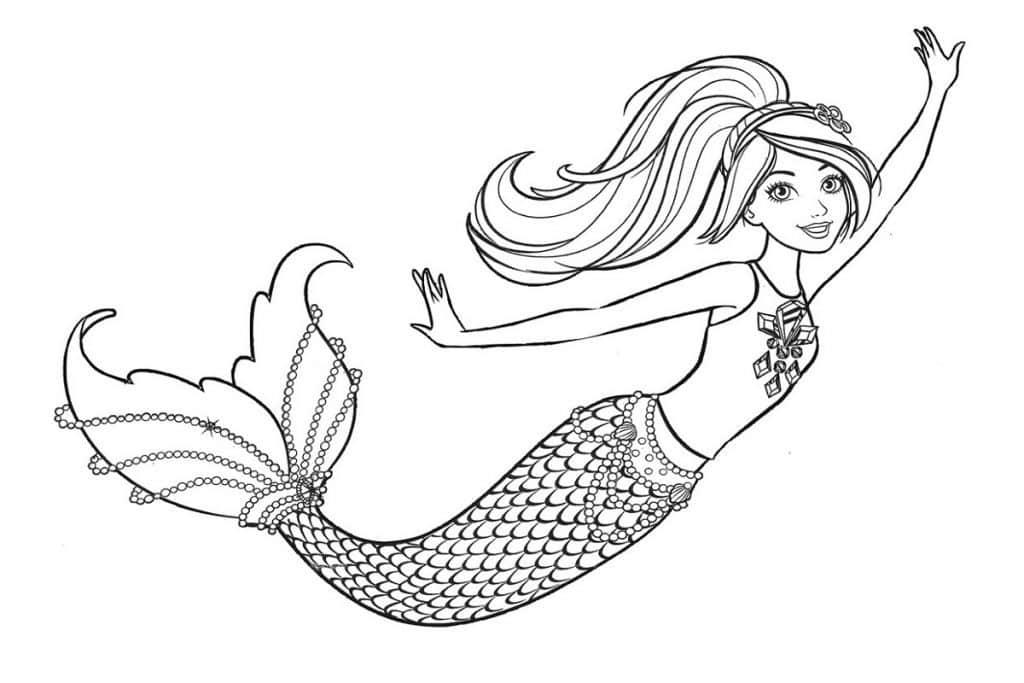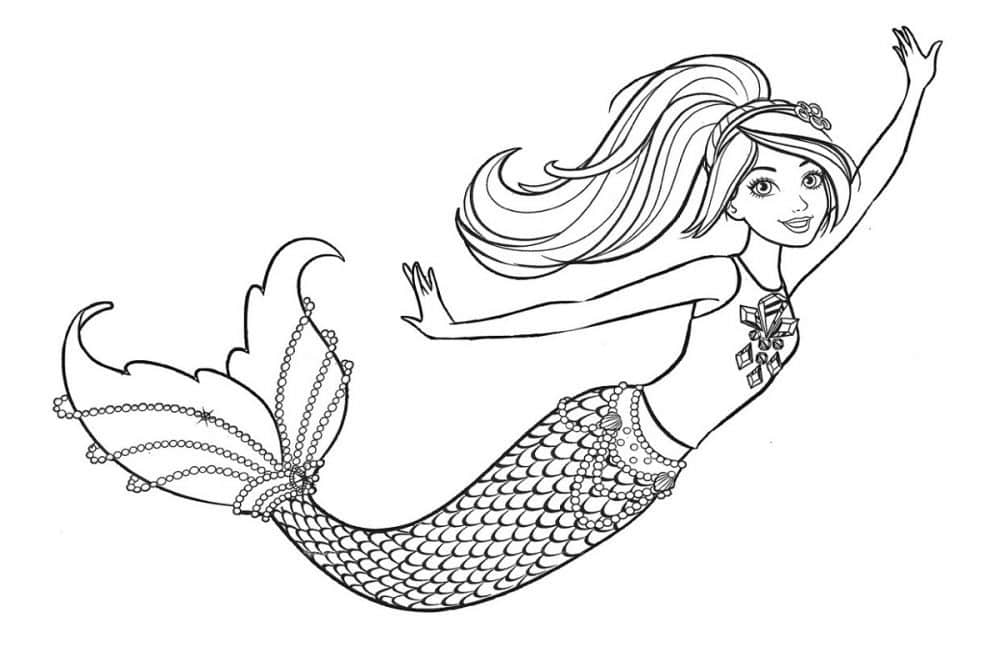 Oh! I know Mermaid fans will be fascinated with these fun-filled Mermaid coloring pages. 
Mermaids were said to have come from an Assyrian tablet from 1000 BC. Although, it is mentioned that people have been telling stories about the mermaid for a long time. Different cultures around the world with diverse characteristics are given to the creatures. Mermaids are magical mythical creatures that can be found in the sea. They are known to be enchanting and live inside the water and nowhere else. 
Disney Movies like The Little Mermaid have made this creature popular among kids as they are used for birthday parties, decorations and costumes, toys, role plays, to mention but a few. This makes them adore them more as they can be used in reality to beautify and create fun, especially among little girls.  
Mermaids are also adored for their beauty, features, and charm as kids and even adults can't get enough of these creatures. 
Well, due to the popularity of mermaids in pop culture and movies, it created a huge demand for mermaid coloring pages that can either be printed, downloaded or even purchased. 
Hence, we are here to serve you with a plate full of 10 Magical mermaids coloring pages. We hope you enjoy the epic journey to the mermaid world through these interesting coloring pages. Have fun as you color these wonderful magical mermaids!
1. Mermaid color by number
Kids love to color by numbers pages as it is easy to use the number keys to color the different parts of the Mermaid. 
This color by number page is full of beautiful mermaids and their ocean friends as they swim from one point to another. For mermaid fans, this book makes a perfect coloring activity gift for ages 4 – 8 – 12 years and they will find lots of fun using these coloring pages. There are unique mermaid designs, single-sided designs that show cheerful mermaid themes and detailed backgrounds.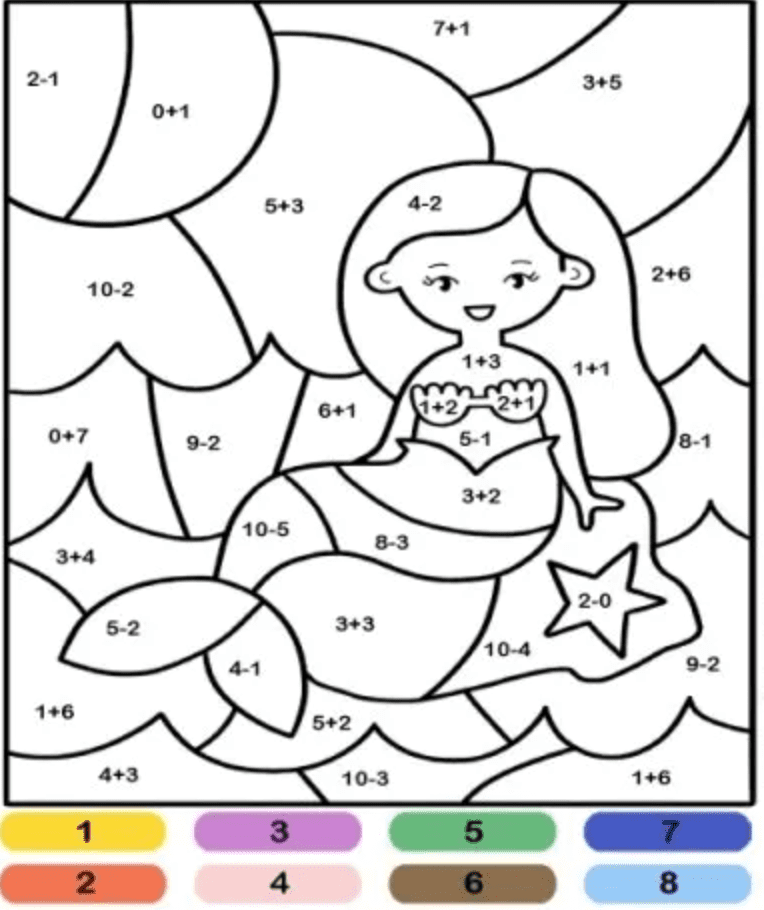 Little kids will enjoy these coloring pages as it aids the improvement of their pencil grips, helps their relaxation, regulate their mood, and enhance their imaginative capability. Grab a copy as soon as possible!
2. Princess Mermaid and Fish Friend
Mermaid and fish printable coloring pages will remind kids of the little mermaid, Ariel, and Flounder.  Even if they haven't seen the Disney movie before, these princess coloring pages will help them to relate with the mermaid as an acute and beautiful character. 
 The images in these coloring pages show several Little Mermaid characters which include  Ariel, Flounder, Sebastian, King Triton, Ursula, Eric, and Scuttle that are isolated and not part of a group of images. Kids will enjoy exploring the different images to create a colorful masterpiece.  With the motley bunch of characters, they will surely get colorful designs.
3. Mermaid and Treasure
Mermaid and Treasure Printable coloring will be a blast with kids! In these coloring pages, the mermaid has managed to stumble upon a treasure chest and this will keep kids wondering what is inside the chest.
 Aside from coloring the mermaid, kids can be encouraged to draw on separate plain paper what they think can be found in the treasure box. It could be jewels,  pictures of beloved family members,  aquamarine stones ( people think they are valuable gems made from mermaid tears) and so many more. 
4. Adorable Mermaid Coloring Pages
Adorable Mermaid printable  Coloring Pages are truly adorable! These coloring pages show fascinating images of mermaids underwater that look beautiful and wonderful when colored with bright colors.
Kids can color the mermaid's hair blond, red, or however, they can imagine. She also has a crown that is colored gold to make her princess's side stand out.  They can color the background to beautify the underwater where the mermaid lives.  Kids can even try and draw a fish or two to complete this design.
5. Underwater mermaid coloring page
Underwater mermaid coloring pages focus on the mermaid and the things around her underwater. So, it is a good time for kids to grab their coloring markers and have fun while coloring.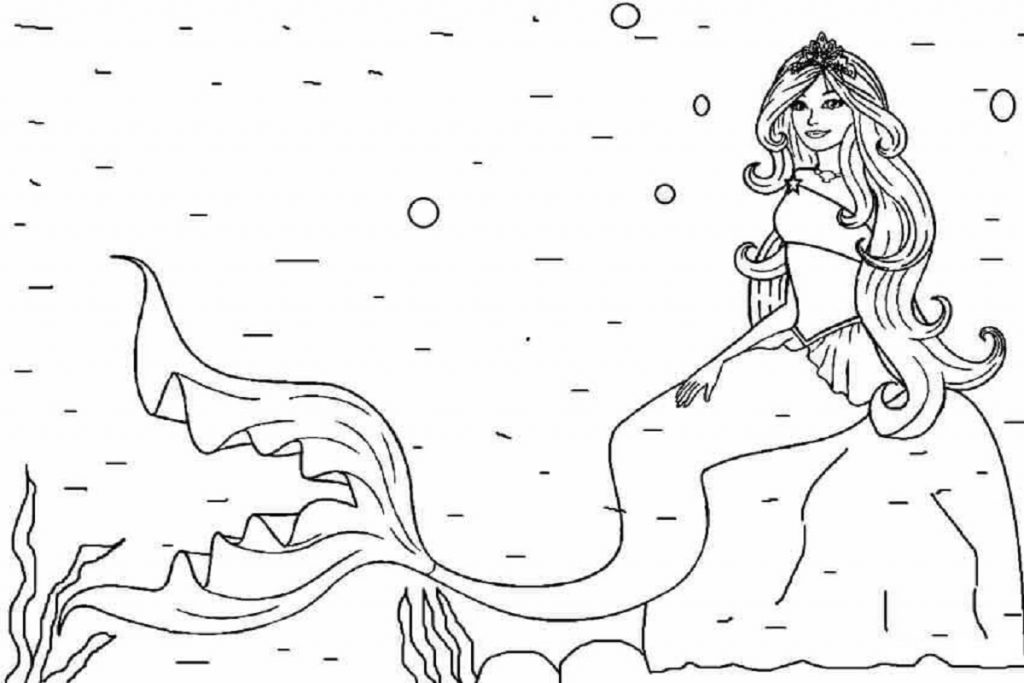 In these coloring pages, there are so many details, especially on the tail of the mermaid. They can use diverse colors, each part with different shades of the same color,  just use one color or color as desired. The choice is in their ends as the ultimate goal to create amazing colored images. 
6. Mermaid in dress coloring page
This coloring page has images of a mermaid in a stylish female dress. And it will be fun and beautiful to color this image with a good watercolor to create an outstanding image. 
Little girls love to play with mermaid dresses up and these coloring pages will appeal to them easily. It will be great fun to give a bright color to the Mermaid's dress.
7. Floating Mermaid coloring page
Floating Mermaid Printable coloring pages show interesting images of the mermaid. The mermaid just did a high dive off of a big cliff into the water and when she hit the water, her tail returned to become a full mermaid.
She looks liberated after that special moment of reveling in the return to her authentic state. Kids can use their imagination to think up other possible interpretations of this image. 
8. Ariel Mermaid And Disney Castle Coloring pages
This coloring page has the images of Ariel mermaid princess glancing at the majestic castle that is well built and constructed under the sea. Ariel is with her little cute fish friend and they are delighted to be surrounded by water bubbles and jelly plants. 
The images can be filled with the appropriate color to beautify the majestic castle and to create astonishing images.
9. Mermaid playing In An Old Ship coloring page
 This coloring page shows the images of the beautiful mermaid who found an old ship dumped under the sea and played in it with a cute and adorable little fish. They explored the ship, admired its quality and style, and became amused as they had the best time with each other. 
Kids can color the image on these Mermaid coloring sheets with bright colors that create a masterpiece.
Subscribe to Our Latest Newsletter
To Read Our Exclusive Content, Sign up Now.
$5/Monthly, $50/Yearly