How to Install Shaders for Android?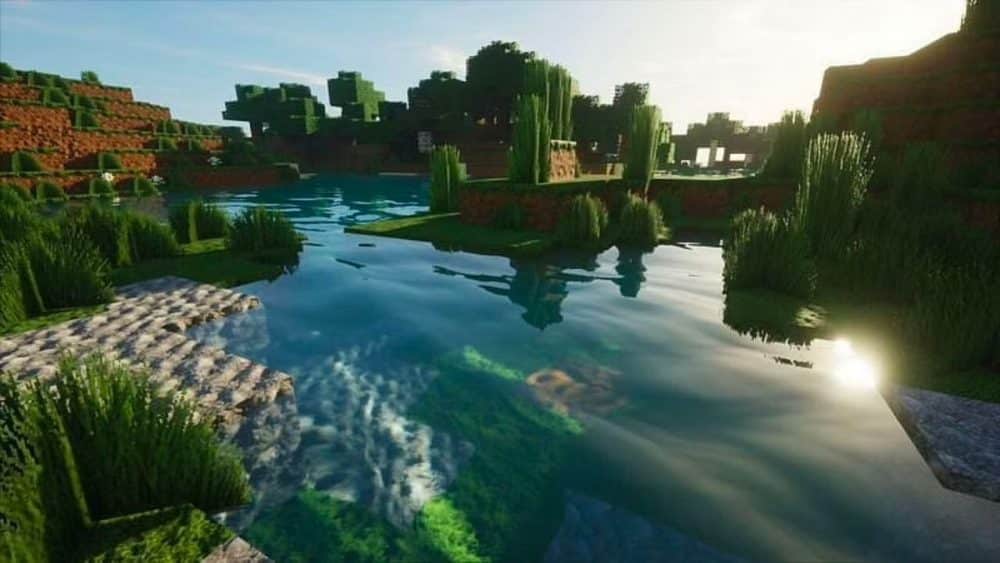 Shaders can take your Minecraft world to another level. They have grown trendy over the years as most players can't do without them in any way. Many players don't enjoy the default look of Minecraft itself. They claimed it looked quite blocky and primitive. You wouldn't blame them given the way the game has been criticized over the years for some poor graphics even by experts. This has only given birth to the rise of Minecraft shaders. They have the power to change how your world is looking. In other words, they can transform your world within seconds. Shaders can totally alter the way your region looks and can make your Minecraft house appear gorgeous.
Over the years, the best Minecraft shaders are known to address one aspect of the game or another. For instance, some shares make your world appear very bright and shiny. Also, some can enable your water to look real. Furthermore, some shaders can help plants to look greener and more natural. Generally speaking, shaders are meant to add elements to the game's original nature to improve how it looks. They have been introduced to revamp its graphics. The difference or changes that shaders usually bring to Minecraft are quite noticeable. You will be amazed at how things can really improve. 
How to Install Shaders for Android
Minecraft is a very engaging and interactive game that you wouldn't want to miss out on. Just as there is a PC version, you can also use a mobile version. The problem is that if you are using mobile, another type of shader will be required. For instance, java edition shaders don't work on mobiles. You will need something different as compared to shaders being used on your PC. 
There are many reasons why installing shaders on your android device is highly recommended. For instance, it enables you to get instant access to the game without bothering to log into your PC. Gone are the days when only PCs could be used to explore the game of Minecraft. Today, you have the chance of doing such at anytime and anywhere. Imagine exploring the best Minecraft shaders on your android mobile device without any limitation. 
Over the years, various shaders have been created for mobile device users. In fact, you will never run out of options when it comes to shaders that you can make use of. 
Here Is How You Can Do This
Are you wondering how the best Minecraft shaders can be installed on your android device? Do you know that this isn't as difficult as most people are making it sound? If you are really serious about having the ultimate gaming experience while playing Minecraft on your android device, it is very important you have access to the best shaders. 
The details below will be revealing how this can happen. In the following sections, you are going to be shown steps on installing Minecraft shaders on android. 
How to Get Started
You must understand that downloading and installing Minecraft shaders can be done through many ways. While some methods are easy, others aren't. It is all about sticking to methods that don't require you to do too much work. 
The method you are about to discover doesn't require downloading or installing OptiFine which is a very important tool for Minecraft players. It is a little bit simple and straightforward. 
Downloading the Shader
This is the first step to be taken. It involves choosing any of the Minecraft shaders that are compatible with your device. Always check if a shader has an android version available before downloading. This will do you a lot of good. 
You can download Shaders from sites like MinecraftShader.com, which has hundreds of different Shaders to choose from.
Once you have discovered that a pack is available for your android device, you can then proceed to commence the downloading process. 
Locating Your Downloaded File 
At this point, it is assumed that you have downloaded the Minecraft shaderpack as instructed above. Once this has been done, such a file will need to be located in your file manager. To find the file, go to File Manager -> Downloads.
Sometimes you may find the file in any folder under downloads. It all depends on the brand of android device you are using for this purpose. Settings also play an important role in identifying such locations. 
Launching the File
This is the last step that you will need to take after downloading and installing the Minecraft shader on your android device. Just have the downloaded file long-pressed. After that, Minecraft should be clicked on. This needs to be done after you have selected the box that says "Open With". 
Once these have been done, you will need to wait for the app to be processed by your mobile device. This can take up to seconds or minutes depending on the functionalities of your device. As soon as the game gets loaded, there are some steps you need to take again for such an installation process to be completed. 
Minecraft app > Settings > Global Resources > My Packs > Press Activate (after selecting the pack)
Image via AndroidHeadlines
Image via AndroidHeadlines
*Important Note*
There are times when you may not install the Minecraft shaders on your android device. In such a case, there could be some factors responsible. One of the most common issues could be files being named inappropriately. For a Minecraft shader pack to be compatible with your Android device, it needs to be named correctly as .mcpack.
Furthermore, ensure that your phone has been fully charged before carrying out this process. If it gets interrupted or shut down, it could malfunction, which isn't good. Therefore, ensure that it has been well-charged to ensure the download and installation process is smooth and successful. 
Final Verdict 
Having seen all of the above, it is very clear that installing the best Minecraft shaders for android is very simple. You only need to know the right steps that should be taken. All of these have been highlighted here for your understanding. Follow them and such a process will be completed within minutes.