Dubai Set to Build $5 Billion Man-made 'Moon' for Real Estate Development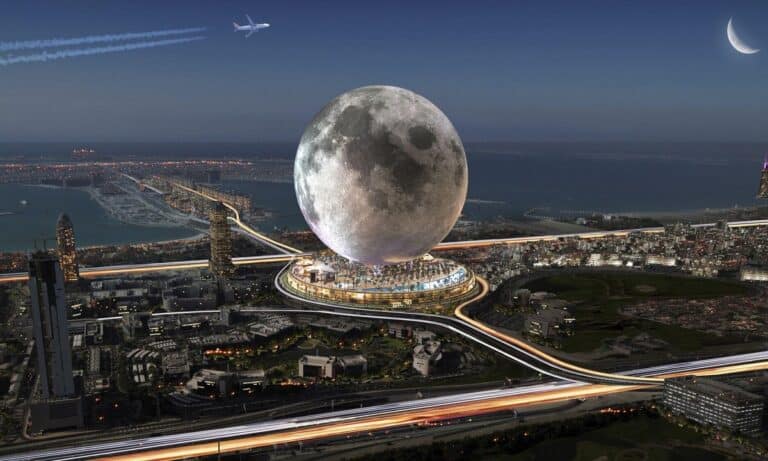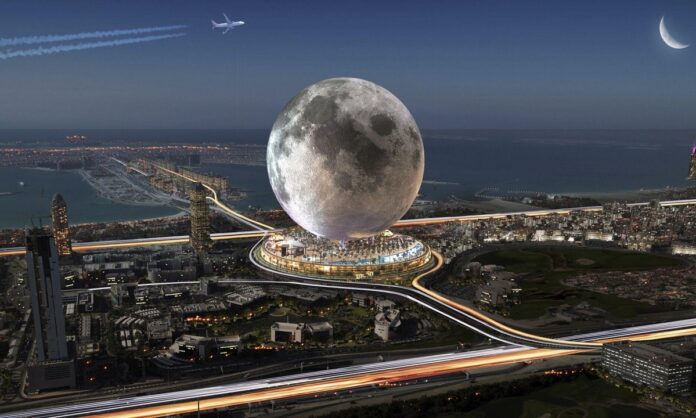 Listen to the Podcast:
DUBAI, United Arab Emirates (The Associated Press) — Whoever said you can't reach for the moon? A planned $5 billion real estate project wants to take Dubai, full of skyscrapers, to new heights by bringing a symbol of the heavens to Earth.
Michael Henderson, a Canadian businessman, wants to build a 274-meter (900-foot) moon replica on top of a 30-meter (100-foot) building in Dubai, which already has the world's biggest building and other architectural marvels.
Henderson's idea, called MOON, may sound like something from another planet, but it would fit this future city-state. Dubai's real estate market is already very hot, thanks to wealthy people who left their home countries because of limits during the coronavirus pandemic and Russians who left their country because of Moscow's war on Ukraine.
Even though many big projects failed during the last boom-and-bust cycle, Henderson and others say that his dream, backed by Moon World Resorts Inc., where he is a co-founder, might not be so far-fetched.
Henderson told The Associated Press, "We have the biggest 'brand' in the world," implying that the moon was his brand. "Eight billion people know about our brand, and we haven't even started yet."
Henderson plans to build a vacation resort inside the spherical structure. The resort would have a 4,000-room hotel, a 10,000-person arena, and a "lunar colony" that would make people feel like they were walking on the moon.
The MOON would sit on a round building that looked like a platform and light up at night. Henderson discussed the idea in May at the Arabian Travel Market in Dubai.
Moon World Resorts has already had artist drawings of where his MOON will be, including at the Burj Khalifa, the world's tallest building at 828 meters (2,710 feet). Others have put it on the Dubai Pearl, a long-abandoned project being torn down near the man-made Palm Jumeirah island, and on the Palm Jebel Ali, which is still unfinished.
The Pearl and the Palm Jebel Ali are two "white elephant" projects left over from 2009, when a financial crisis rocked the sheikhdom and forced Abu Dhabi, the capital of the United Arab Emirates, to give Dubai a $20 billion loan.
After almost 15 years, Dubai has mostly turned around. Even with rules against price gouging, rents in Dubai are up by an average of 26.9% from one year to the next. Last year, 86,849 homes were sold in Dubai. This was more than the previous high of 80,831 homes sold in 2009.
Lewis Allsopp, CEO of the well-known Dubai real estate company Allsopp & Allsopp, said, "Dubai is in a completely different world than it was in 2009." Products that have just come out are "selling out on the spot."
People worldwide are worried about a global slowdown because of inflation and rising interest rates. The dirham, the currency of the UAE, is tied to the dollar. This means that when the Federal Reserve raised interest rates, so did the dirham.
But cash is still king for Dubai buyers. Faisal Durrani, the head of Middle East research at real estate agency Knight Frank, said that 2022 four out of five deals would be paid for in cash without financing.
"You could say that the market is somewhat protected from the interest rate hikes that are happening because so much of the transactional activity has been driven by cash," Durrani said.
Other big projects are also making progress.
Nakheel, a state-owned company, is building the Palm Jebel Ali. Plans to build it have been started up again. The developer also announced a multibillion-dollar plan to build 80 resorts and hotels on the man-made Dubai Islands, mostly empty and under the flight path of Dubai Foreign Airport, the world's busiest airport for foreign travel.
There is also room for a possible casino in the MOON project. The UAE, comprised of seven hereditarily ruled sheikhdoms on the Arabian Peninsula, does not allow gambling. But big names like Caesar's Palace are already in Dubai or plan to build there. Wynn Resorts wants to build a $3.9 billion resort in Ras al-Khaimah, north of Dubai. The resort will have gambling and will open in 2027, which means the law will likely change.
Christopher Davidson, an expert on the Middle East who recently wrote the book "From Sheikhs to Sultanism," said that the MOON could fit well into "the legitimacy formula of Dubai's ruling elite." This is because it is a high-profile, eye-catching wonder. Dubai is also home to the United Arab Emirates Space Centre, which has sent a probe to Mars and failed to put a robot on the moon.
"They can be seen as a non-democratic elite, but they believe strongly in science and progress, which is ultimately very legitimizing, and a project like this seems to check all of those boxes," Davidson said.
Henderson's plan would go one step further than other globe-shaped projects, like the MSG Sphere in Las Vegas, a $2.3 billion LED-covered dome that will open later this year.
His building would be completely round and could be lit up as a full moon, half moon, or crescent moon.
Plans to build another MSG Sphere in London were put on hold after people complained about how much light pollution and noise the building would make.
"It's hard to please everybody," Henderson said. "You might need some dark curtains."
Jon Gambrell of the Associated Press in Dubai, United Arab Emirates, also helped with this story.