Canada Wildfires Cause Air Quality Levels to Drop in Parts of the U.S.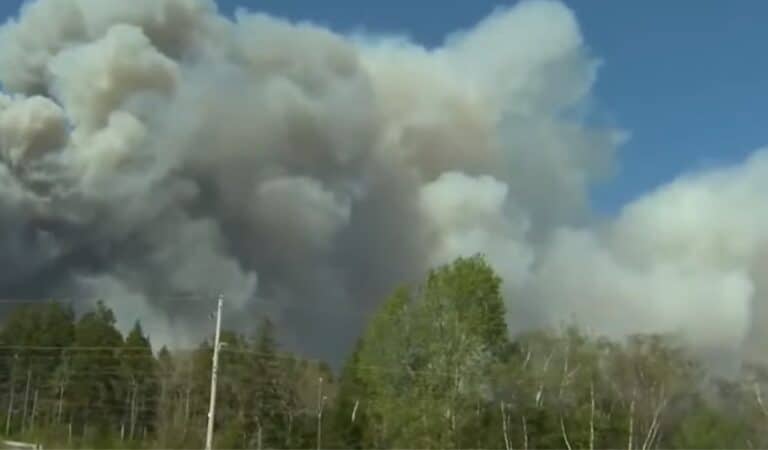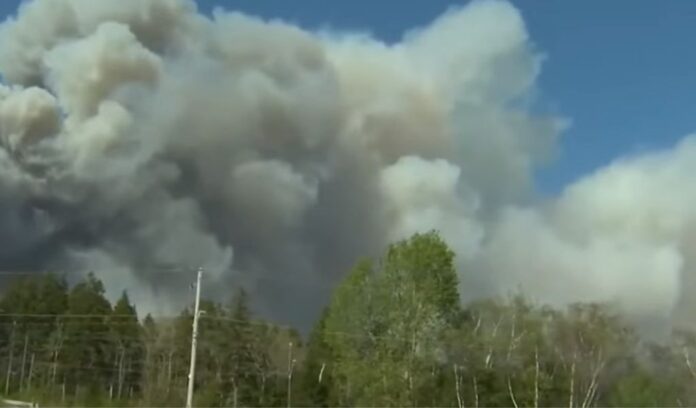 Monday, smoke from wildfires in eastern Canada is blowing over the Midwest, making the air quality dangerous for millions of people.
From the Ohio Valley to as far south as the Carolinas, hazy clouds have covered a large part of the country. Monday, there are air quality warnings in southeastern Minnesota, parts of Michigan's Upper Peninsula, and more than 60 counties in Wisconsin.
Wildfires in the Canadian provinces of Quebec and Nova Scotia are to blame for the rise in air pollution.
"A band of smoke from wildfires in Quebec will continue to linger across east central and southeast Minnesota today due to very light winds," the Minnesota Pollution Control Agency said in a tweet on Monday. The agency added that the air quality should get better in the evening as thunderstorms help move the smoke particles around.
Canada's wildfire season is off to one of the worst starts it has ever had. Federal officials said last week that more than 6.7 million acres have already burned in the country this year.
CBC News says that more than 150 fires are still burning in Quebec, where more than 14,000 people had to leave their homes. The Associated Press reported on Sunday that in Nova Scotia, officials said that one blaze had been put out, but a second fire that covered nearly 100 square miles was still out of control.
In the last few days, smoke from the fires has been blowing over the northeast of the US and landing in the Midwest. Across the country, alerts were sent out about high levels of air pollution, especially for "sensitive groups" like children, older folks, and people with asthma or other breathing problems.
The smoke from wildfires is a major source of air pollution in the U.S., and the problem is getting worse. Researchers at Stanford University found that the number of people who had at least one day when the air quality was bad because of smoke went up by 27 times in the last ten years.
Researchers who study air quality are most worried about smoke particles that are less than 2.5 micrometers in diameter. This is about 4% of the diameter of a normal human hair.
Scientist Brett Palm from the National Center for Atmospheric Research in Boulder, Colorado, said, "These are the particles that are small enough to breathe in and can cause heart problems."
When the tiny bits get into the lungs and bloodstream, they can cause inflammation and weaken the immune system. Particulate pollution may make asthma, lung cancer, and other long-term lung diseases more likely, especially in older people, pregnant women, babies, and young children.
Exposure to smoke from wildfires could make you more likely to get a lung disease. The smoke from wildfires has also been linked to increases in Covid-19 and flu.
Palm said that what is happening in the Midwest shows the long-term risks of wildfires, especially as climate change causes hot and drier conditions that make these fires more likely to happen and worse when they do.
"Over the last ten years or so, these fires have been getting bigger, and they are having bigger effects not just where the fires are, but also far downwind from there," he said.
The U.S. Environmental Protection Agency and its partners, such as the National Oceanic and Atmospheric Administration and NASA, keep an interactive map of air quality data called AirNow. This map lets people see where active fires are and evaluate local conditions and risks.
Subscribe to Our Latest Newsletter
To Read Our Exclusive Content, Sign up Now.
$5/Monthly, $50/Yearly