Beijing Hospital Beds Fill Up as COVID Cases Soar in China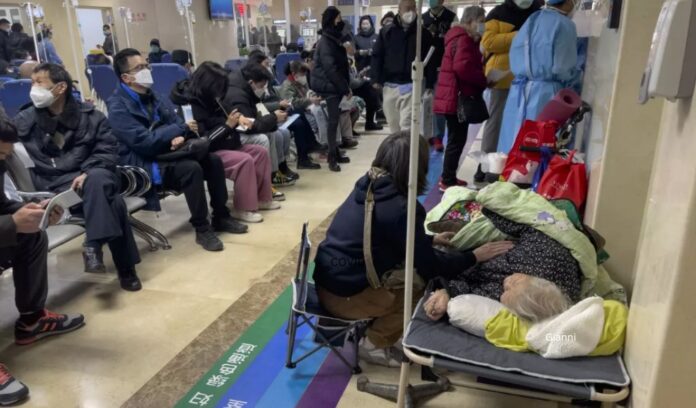 Patients, most of whom are old, are laying on stretchers in hallways and receiving oxygen while seated in wheelchairs as COVID-19 spreads in Beijing, the capital of China.
On Thursday, the Chuiyangliu hospital in the city's east was crowded with newly arrived patients. Midmorning, all available beds had been filled, despite the fact that ambulances continued to transport individuals in need.
Read More: China Imposes New Curbs Over "Serious" Covid-19 Outbreak
Nurses and doctors were very busy, so they rushed to get information and figure out who was the most important.
After almost three years of lockdowns, travel bans, and school closures that hurt the economy and led to street protests not seen since the late 1980s, China lifted its strictest pandemic restrictions last month. This caused a rise in seriously ill people who needed hospital care.
It also comes after the European Union "strongly encouraged" its member states on Wednesday to test passengers from China for COVID-19 before they board planes.
In the past week, EU countries have put different restrictions on Chinese travelers, even though they had promised to work together.
Read Also: Covid BF.7 Subvariant
Italy was the first country in Europe to be hit hard by the pandemic in early 2020. It was also the first EU member to require coronavirus tests for airline passengers coming from China. France and Spain quickly took similar steps. After the U.S. made it a rule that all passengers from China had to show a negative test result within the last 48 hours before leaving, this happened.
China has said that it will take "countermeasures" if these kinds of rules are put in place across the bloc.
Still, the head of the World Health Organization, Tedros Adhanom Ghebreyesus, said on Wednesday that he was worried about the Chinese government's lack of information about the outbreak.
Also Read: China Official Media Downplays Covid Outbreak
China has tried to get more of its elderly people vaccinated, but this has been hard because of scandals involving fake drugs and warnings that older people might have bad reactions to the vaccines.
People also think that China's homegrown vaccines are less effective than the mRNA shots used elsewhere.
Subscribe to Our Latest Newsletter
To Read Our Exclusive Content, Sign up Now.
$5/Monthly, $50/Yearly