AudienceGain Reviews: Is it worth using AudienceGainNet?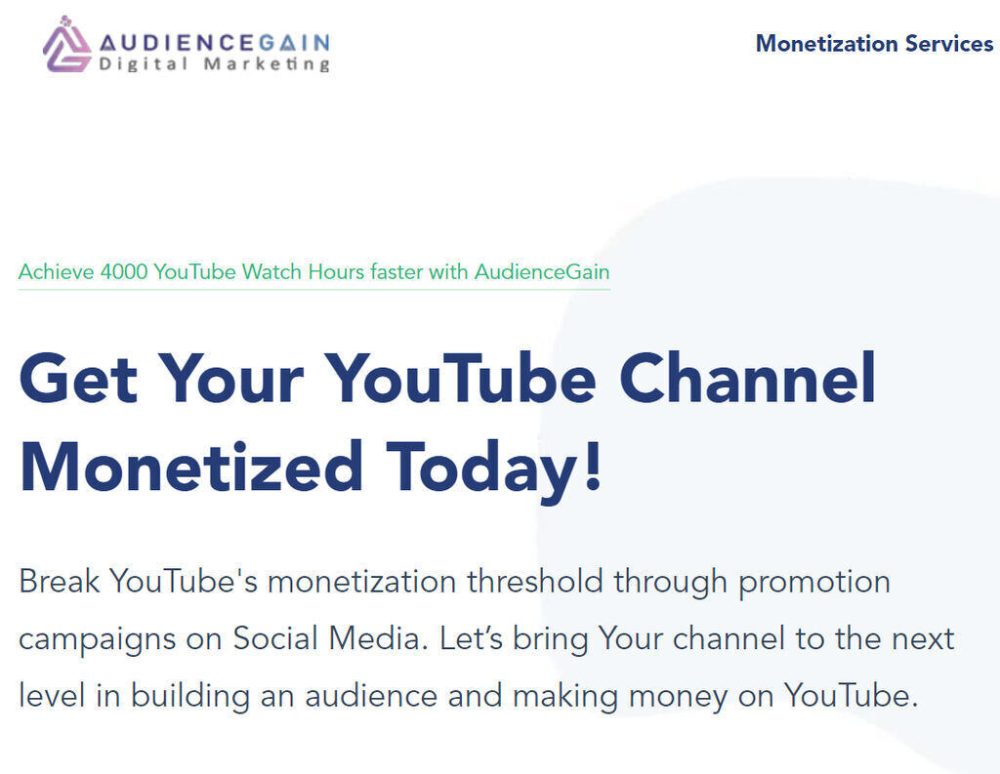 Introduction 
It's always important to understand all elements of a social platform service before utilizing it, since certain services may do you more harm than good. That's why you, or any content creator, need to know about it better to invest time and effort into this career.
Our review today will discuss specific details about AudienceGain.net, a fairly well-known company, and give an unbiased opinion on whether we should choose their services or not.
General views
As a marketing company, the main target of AudienceGain.net is providing "solutions for content creators". To be more specific, they offer services that support monetization on some popular platforms like YouYube, Facebook, Twitch, and recently TikTok.
Before examining the services, let's visit their website first. 
In addition to the user-friendly interface and the publicly available company information, two things that stand out on their web page are the Blog section and the Free Online Courses.
Every content creator can find valuable documents and advice from these two sources of information. AudienceGain.net is constantly updating information for readers. The articles cover the basics like how to create a YouTube account, too featured tips like special ideas for creating great content on TikTok.
Beginners who are just starting out as YouTubers or TikTokers can refer to their blog for suggestions.
After a basic review of the site, let's dive deeper into their main offerings.
4000 Watch Hours YouTube
Why do you need 4000 Watch Hours for your YouTube channel since it seems to be a huge number to get in 12 months?
First, it is one of the necessary conditions for you to join the YouTube Partner Program. Second, watch hours stand for a formula that the YouTube algorithm uses to rate your channel.
The criteria Youtube is aiming for is "The longer you can keep people watching on YouTube because of your content, the more your content may get surfaced."
Understanding this need, AudienceGain as well as many other companies announced a service: selling 4000 watch hours for YouTubers. Although this service may seem similar, the way it is performed varies from company to company.
Prices
They offer a range of services. Customers can choose the best suitable option for them:
4000 Hours + 1000 high-quality Subscribers: $239

4000 Hours: $199

3000 Hours: $169

2000 Hours: $129

1000 Hours: $79
How do they provide the service?
They use 2 different ways to gain subscribers for you. With the most potential service, 4000 Hours and 1000 subscribers, they give you 2 options:

4000 hours & 1000 HQ subscribers:

Subscribers in this package come from people who are not related to the channel's niche. They come from AudienceGain's community of users on social media. 
The cost of HQ subscribers is cheaper and most of the audience from this package will not interact with your videos. However it is 100% safe and stable quality, AudienceGain.net guarantees that there will be no permanent drop in subscribers.
This package is suitable for clients whose target is to simply enable monetization.
4000 hours & 1000 AdWords Subscribers:

This package will use AdWords to find and engage the audience. AudienceGain still uses social media to fulfill watch hours because the YouTube algorithm doesn't accept view watch hours from AdWords for monetization. With this method, buyers will have real subs, which is the foundation for long-term development when you target the right audience.
This is also the YouTube recommended method for content creators. Therefore, videos promoted through Google AdWords will be given higher priority in ranking and are preferable to go viral.
They increase your watch times by directly promoting your video content to users.
Their tool is social media. Moreover, they can market your channel no matter how short or long your videos are.
The refund policy is quite impressive.
The full refund is accessible if your channel is not approved for YPP. There must be some solid foundation for them to be able to claim with such certainty. And luckily, they haven't received any bad feedback on this yet.
YouTube Monetized Channel
Still related to YouTube, they provide a faster, more compact, lighter monetization service: sell YouTube Monetized Channel.
The channels they provide are the ones that have been legally monetized. Buyers can completely start making money after owning the channel.
Prices
1 Monetized Channel (Organically Grown): $490

1 Monetized Channel (Botted): $350

2 Monetized Channels (Botted): $650

10 Monetized Channels (Botted): $2300
How do they provide the service?
They use social media to get real 4000 watch hours:
Like the above service, they increase watch times by directly promoting your video content through social communities.
The Organically Grown Channel:
This type of channel is built by only 1 content creator with high-quality content. They confirm that this channel would have a steady increase in organic views and subscribers. Therefore, there is no risk due to the original videos. There is a refund policy for this Organically Grown channel.
→ Who are suitable for this service: people who want to develop the channel in the long term by creating their original videos.
They use inactive subscribers to get 1000 subscribers, who are rarely removed by YouTube. But with 1000 subscribers for the Botted channel, they didn't advertise the videos to the channel's potential audience as usual. Because the price for 1,000 Organically Grown subscribers is pretty high, Re-uploaders (who make money on YouTube by reusing others' videos) only buy Botted monetized channels at a low price. Still, they provided inactive subscribers from their "Sub For Sub" system. 
These subscribers don't harm the channel, and they are a good choice of YouTubers who want to build multiple channels. Because this type of subscribers service works well in case they use it to complete the threshold subscribers of YouTube. 
But, there are still some risks of getting demonetized because AudienceGain.net mainly uses a few content creators to produce videos (Includes their faces) for many channels. As a result, YouTube may still consider those channels had reused others' videos
→ Who are suitable for this service: people who use multiple Monetized Channels in a short period to make money by reusing others' videos.
Facebook Monetized Page
The service was called Facebook In-Stream Ads Eligibility Page. They sell Facebook Page that has joined the In-Stream Ads program. On buying this service, content creators are eligible to make money through your video immediately.
Prices
The only payment they offer is $490 for an In-stream Ads Eligibility Page.
How do they provide the service?
They fulfilled the conditions to participate in Facebook monetization by promoting videos on their community:
We all know that Facebook is strict with content creators who want to make money on their platform through In-Stream Ads. Not all pages that have completed their threshold of 10,000 followers and 600,000 minutes are agreed to join In-Stream Ads by Facebook. 
It depends on the content and values content creators bring to their audience and many other factors, or you may never be approved for monetization. It reflects that AudienceGainNet once again affirms they are the solution to help content creators make money on Video Monetization Platforms even if it is not easy. 
The page that AudienceGain builds is considered reliable by Facebook, so customers can buy it and add a bank to the page to submit an application for review.
After purchasing, supporters from AudienceGain will add the buyer as the admin of the page and guide him about the bank account and review submission.
They commit that Facebook will approve your In-Stream Ads review application becáue their page quality is already qualified. In addition, AudienceGain also has a refund policy that comes with what they have committed.
Apply TikTok Creator Fund
TikTok Creator Fund is a program that allows TikTokers to make money from their video views. It requires the account to have 10,000 followers and 100,000 video views in the last 30 days. Also, users must live in the US, UK, France, Germany, Spain, or Italy, which is quite strict to follow. AudienceGain.net recognized this critical need so they created the TikTok Creator Fund Service for those who do not live in qualified countries.
Prices
The only payment they offer is $49 to apply for the TikTok Creator Fund for one channel.
How do they provide the service?
This could be an innovative method that no company has thought of yet and they don't want to reveal its secret yet. Perhaps only customers who buy this service will understand. Let's wait for quality reviews from people who have used it.
AudienceGain.net's keypoints
About the service
Their strong points: monetization on YouTube, TikTok, and Facebook.

They offer several payment methods (Visa, PayPal, Bitcoin).

The cost of their service is a bit more expensive when compared to other firms on the market. But there are quite a few choices to choose from.

There is no free trial available. However, if you want to see how their service works, they provide packages at a reasonable price.

They always provide a special incentive to each audience that visits their service.

Clear refund policy and trustworthy guarantee.
About the customer support
They have a wealth of experience working with clients from many backgrounds.

With a skilled and committed support crew who are always ready to support customers 24/7, they deliver a seamless client experience.
Conclusion
It's typical for any content creator to come across a firm that delivers a good service, yet that same service generates extra issues for its consumers later on. That is the main thing you should avoid since your social account might be the source of your income or something that you've put so much work and time into.
Although AudienceGain.net's services seem to be nothing new compared to the general market, their commitment and warranties are their key points to keep their customers. AudienceGain.net deserves the trust the audience gives and is a good choice if you are wondering about developing your channel in the long run.
Subscribe to Our Latest Newsletter
To Read Our Exclusive Content, Sign up Now.
$5/Monthly, $50/Yearly