Multi Family Real Estate Investing: 7 Easiest Ways to Get Started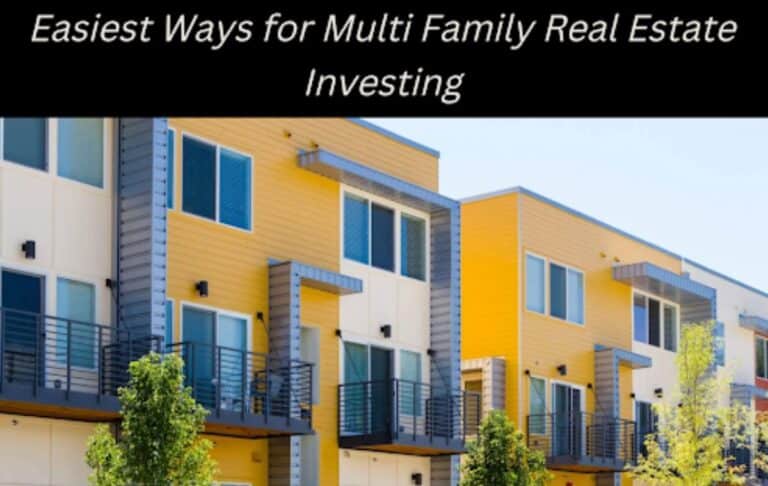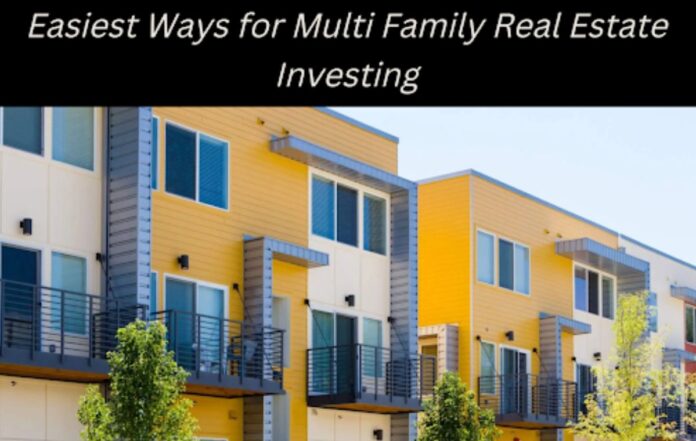 If you are looking to invest in real estate, there are many different ways to do so. You can buy single-family homes or apartments and rent them out, or you can go for multifamily real estate investing like condo buildings and apartment complexes.
As someone who is just starting out with your first investment property, it's important that you set a plan before investing in any type of real estate. The following will help guide you through seven easy ways to help you get started with your first multifamily housing investment!

1. Create an Investment Plan and Stick to It
You will have a much easier time getting started if you have a plan in place. The first step is to set some goals and make a plan. Then, stick to it! Design your plan based on answers to these questions:
Set your goal:

What do you want out of this investment? How much money are you willing to put into real estate investing? How long do you want this investment to continue?

Make a plan:

What exactly needs to happen for you (or your family) to get returns on your down payment, closing costs, property taxes/insurance, etc.?
Make sure that all these items are accounted for before deciding where you would like your new property to be located because location matters in multi-family investing!
2. Analyze The Rental Market before Investing in Multifamily Real Estate
One of the most crucial steps in any real estate investing strategy is looking at your market and determining current trends. This helps you examine whether or not you will get a good deal on rent, property costs, and other factors that affect your return on investment (ROI). 
You can also use population statistics to gauge an area's financial performance. If more people move into an area than leave it, this will give investors hope that their multifamily housing investment will prove profitable over time. However, if there's less migration than anticipated due to high unemployment or crime rates, those same investors might want another property to invest in. 

3. Establish a Strict Budget
To say that setting a budget is important is an understatement. You will have a lot of trouble if you don't know how to make money in multi-family real estate on definite resources. 
Establishing a budget means determining how much money you can afford to put into your portfolio and sticking with it. It is important to have an exact amount in mind because if you're not clear about your goals and how much time will be needed for them, it is extremely difficult for new investors in this game (like yourself) to find success.
4. Consider Hiring a Professional Who Can Teach You How to Make Money in Real Estate?
You can learn much about real estate investing by attending classes. Classes are offered in most areas, and plenty is available online. The information you learn will be invaluable to your success as an investor.
Some of the topics covered in these real estate classes include:
The business of

multifamily real estate investing

(how to buy properties; what makes one property more valuable than another; how much money you need for each investment).




How to spot good deals (you'll get tips on how to tell if a property is worth buying).




How to find tenants for your rentals (this could include things like doing background checks on potential renters).




How other investors have made money in this market by buying properties at low prices and selling them later on at higher prices
5. Research on Multi-Family Investing will Take You to Great Heights
When looking at a potential investment property, it's important to do your research. Where you buy your home will have many factors that could affect your investment and its success rate. You can make a list of things to research based on the Multifamily Mindset Reviews. 
Here are some things to consider when researching an area:
Availability of amenities around your prospective property

Occupancy rate and the vacancy rate

The market value of your prospective property in the last few years

Net operating income, capitalization rate, debt-to-income ratio, etc.

The costs of repair and maintenance
6. Pick a Profitable Location
Location is one of the first factors you must evaluate before investing in a real estate property. First, it will add value to your multifamily housing investment. Second, you would want to ensure that your tenants enjoy a high level of amenities when residing in your apartment.
You also need to consider the factors that make up a good location. For example, a good location can guarantee a good ROI on your investment. You also want to look for properties that fetch a reasonable rent. A good location can also help you avoid future problems related to accessibility and availability of amenities. You may want to ensure that you buy a spot with a reasonable demographic. Such a place is likely to experience growth in population over the years.
7. Understand the Local Rules and Regulations of Your Area
Real estate laws vary by state, and certain cities or counties may have different requirements than others. In addition to knowing the local laws, you will also want to educate yourself on how these rules apply to multifamily real estate investing. It can be difficult for first-time investors who don't have much experience with real estate, and it is even more complicated when dealing with multiple properties at once! 
However, many online resources can help you understand all aspects of multifamily investing (including legal). You can read blogs or listen to podcasts by industry experts.
We all have our own strengths and weaknesses, but we can still learn from others who are more experienced in the field. Some real estate investors have made millions of dollars, while others have lost their entire capital in attempts to acquire assets. The key is knowing what works and what doesn't work before starting your journey.
If you need professional guidance or education on multifamily real estate investing, you can reach out to The Multifamily Mindset! They are an education company aimed at helping investors like you close incredible investment deals!
Learn from your mistakes and those around you in this industry – don't be afraid to ask questions or even ask for help if needed because everyone has been through something similar at some point during their career! Behind your multifamily housing investment journey today!
Subscribe to Our Latest Newsletter
To Read Our Exclusive Content, Sign up Now.
$5/Monthly, $50/Yearly