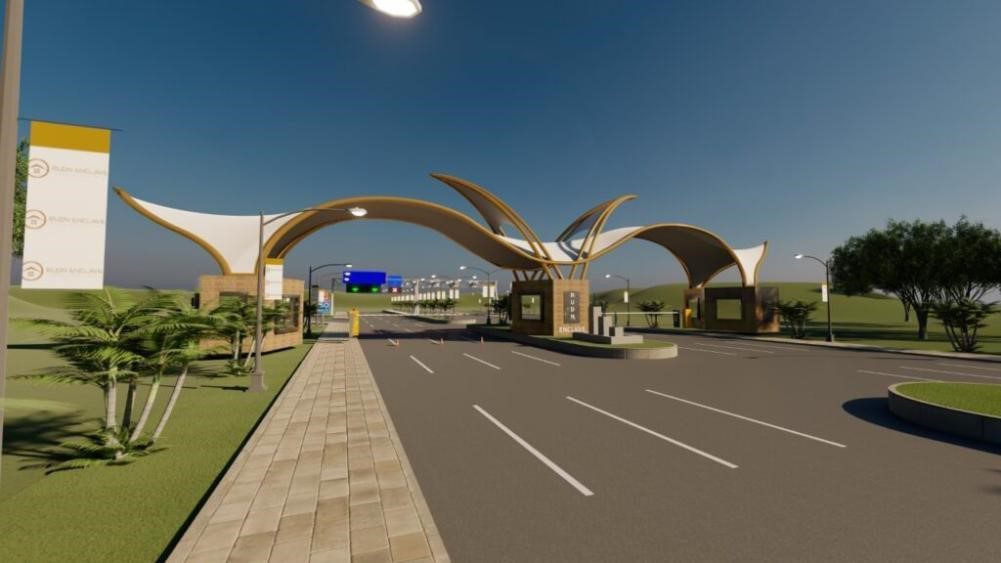 Rudn Enclave is a mega housing project on Main Adyala Road in Rawalpindi that is being developed. Rudn Enclave is owned and managed by RMRSCO Private Limited. NESPAK was engaged as the design consultant. M/S UPDL (Urban Planning and Design Limited) awarded the development contract.
Rudn Enclave is a new housing project launched in the area over the past few years. However, it has quickly made its mark in the real estate market of the twin cities. To capitalize on these vast opportunities, investors need to understand the unique features and investment potential of the Rudn Enclave housing scheme.
We will share all the essential information about Rudn Enclave on this page. We will be sharing all details about Rudn Enclave, including pricing and payment plans, development status, investment potential, and project features and booking procedures. You can either read the entire information or contact us for quick assistance.
The society currently offers different sizes of residential and commercial plots and farmhouses at reasonable prices under a 4-year easy installments plan.
About Rudn Enclave:
Rudn Enclave Rawalpindi is a standout among the recent housing projects in Islamabad or Rawalpindi due to its excellent location and low prices. It will be built on 25000 kanals premium land, located next to Khasala Dam. This area stretches from Java Dam towards West to Chakri Road towards South.
Rudn Enclave is owned and developed by RMRSCO Private Limited. It has signed a 2-year contract with NESPAK to design the project and master plan over 10,000 kanals. The society recently announced the developer of its new office, i.e., Rudn Enclave's chief development consultant is now UPDL.
Rudn Enclave Rawalpindi was created after recent alignment changes to Rawalpindi Rawalpindi Ring Road (RRR). This new alignment passes through the exact location and gives it direct access via Adyala Road Interchange. Society now sells plots as maps rather than files. This has resulted in most of its inventory being sold, particularly commercials, making huge profits.
Rudn Enclave, currently in the pre-launching stage, will officially launch in a few months following the issuance of a NOC from DC Rawalpindi. It has been received positive responses from investors even at this stage. Prospects are very reassuring because of recent internal and externe developments. It is, therefore, a recommended investment option in Rawalpindi.
About RMRSCO:
RMRSCO Private Limited, a registered company, comprises highly qualified engineers and professionals with extensive experience in the area of housing and project development. This team has worked with large developers such as HRL on several small-scale projects.
Initially, Rudn Enclave was developed by the company. However, after the change in Rawalpindi Ring Road (RRR) alignment and the considerable potential that resulted from this change, RMRSCO decided to stop developing work and instead award a development contract to a reputable development company. RMRSCO now focuses on land acquisition and project administration.
About NESPAK:
NESPAK, the leading consultancy organization in Pakistan, ranks among Asia and Africa's top engineering consulting organizations. In 1973, the Government of Pakistan established NESPAK as a private limited company to be self-sufficient in engineering projects. It currently has 4500 employees.
NESPAK designed mega infrastructure projects such as Kalma Chowk Flyover Lahore and Lahore Rawalpindi Ring Road (RRR) Projects, Lahore Metro Bus Systems, Lahore Metro Bus Systems, Narowal Railway Stations, Neelum Jehlum Power Projects, New Islamabad Airports, Orange Line Metro Train Lahore and many more.
RMRSCO Private Limited engaged the Disaster Management & Reconstruction Division (DM&R) of NESPAK to provide consultancy services for the Rudn Enclave Housing Scheme development.
The scope of the work covers seismic hazards, master plan, detailed design, and preparation of bidding papers for approximately 10,000 Kanal areas. The two companies signed the contract on January 1, 2020. It is valid for 24 months.
About UPDL:
Mr. Abdullah owns urban Planning and Design Limited (UPDL). He has extensive experience working with government institutions and overseas as a town planner and management consultant.
Gulberg Islamabad's chief project consultant is UPDL. UPDL is renowned for its high-quality planning and development, including horticulture work. M/s Al-Haq builders & Developers is the subsidiary that undertakes development work, while M/S New Leafs, which specializes in Horticulture & Arboriculture, is another subsidiary.
Rudn Enclave NOC:
 The No Objection Certificate (NOC) of Rudn Enclave will require Rawalpindi Development Authority (RDA) to approve the final permission. This is the most common question about Rudn Enclave. People would be reluctant to invest in schemes that do not have NOC. It is important to remember that many NOCs and permissions are needed for housing projects, including WASA, Environment, Electricity, Gas, etc. It takes time and effort to get all approvals.
This could take several weeks or months. The society has submitted all paperwork to DC Office and received positive news about the NOC.
Project Location:
The location of Rudn Enclave Rawalpindi can be found in Mouza Khasala Khurd, near Khasala Dam on Adyala Road Rawalpindi. You can access this location via Chakri Road, Saddar, and Bahria Township Phase 8 Extension. 
The land is between two dams (i.e., the land lies between two dams, i.e., Jawa Dam and Khasala Dam. This provides water for future residents and a stunning view of the dam from your home.
Rudn Enclave Rawalpindi is the only housing project that will touch both roads (i.e. Adyala Road and Chakri Road). The society claims that it has acquired more than 14000 kanals of land. Its access 2 will be located at Chakri Road, next to Capital Smart City.
To get a better idea of the exact location of Adyala Road and its expected access 2 to Chakri Road, you can check the following map: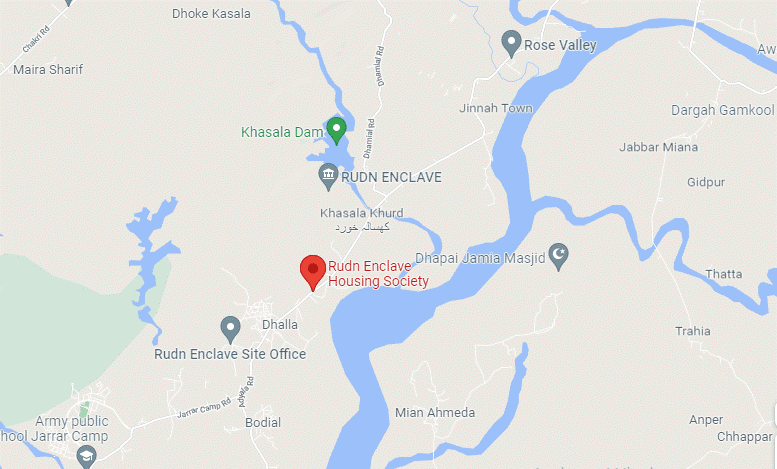 After the Rawalpindi Ring Road (RRR) finalized maps were released, the location became beautiful. They show the road passing through Rudn Enclave and the planned interchange.
The map shows the entire route of Rawalpindi Ring Road (RRR). A marker has been placed at Adyala Road Interchange, which marks the exact location Rudn Enclave.
The Rawalpindi Ring Road (RRR) passes through Rudn Enclave. An interchange will be located right next to 1 Gate.
The map shows that Rawalpindi Ring Road (RRR) will pass through its first entrance, which is i.e. Block A. Block A.
It will be the most desirable location for those who want to live in Rawalpindi once Rawalpindi Ring Road (RRR) links Rudn Enclave with GT Road and Motorway. It is centrally located and only a few minutes away from Saddar, Motorway, and Rawat. This will make it the most accessible address in Rawalpindi.
The New Islamabad International Airport is approximately 10 minutes away
T-chowk and Giga mall are both within a 10-minute drive
Zero Point via Kashmir Highway is approximately 30 minutes away
Development Status:
RMRSCO was involved in the project's development and completed approximately 20% of Block A's earthwork. The development work has essentially ceased after the change in plan. However, very few bulldozers have been hired for the leveling of the land. After all, prerequisites have been met; proper development can begin.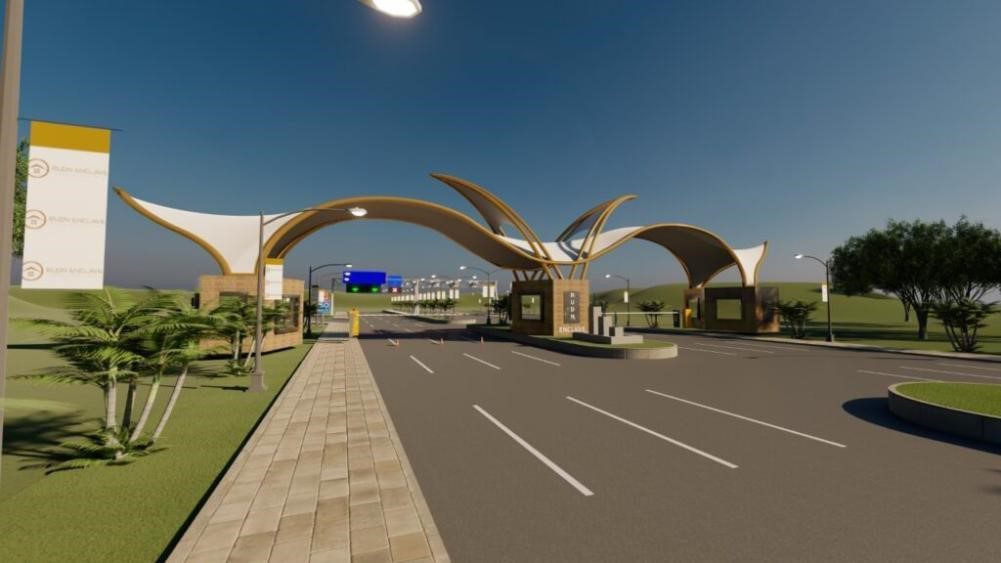 Society is still in its pre-launch phase, so it will take time before you see the actual infrastructure development. Together with its team, society is working hard towards its goals. UPDL has begun moving its machinery onto the site and has already started development work on the central Boulevard Jamia Masjid and the entrance gate to Executive Block.
Rudn Enclave Master Plan:
Rudn Enclave released a partial map of a few blocks. Block A through Block G. Blocks A, C, and F are residential blocks that include residential plots ranging from:
Commercial plots ranging from:
Block B is reserved for villa development and will be sold at a later stage. D and E blocks consist of 4 Kanal farms houses and 8 Kanal farmhouses. There are also commercial plots.
The minimum street width is 30 feet, and the minimum road width is 60 feet. These 200-foot wide main roads lead to all 1 Kanal commercial plots.
Rudn Enclave Rawalpindi Map:
There are fewer blocks on the map that do not have plot numbers. These blocks will soon be available at reduced prices. Other blocks, including Executive Block, Prime Block, and Overseas Block, will soon be available.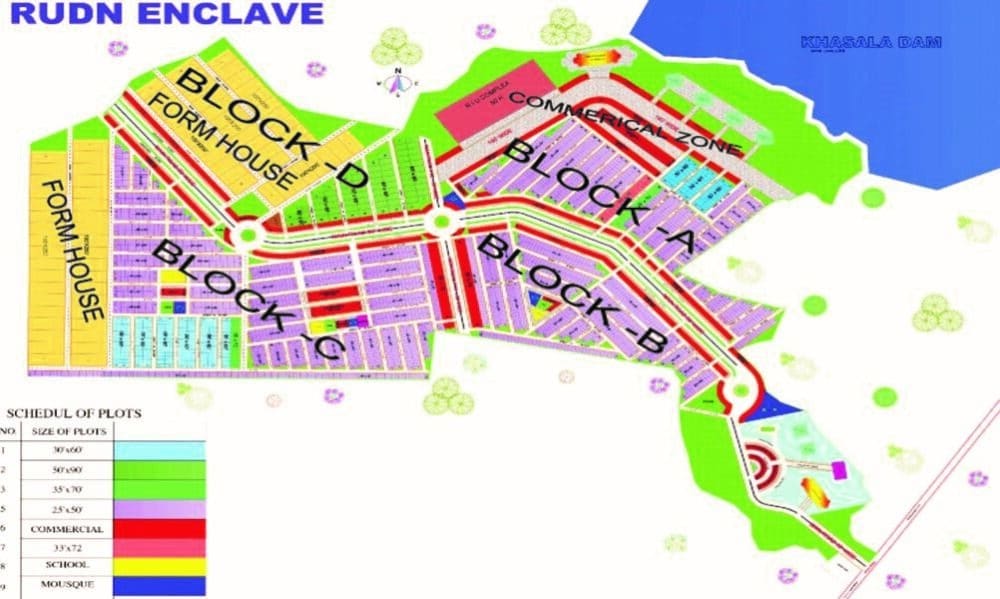 General Block:
General Block is an area that was once part of Rudn Enclave. It starts at Block A and ends at Block G. Blocks A, B, C, and G contain residential plots measuring 5 marlas, 7 marlas to 10 marlas, and 1 Kanal. Blocks A, B, and C include commercial plots measuring 4 marlas to 8 marlas and 1, while Blocks D and E consist of 4 Kanal and 8-Kanal farmhouses.
General Block is the entrance to Rudn Enclave. This is also the exact location for Rawalpindi Ring Road (RRR) Interchange, located right next to the society's entrance. Therefore, the general block will be linked directly to Rawalpindi Ring Road (RRR) via Adyala Interchange, making it an attractive location for investors.
General Block development is being delayed by the Rawalpindi Ring Road (RRR) alignment, which has resulted in some changes to the master plan. After NESPAK has approved the changes, the development will resume in this area.
Executive Block:
Executive Block is a new residential block that was launched on Adyala Road. It begins at Adyala Road and goes up to Jawa Dam. It will link with General Block and Rawalpindi Ring Road (RRR) via an internal boulevard of 200 feet that connects both.
Rudn Enclave's Executive Block is its model block. It includes 7 to 10 marla residential plots, 1 Kanal and 1 Kanal, and 4 and 8 marla commercial plots. This block has a higher standard of living, so there are no 5 marla plots.
This block is considered a model block, and the development plan is better than General Block. Street and road sizes are larger, i.e., Streets are 40 feet in size. About 40% of the land is reserved for residential plots and 60% for amenities such as parks, entertainment areas, sports facilities, etc.
This is Rudn Enclave's first area where earthwork (development work) is being done. Visitors can obtain a project brief and help with site visits from the site office. Society staff shows them the development area, including Jawa and Khasala Dams.
Although the society has already released the preliminary master plan for Executive Block, the more detailed and complete version will be available after the ballot for plot number, which is expected to take place in a few months.
Features and Amenities:
Rudn Enclave will be a modern housing development. Therefore, the company has appointed "NESPAK," a top consulting firm. They are currently finalizing the project developers from the best companies in Pakistan.
The society planned these amenities:
Boundary Wall and Secured Gated Community
Smooth Connectivity via a Network of Wide Roads
Smart Security & Surveillance System
Uninterrupted Supply Basic Utilities
Water filter plant for residents
Public Transport Facility
Dedicated Commercial Areas & Shopping Complex
Five Star Hotel & Restaurant
Theme Parks, Play Grounds and Jogging Tracks
All Blocks have Mousques and Schools
Pakistan's First Skywalk Over the Dam
Cinema of the Gold Class
Cricket Stadium with Club
Lake View Park
Eiffel Tower Monument
International Standard Golf Course
Reserved area for the graveyard
Rudn Enclave Payment Plan and Prices:
Rudn Enclave has residential and commercial options, including luxury farm homes next to Jawa Dam and Khasala Dam. You can book your plots with 20% down and the remainder in four-year installments.
Below are the prices and payment plans for residential and commercial plots and farmhouses at Rudn enclave General Block.
| | | | | |
| --- | --- | --- | --- | --- |
| Plot Size | Plot price | Down payment | Monthly Installations | Possession (10%) |
| | Residential Lots | | | |
| 5 Marla | 12,00,000 | 240,000 | 17,500 | 120,000 |
| 7 Marla | 15,60,000 | 312,000 | 22,750 | 156,000 |
| 10 Marla | 21,65,000 | 433,000 | 32,573 | 216,500 |
| 1 Kanal | 35,28,000 | 705,600 | 51,450 | 352,800 |
| | Commercial plots | | | |
| 4 Marla | 26,40,000 | 528,000 | 26,400 | 264,000 |
| 8 Marla | 45,00,000 | 900,000 | 65,625 | 450,000 |
| 1 Kanal | 150,00,000 | 30,00,000 | 218,750 | 15,00,000 |
| | Farmhouses | | | |
| 4 Kanal | 92,00,000 | 18,40,000 | 134,167 | 920,000 |
| 8 Kanal | 160,00,000 | 32,00,000 | 233,333 | 16,00,000 |
Here are the prices and payment options for residential and commercial plots in Rudn Executive Block.
| | | | | | |
| --- | --- | --- | --- | --- | --- |
| Plot Size | Plot Type | Total price | Down payment (20%) | 48 Monthly Installations | Possession |
| 7 Marla | Residential | 18,00,000/- | 360,000/- | 26,250/- | 180,000/- |
| 10 Marla | Residential | 23,70,000/- | 474,000/- | 34,563/- | 237,000/- |
| 1 Kanal | Residential | 39,50,000/- | 790,000/- | 57,604/- | 395,000/- |
| 4 Marla | Commercial | 40,00,000/- | 800,000/- | 58,333/- | 400,000/- |
| 8 Marla | Commercial | 72,00,000/- | 14,40,000/- | 105,000/- | 720,000/- |
Why to invest in Rudn Enclave?
RUDN Enclave, one of the three most desirable housing schemes, will be able to take full advantage of the Rawalpindi Ring Road (RRR). The Government has officially started work this year. Property prices will likely rise in the next few weeks. This makes it one of the best investment options in Rawalpindi for 2022.
We can make a conservative estimate of the expected average return on investment for Rudn Enclave at the current price. Residential plots will grow 20-30% per year, while commercial plot prices will grow 50% per year.
Rudn Enclave also offers a significant advantage: the society sells plots via map, not files. It offers registry transfer for plots upon full payment. This shows that the society is the owner of the land being sold and reduces the risk of fraud, which is much more common in the case of files.
Market Sentiments:
The investment trend towards Chakri & Adyala Road is changing due to the upcoming Rawalpindi Ring Road (RRR). The sentiments are very positive, and investment volume continues to increase. Numerous new investors have joined the massive housing projects such as Blue World City, Mivida City Capital Smart City, and, last but not least, "Rudn Enclave."
Property experts expect a 25% to 35% average increase in property prices in the area over the next 3-4 years after completing the Rawalpindi Ring Road (RRR). This is a significant advantage compared to the high-end housing projects along GT road or Islamabad Highway.
The installments option is another important aspect. Rudn Enclave offers a 4-year installment plan for a very low price, which means more potential buyers. It requires minimal investment, but the expected return is greater.
Booking Procedure of Rudn Enclave:
It's easy to book a Rudn Enclave Rawalpindi residential or commercial plot or farmhouse. You only need to choose your plot and submit the documents and down payment. Your plot file will be available within 15 working days.
The following steps can be taken if you're in Pakistan:
Visit our office at Bahria Town Phase 7, Rawalpindi
Complete the booking application
Attach CNIC Copies from Applicant and Nominee
Attach 2 passport-sized photos of the applicant
Pay down payment via check or pay order to "Rudn Enclave"
Accepted payment is cash
Send your documents and payment and get a receipt
You can collect your file within 7-10 working days or have it sent to you
You can follow the following steps if you live outside Pakistan or in any other country within Pakistan:
For more information, please get in touch with us by phone, email, or WhatsApp
We will make available plot numbers for you to choose from
Reserve your plot until you are satisfied with your booking
Deposit down payment in Rudn Enclave registered company account and receipt of shares
Please send us a scanned copy of the application form, CNIC copies for the applicant and nominee, as well as a passport-sized photo of the applicant
After payment has been verified, you will receive a receipt
The file will be available within 7-10 working days. It will be sent to your address
Contact Us:
You can contact us by phone, email, or WhatsApp to learn more about Rudn Enclave and its potential investment opportunities.
Subscribe to Our Latest Newsletter
To Read Our Exclusive Content, Sign up Now.
$5/Monthly, $50/Yearly