How To Turn Your Home Gym Passion Into A Paying Business?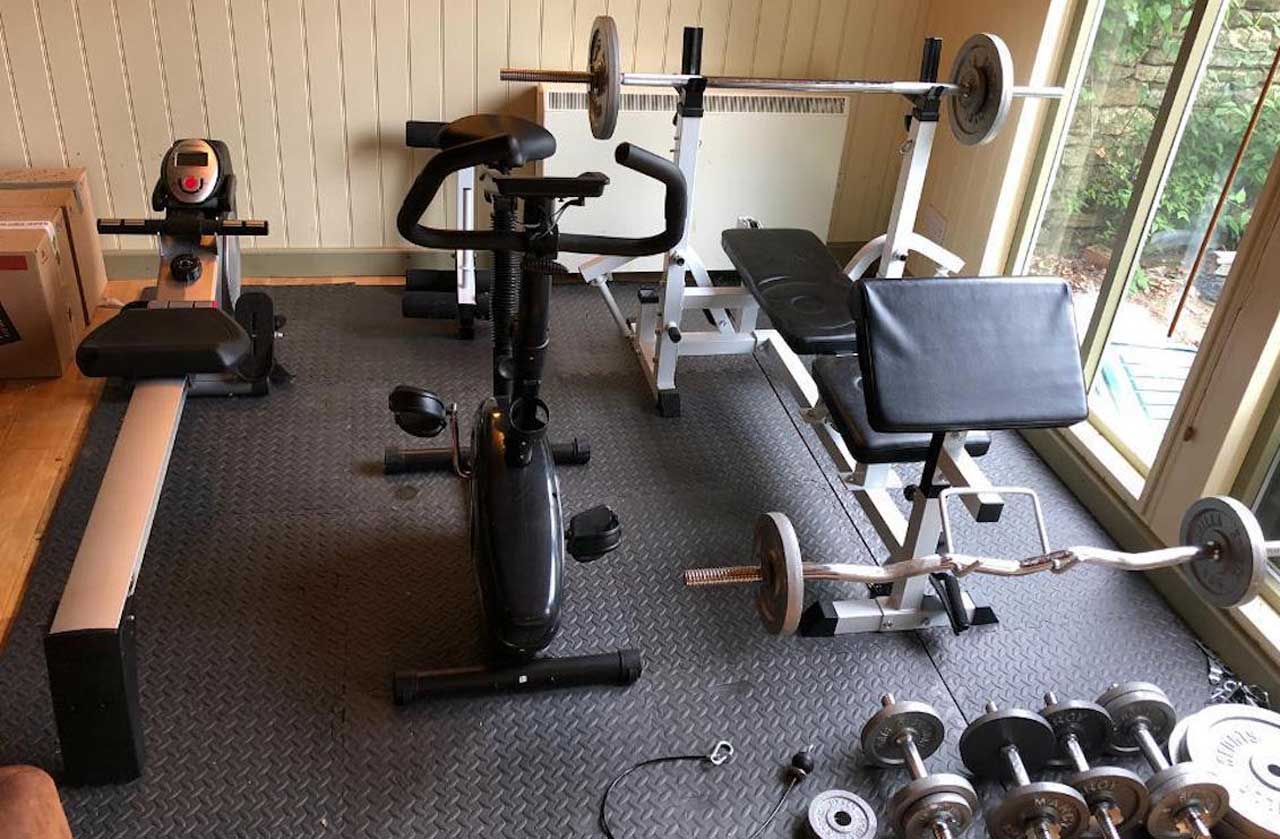 It's a question many ask and a booming business idea during 2020-2021 following the post-pandemic job market fallout. However, 5-year statistics show that this concept has grown in popularity. Google trends data and search insights from SE Ranking show that the number of searches across the UK for gym-related businesses is stable and increasing.
Searches in Google (Google Trends)

Searches in Google (Data SE Ranking)

This article provides actionable insights and data to support anyone thinking about taking the leap. We also hear from businesses that can support you with the transition and set-up. 
Can Gym Owners make Money? 
There are stories of Gym owners making fantastic profits and gym chains selling for millions, but before all that, you must understand that it can be tough out there.
Just Google "How many gyms fail" Exercise.com reports 81% of health and fitness studios fail. So, of every ten that start-up, only two will make it. A shocking statistic, but make sure you are on the right side of 19% and go into this with your eyes open. 
Here are some searches being conducted by people looking to start out. Data from AlsoAsked.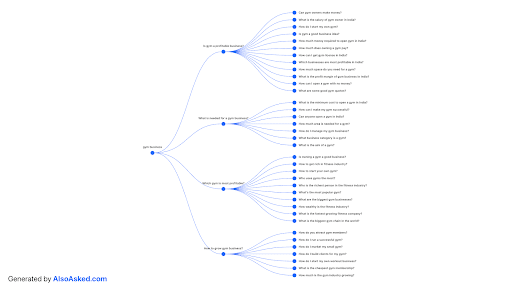 There are typically a few scenarios, but we will consider the two primary situations for this guide. Then we can provide some helpful tips to support the recommendations.
Scenario One – You have a home Gym and love to train; you are unhappy in your job, or you've lost your job.
Scenario Two – You're a PT in a Gym looking to make the next step. You may have seen the money being taken or done the maths after a class. You may not like how things are being run in your current Gym and see an opportunity.
How do I start my own Gym?
Securing premises and establishing a customer funnel is a considerable undertaking in both scenarios. It is not a case of 'build it, and they come'. We discuss marketing later on in this article.
The primary considerations: 
Premises

Equipment

Advertising

Cashflow
Is a Gym a good business idea?
A Home Gym Studio might be recommended in both situations, and here's why.
In Scenario One, you need to consider qualifications. You can attend Online or in-person PT Training Centres to gain levels 2 & 3 in Personal Training, allowing you to have professional accreditation and start up from home. After all, you have a passion project – Your Gym!
In Scenario Two, you might think it's a good idea to go and sign up for thousands of pounds per month on a 12-month leased unit somewhere. Before you do this, consider how many clients might port over to your new business and how many might leave and rejoin the old Gym. Walking before you can run is critical and why many fail. Therefore, why not initially set up a small studio from your home or garage to explore the opportunity with limited risk? 
"By failing to prepare, you are preparing to fail" – Benjamin Franklin.
Are there drawbacks to starting a Gym business?  
Of course, some are obvious, and others less, so let's review these: 
Admin – When you imagine opening your Gym Business, the last thing on your mind is admin, but as a business owner, this is a large part of the role. Imagine if you started a sizeable commercial Gym without any experience. The employee admin and HR alone could mean you rarely leave the office. Well, hire someone; where's that money coming from? An accountant & HR professional is 40,000-45,000 on average, according to Reed.co.uk. 
Long days – First in and last to leave. That's the reality of owning and running a business. This is especially true in years 1-3 when businesses commonly fail. 
Cashflow – The money you thought you were getting will be going on bills, staff if you employ people and rent, which is why a studio could offer you the right solution and keep overheads low. Cashflow is the fundamental and singular focus of any business. If it's not, it will fail. 
What are the Benefits of starting a Gym business?

 
Freedom – This is not always the immediate benefit, but it can work for you. For example, this can be right for you if you have children or like to have the middle of the day to yourself. You might often see a client before their work or in the early evening. You can book clients around your schedule.  
Do what you love – You do this because you love the work. Nothing is better than doing what you love; a job is 50% of your day and 3/4 of your week. You need to be doing what you love. What could be better than getting up in the morning, pumped for the day ahead? 
Opportunity to earn money – If you are careful, there is good earning potential. 
Futurefit.co.uk advises that personal trainers earn between 15,000 and 60,000 on average. A realistic target might be 40,000, which is typically £2,549 per month after tax. As a business owner, you are less likely to pay full tax, so that it might be nearer to £3,000 per month.
How to Optimise Costs?
How to optimise your costs and improve your income as a Gym owner is a crucial consideration, which is why starting a studio before branching out for a larger gym space could help you build the proper foundation and allow you to interrogate your success. Consider getting equipment packages from online fitness brands like Mirafit. They also offer payment plans via a finance company. 
Four Tips to Improve Income
Boot camps – often outside, often with a limited amount of kit and designed for larger groups. So the overhead is low, and the earning potential for the time is excellent if you trained 15 people at £8.00 per head, its £120 per hour, remembering set up, travel to and from, marketing, etc.  
Monthly packages – Are designed to allow a base income, and then it is down to the client to make the appointments. Some might take up every second of their plan while others settle into a much more comfortable schedule. 
Equipment and clothing upsell – If you can strike a deal with a clothing supplier or a referral deal with an equipment provider, then you can make a little extra cash from your side hustle. 
Nutritional and diet advice – Providing added value like nutritional advice will do two things: it allows you to maintain more frequent contact with your clients, giving them better results and making them less likely to go elsewhere. It also gives you an edge over others and helps allow for a premium price point. 
How do I Market My Small Gym?
Attracting new customers can be your biggest concern; if you have high overheads, you are more exposed.
Social media – Social pull is essential; an excellent social presence can be worth more than many other marketing techniques when you are starting out. Improving your sphere of influence and engagement can lead to new clients. Social media is powerful, especially when you can show before and after client results. 
Referral – Your existing customers are your most important assets. They will help sell your services and, when they are happy, will carry your message far and wide. Remind them to keep sharing your name with others. Referrals are one of the most important marketing tools, as a personal referral holds a lot of weight with the recipient. 
Location: Never underestimate the power of location. Look for a space crying out for a gym, and avoid over-saturated areas, because this will increase the chance of failure. Do your research here, and it can be the make or break.
Google Ads – You can burn cash with PPC if you are not careful, but if done correctly, then you can switch it on and feed customers to your business. If you can hand Google £50 and it hands you back £150, you would, right?
Google My Business (Now Google Maps) – Always overlooked, but one of the most immediate ways to get your business out there. Google Maps is a great way to list opening times, images and an intro text for your business.
What kind of People can Start a Home Gym Business?
As long as you have a passion for the industry and the right levels of expertise, there is no stopping you from joining the fitness revolution. Recently there has been a huge variety of people starting up, each offering their own niche or unique take on personal training or gym experience.
"Historically, it tended to be college leavers coming to qualify with us, and nowadays, it seems to be more mature students considering a career change or looking to start a business. The in-person learning is valuable for those focused on being the best trainer possible." 
Kevin Mantle 
Managing Director of Norfolk Health & Fitness 
(An in-person PT training & Online facility in Eastern England)
Hopefully, this has been useful and helped you consider your premises, size scale and cost. Your equipment supplier and how they can help. The marketing you can do to help yourself and the marketing that others can do for you. It is essential to go into this with your eyes open and remember that with some luck, support and effort, you can be your own boss and enjoy profits and freedom.