How to Help a Veteran with an Addiction?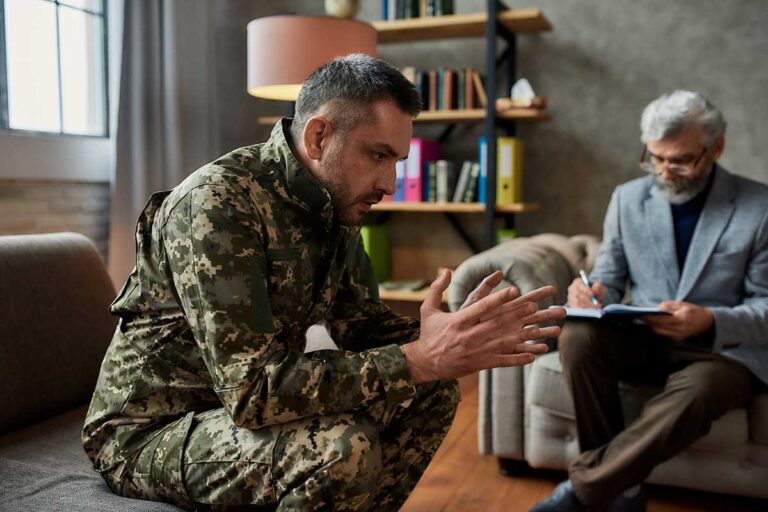 Military veterans who have done one or multiple tours of duty overseas are often adversely affected by their experiences with combat and other traumatizing events. 
Combat trauma is closely linked to PTSD, or post-traumatic stress disorder, which is a high-risk factor for other mental health disorders and illnesses, especially addiction.
Due to the nationwide demand for substance abuse treatment, state-funded resources and treatment options are made available to veterans in their local regions. For example, veterans who are registered citizens of Massachusetts are eligible for treatment at Massachusetts veteran rehab programs and can apply for local benefits. 
In addition to professional substance abuse treatment, veterans also need the support, patience, and understanding of their loved ones and families to heal from the trauma they've endured and the residual effects on their mental health. 
The following are some ways of helping and supporting a veteran who may be battling an addiction or showing signs of substance abuse and is in need of help. 
Understand Addiction among Veterans
Substance use disorders among veterans manifest as a result of maladaptive coping skills that develop around self-medication with drugs and alcohol, particularly to cope with trauma. 
The longer substance abuse is prolonged, the higher the chemical tolerance for drugs or alcohol, or both, and the harder it becomes to function without substances. 
Veterans dealing with untreated PTSD often find themselves desperate to manage their symptoms, even if there are negative consequences to self-medication with substances.
The nature of addiction is such that it amplifies symptoms of PTSD, such as anxiety and depression, and causes even further withdrawal from family, friends, and loved ones.
Recognize Signs of Addiction 
The close friends, family members, and loved ones of veterans are often the first to notice warning signs of addiction and potential co-occurring mental health disorders.
Early signs and symptoms of an active substance use disorder and co-occurring PTSD can be recognized in behaviors and reactions, particularly when triggered.
Warning signs and symptoms of substance abuse include:
Social and emotional isolation or withdrawal

Strained relationships and domestic conflict

Difficulty focusing or concentrating

Long unexplained absences from home or work

Difficulty fulfilling personal responsibilities

Mood swings or manic depressive episodes

Aggression, irritability, and violent outbursts

Difficulty sleeping or sleeping too much
Prepare an Intervention
When a veteran starts to lose control over abuse of alcohol and drugs, family members and friends may feel the need to intervene and bring awareness to the issues at hand. They may arrange an intervention to voice their concerns about a veteran's substance abuse.
Interventions can be intense for everyone involved, including the one being intervened upon and the loved ones intervening. A confrontation may trigger powerful emotions and reactions from a veteran, including anger, denial, fear, guilt, and remorse.
The key objective of an intervention is to let a loved one know how concerned you are about their substance abuse and to encourage them to get professional treatment. Ultimatums are usually not the best approach, because they can prompt a flight, fight, or freeze response and increase resistance to treatment. 
While coercion can backfire, using intervention as an opportunity to remind a veteran that people care about them and persuade them to get help for their mental health issues can be more effective and less intimidating.
Take an Empathetic Approach
Post-deployment or active duty, veterans may feel a lack of connection among civilians who don't understand what they have been through. PTSD caused by military combat and other traumatic experiences profoundly impacts veterans' emotions, behaviors, attitudes, and relationships. 
They may not seem like themselves, or exhibit behaviors that are atypical of their personalities, such as being short-tempered, hypervigilant, or depressed. They may suddenly be extremely introverted and dissociative, whereas they used to be outgoing.
Having empathy toward a veteran does not mean you enable their behaviors or allow them to be abusive to you or anyone else. It has to do with being mindful of what they may have experienced, as well as being compassionate and non-judgemental. 
You may not know what war combat is like first-hand, or how to relate to addiction, but you can still have empathy and compassion for a veteran with a substance use disorder.
Help a Veteran to Find Treatment
Veterans also need to come to terms with their trauma and find ways of coping with PTSD in a healthy, proactive way, instead of relying on drugs or alcohol. A variety of proven PTSD treatments and therapies are available to help military veterans cope with their emotions and substance abuse.
Treatment options are varied, from outpatient services to individual and group therapy. Families of veterans can also get involved by attending family and marriage therapy sessions. 
There is a variety of specialized programs for veterans who are homeless, victims of sexual trauma, and combat survivors. Some veterans may be unaware of these options, or apprehensive about getting treatment for fear of appearing weak or disabled. 
Encouragement from loved ones can help them overcome emotional and psychological barriers to getting the help they may need from professional and empathetic sources.
Showing Support for a Veteran in Active Addiction or Recovery
Veterans who are affected by addiction often experience a sense of isolation after coming home from active duty through their traumatic experiences and memories. They may attempt to numb their emotional trauma with drugs and alcohol, believing that this is the only way to acclimate and function in civilian life. 
Veterans need empathy, support, patience, and understanding from people at home who they can trust. There is often a powerful subconscious or conscious need to connect and feel connected with others. Reaching out to a veteran can help them feel seen, heard, supported, loved, and empowered to get help for their addiction.
Subscribe to Our Latest Newsletter
To Read Our Exclusive Content, Sign up Now.
$5/Monthly, $50/Yearly