How does the CSGO Skin Upgrader Work?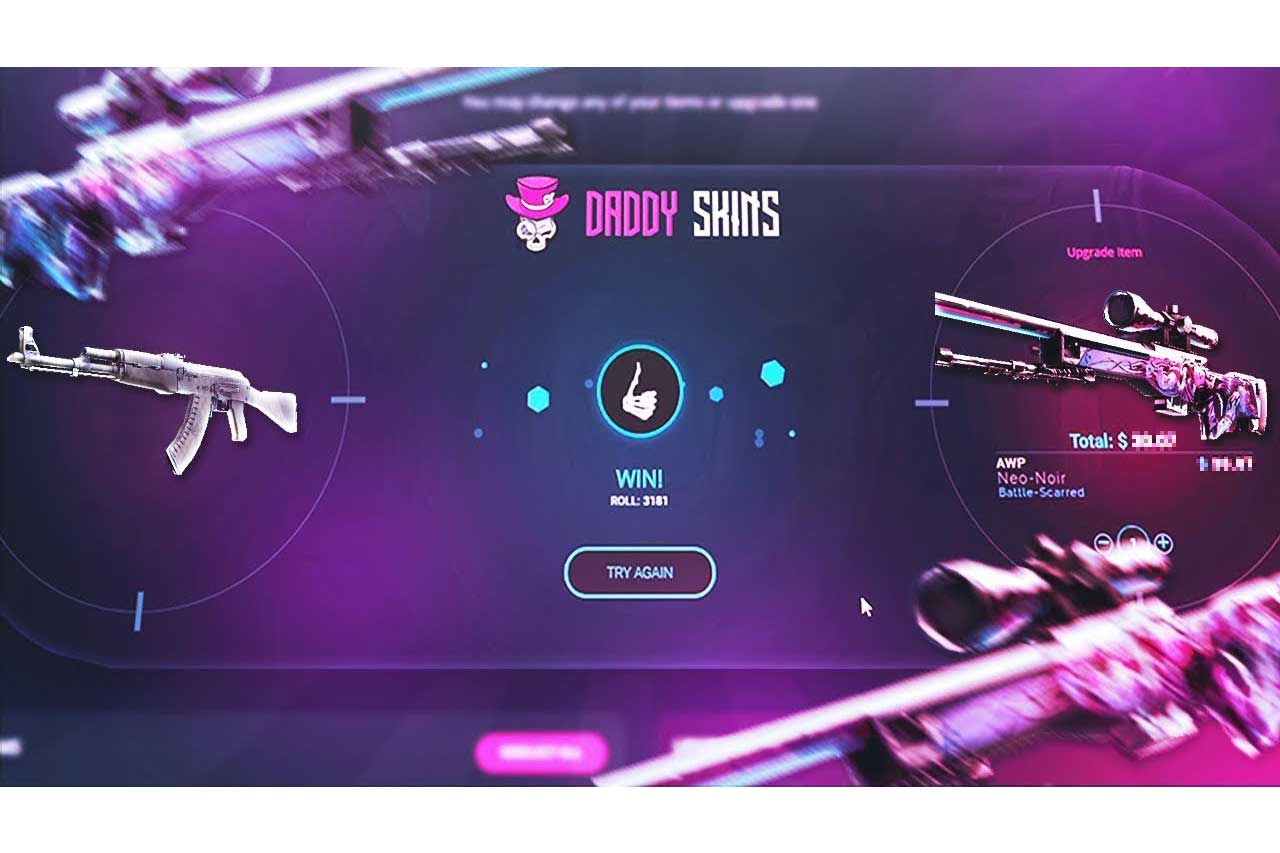 There are many ways to get the skins you want and personalize your look in CS:GO, and one of them is upgrading them using specialized sites. Keep in mind that if you want some guarantees and don't want to waste your time and money, then you should choose only trusted skin upgrade platforms.
For example, you will find a unique upgrade simulator based on a mathematical algorithm that transparently demonstrates your chances to win. Even if you lose, you will get a nice cashback as a bonus, and even after 5 unsuccessful upgrades in a row, in the last one you WON'T LOSE the skin you deposit.
Now we will tell you in detail what a skin upgrade is and how to do it right!
What is CS: GO skin upgrade?
Simply put, a skin upgrade is the exchange of several low-tier skins for a higher-tier skin with a surcharge. For example, you have two Flip knives Vanilla you don't need, which you exchange for one Butterfly knife Vanilla you want to have.
How does skin upgrade work?
The upgrade works like a lottery: you never know exactly what your chances to win the desired skin are. Therefore, you should remember that the more expensive the new item is in relation to the value of your existing skin, the fewer chances you have.
For example, you have a skin worth 43 cents and you aim to get the new one that costs $20. In this case, your chance of success is only 2%. Then, the wheel spins, and if the arrow stops in this small range, then you win the game! If not, you lose your skin, but usually, websites will give you a cashback to boost your motivation to play again and again.
How to upgrade CS:GO skins: step by step
First, find a site you want to play and trade on. There are plenty of good platforms, you can even ask someone in the CS:GO community if they can recommend you one.
Now, you need to register. For that, you just need to have a Steam account. With the third deposit, items become available and you can start upgrading/trading.
Choose the loot from your Steam inventory that you want to deposit. Click the "Suggest Exchange" button. Then, the bot will accept your deposit and the game will start.
Select the probability rate; different websites offer various indicators, but on average, this figure is 1.5%, 2%, 5%, and 50%. The chance depends on the percentage of the upgrade: for example, to upgrade the skin to x50, the chance of winning a skin will be about 3%. That's not much, but you still can win!
How do I get credits for the CS:GO upgrade?
Skin upgrade sites use virtual currency such as credits. Users can get them in different ways:
upgrading skins;
completing different tasks;
inviting friends to the site.
Legitimacy and security issues
Since CS:GO skins are not the official currency, upgrade sites do not need to have a special license to operate. It is worth mentioning that the Valve and Steam communities do not support the activities of this industry.
Their position is understandable: after all, they lose part of their income. However, you should also be careful when choosing a site for upgrading skins since there are lots of fraudulent platforms. Using such websites, you won't win any cool skin, or even worse — you can lose your money, skins, and even your Steam account!
Don't add unfamiliar profiles, don't click on the links they send you. Remember that the website administration will never write to you first!