President Biden's Secret Trip to Kyiv: Everything We Need to Know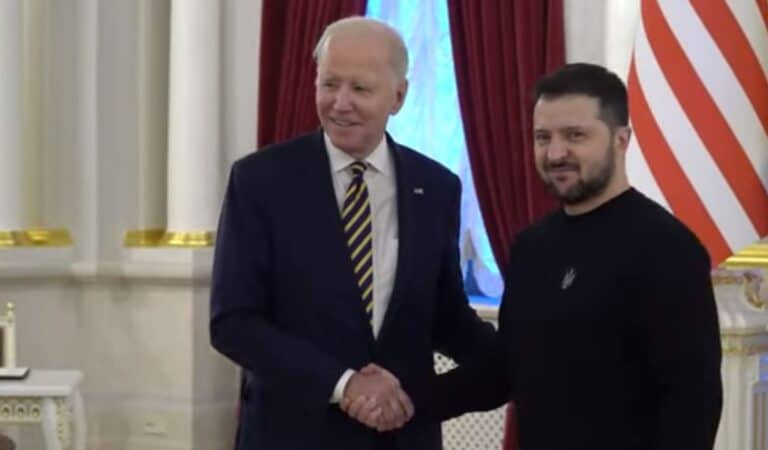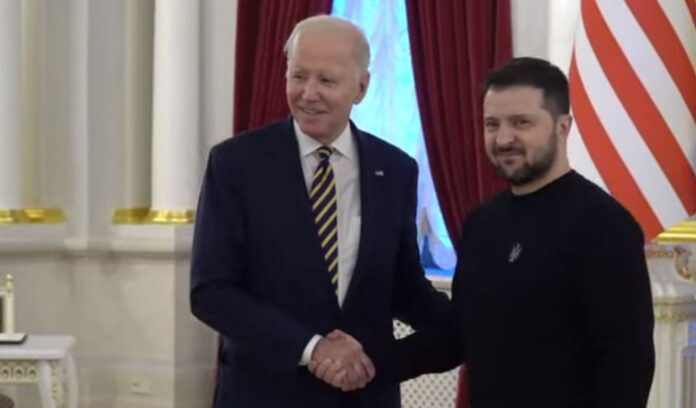 Listen to the Podcast:
U.S. President Joe Biden has made a secret visit to Kyiv, the besieged capital of Ukraine. He arrived in the country on Monday after a few hours of a train journey from the border with neighboring Poland.
Read Also: Google Chrome Adds Memory and Energy Saving Modes
Biden's visit to Kyiv was done in secret. There was no official release of information about the visit until he left Washington for Kyiv.
The New York Times published a report on why and how Joe Biden secretly visited Ukraine a few days before the anniversary of Russia's military invasion of Ukraine.
Biden left Washington on Saturday night without any notice after a rare dinner at a restaurant with his wife, Jill Biden. Due to security concerns, the entire arrangement of Joe Biden's visit to Kyiv has been completed secretly.
Read Also: Meta Starts Selling Instagram and Facebook Blue Tick Verification
Biden is scheduled to arrive in Poland's capital, Warsaw, on Tuesday for a two-day visit. Washington officials have repeatedly denied plans to announce a trip from Poland to Ukraine.
Even on Sunday night, the White House released a public schedule for Biden's visit on Monday. The program said that Joe Biden is still in Washington and will leave for Warsaw in the evening. But he'd already traveled half a world.
Joe Biden has made US support for Ukraine central to the argument to revive the European Alliance. To his advisers, he said he wanted to commemorate the first anniversary of Russia's aggression to reassure allies so that European allies could understand that his administration remains committed.
Joe Biden arrived in Kyiv, the capital of Ukraine, at an important moment in the war at home and abroad. Some of America's staunchest allies are pressuring Ukraine to start negotiations for a peace deal. There is also a proposal to give up the territory to Russia. Newly-appointed U.S. Speaker Kevin McCarthy and some of his fellow Republican lawmakers have called the war effort a "blank check" and called for it to be stopped soon.
Also Read: Excellent Ways to Combat Skin Aging
Biden's surprise visit to Kyiv just a day before Russian President Vladimir Putin's scheduled speech on Tuesday. In the address, Putin is expected to discuss Moscow's war effort during the spring offensive in Ukraine.
Biden is scheduled to meet with Polish President Andrzej Duda on Tuesday morning. The US President is expected to deliver a speech from Warsaw Castle in the afternoon of the same day. Ukraine will inevitably remain a topic throughout Biden's speech. Putin will also talk about Ukraine on the same day. The two world leaders will share the television or mobile phone screen that day. It's still unclear if there will be any changes to Biden's schedule due to his surprise visit to Kyiv.
Biden's visit to Kyiv is reminiscent of the secret missions of former US Presidents George W. Bush and Barack Obama during the fierce wars in Iraq and Afghanistan a few years ago.
In 2003, Bush made a secret visit to Iraq to thank the soldiers engaged in the war. And the trip was so secretive that even members of his Secret Service thought he was still on his farm in Crawford, Texas.
Know More: Best Netflix Series of All Time
In 2010, Barack Obama made a similar visit to the Afghan capital, Kabul. He went to Kabul in complete secrecy from Camp David so that no one would know about his visit.
But Biden's visit to Ukraine, an active battleground, was particularly complicated. Because there were no U.S. troops there. During Bush and Barack Obama's secret visits to Iraq and Afghanistan, US troops were present in both countries to protect them.
Some of the top US officials have also traveled from Poland to Ukraine by train overnight. It takes more than seven hours to reach Ukraine by train from Poland. Train journeys are considered safer during times of war. After spending a few hours on the ground in Kyiv, they left for the train again without spending the night. U.S. Secretary of State Anthony J. Blinken made a similar visit last September, and Biden's national security adviser, Jack Sullivan, made one in November.
Last year, Ukrainian President Volodymyr Zelensky visited Washington just before Christmas. It was his first trip outside Ukraine since the start of the Russian invasion. During a visit to Washington at the time, he called for more help and support from Western leaders for Ukraine.
He called during a meeting with Biden at the White House and an emotional speech in Congress. Similar to Biden's visit to Ukraine, Zelensky's visit to Washington was kept secret until before his arrival for security reasons.
Two days after Zelensky's speech, the U.S. Congress approved an additional $50 billion in emergency funding for Ukraine. In addition, most of the military equipment given to Ukraine was intended to help the country fight against Russia. U.S. aid to Ukraine has exceeded $100 billion since the start of the war on February 24 last year.
Subscribe to Our Latest Newsletter
To Read Our Exclusive Content, Sign up Now.
$5/Monthly, $50/Yearly