How to Hide Likes on Instagram? [A Step-by-Step Guide]
Listen to the Podcast:
If you want to have full control over your Instagram experience, you need to know how to hide likes on Instagram. Instagram is always adding new features, and the most recent one is the ability to hide the number of likes and views on your posts.
This information can help you figure out how well your content is connecting with your followers, but it can also be a vanity metric that makes you feel bad about yourself.
I know that comparing my likes and views on my posts to those of others makes me feel pressured and hurts my self-worth over time. So I'm glad that Instagram has added this feature to make comparing yourself to other people online less stressful.
Can you Hide your Likes on Instagram?
Can you hide your Instagram likes from the people who follow you? Yes, you can hide likes on Instagram. On May 26, 2021, Instagram announced that users would be able to hide the number of likes on both their own posts and other people's posts.
You can also change the settings to suit your needs, like hiding likes on Instagram before or after you share a post. Note that the feature to hide likes can be turned off. If you wish to see like counts, go to Settings and uncheck "Hide like and view counts."
Read More: How to Hide Instagram Online Status
How to Hide Likes on Instagram your Own Posts?
Go to "Advanced settings" at the bottom of the last window you see before you post something. You can turn on or off "Hide likes and views for this post."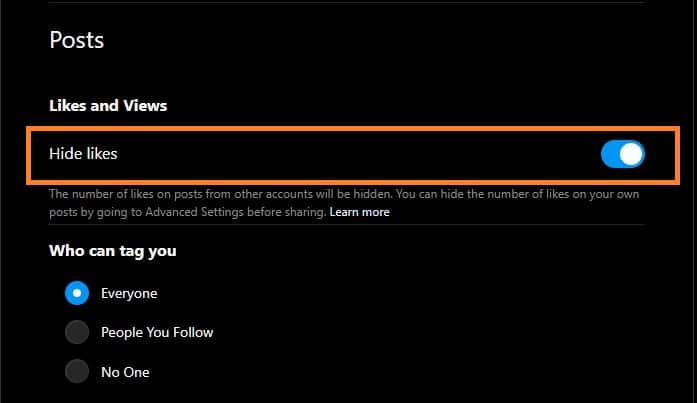 You can turn like counts on or off for posts you've already made by going to the post and clicking on the three dots in the upper right corner. "Hide Like Count" will be a choice for you.
What Happens When you Hide Instagram Likes on your Own Posts?
Instagram will no longer show both the number of likes and the last account that liked your post. So, instead of seeing "liked by John Walker and 582 others," you'll see "liked by John Walker and others," with no number showing how many people like the post.
If you tap this line again, you can see who else has liked the post. Remember that this screen shows how many people liked your post. "Only you can see how many times this post has been liked," the feature's description says.
Why Hide Instagram Likes?
Users can improve their mental health, feel more in control of their Instagram experience, and worry less about competing in a "popularity contest" when they hide their likes.
But there are a few extra benefits for businesses, such as:
Decreased need for social validation:  When you're a small or even brand-new business, it can be hard to deal with imposter syndrome or the feeling that you're not good enough to compete with the big brands. Getting rid of likes can help you feel better.
Helps with removing social bias: People can't always help but let social bias shape their opinions, just like they can't help but judge themselves. For example, if they see a business account with fewer likes than others, they might decide it's not worth their time. So getting rid of likes makes people less likely to judge and makes them look at your content more objectively.
If you're worried that deleting likes could hurt your account by sending Instagram bad signals, don't worry. People can still like your posts, but you won't be able to see the likes. Instagram's algorithm will collect and use the engagement data, but you won't be able to see the likes.
Even better, you can show Instagram likes for most content but hide them for certain types of posts. For example, it's a good idea to hide likes for ads for the reasons given above. But brands that work with influencers or pay for partnerships will want to make sure that they get their money's worth.
Read Also: How to Pin Instagram Comments
How to Hide Instagram Likes on a Post you Already Published?
It's just as easy to hide the likes on posts you've already shared. Here is how to do it step by step:
Go to the Instagram post you want to hide the likes for.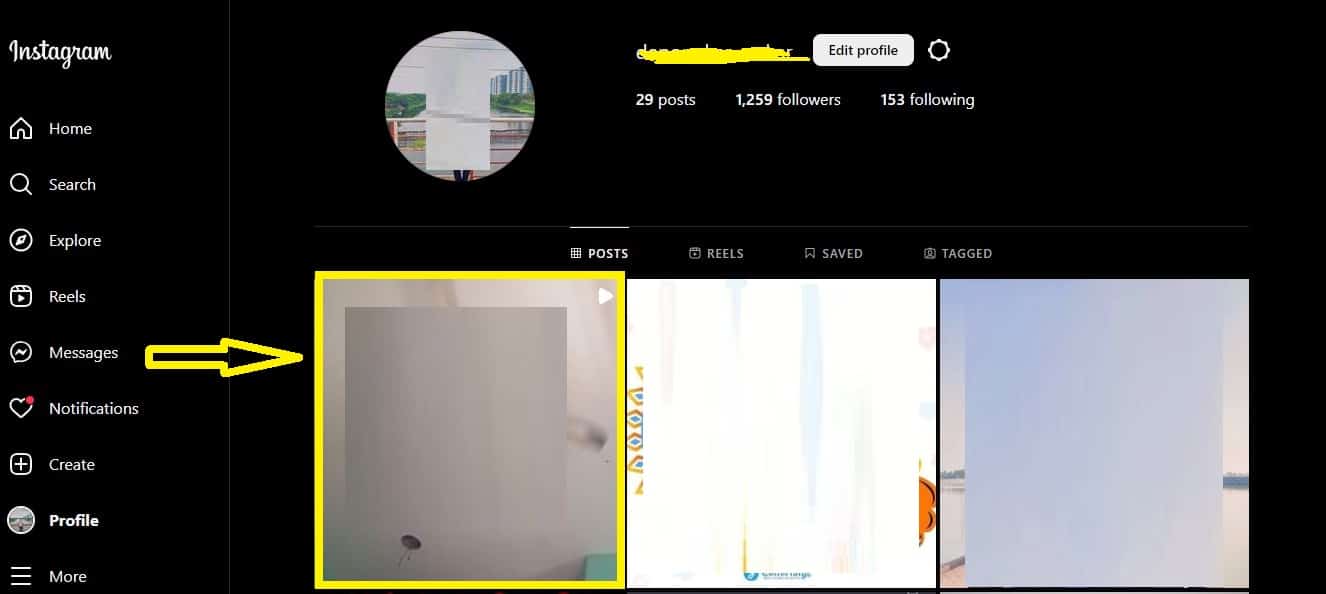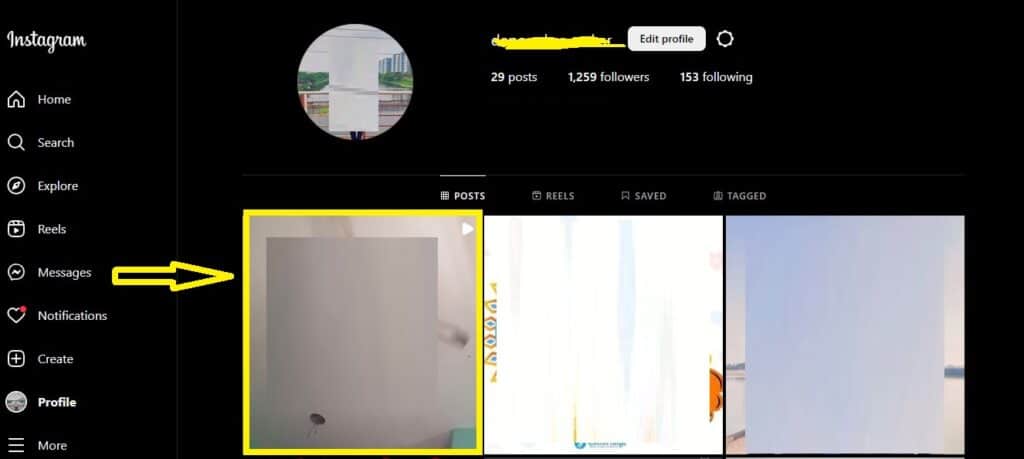 Tap the three dots above your post in the upper-right corner.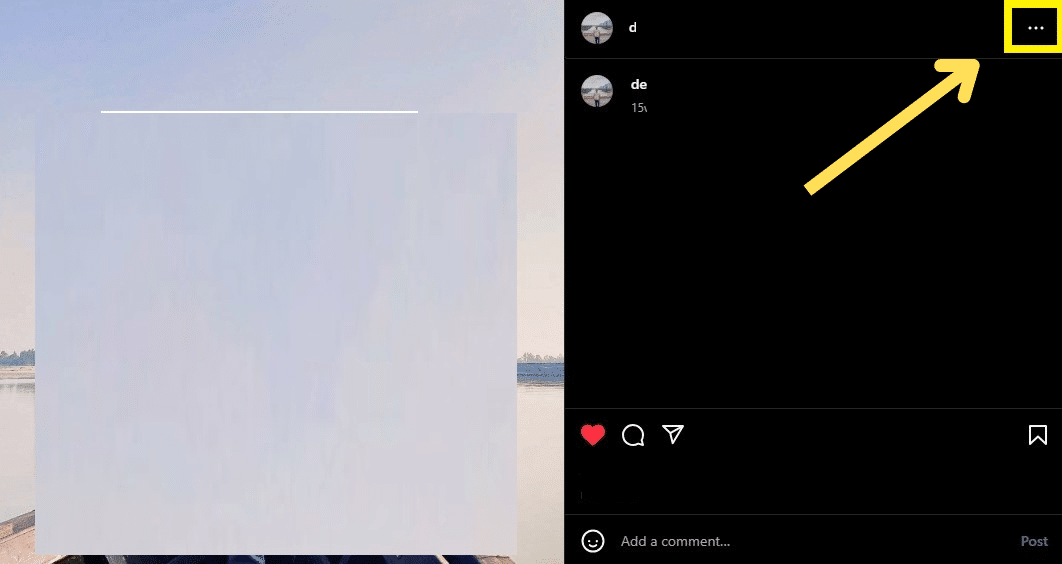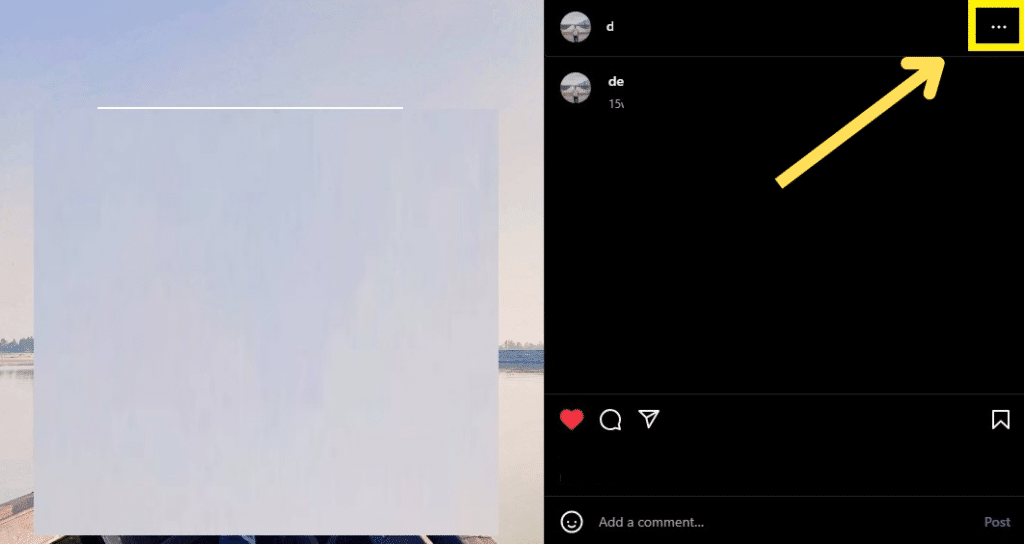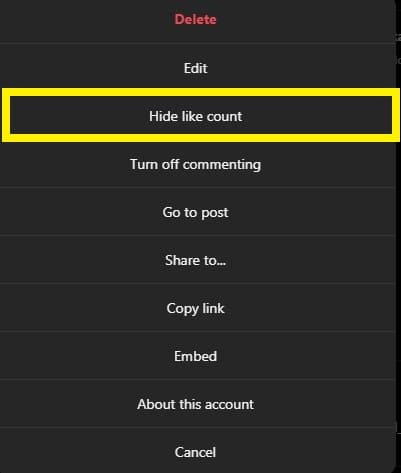 All done! Instead of showing your like count, it will now say, "Liked by [x] and others."
Hide Instagram Likes Before Sharing a Post
You might have shared a post on Instagram without letting people know how many likes it has. You can do this by doing the following:
As you always do, add a post. When you're ready to share the post, scroll down the "Share Screen" page until you see "Advanced Settings."

Check the box next to "Hide Like and View Counts on This Post."
The three-dot menu at the top of the post lets you change this setting at any time.
Hide Instagram Likes for A Single Instagram Post
If a post doesn't do well on its own, you may want to hide the number of likes.
Here's how to do it on a post that has already been shared.
Step 1: Find the post whose likes you want to hide.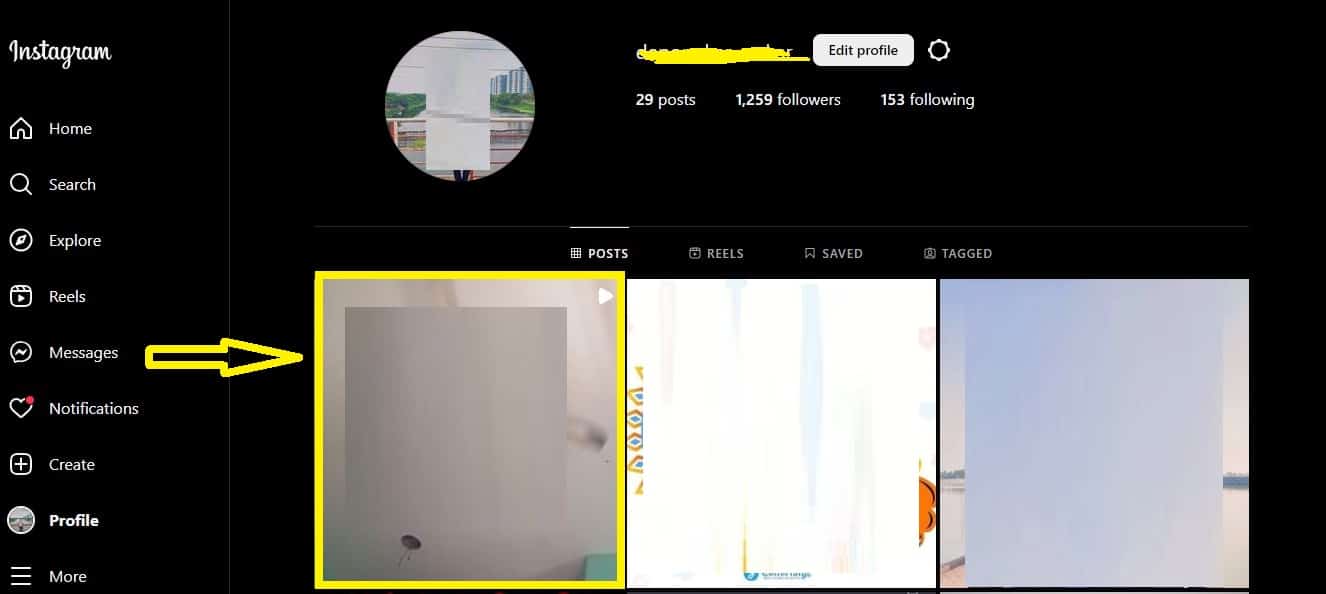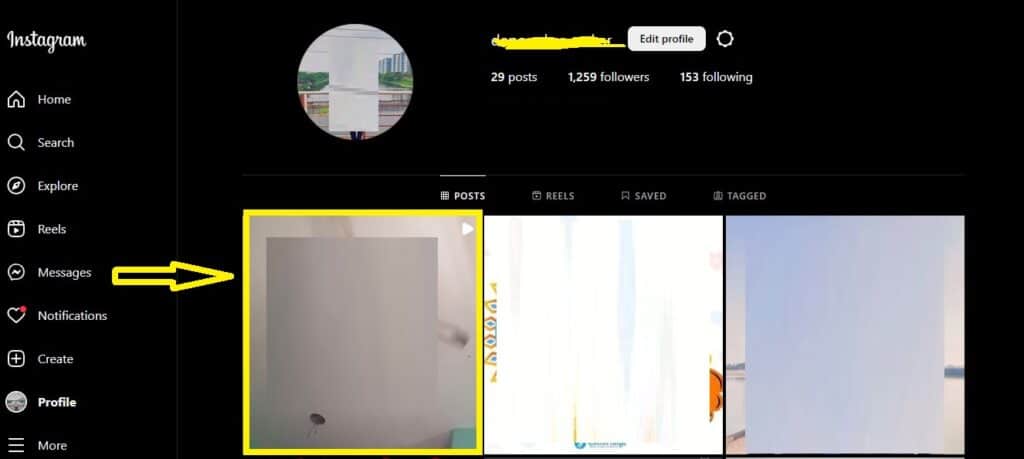 Step 2: Tap the three-dot icon in the post's upper right corner.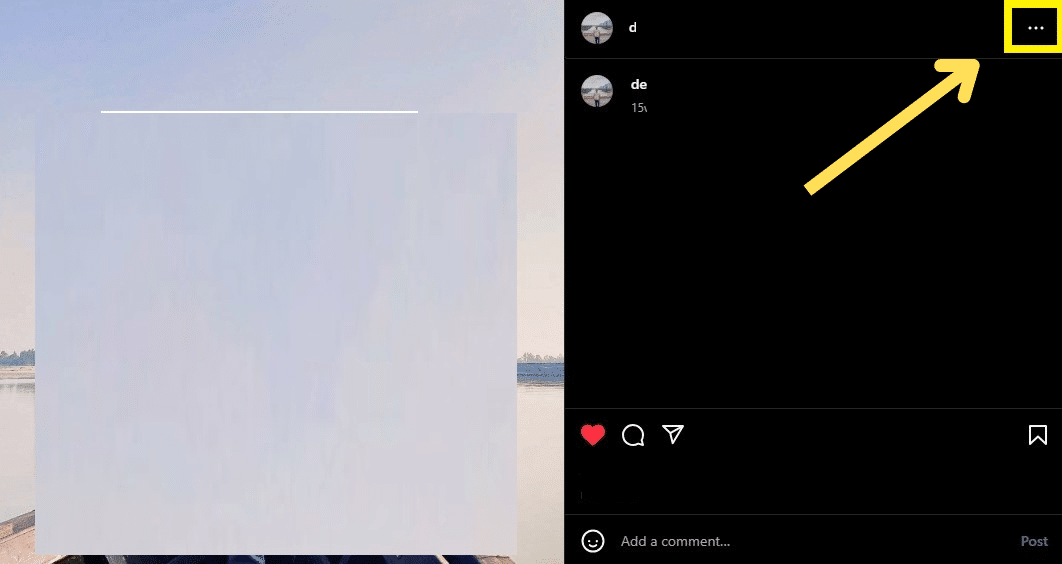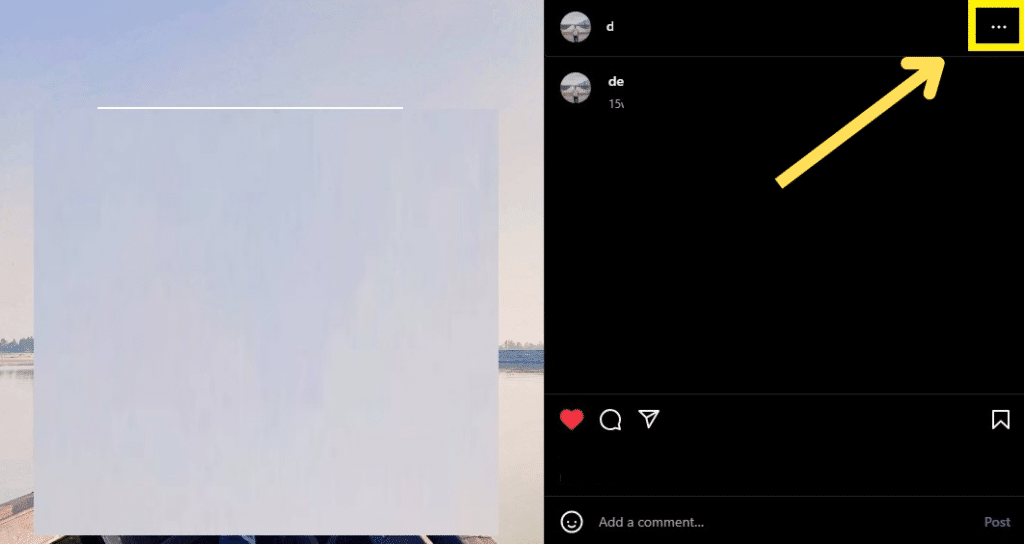 Step 3: Tap "count like hiding."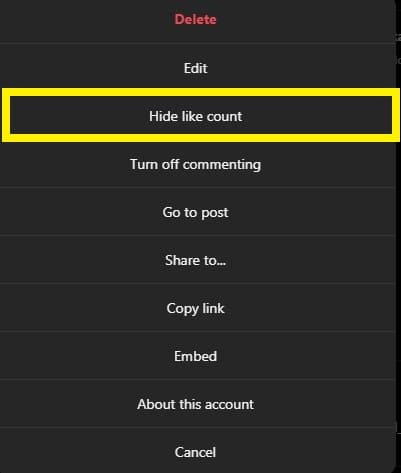 Even if you hide an Instagram post, others can still save it.
Also Read: How to Edit Stories on Instagram
How to Hide Likes on Posts from Other Instagram Accounts?
This will hide the number of likes when you look at other Instagram users' posts.
1. Open the Instagram app and tap the account icon in the bottom right corner to go to your account page.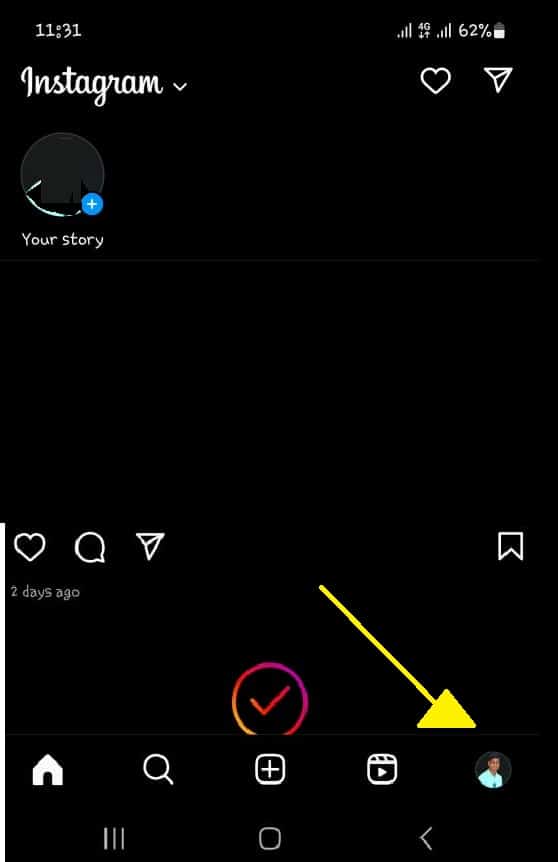 2. Tap the three-line menu at the top right, then tap Settings.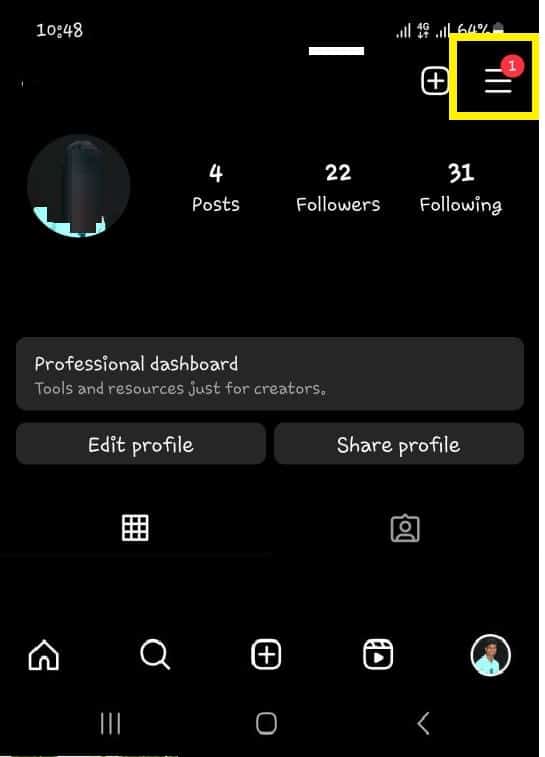 3. Type "posts" in the search box at the top of the Settings page and tap "Posts" when it comes up in the results.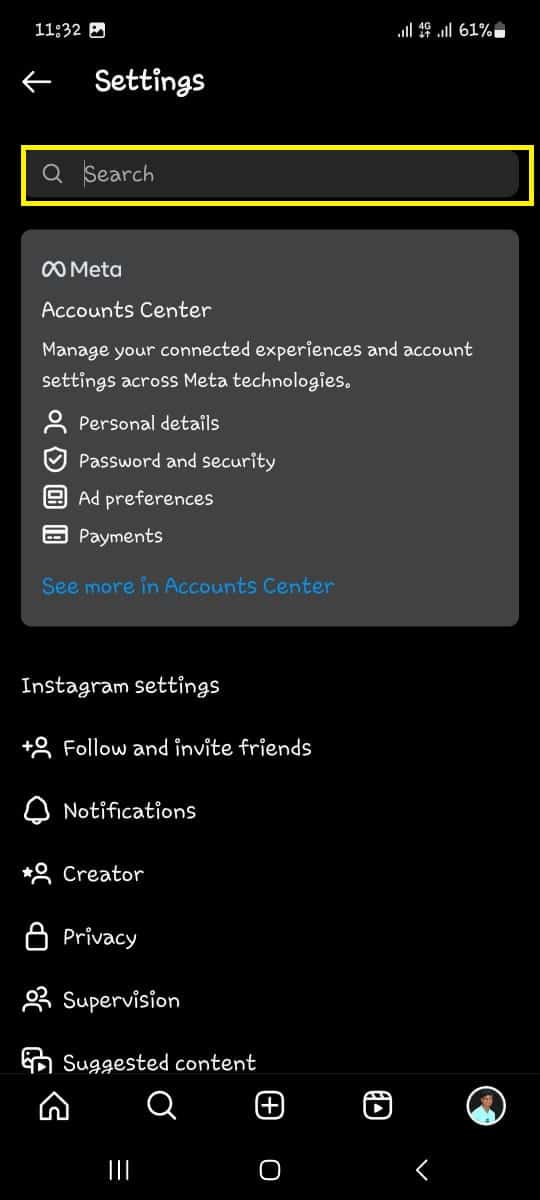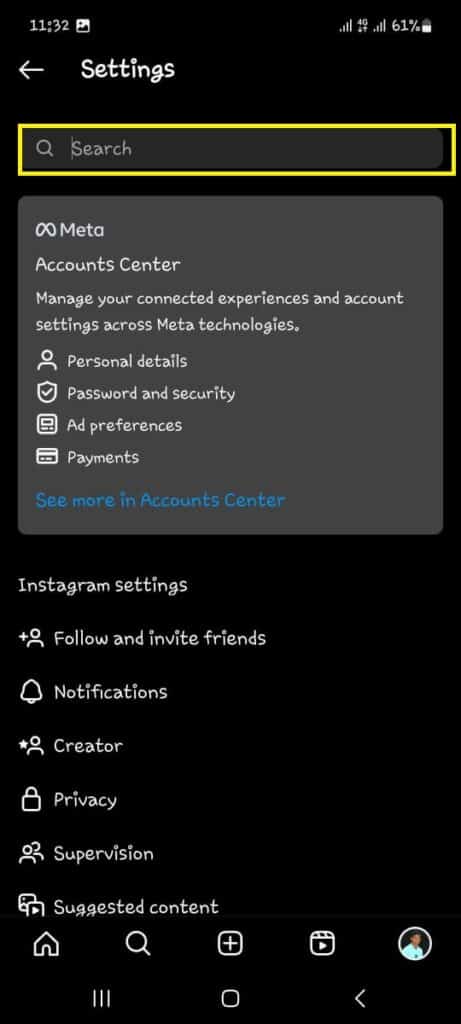 4. Swipe the button to the right in the Likes and Views section to hide the Likes and Views Counts.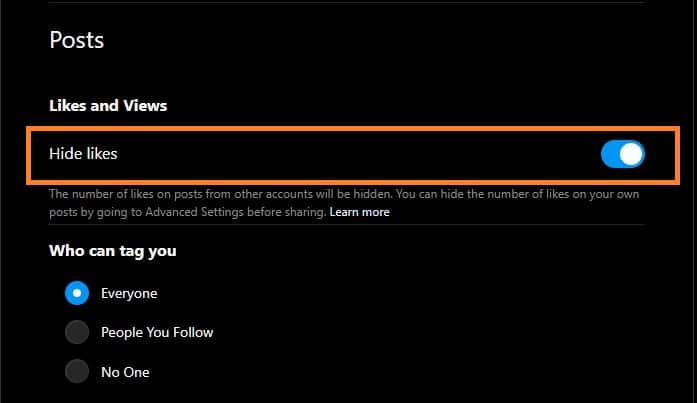 How to Hide Instagram Likes on Your Own Posts on iPhone
The three-dot menu for each post is where you can choose to hide the number of likes on your own posts. This is a per-post setting that you can't use on all of your posts at once.
On your iPhone, open Instagram.

Touch your profile picture in the area where the tabs are.

Scroll through your feed and tap the post of yours that you want to hide the likes for.

Tap the three dots in the top right corner of the post, then tap Hide Like Count.
This will hide the number of likes that you and other people have given to this post. You can show a post's likes again by going to the menu and choosing Unhide Like Count.
Unhide the Like and View Count on Instagram
You may have removed likes from an Instagram post, but what if you want to put them back? Well, it only takes two easy steps to put the counts back on any post.
Go to the post in question and tap the three dots in the top right corner of it.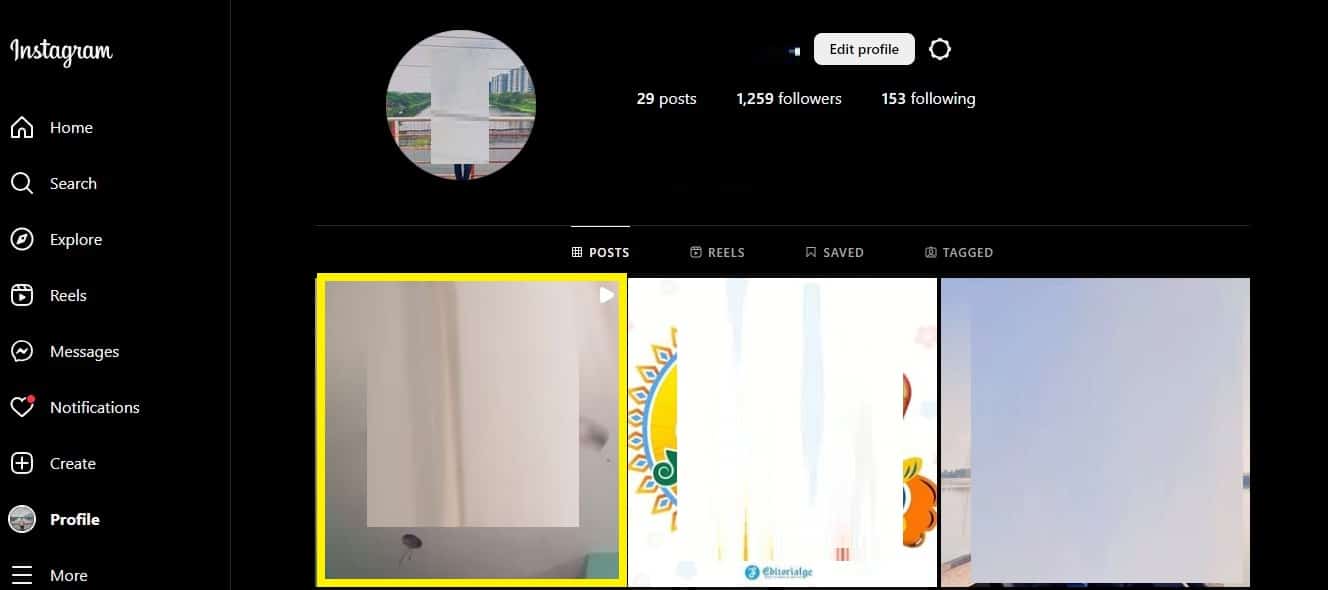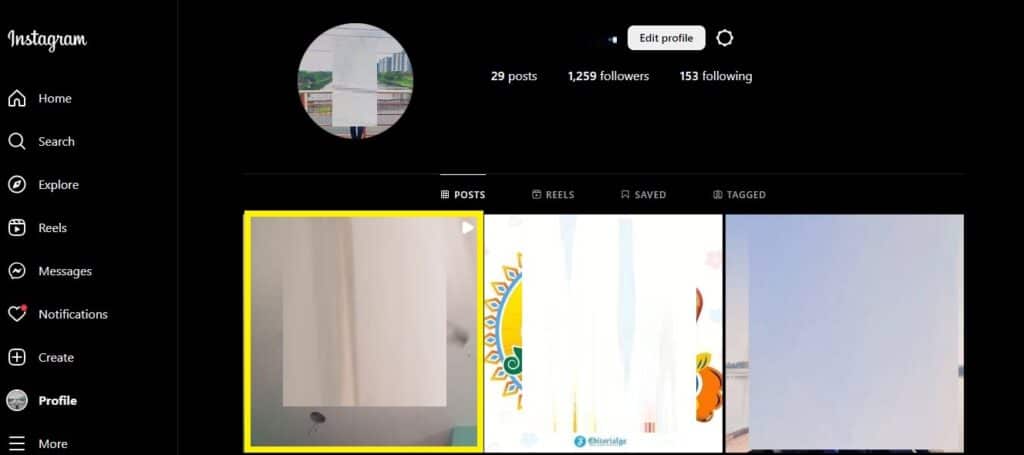 Tap to show Like Count. All done!

Why is Instagram Giving Users the Option to Hide Likes?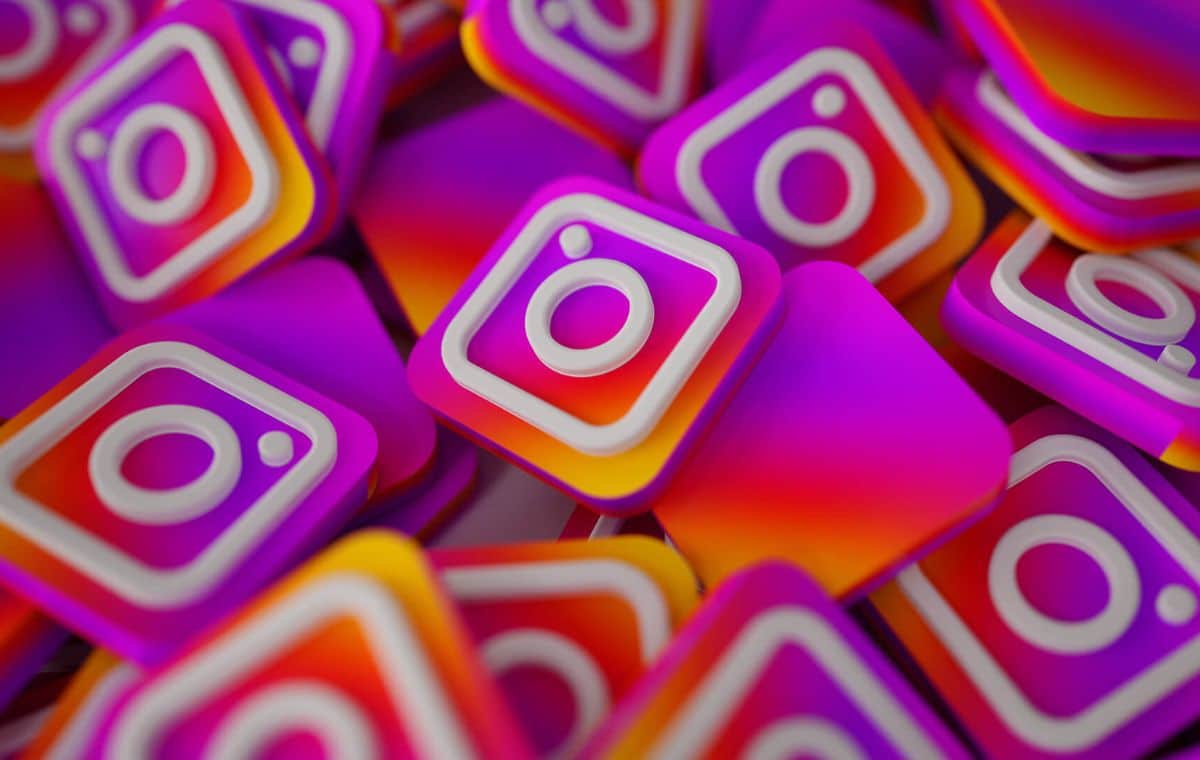 You might be wondering why you can choose to hide likes. In simple terms, it's for our own good. A statement says that the company started hiding like counts for some countries to see if it would "make people feel less pressured" on Instagram.
Research shows that, especially as teenagers, we tend to measure our self-worth by how many followers, comments, and likes we have. In 2020, a study of 513 teenage girls in Brazil found that 78% of them had tried to hide or change a part of their body they didn't like before posting a photo. Another study found that 43% of teens with low social and emotional health had deleted social media posts because they didn't get enough likes. Also interesting is that 25% of teens said they had been cyberbullied in 2019.
The Internet can be a very unfriendly place. Some people have built their entire careers on Instagram, but whether you're an influencer with a huge following or a "ghost" who doesn't post much, your number of followers may be bad for your mental health, even if it seems harmless.
Instagram tried hiding likes and found that the results were "helpful for some and annoying for others." So, in March 2021, the parent company Meta announced something that Miley Cyrus would love: users can hide or show their own likes.
Read Also More: How to Share a Youtube video on Instagram
Why Should you Hide Like and View Counts on Instagram?
It gives you more control over what you do on Instagram. Many influencers hide the number of views on their feeds to avoid being judged by their peers. It's better to keep your numbers to yourself sometimes.
Many social media influencers feel tired and stressed out from being creators. You can also hide the number of likes you see on your Instagram feed.
So, you won't be able to compare yourself to other people. Sometimes, hiding your like count is better for your self-esteem.
Does Instagram's Hide Like Count Feature Apply to Other Parts of the App?
The like count on Instagram only works for posts on your feed. So if you have this feature turned on, you won't be able to see the total number of likes on your homepage feed, but you can still see them elsewhere.
Even though like counts are hidden on your main feed, the Reels tab still shows the total number of likes.
How to Find Hidden Likes on Instagram?
If you don't want to see likes on Instagram or want to see all the fuss, it's easy to turn on the hide likes on the Instagram feature.
When likes are hidden, you can still show that you like something by double-tapping. But instead of the total number of likes, you will see "Liked by [Instagram user] and others" under the post.
If you click "others," a list of everyone who liked that post will show up. You could go down the list and count them as you went. You could also go back to your settings and turn on the count of likes.
Read Also More: How to Make a Reel on Facebook
The Solution on How to See Instagram Likes Again
The good news is that Instagram is doing what it can to protect its community. But the platform isn't giving up on businesses in the process, even though the above effects might seem like a lot of work for marketers.
Even though most people won't care about the vanity metric anymore, marketers can still get to it with special social media management tools.
Here's how to see the likes on Instagram – You can still use tools like NapoleonCat to see how many likes, and other interactions any public Business or Creator Account you follow has.
You will be able to see how many Instagram likes each post has, and you will also be able to set your own time frame for your analysis.
This means that you can still do a proper competitive analysis of social media and check if what influencers say about their social performance is true.
How to See your Instagram Analytics?
Here's where to look in the Instagram app to find all your stats. (Remember that to get to analytics, you need a Business or Creator profile.)
Instagram Account Analytics
You can go to your profile in the app.
Tap the menu icon in the upper right corner.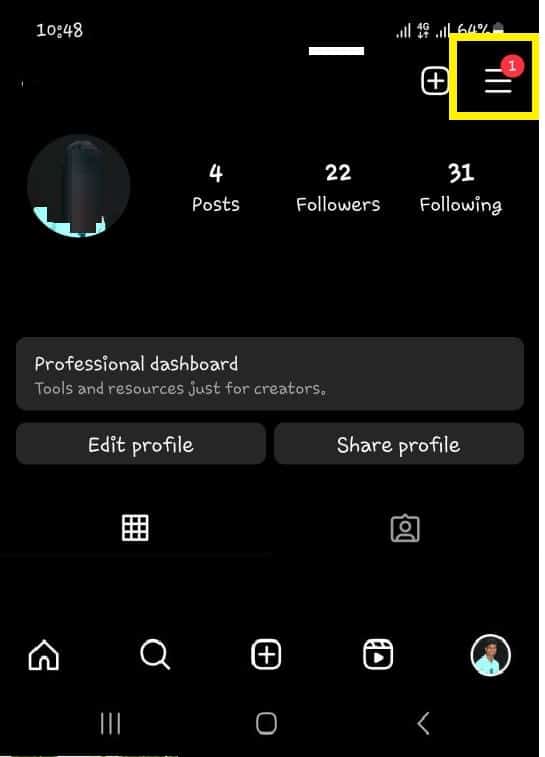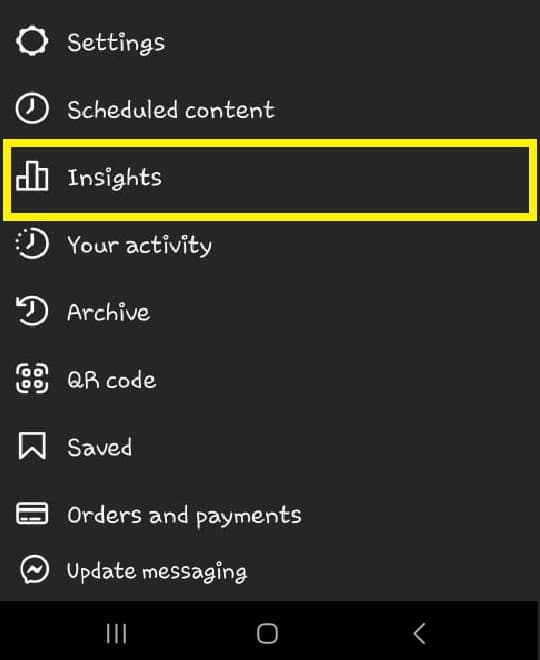 You can see an overview of your content, including the accounts it reached, how people interacted with it, the number of followers you have, and the content you shared.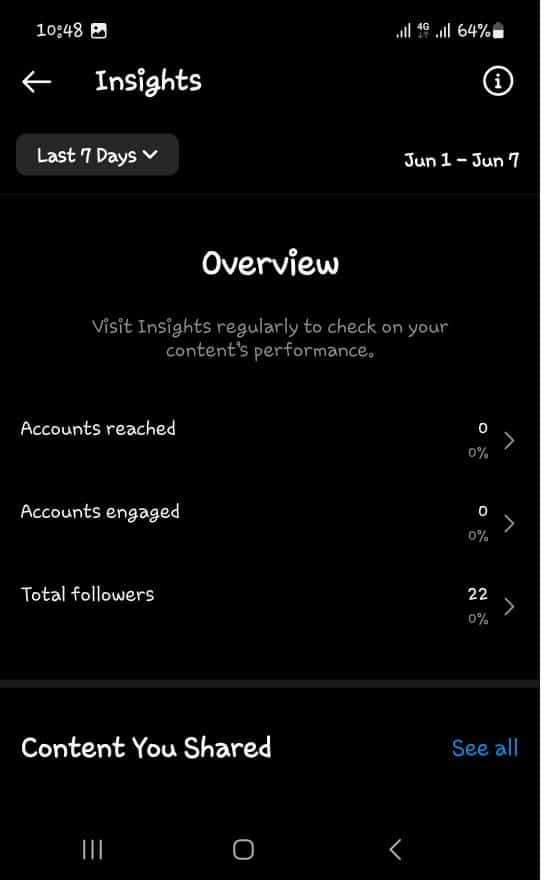 In the top menu, you can choose whether to see these Instagram metrics for the last 7 days or the last 30 days.
Instagram Followers Analytics
Scroll down to Your Audience and click See All on the screen that shows the big picture. You'll see an overview of how your number of followers is growing, followed by information about who your followers are.
This screen has a lot of useful information, such as who your audience is:
The top five places (city or country)

Age range (overall or broken down by gender) (overall or broken down by gender)

Gender

Most active times (by hour or day) (by hour or day)
Instagram Stories Analytics
Getting to know your audience analytics is a great way to figure out who you're talking to so you can make changes to your content strategy and when you post. Open Instagram's Insights tab, scroll down to "Your Audience," and tap "See All" to see all of your followers.
From here, you can see an overview of how your followers have changed over the past 90 days.
Gain in Followers (Overall, Follows, and Unfollows)

The Best Places (Cities and Countries)

Age Range (All Men and Women)

Gender's Busiest Times (Hours and Days)
What is an Instagram Follower Tracker?
There are many different kinds of IG follower trackers, but one of the main reasons to use an app like this is to keep track of who is unfollowing you, how your follower count is changing in general, and which accounts you follow but don't follow back.
This is a great way to keep track of your total number of followers. You can find out a lot from the Instagram insights section, but there are limits to how much you can learn about who follows you and who doesn't.
This is why a lot of brands choose to outsource this part of their Instagram growth, so it's much easier to figure out what's going on.
Keep Reading: How to Crop Videos on Tiktok
Best Instagram Follower Trackers 2023
Let's look at some of the best ways to keep track of your Instagram followers.
GhostHunter

 Inflact

Data Jam

AiGrow

Seek Socially

Crowdfire

Taskant

Follower Analyzer

Followers for Instagram

Followers and Unfollowers Analytics for Instagram
How to Track your Instagram Likes (Even if they're Hidden)?
Instagram Insights
The in-app analytics feature of Instagram gives you an overview of your account's metrics, such as how many accounts you've reached, your audience's demographics, how your follower count is growing, and how many likes your posts get.
You need a Business or Creator profile to see Instagram Insights (which is free and easy to switch to: go to your Settings, hit Account and then hit Switch account type).
Go to your Instagram profile from your Creator or Business profile and click the "Insights" button under your bio. From there, scroll down to the section called "Content You Shared," which tells you how many posts you've made in the last week. Click on the > sign on the right side. (You can still hit the button even if you haven't posted in the last week.)
Then, Instagram will show you a gallery of posts that you can sort to see certain metrics, such as reach, comments, and likes.
You can also choose what kind of posts to show (photos, videos, or posts in a carousel) and when to show them (the last week, month, three months, six months, year or two years).
To choose Likes, click the drop-down menu in the middle of your screen, which will show Reach first by default, and then click Likes.
Hootsuite
Hootsuite's analytics are better than Instagram's (go ahead, brag! ), and that includes information about how many likes each post gets. Hootsuite can also tell you when the best time is to post so you can get more likes, whether or not the post is hidden.
If you hide likes, you can focus on other ways to interact, such as conversations, mentions, keywords, and hashtags, which you can track with Hootsuite Streams. You can also use Hootsuite's Inbox to reply to comments and direct messages (DMs) all in one place, which makes it easier to manage your Instagram followers.
With Hootsuite, you can spend less time managing Instagram for your brand. You can create, schedule, and post posts and Stories directly from a single dashboard to Instagram. You can also interact with your audience, measure how well your posts are doing, and manage all of your other social media accounts. Try it today for free.
Also Read More: How to Make your TikTok Account Private
Conclusion
Hiding likes on Instagram can make looking through and scrolling through your feed easier and more fun. You can also share your content without feeling like you'll be judged by how many likes it gets.
If you want to try Instagram without likes, you can get rid of the like count bias by following the steps in this article.
Frequently Asked Questions (FAQs) about How to Hide Likes on Instagram
Why can't I hide likes on Instagram?
To make their Instagram more private, most people hide all likes from posts. But you can't hide the number of likes on all Instagram posts at once. You have to tap "Hide the number of views and likes on this post" for each post you want to hide.
Can Creator Account Hide Like Counts On Instagram?
No matter what kind of account they have, all users can hide their likes count. You can hide the likes on your main feed right from the settings. The feature was made so that users could hide information from their followers that were already public.
If I hide my likes count, can I still see how many likes I get on my Instagram posts?
Yes. With "Hide Likes," the number of likes or views on a post won't be shown to the public. However, you can still see how many people liked it by clicking the text that says, "Who liked it?" You can always choose to show like counts again if you want to.
Will hiding my Instagram likes to affect a post's performance?
No. The algorithm will figure out which posts to focus on based on the number of likes and other factors. It doesn't matter if people can see like counts or not.
Can you see what someone likes on Instagram?
If they have likes turned on, you can click the "Liked by [username] and [number] others" button under a post to see who else liked it.
Can my followers see my likes on Instagram?
When you like a picture, everyone who can see the post can see that you liked it. Your followers can also see your username below a photo you've liked, no matter how many other people have liked it (for example: [your username] and 12 others).
Can someone see if I like and then unlike a post on Instagram?
If you liked a photo by accident and then unliked it, the person who posted it will still get a push notification if they have notifications turned on.
Do people know when you look at their Instagram?
Instagram users can't see who looks at their profiles. So, if you look at someone's profile but don't like or comment on a post, they won't know who has seen the photos.
How do you hide likes and views on Instagram reels?
Open the reel whose likes you want to hide by clicking on the "Reels" tab. Click the three-dot "ellipsis" icon in the top-right corner. Choose "Hide like count" to turn off the number of likes.
What do I do if I Accidentally like someone's Instagram?
This is the easiest and most obvious way to solve your embarrassing problem. Suppose you accidentally double-tap an image from five years ago. In that case, you must immediately, unlike the post, remove the like from the image and the notification from the activity feed.
Can you hide Instagram followers from other followers?
If you switch to a private profile, you can hide the people you follow on Instagram. You can't hide how many followers you have, but you can hide who follows you and who you follow.
Subscribe to Our Latest Newsletter
To Read Our Exclusive Content, Sign up Now.
$5/Monthly, $50/Yearly