How to Blur Your Background When Recording a Video?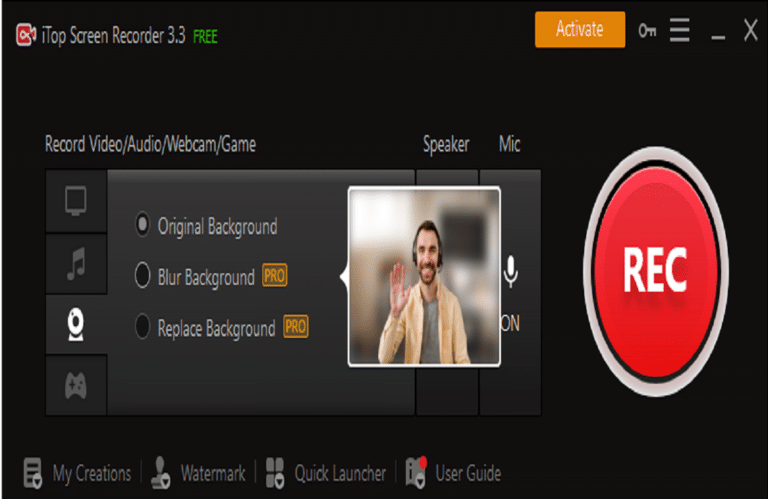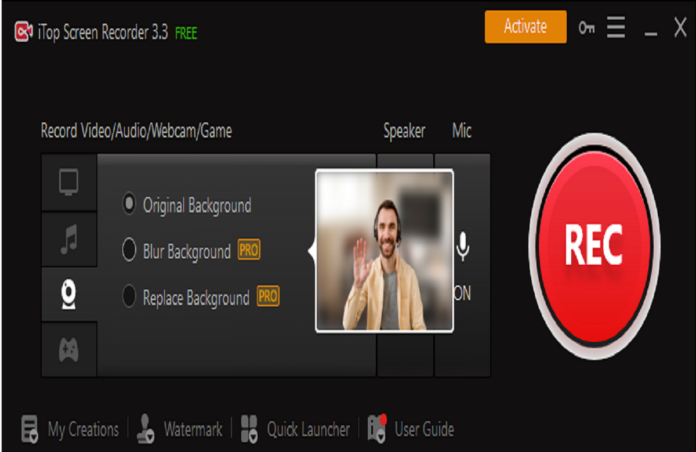 Do you want to keep your video background blurred? Are you looking for a way to blur the background of your webcam video? As you know, nowadays, most people are working remotely and giving presentations online. But there are a few ethics and rules for recording a presentation video, your video background should be quite decent, but most of the time, people can't manage to set a professional background. In such cases, people can remove or blur the background to make their presentations professional with a free screen recorder like iTop screen recorder.
Additionally, when people make tutorial videos like makeup tutorials, they want everyone to focus on the main thing. Suppose your background is full of people or colored things. It's hard for the audience to focus on your makeup steps. That's why in tutorial videos, people keep their backgrounds blurred. People who record their product sales videos also want everyone's attention on their product. That's why they purposely hide their background and keep products in the mainstream.
I'm sure you have seen many YouTubers who record informational, explanatory videos or record vlogs also try to keep background blur to give a smooth and professional look to their recorded videos. They do that to hide messy backgrounds because every time it is hard to set a proper background before recording videos.
In this article we will tell you how to blur your background when recording a video in 2023.
Record videos with iTop Screen Recorder
Are you one of those who are interested in blurring their video's background? Do you want to record or create a professional video with a blurred background? Yes? Try Because this is the only online tool that comes with multiple free advanced-level features. The iTop Screen Recorder allows users to record any kind of video and edit it in this tool free of cost. The users can record training or tutorial videos by capturing screens and with their own videos too.
Additionally, the iTop Screen Recorder has an amazing option, "webcam mode," that is useful for people who want to record product sale videos, presentations, and any YouTube videos with high quality. In this latest webcam mode, users can keep their original background or change it; even people can blur their video background to give it a professional and well-organized look. People can add any customized background.
The iTop screen's new feature, "compressor," is truly amazing because, after the introduction of this feature, you don't have to worry about the video size because you can compress video size without distortion of video quality.
Do you want to record video with an iTop screen recorder? If your answer is yes, start following these easy steps to record a highly professional video for your audience.
Step 1: Download and install the iTop screen recorder
Before starting the video, it is a must to download this screen recorder for PC from the official website or from Softonic on your PC. downloading will be completed in less than one minute. After downloading, install the Application on your device.
But before installation, make sure your internet connection is good because installation speed depends on your internet connection. If your internet connection is good, it will take a few seconds to be installed successfully.
Step 2: Do basic settings
After installation, tap on the iTop Screen Recorder app icon and open it; here, you will find different options but do basic settings like select your language, turn on options
Recorded speaker when recording
Record the microphone when recording
other options like recording without watermarks etc.
Step 3: Select webcam or webcam and screen recording option 
Now turn on the webcam option, select the full-screen option, and select the option record webcam only or record webcam plus screen. With only the webcam option, it will record your own video only, but with the webcam and screen, the iTop Screen Recorder will record your desktop screen and webcam video. Now tap on the record webcam option; here, you have three options: keep the original background, blur the background, and replace the background. If you want to blur the background, tap on the second option; if you want to change the background, tap on the third option.
Step 4: Start recording
Now tap on the red recording button and start recording. create a video of your desired length and tap on the stop recording option
Step 5: Edit the recorded video
After recording the video, edit the video with the iTop screen recorder's inbuilt video editing feature. Click on the recorded video and tap on the edit option; here, you have many editing options, such as adjusting speed, fade out or in, transforming video by adjusting size and dimensions, and adjusting opacity, volume, and duration.
Here you can add stickers, filters, effects, etc., and save high-quality video. after saving it in your device, now tap on the toolbar of the iTop Screen Recorder and tap on the compressor; here, it will ask you to add a video that you want to compress; tap on the + option, and add your video
step 6: Compress the recorded video file
After adding video, it will offer you three options: normal compression, advanced compression, and ultimate compression tap on your desired option. The best option is to tap on the second option; now tap on a compress. it will take nanoseconds in file compression and will save your file in the same path as the original file
Features of iTop screen recorder
iTop screen recorder is a highly efficient Application of 2023. there are many features of iTop Screen Recorder other than creating videos for the tutorial, presentations, and YouTube videos, such as
Multiplatform screen recording
The main function of the iTop Screen Recorder is to record your device's screen. There are a lot of times when we urgently need to record screens, for example, for screen recording of conferencing, movie recording, course recording, YouTube video recording, etc.
The iTop Screen Recorder allows users to record any kind of music from any video because a limited tool supports music extraction from video. But the iTop Screen Recorder allows you to record music and edit it According to your taste.
The best thing about the iTop Screen Recorder is that it supports internal and external audio recording.
The bonus point of the iTop Screen Recorder is that it records all kinds of audio and videos without lagging.
Conclusion
iTop screen recorder is a super easy-to-use tool with the latest features. It allows its users to record webcam videos with blur backgrounds. People who were wasting time on different applications to blur their videos are now satisfied with the iTop Screen Recorder because via the iTop Screen Recorder they can directly record a video with a blur background. So, if you also want videos with blur backgrounds, install iTop screen recorder.